White Paper: Content Marketing Strategies to Grow Organic Traffic by 300%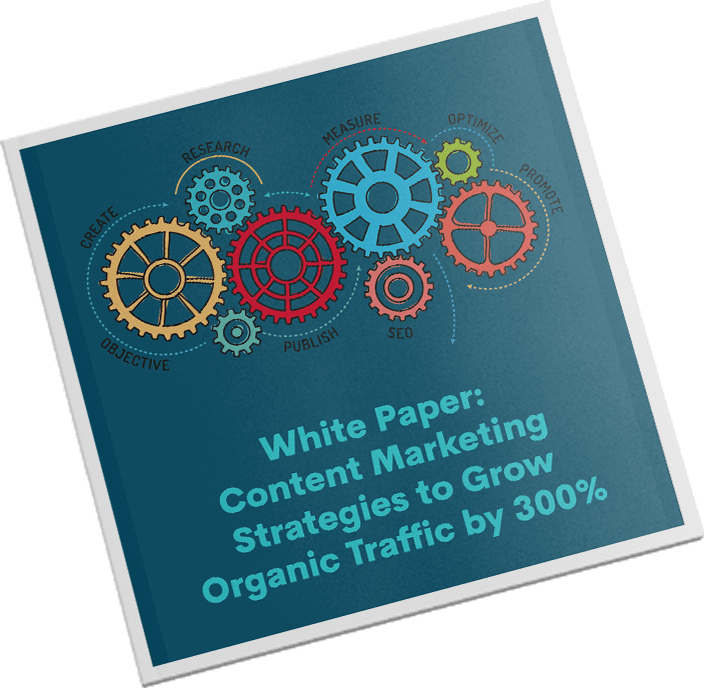 What You'll Learn in this White Paper
Any serious business effort can benefit from quality content. After all, content is king!
Relevant, authoritative content is one of the key ways to gain new customers and build relationships with current customers.
In this white paper you will learn how to build a content marketing strategy that brings your business more customers and builds brand loyalty. It will outline the key steps you must take to fully harness the power of content to meet and exceed your business goals.
Underestimating the importance of content is a mistake. After reading this white paper, you will know how to create a smart and seamlessly delivered content strategy that propels your business forward.
Whitepaper highlights
Make a Plan
Develop an airtight content strategy
Get to know the basics of good content and how you can tailor a content plan to best suit your brand and business goals. A good content plan will help take away the stress in creating content for your business.
Engage Readers
Create content that keeps readers coming back for more
Learn how to build high-quality content that truly excites your potential customers. Building content takes careful thought and effort, but it pays dividends. You will also learn how to measure reader engagement and streamline your work.
Optimization for SEO
Don't get ignored by search engines
Content strategy also involves being friendly to search engines, so that your site attracts organic visitors. Learn how to optimize your content to rank well, and remain engaging for users.
Modernize Content Strategies
Get ahead by thinking ahead
New strategies for content constantly appear. Learn creative new ways you can use content to put your business on the path to success.
Understand what good content strategy means and how to build a content plan.
Long-form articles that are in-depth, informational, and produce clear value for a specific
Original visual content for all content marketing assets
The fundamentals of reader engagement best practices
The secrets of "on page SEO" best practices
Create an "influencers strategy"
Focus on quality, not quantity
Controversy and emotion to spark conversations
Create a content calendar, publishing plan and writing style guide – and stick to it