B2B Marketing During & After a Pandemic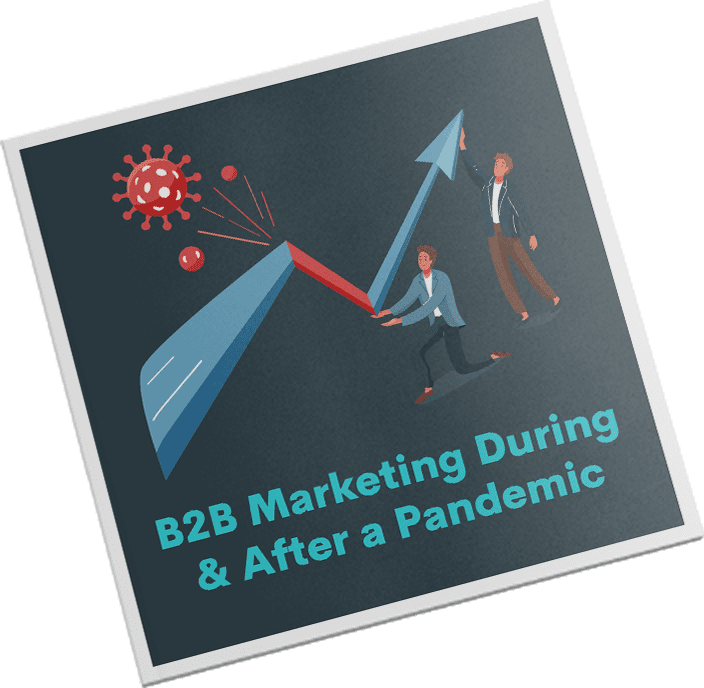 What you'll learn in this white paper
In September of 2020, 50% of CMOs still believed it would take 1-2 years until marketing-driven sales returned to pre-pandemic levels. But the actual results of B2B companies who invested heavily in digital marketing in Q3 and Q4 of 2020 show that these expectations were – to be blunt – absolutely wrong!
In this whitepaper, we explore the most common digital marketing techniques employed by successful B2B companies during the pandemic.
We show examples, insights, and tips on how you can use these same tactics like a pro in 2021.
What the pandemic marketing made clear is that one tactic in particular, called Account Based Marketing, produces the highest return on investment for B2B companies.
Use this white paper to ramp up your Account Based Marketing strategy in order to produce quantifiable results for your organization.
Whitepaper highlights
Marketing spending during COVID-19
Why reducing marketing spending during the pandemic was a mistake
Check out survey results from companies that reduced their marketing spending in 2020. You will see a direct correlation between reducing marketing spending and a reduction in both revenue and profit.
CMO predictions
Read about the expectations of B2B marketing CMOs for 2021
Are you anxious or excited about the future? Are you curious how other marketing leaders feel about the crazy times we live in? We have the answers in this whitepaper. And, a few actionable bonus tips for you.
Best B2B marketing strategies
Learn about different marketing strategies that B2B companies employed during the pandemic
We explore what successful B2B marketers invested in during 2020. We talk about what worked, what did not, and some of the most exciting B2B marketing strategies to use in 2021 and beyond.
Account Based Marketing
Account Based Marketing is the next big thing
Every single B2B company investing in marketing this year is talking about Account Based Marketing. Learn what it is, how it works, strategies you can use, and why thousands of B2B companies are doubling down on ABM.
1. What changed during the pandemic?
Questions about your marketing budget during COVID
What our clients did during the pandemic
COVID-19 freaked out everyone in B2B
How clients in different industries functioned during the pandemic
CMOs believed it would take 1-2 years for marketing driven sales to return to pre-pandemic levels
Reducing marketing spending during the pandemic was a mistake
Most companies allowed staff to work remotely
Employed professionals spend 8-13 hours a day in front of their computers
Mid-sized B2B companies increased their marketing budgets
Mid-sized companies came out ahead in 2020
Companies that increased their marketing budgets saw outsized profit increases
B2B companies invested heavily in one marketing tactic: Account Based Marketing
2. Let's talk about Account Based Marketing
Account based marketing is fishing with spears vs. traditional marketing which is fishing with a net
Most common marketing tactics and channels used by B2B marketers
Account Based Marketing requires personalized content based on persona
Examples of legacy marketing assets vs. ABM personalized content and website pages
SEO for Account Based Marketing
Traditional SEO keywords vs. ABM targeted keywords
Paid ads are used to surface content directly to specific people at specific companies
PPC tactics used for Account Based Marketing
Use webinars to increase your audience reach
B2B websites should offer live chat
LinkedIn for Account Based Marketing
3. Let's talk about the future
Account based marketing – the DAP approach
Start marketing for the post pandemic digital world, today.
Foundation of successful B2B marketing programs
DAP helps B2B organizations grow their digital businesses and drive more qualified web leads