The core principle of ADA web accessibility rules is to provide equal access to everyone on the web, including persons with a disability - and ADA compliant font sizes are a big part of this.
An ADA-compliant website allows individuals with vision impairment, cognitive difficulties and hard of hearing people get access to web content like multimedia, electronic documents, e-commerce platforms, and website pages using a range of assistive devices, including joysticks, alt-keyboards and screen readers.
As of 2018, the US Department of Justice (DOJ) deems WCAG 2.0 Level AA success criteria the gold standard of ADA website compliance. In short, your website should meet all 38 requirements of the success criteria to be considered ADA-compliant.
If not, you risk getting sued for ADA non-compliance.
In fact, there are more ADA lawsuits brought against website owners now than ever before. WellPoint, HCA Holdings, Tenet Healthcare, and CAC Florida Medical Centers are just but a few classic examples of healthcare organizations that have faced the wrath of ADA lawsuits in the recent past. You could be facing fines of up to $75,000 for your first ADA web accessibility offense alone.
---
To learn how Digital Authority Partners can create a standout website for you, watch this video!
---
Proper text use: the cornerstone of ADA web compliance
The good news is that bringing your website up to ADA compliance can be achieved with minimal costs and little impact on the overall design & usability of the website. It's all about using proper text and text features to ensure optimal accessibility.
It's somewhat surprising that most website owners are getting sued for ignoring some trivial text accessibility issues like font, alt-text descriptions, image tags, and others that can be easily corrected. For instance, did you know that you can get sued for the wrong size font?
Let's take a look at three common web text accessibility issues that you can easily rectify and be on the safe side of ADA compliance.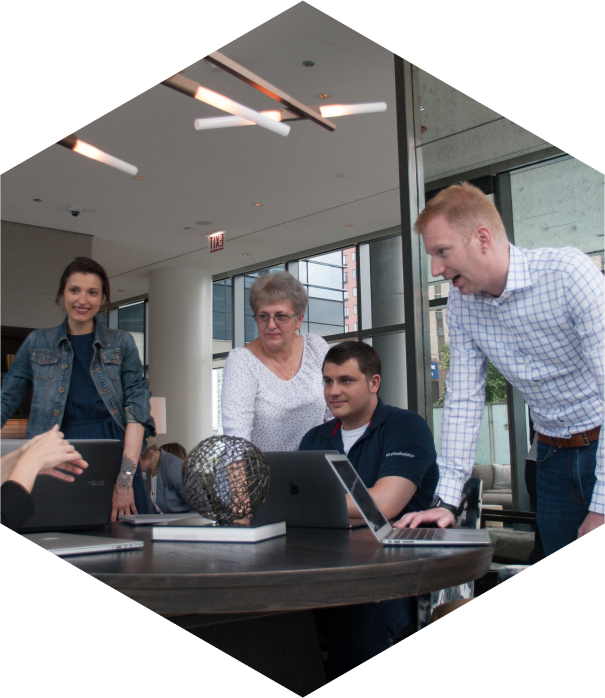 How Can We Help?

Fill out the short form below or call us at:



(888) 846-5382
Issue #1 with ADA compliant font size: using the wrong font size
Text is crucial for web accessibility. It's perhaps the only website element that screen readers can actually "read." That's why it is a big issue when it comes to ADA compliance for healthcare websites. Of course, this is justified given that over 25.5 million Americans have vision issues.
Not all fonts are designed for web accessibility. That's why it pays to stick to typefaces that are typically ADA-friendly, such as Tahoma, Calibri, Helvetica, Arial, Verdana, and Times New Roman.
However, choosing the right font for website use often boils down to three factors: color, size, and contrast.
Contrast: There should be an appropriate color contrast between the background and the text. The idea behind this is to reduce challenges associated with vision impairment issues like color blindness. Revisit WCAG 2.0 guidelines as they clearly state the contrast levels required for all text sizes.
Color: Your choice of text color is also paramount. More specifically, you should refrain from using text colors to communicate meaning. If you wish to use different text colors to deliver meaningful information, be sure to use alternative options to do so. This is especially important to highlighted text.
Size: Font size is where things get really interesting in terms of ADA compliance. It's a no-brainer that you need to use a decent size font on your website to make it easy for the reader. Using the wrong font size can land you in hot soup with the ADA community and US Department of Justice.
All users should be able to easily decrease or increase text size using an accessible slider. The font size itself should make it easy for the text to be effectively displayed on all devices, including mobile, desktop, tablets, and special ones like screen readers.
What's the right size font for an ADA-compliant website?
True, there's no official ADA-enforced minimum size font for website use. However, it's usually recommended that you use at least 16px font for the body text.
While that's a good start for the body portion (like the one you are reading here), the headers should feature larger text while some text can be smaller (between 12px and 14px).
Ultimately, if people with visual impairment can't read your text because of the wrong size font, you are in for a bad surprise. The last thing you want is to get sued for such a trivial accessibility issue.
Issue #2 with ADA compliant font size: not using alt-text descriptions
Today, all modern websites incorporate a diversity of images, graphics, videos, and a plethora of other visual elements. The trouble is that assistive devices like screen readers can't "read" visuals. That's why WCAG 2.0 standard stipulates that website developers use alternative text descriptions for all visual elements. These include alt-text, alt-tags, closed caption text, and so forth.
So, for starters, avoid displaying important information as an image.  For example, it's fairly standard for web developers to use an image of a house to represent the "home" button. If you must use the button for aesthetic reasons, be sure to include alt-text descriptions. The same goes for logos and other navigation elements.
Including alt-text descriptions to imagery and closed captions to videos and animation enables visually-impaired users to understand what's being shown. Whether navigation buttons, graphs, maps or schematics, be sure to add these all-important alt-texts.
With that being said, issues associated with imagery are some of the most common ones used in court by ADA lawyers. Take the recent ADA lawsuit brought against the giant retailer Target, for instance. Lack of alt-texts to prop imagery was one of the crucial factors why Target lost the lawsuit.
Issue #3 with ADA compliant font size: improper hyperlink text
Hyperlinks have become an indispensable part of any website. They allow for easy navigation from page to page, and from website to website, enabling users to find additional information.
For normal-sighted persons, hyperlinks are usually identified by a distinct color (usually red for an active link, purple for a visited link, and blue for a standard link). Unfortunately, people using assistive devices can't "see" these colors and therefore can't tell hyperlinks from normal text.
As such, hyperlinks need to be clearly underlined or stylized in italics. More crucially, you should give the content instead of using usual hyperlink texts like "read more," "go here," etc.
Conclusion
Proper text use can help you avoid such small yet important accessibility issues. You might want to familiarize yourself with WCAG 2.0 standard, especially the following three factors:
 

Proper size font

 

Proper use of alt-text descriptions

 

Proper use of hyperlinks
These easily corrected accessibility issues can make a big difference between being an ADA-compliant and facing a messy lawsuit. But why go through all the trouble when you can hire an ADA compliance agency to do all the heavy lifting?
____________________
Want to learn more? Tune into the webinar we co-hosted: Accessibility Matters: Making Your Municipal Website ADA-Friendly.

You Might Also Like: