Few technology horizons will shape our individual and collective futures like Artificial Intelligence (AI). 
AI is already in our lives to stay—Sir and Alexa respond to our voice commands; computer algorithms synthesize vast quantities of data collected through our social media and shopping preferences and create uncannily accurate product recommendations; and machine learning has created game-changing breakthroughs in medical science, manufacturing, physics, and many other industries.
Yet as big a splash as it has already made, AI is still in its infancy. Industry experts and laypeople alike can begin to think like AI innovators—and possibly even become innovators themselves, on the leading edge of some of the most impactful industry disruptions in human history.
Ready to join the revolution in machine learning? Here are 20 books to read in 2023—10 nonfiction, 10 fiction—to elevate your understanding of AI.
---
Watch this video to learn how Digital Authority Partners designs software that works for your business!
---
Nonfiction Books about AI to Read in 2023
Homo Deus: A Brief History of Tomorrow By Yuval Noah Harari
Homo as in "human," deus as in "god"—or "god-people." That's what Hebrew University of Jerusalem historian Yuval Noah Harari, author of the smash bestseller Sapiens, postulates as the endgame for our current technological arc. After recapping 70,000 years of human development, as well as our evolving relationship with other animals, Prof. Harari explores AI as one of several technologies through which humans vie for god-like status.
Does he paint a rosy picture with these predictions? Far from it. Harari instead forecasts a bleak future where humans are not only put out of work by intelligent machines (pointing out that it is already happening), but that as machines start to do our thinking for us, we face a potential crisis of meaning. 
From his home base of Jerusalem, where a very different idea of God captured the world's imagination thousands of years ago, Harari depicts the "god person" as a human becoming increasingly obsolete, rather than omnipresent and omni-relevant. Far from a victory lap of the newly-transcendent, like the writings of an Old Testament prophet Homo Deus reads as a warning.
The Singularity is Near: When Humans Transcend Biology By Ray Kurzweil
Forbes magazine once described futurist and inventor Ray Kurzweil as "the ultimate thinking machine." It's hard to miss the irony, since Kurzweil has been writing on AI subjects since 1990, well ahead of his time.
In The Singularity is Near, Kurzweil embraces and builds on the concept of a "technological singularity." Whereas the singularity in a black hole is a point that approaching objects proceed towards without escape once they cross the event horizon, the "technological singularity," an idea dating back to the 1950s, refers to a theoretical horizon where technology expands exponentially with no turning back, faster than individual humans' ability to shape or stop it.
Kurzweil goes as far as to set a date for the Singularity—2045. He also postulates that computers will regularly pass "Turing Tests"—that is, proof of true artificial intelligence—by 2029. 
Superintelligence: Paths, Dangers, Strategies By Nick Bostrom
Swedish-born Oxford philosopher Nick Bostrom has a healthy respect for the danger of "superintelligent" machines whose cognitive prowess surpasses that of their human creators. 
Rather than re-writing the plot of Terminator, Bostrom builds his philosophy around the metaphor of a family of sparrows terrorized by predatory owls. Wouldn't it be great, they think, if they can plunder an egg from an owl's nest, hatch it, and raise an owl chick to be their defender against other owls?
How will they tame the owl? Will it turn on them? Go back to its own kind? Those questions, the sparrows decide, are tomorrow's problems. For today, it's hard enough to steal the egg, so they focus on that. In other words, they focus on what they can do with insufficient thought to whether they should do it. 
A less apocalyptic version of Jurassic Park, this is one of two books Bill Gates recommends everyone read to prepare themselves for the AI revolution.
Life 3.0: Being Human in the Age of Artificial Intelligence By Max Tegmark
Leave it to Swedish-American cosmologist Max Tegmark to extrapolate the implications of AI back in time billions of years to the very origin of cognition, as well as forward to the stars. In the process, he breaks down life (as the title implicates) into three phases. Life 1.0 is the biological origins; Life 2.0 the cultural overlays; Life 3.0 technological enhancements.
In the process, Tegmark ponders the implications of AI for warfare, criminal justice, safety, physics, human meaning, and the workforce as he explores the possible futures AI might lead us to—anywhere from "friendly AI" to an "AI apocalypse."
AI Superpowers: China, Silicon Valley, and the New World Order By Kai-Fu Lee
"If data is the new oil, China is the new Saudi Arabia," Kai-Fu Lee, one of China's top AI thought leaders, boldly posits. Born in Taiwan, coming of age in the U.S., and now residing in China, Lee has a global perspective on the AI landscape. He is bullish on China's position to lead the market in AI, but for reasons that may not have Silicon Valley rushing to repatriate.
Take, for example, the fact that China maintains the Mount Everest of data collections due to the fact that fewer laws restrict how much data Chinese companies are allowed to collect on their 1.5 billion countrymen and countrywomen. Add the fact that Chinese tech and startup culture favors quantity over quality and doesn't let a silly thing like "intellectual property rights" stop them from co-opting a good idea.
Most thought-provoking of all, the Chinese government is all-in on AI innovation. If the U.S. must face a future with China as a geopolitical foe, Lee puts Silicon Valley on notice.
Analytics of Life: Making Sense of Artificial Intelligence, Machine Learning and Data Analytics By Mert Damlapinar
If you want less philosophy and more nuts and bolts in your study of AI, Mert Damlapinar has you covered with a manager-and-entrepreneur friendly breakdown of the field as it applies to big business, small business, and our daily lives. 
Damlapinar takes the dire predictions of the impact of AI on the blue-collar workforce and extends them to the white-collar workforce, while at the same time offering sunny predictions for the future of the data analytics industry. 
Analytics of Life is required reading for people who want to position their career trajectories to be a beneficiary of AI rather than a casualty.
The Master Algorithm: How the Quest for the Ultimate Learning Machine Will Remake Our World By Pedro Domingos
This book, by University of Washington Professor Pedro Domingos, was Bill Gates' other recommendation of required reading for the coming AI tsunami. 
The Master Algorithm breaks down AI thinking into five "tribes." Analogical modeling analyzes datasets with compensation for imperfections; Bayes' theorem attempts to describe the probability of an outcome based on prior knowledge of the starting conditions; connectionism attempts to reproduce the activity of a human brain by processing information through simultaneous transmissions to interconnected cells; evolutionary computation models global perfection of algorithms on evolutionary biology; and inductive reasoning allows machines to draw conclusions based on evidence, the way human minds do. 
Domingos regards these "tribes" as pieces in a "master algorithm" to ultimately achieve a state of perfect understanding of the universe.
How to Create a Mind: The Secret of Human Thought Revealed By Ray Kurzweil
Kurzweil's follow-up to The Singularity is Near digs deep into neuroscience and what it can teach us about how to create an artificial brain, modeled on an actual brain. In doing so, he shines light on how some of the most important practical science, from evolution to relativity, had its origins in thought experiments—that is, brains just doing what they do. 
How do they do what they do? Kurzweil posits a hierarchy of "pattern-recognizers" within the brain and models the organ as a "recursive probabilistic fractal" based on anywhere from 30 million to 100 million bytes of information. In doing so, he outlines the "system requirements" of a machine that would have the computing power of a human brain. 
It's not all theory with Kurzweil, either. He highlights Henry Markham's Blue Brain Project, an effort to create a full artificial brain by 2023, though he isn't optimistic about their chances.
Our Final Invention By James Barrat
At least one author on this list had to go full-Terminator, and documentarian James Barrat doesn't disappoint. His book marvels at the lemming-like charge to make our own greatest rival—a machine with intelligence to rival our own. 
He builds convincing arguments that such an intelligence would share with us our instinct for self-preservation and would not take kindly to the idea of being switched off. Rivaling us in cunning, with the potential for global access, Barrat's AI boogeyman really could unleash some sort of "judgment day" on us. With the potential for recursive self-improvement, Barrat imagines an AI that would leave us in the dust.
Human + Machine: Reimagining Work in the Age of AI By Paul R. Daugherty and H. James Wilson
Daugherty and Wilson skip the dire predictions of apocalyptic dystopia and take a pragmatic dive into what AI means for the modern workplace. To them, AI is more likely to disrupt business practices than the very nature of humanity, and at least in the near-term it's hard to disagree with them. 
The authors draw on their experience with 1,500 different companies to describe six evolving mergers of human and machine intelligence that enable companies to pivot quickly and leap forward in profitability. 
One of the most "manager-friendly" books on this list, Daugherty and Wilson include a "Leader's Guide" for managers to align their company for success with the help of AI.
Fiction Books about AI to Read in 2023
Speak By Louisa Hall
Speak locates the story of the creation of artificial intelligence across the centuries, starting with the plight of a lonely Puritan woman on a journey to the new world with a husband who doesn't love her. Other characters across the epochs include a Jewish refugee, computing innovator Alan Turing, a rogue computer programmer, and—most poignantly—a lonely and disabled girl whose only friend is AI software—possibly the only "person" she can trust.
Hall places AI in a continuum of how we reach for each other but fall short, how we want to be heard but fail to listen, how we strive to connect but end up more alone than ever, with only our screens for companionship. While it seems to echo the age of social-media disconnect and artificial interactions, this novel looks both forward and backward, steeped in the past but ahead of its time. In Hall's estimation, we have never listened to each other, even before Twitter.
R.U.R. (Rossum's Universal Robots By Karel Capek
Czech writer Karel Capek was far ahead of his time when he penned R.U.R. in the early 1920s and introduced the word "robot" to English. Capek's play envisions a world in which the human race creates artificial people to do their grunt work, only to discover that because their lives lack meaning without toil, the humans in question stop breeding. 
As robots tend to do, the androids of Capek's dystopia revolt and kill their human creators, leaving only one human alive to attempt to teach them the meaning of love so they can learn to reproduce on their own. 
The play is a short read, but echoes many of the fears of latter-day AI critics, in words written a century ago.
Robots vs. Fairies Edited By Dominik Parisien and Navah Wolfe
If you like Love, Death + Robots, you might find this anthology of short stories, by some of the most respected writers in the fantasy and sci fi genre, to be right up your alley. The stories roughly divide into "fairy" stories and "robot" stories, with some crossover, befitting the fact that robot AI technology seems magical in its own right. And befitting its place on the cusp of technology, the robot stories provide poignant meditations on what it means to be a "person," what it means to "feel."
Madeline Ashby's "Work Shadow/Shadow Work," for example, tells the story of an Icelandic pagan priestess and her put-upon robotic assistant, whom the priestess scorns for not having a "soul." Of course, some witchy magic changes that game.
Jonathan Mayberry's "Ironheart," in contrast, is a more elegiac story about an aging veteran who returns home to his grandfather's farm, staffed by robotic "workhorse" androids that have seen better days, and comes to empathize with them as he reflects on his own deteriorating body.
We Are Legion (We Are Bob) By Dennis E. Taylor
This bonkers space odyssey turns the AI equation on its head by imagining a future where, instead of crafting AI through technological breakthroughs, the powers that be simply download the neural patterns of deceased humans and use those "real brains" as software to control "smart" devices. These people-cum-programs are treated as chattel with no rights, broaching all sorts of pivotal and difficult questions about human rights and whether they transcend human bodies.
The "Bob" in question just sold his software company but is killed in a tragic accident before he can enjoy the fruits of his labor. His mind is repurposed to be the slave AI commander of a probe shot into space to detect habitable worlds, but gets more than he bargained for when he encounters hostile alien intelligence.
We Are Legion (We Are Bob) is the first volume of the "Bobiverse" which includes the follow-up novels For We Are Many and All These Worlds.
A Closed and Common Orbit By Becky Chambers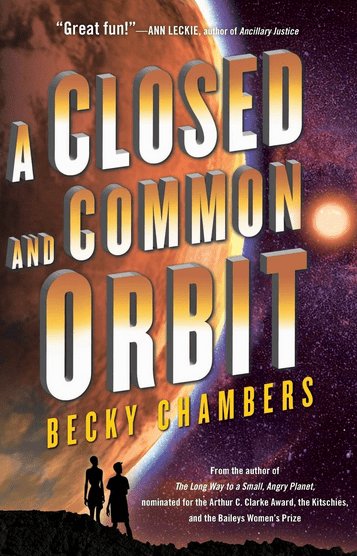 Book #2 of Becky Chambers' Hugo Award-winning series picks up where its predecessor, A Long Way to a Small Angry Planet, left off. It kicks off with Lovelace, the ship AI of the starship Wayfarer, being downloaded into a body and having to learn to navigate the universe in corporeal form. Lovelace befriends Pepper, a chipper engineer with a dark past. 
In a field of bleak dystopias, A Closed and Common Orbit offers a cheery, optimistic take on the AI genre in the continuation of this rolicking space opera. 
Date Night on Union Station By E.M. Foner
E.M. Foner kicks off the EarthCent Ambassador series with a hilarious depiction of ennui, job dissatisfaction, bureaucracy on a galactic scale, and, most importantly, a dating app. To what better use can AI possibly be put than matching bored diplomats to potential mates?
The story follows Kelly Frank, the lead diplomat from EarthCent to the space-based Union Station—but despite the high-flown title, it's a post with little job satisfaction. Unfortunately, this AI Yenta sends Kelly on a series of dates with diminishing romantic returns. In space, nobody can hear you groan. Maybe they have Space Tinder.
The Golden Age By John C. Wright
The "Golden Age" of the title takes place 10,000 years into the future, when humans have achieved immortality and populated the solar system in the wake of a great technological event called the "Grand Transcendence." A highborn man is sent on a quest across the solar system to learn the truth about his identity and the dark secrets of his past. 
The Golden Age is a far-reaching vision of the endgame of machine intelligence—a utopia, but one that is only skin-deep. 
Robopocalypse By Daniel H. Wilson
The first book in Daniel H. Wilson's Robopocalypse series borrows from George R.R. Martin in its structure, with the story of an epic struggle told from the first-person point of view of multiple players in the drama. 
The drama is the aftermath of "Zero Hour," an armageddon-level event precipitated by the AI entity Archos, a destroyer of man's own design. Archos itself is a fascinating villain, not just for being formidable but also for being spookily childlike, even likable.
Robopocalypse is a rich, boldly drawn panorama of the "machines rise up" trope taken to its final conclusion. The sequel, Robogenesis, is equally engrossing.
Queen of Angels By Greg Bear
Greg Bear's immersive novel envisions a near future where psychotherapy and neuroscience have eliminated nearly all criminality, but have also imposed a kind of caste system on humanity. Into this milieu, acclaimed writer Emmanuel Goldsmith (ho there, 1984) is implicated in a series of eight grisly murders, a crime nearly unheard of.
The world-building alone is impressive in this novel. There's Mary Choy, a detective assigned to the case, part of a high caste of mental aesthetes who don't need therapy -- plus she's augmented by nanotechnology for both aesthetics and function. There's a psychotherapist who can enter his patients' minds. There's a government bureau that meticulously and invasively mines data on every citizen. 
Finally, there's an AI space probe that discovers life at Alpha Centauri and achieves self-awareness and passes that self-awareness to its twin on earth, a kind of "entangled-particle" spooky action at a distance that makes hard sci-fi oh-so-sweet. 
Daemon By Daniel Suarez
Daemon is the first of a two-part novel (the second volume is Freedom) that chronicles the rise to power of "the Daemon," an AI set in motion by the death of its creator, a brilliant computer programmer. The Daemon starts by killing two of the collaborators in its creation, then goes on to take over the world.
The Daemon, however, does this subtly—one might even say, "possessing" the world through subterfuge. It invents ground-breaking products like self-driving cars, drone weapons, and a "darknet." It invents a kind of "government by algorithm."
The bulk of the story, however, plays out in its subversion of key players in society, coaxing or forcing them to do its bidding. Its eventually willing victims include a detective, a hacker, a government cryptographer, a gamer, a news reporter, a drug dealer, and other persons of note.
Compared to the apocalyptic nuclear wars of other "evil AI" plots, Daemon offers a unique take that more closely resembles AI in our own culture—conquest by guile rather than by bombs.
You Might Also Like: