More businesses turn to the major search engines when it comes to finding business-to-business (B2B) contacts than any other platforms online. If you target professional audiences like this, you need the right type of help to make your pay-per-click (PPC) campaigns effective. All marketing requires a multi-pronged approach to make your brand well-known in whatever industry you represent. Top SEO agency teams must understand both long-term optimization strategies and immediate advertising efforts that set you on the track to increased growth and profits. Are you ready to learn how B2B PPC can help you succeed?
Let's begin!
Does PPC Work for E-commerce?
B2B PPC or paid search advertising works for any type of company. In fact, it is one of the best types of results-driven marketing for business-to-consumer (B2C) brands as well. When it comes to e-commerce specifically, you cannot ignore the benefits. In the B2B world, this focuses primarily on selling services and wholesale items to retailers both online and off.
Are you looking for your next PPC agency partner? Listen to our colleague, Jason, to learn about our approach & process for your next PPC campaign.
PPC ad campaigns can save you a lot of time and effort formally associated with off-line advertising methods like cold calling, trade show attendance, and media spots on radio or TV. Paid search works every hour of every day, which is especially helpful for global brands with targets in different time zones.
Follow Top SEO Agency Campaign Design Steps
Although outsourcing your B2B PPC strategy makes sense, it helps to understand the process that leads to success. These steps will help you gather more targeted leads and convert them to long-term customers or partners depending on your structure and interests.
     1. Research Effective Keywords
If you want to create a successful B2B PPC campaign, you need to start by finding high-value keywords. Keywords are the foundation of any PPC campaign, and if you do not choose the right ones, your entire campaign is likely to fail. Consider generic, competitor, related, branded keywords to cover everything.
To choose effective words and phrases, first, choose keywords relevant to your business and products. Second, make sure they are popular enough to generate a good amount of traffic, but not so popular that they are too expensive to bid on. Finally, the keywords you choose need to be targeted to your target audience. If you are selling products or services to businesses, your keywords must reflect that.
     2. Follow Organized Structures
In order to ensure success, pay attention to best practices when it comes to structuring campaigns. While it makes sense that every campaign should be structured into ad groups based on common keywords and themes, there are other things to consider. This basic method will make it easier to target your ads and track their performance. But your SEO agency must pay attention to the entire hierarchy of your account, campaigns, groups, and keywords. Each one of these structural parts requires individual data tracking, analysis, and changes to remain competitive and effective.
     3. Set Your Budget
For B2B PPC advertising, the most important budgetary factor to keep in mind is return on investment (ROI). Investing too little in your ad campaign can result in missed opportunities and a lower return on investment. On the other hand, overspending can quickly eat into your profits. So how do you determine the right budget for your business? If you do not already have data about expected keyword bids and your eventual cost per lead or sale metrics, you can rely on an experienced PPC and SEO agency to figure these things out for you. After all, the team you hire have a vested interest in making sure your campaigns are profitable.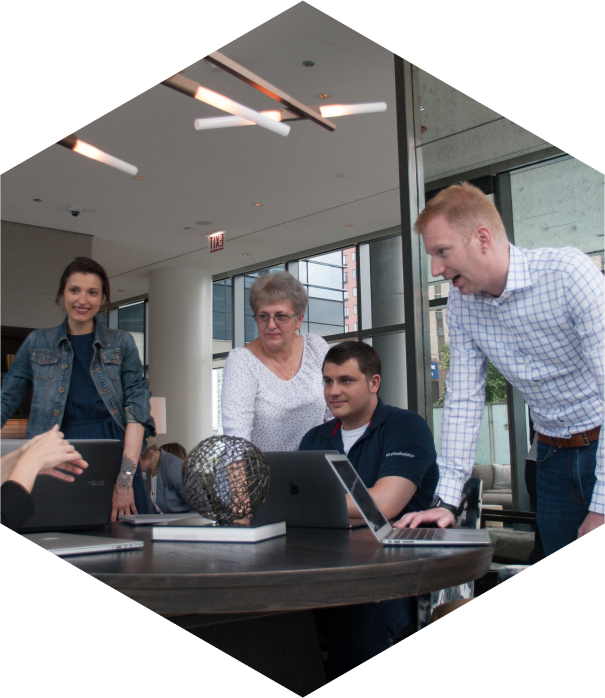 How Can We Help?

Fill out the short form below or call us at:



(888) 846-5382
     4. Design Attention-Grabbing Ads
When it comes to your B2B PPC ad campaign, the quality of your ad copy and creatives can make all the difference in whether you capture your audience's attention. This is different in the B2B world than it is when targeting consumers. An excellent PPC agency should cover these skills in graphic design, copywriting, and ad campaign-specific optimization.
To draft effective PPC ad copy, start by thinking about what makes your product or service unique and what benefits it provides to consumers. Then, use active and persuasive language to write a headline that will grab attention and encourage people to click through to your website.
Make sure your ad creatives are also well-designed and eye-catching. After all, these are what will ultimately persuade company representatives to take action. In most cases, the PPC advertising focuses on the headlines and descriptions for your landing pages. Do not rely on basic words or lists of keywords if you want to make an impact that generates leads, contacts, and ultimately sales.
     5. Prepare Landing Pages
The purpose of a landing page is to provide a focused, relevant, and optimized experience for visitors who click on your ad. This page should be designed by your SEO agency with your target audience and conversion goals in mind. Make sure it is relevant to the ad that brought the visitor there, and that the call-to-action is clear and irresistible. Pay attention to the details of your page design, including font size and color, imagery, and overall layout.
Most importantly, make sure your landing page is optimized for search engine ranking so that it appears as high as possible in search results. Use relevant keywords throughout the page, including in the title, headings, and body text. PPC and SEO work together to get you the results you want.
     6. Launch Your Campaigns and Keep Them Effective
Are you ready to launch your B2B PPC advertising campaign? You have created incredible ad copy and graphics, and you are targeting the right audience. But how will you know if your campaign is successful? The key is to track your data and use analytics platforms to quantify your results.
With the right tracking in place, you can see which ads are performing well and which need to be tweaked. Your SEO agency can also track how much traffic your campaign is generating and whether that traffic is converting into leads. By analyzing your data, you can fine-tune your campaign for maximum results.
Summing Up
As a B2B company, you need to look at advertising in a whole different way. This is why you need an experienced and knowledgeable team on your side from the start. Contact Digital Authority Partners to launch the most successful PPC campaigns and reap the benefits that come with the team's expertise. Let us help you chart a course toward greater success today.