If you plan to launch your eCommerce website, you have to go through this guide to help you integrate key techniques to make your big day hit great sales.
Launching an eCommerce website is exciting, especially if you have just started your new business. During the pandemic, people prefer to be entrepreneurs rather than risking their health in day-to-day office jobs. 
Choosing a business that matches your interest, passion, and vision will enable you to craft creative and innovative ideas to bring out the best of your talent and the utmost benefit for your target market. Launching an e-commerce website requires collaborating with a few internet marketing elements to connect to your target market and make high record sales on your first day. 
---
Want to learn more about the Digital Authority Partners approach to SEO? Watch this video!
---
If you need to fix some more search engine optimization (SEO) technical issues in your website, ask a reputable eCommerce SEO Agency to help you. Here are the things you need to prepare before launching your e-commerce website:
Add Back-End Meta Tags
After the website design, you need to add meta tags in the titles, headings, descriptions, images, and pages of your e-commerce website. Meta tags serve as information signals to search engine crawlers that match the queries of users and your site content. 
Add a Site Map
A site map helps search engines locate the pages of your website, including its content and links. It helps search engines recommend your site to queries near your company address. It boosts local geo-targeting and enables you to reach out to the target market, who is ready to purchase your products or avail of your services. 
You can learn more about site maps when you go to your Webmaster Tools. Search engines make it easier to index your pages with a site map. 
Register Your Brand with Google My Business
Google has been helping small and medium-sized businesses through local searches. It matches the user's location or the keyword with your company address and services. You can receive instant inquiries from nearby people and accept deliveries. 
When your target market is familiar with your physical store, they are more confident in buying directly from your social media or website.
Add Canonical Links
Similar products can be inevitable to showcase on your website. If this is the case, add canonical links to your site. Canonical links let search engines know that these pages are original and that they should index those pages instead. 
This way, search engine crawlers will index only what you allow them to. This will prevent penalties from Google and help you sustain your rank in search results.
Use Long-Tail Keywords
Long-tail keywords help clarify what your content is about. They provide more information for search engines on what they can expect from reading your content. So when users type in search boxes, crawlers can recommend your content better. 
Make sure to include your location in your keyword to narrow down the category and reduce competition. Long-tail keywords are easier to optimize. You can research suitable keywords for your brand through Google Keyword Planner, Google Trends, and Google AdWords. 
If you are into clothing and multi-item online shopping, you can check how Amazon categorizes keywords. You can have a clue on the trending searches. 
You can look for popular keywords on Google Trends. Adjust your keywords according to your key products or services and the popular searches nowadays. 
Use Structured Data
Organize your URLs, titles, and descriptions uniformly with categories and locations included in the keywords. Through this, you can help search engines sort through your product listing page faster and recommend items to users efficiently. Check how Amazon does it and arrange the product details in an accessible SEO-friendly format.  
Provide Summaries at the Beginning of Your Blog Posts
Summaries are helpful for Google Voice Search and other search engines. Nowadays, people use more smart devices, such as Alexa, Siri, and Google Nest; voice search is in demand. SEO optimization gears toward more voice-friendly content. 
This means that you can form titles in question form and provide answers as early as in your article's opening paragraph. When you have a concise info paragraph at the start of your content, search engines can easily analyze your page and recommend it to users.
Add Videos
People are becoming more into visuals, and you should take advantage of this. Invest in short videos that feature your new products or services. Partner with influencers who have a huge following and are similar to your target audience. Negotiate on your terms and agree on how you can promote your vlog. 
If you have a budget, you can integrate certain virtual reality effects to attract more target audiences.
Use Artificial Intelligence
Integrate artificial intelligence (AI) into your article or blog; it can help you answer social media inquiries. AI can reply with personalized messages and send answers based on frequently asked questions (FAQs). 
This reduces your workload, and you can focus on other matters. You can also integrate AI with your live chat support. 
Integrate Social Media Optimization
If you want more immediate sales, maximize social media. Partner with local communities and participate in events to get instant leads and connect with nearby target markets. This way, you can grow your customer database and have immediate follow-up calls that can convert sales. 
These are some tips to help you grow your eCommerce business and increase your revenue. New SEO strategies are coming soon as companies are preparing for metaverse communication. 
The rise of machine learning will shape eCommerce. Machines will have highly empowered AI and perform human-like actions to work for manufacturing operations, warehouse shipping, and even cooking. You can look forward to transacting super-fast operations and shipping items with just a few swipes on your smartphone. 
Final Words
Remember that the foundation of your business is your core values. How you conduct your operations points back to how you see people and what culture you want to develop in your company. It is always best to begin with your vision in mind, act according to your mission, and feel your values as you meet new partners and attend to customers.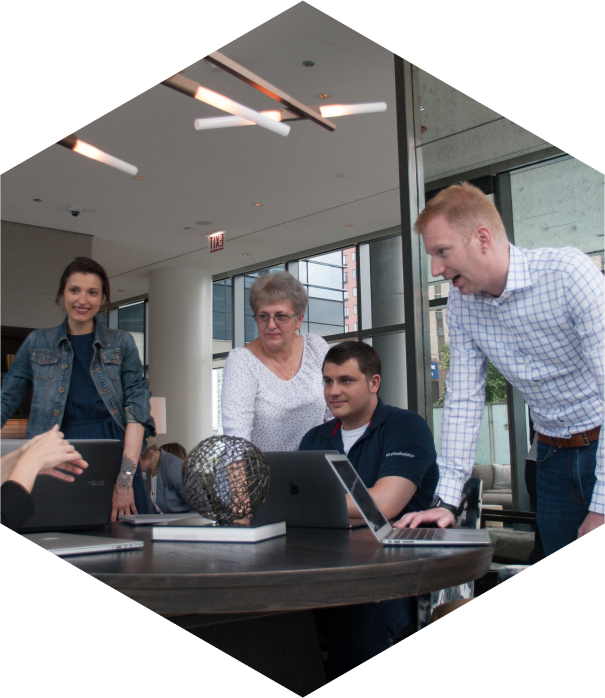 How Can We Help?

Fill out the short form below or call us at:



(888) 846-5382
Having a clear purpose for your eCommerce business will keep you in the right direction. Develop long-term partnerships with your clients and see how robust your e-commerce business will grow from here. 
Consult a digital marketing agency to jump-start a campaign to help you integrate more advanced SEO techniques for your e-commerce website.