There are many ways to increase sales on an ecommerce website using search engine optimization (SEO) strategies, but four strategies top the ranks. You don't want to miss out on these.
Prioritizing SEO for your ecommerce business helps rank your products for the season. SEO helps drive consistent sales, and you can even incorporate these new strategies to help drive traffic to your featured items.
While some SEO work can be done by the skin of your teeth (on your own), most ecommerce businesses end up opting to work with a skilled ecommerce SEO agency, instead, as this often saves precious time and money while ensuring quality results they can measure.
With that being said, let's dive into the top four new ways to boost your ecommerce shop's SEO.
---
Want to learn more about the Digital Authority Partners approach to SEO? Watch this video!
---
1. Summary at the Beginning of the Article
Write a brief overview at the beginning of your blog posts so that Google can crawl the content and recommend it for its keywords. Then, add hypertext inside the article and direct it to relevant pages. 
Summaries serve as expanded descriptions of the product title and alert crawlers about the information. This way, crawlers can match the user's query with your blog's keywords and summaries and then recommend matches. Help search engines find your content faster and connect to your target market through concise descriptions and summaries of your products.
2. Structured Data
Ecommerce websites should organize their page content, links, titles, and descriptions. Start with the URL; include the location and category of the product inside the website.
Include keywords in your title and write a description that includes the category and the location of the product. Write a summary of the product offer. 
Mention details such as the price, color, size, and quantity in a consistent, organized style. Make the entire online shop look coordinated and clean. 
Strive to write unique content for each product and highlight the bestselling edge of each. This way, you can avoid duplicate content that confuses users. One way to address the unavoidable problem of similar product pages is by canonicalizing them. 
You can alert Google or other search engines that there is a master page and that this sole page requires optimization. Sort through your product listings and prevent duplication as much as possible. Have an SEO administrator who can handle the entire product listing optimization. 
3. Voice Search
People like using voice search nowadays even when they are not driving or moving. 
When you create your content, use a conversational tone similar to the way people speak. Google will rank your content higher for voice search queries if these provide ready answers to questions. 
Use the words your target market uses when they speak, and fashion your language according to their lifestyles. Attract a larger demographic when you align your copy with popular trends and make viral content through related posts. Be ready to evolve; ecommerce will face new trends like metaverse communication in the following months. 
4. Artificial Intelligence
If you have many new items to feature on your ecommerce site, yet you have limited time to meet your sales quota, you might want to take advantage of artificial intelligence (AI). 
AI can personalize and customize the products for your site visitors. It can track the collected cookies and analyze them to match your product listings' preferences. AI can make personalized messages and recommend items to users through live chat. 
For example, when a user browses through clothes, AI stores the information and recommends pages based on these behavioral characteristics. The next time the user visits the online shop, AI can pop up the previously selected dresses and confirm if they are now ready to make a purchase. 
There are many things that AI can do, such as sorting through new clothes and placing them according to the category that you have pre-set. AI in ecommerce SEO makes organizing easier. 
But you need to inform your users about how you use cookies and AI to track your site visitors' movements. Inform your users about your site's data privacy compliance, terms and conditions, and data security protocols. Let your users know that they can trust your company's use of AI. 
Other Strategies
You can also implement the following strategies: 
Increase the download speed of your website

Integrate more responsive designs for mobile 

Create videos with 3-D, augmented reality (AR), or virtual reality (VR) effects

Use long-tail keywords in content marketing
These strategies will only be helpful if you keep improving the quality of your products and services. SEO strategies and product quality must go hand in hand to persuade your target audience to purchase. You can improve the quality of your products and services by investing in research and development and by closely monitoring the quality assurance department. 
Make sure that every step of the business process is thorough. Closely monitor the operations and ensure that the employees abide by company safety procedures, especially Covid-19 protocols, to ensure that all products are clean before shipping them to customers.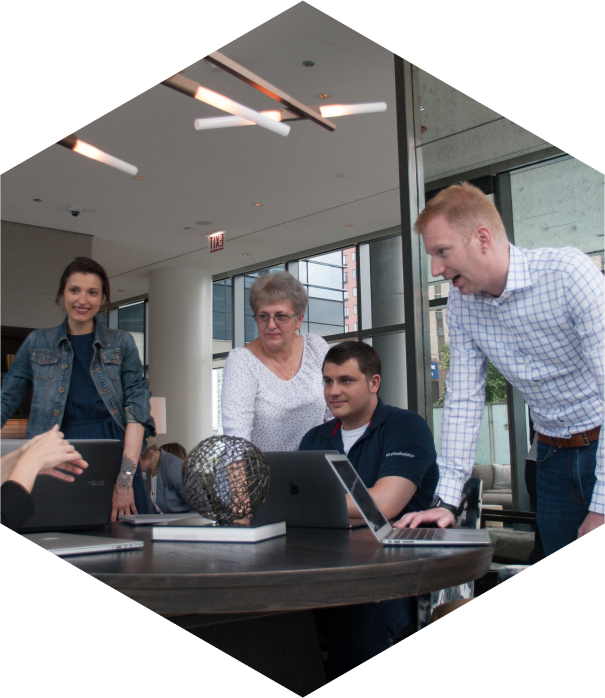 How Can We Help?

Fill out the short form below or call us at:



(888) 846-5382
You must implement more safety guidelines if you have an ecommerce business in the food and beverage industry. Also, handling and shipping require more monitoring for this specific business category. It is also good to employ certain sustainable practices in your business to help your community foster good partnerships. 
Final Words
Keeping all of this in mind, you'll have everything you need to rise high above the competition in terms of SEO for your ecommerce business. With ever-increasing amounts of competition in this arena, that's an asset that is priceless to your business's survival and growth.