Has your sales volume dropped? Perhaps the number of leads you're generating has fallen, or the quality of those leads is poor, so no one is converting. Either way, you must formulate refined marketing, and sales funnel to guide leads down the ideal customer journey.
Traditional advertising, such as print ads or cold calling, isn't the way to generate a high number of targeted leads. Still, an SEO marketing funnel and an SEO agency can implement this for you.
---
Want to learn more about the Digital Authority Partners approach to SEO? Watch this video!
---
What Is a Marketing Funnel & Why Should You Care?
A marketing funnel allows you to categorize different types of leads from their relationship with your business. Every prospect is different: Some have never had any interaction with you before, and they don't know your products or services. Others are familiar with your brand, have seen you before, and are considering purchasing from you. Finally, returning customers need to persuade you to buy from you again. 
The power of the lead funnels in marketing means you can pinpoint every type of lead, target them, and nurture them through to becoming a paying customer.
Content Marketing & Lead Funnels
A defined content marketing funnel allows you to formulate a strategy that targets every lead level. Rather than simply creating content you think will be helpful to your audience, create a balance of content that speaks to every lead type, catering to the audience's needs and guiding them towards becoming customers.
A simple and effective marketing funnel comprises just three levels. First, it encompasses all types of leads and tells you what content to create for each.
      1. Level 1 – Awareness
At this stage, leads are unfamiliar with your business, product, or services. They're looking for educational, entertaining, or viral content that grabs their attention and aren't ready to make a purchase yet. So, as its name suggests, design the content for the top of the funnel to drive brand awareness. Content types that are successful here include:
Educational SEO-Rich Blog Posts:

Answer questions your target audience frequently asks or create a thought leadership piece on emerging trends in your industry. These articles educate and show you to be an expert in your industry while ranking you for high-value keywords.

Social Media Videos:

A short social media clip if your chance to go viral and put your brand in front of potentially millions of users. Remember, this isn't about your products or services – engage with the latest trends but keep them relevant to your business.

Infographics:

Another shareable and engaging content, infographics look good while giving people insights into your industry, customer base, or area of research. You present as an expert while giving users an image they can share with their audience.
There are more content examples here, but their aim is the same – to raise awareness of your brand and introduce it to people who aren't already familiar with it. The primary purpose of any content at this stage is to make people want to share it. The more it's distributed, the more people become familiar with your brand.
     2. Level 2 – Consideration
The middle of the funnel is where people are familiar with your brand. Here, you need to introduce your expertise, products, and services and encourage them to make a non-commitment conversion, such as subscribing to a newsletter. Types of content you could use to do this include: 
Gated Content:

The perfect way to incentivize leads to hand over their email address is through gated content. Examples include eBooks, document templates, and other how-to guides.

 
Nurture Marketing Emails:

Once you've captured contact information, you can send a series of welcome emails, giving subscribers more value and enabling them to forge a relationship with your brand.

Webinars:

This is the perfect way to put a face or voice to your brand, allowing you to deepen the connection between leads and your business. Sign up for webinars is also a great data capture tool.
Again, there are other examples, but at the consideration stage, you aim to build a more personable connection with leads. By capturing data and furthering your relationship with leads, they'll form connections with your brand and become more intrigued by your products and services.
     3. Level 3 – Decision 
The bottom level of the funnel is the point at which a lead decides to become a paying customer or not. Now, it's time to get your sales head on – you're going to utilize content to tell people how your products and services will improve their lives and convince them to buy. Still, again, there is a range of content types to use across multiple platforms.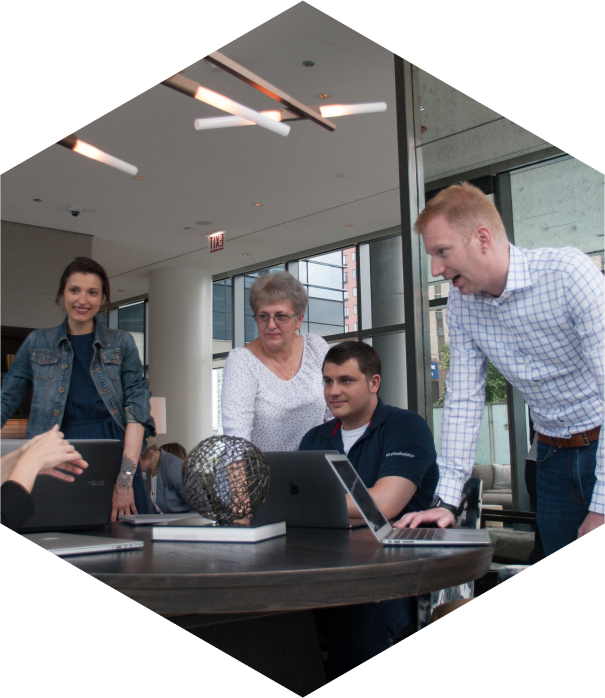 How Can We Help?

Fill out the short form below or call us at:



(888) 846-5382
However, it's not the time to make outlandish claims about your products in your face. Instead, be subtle, be compelling, and nudge leads towards sealing the deal.
Testimonial, Case Studies, & Reviews:

Everyone else's word is more powerful than yours.

87% of people read reviews about local businesses

before purchasing. Showcase the positive things other people say about your business; leads will find you more trustworthy.

Share Your Values & Story:

People buy from businesses they resonate with, so create content that shows your personality, purpose, and where you came from – a massive

77% of people are more likely to buy from a brand if they agree with its values.

Conversion-Optimized Website Pages:

It's time to get committed. Use services and tailored landing pages to highlight your products, services, and benefits. Additionally, use more forceful CTAs such as Book A Demo, Schedule A Meeting, and Buy Now.
The Power of a Content Marketing Funnel Summarized
Implement a content strategy that addresses the needs of a lead funnel that empowers compelling content that takes users on a journey from being unfamiliar with your brand to becoming paying customers. By taking a thoughtful approach to the content, you can drive new traffic to your website and harness the connections you've already made with existing leads and customers. 
Suppose you'd like to discuss content marketing funnels further or need assistance implementing a strategy to generate more meaningful leads. In that case, our team is ready and waiting to assist.