Creating a healthcare website is a complex task and one that most organizations will outsource to a marketing agency. While the process comes with a cost, it takes untold time and experience to research and develop a robust website that ticks all the boxes.
But what steps need to be followed to create a healthcare website?
In this article, we take a look at some steps for creating a healthcare website in 2023.
---
To learn how Digital Authority Partners can create a standout website for you, watch this video!
---
5 Steps to Healthcare Website Development
For web designers, it's essential to have a good idea of what the end product is going to look like, and the look and feel of any website always depend on many aspects of healthcare website development. The following steps provide a quick outline of the task at hand and some basic factors that need to be considered during the process:
     1. Research and Conceptualize the Website Idea
Research is a key part of healthcare website development, and agencies will use many factors, such as the product market and target audience, to drive the process.
Here are a few points that will need to be examined during these early stages:
Define the Target Audience

- Outline the various pain points and demographics of the website users.

Market and Competitor Analysis

- Consider the market size, recent trends, and as much as possible about competitors in the same market.

Opportunities and Solutions

- Identify potential opportunities and define the issues for which the website will provide solutions to users.

Draft a Plan

- Create a plan to illustrate all steps to be taken to build the website.
     2. The Website Design Process
The objective of healthcare website development is to create an attractive interface that provides an outstanding experience to the end-user. In fact, user experience is everything, and often more important than the appearance of a website.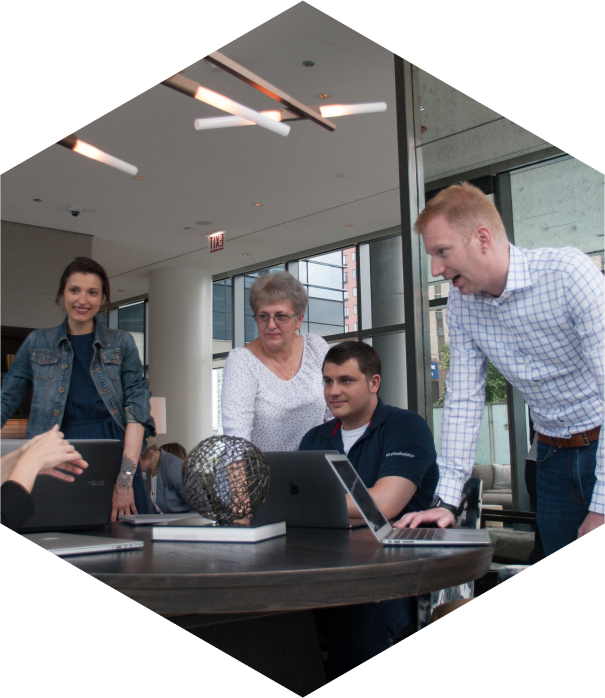 How Can We Help?

Fill out the short form below or call us at:



(888) 846-5382
But that's just part of the story. For experts, no amount of marketing or search engine optimization is worthwhile without a competent website. Web design is the online identity of a brand and the appearance that helps create a visitor's initial perception. Also, the user experience will dictate how a user will think and feel about using this service.
Design agencies will ponder the following questions:
How does the website look?

How does it feel to use the website features?

How does the website function? (Is the website fast, easy to navigate, etc.)

How responsive and mobile-friendly is the website?
At this point, it's necessary for designers to decide the type of software that should be used to build and power the website. This stage is critical because the potential of a website will always rely on the quality of the platform, software, and features.
     3. Define and Implement Various Features to the Website
It's possible to customize almost everything on a WordPress website and install plugins (extensions) that enable a wide range of features that help serve and assist online users. For example, WordPress is a hugely popular content management system (CMS) that can power any type of website—even Forbes loves WordPress!
As for the features, web design needs to consider what type of content, facilities, or services might help support online users. Whether this refers to a booking engine for appointments or access to certain resources, these features can be installed.
You might be asking yourself whether a website or app is most suitable for an organization. This decision really depends on the end goal. For instance, a website is suitable if the goal is to facilitate bookings or provide access to online content, while an app might be better for developing an application with a specific service that cannot be done via a website.
     4. Install Systems to Comply with Federal Law
You must know the Health Insurance Portability and Accountability Act (HIPAA) is a federal law that serves and protects the interest of patients. This law relates to security and privacy rules, and, simply put, it's a rather complex side of web design.
Healthcare website development must adhere to this law and implement features and systems to ensure compliance. Some of these efforts will safeguard the storage and management of all data, while others will protect against a potential data breach/hack.
Just so you know, the likes of encryption and installation of SSL scripts are basic requirements for protecting a website. But protecting this data is also about identifying weak links and then using different types of software to safeguard all information.
     5. Testing and Adjusting to Improve Performance
Testing is another vital component of healthcare website development. Agencies spend a lot of time on this crucial stage because it points to the precise experience online users are likely to experience when the website is launched. 
Even when every aspect of the website is functioning as intended, agencies will continue to monitor how users interact with the website. Aside from enabling designers to pinpoint problems, this is a great time to gather feedback in order to adjust and improve the website further.
When the website is fully launched, that's when marketing agencies go to work on driving traffic to the website. With this in mind, it's best to contract a full-service agency that can use search engine optimization to help the website gain traction.
Final Thoughts
It's true, many aspects of web design are simplified these days, but healthcare website development is complex, and this is certainly true in terms of building a robust site. Federal law also emphasizes the importance of compliance, and it's not an option to ignore these regulations in the healthcare industry. Also, design skills and experience are necessary to build an attractive website that offers an equally impressive user experience. Website design may come with a price tag, but the cost of not outsourcing this complex job to the experts is most likely higher in the long run.