Selling on Amazon is big business – it is the best-known eCommerce platform globally, and with that comes a lot of traffic. But, of course, there is also a very high number of sellers for any given product, making competition particularly fierce. So one of the most effective ways to stand out among the crowd is by using advertising: more specifically, PPC advertising.
---
If you want to learn how Digital Authority Partners can increase your PPC effectiveness, watch this video!
---
PPC, or pay-per-click, advertising on Amazon, is a great way to put your listing in front of an interested party. You can make moves towards Amazon PPC yourself, but you will need to hire an Amazon PPC agency. Here is why it makes sense:
An Amazon PPC Agency Has the Skills You Need
It might seem obvious – I  mean, you would not be hiring the agency if they did not have the specific skills you need. However, the key here is that they are Amazon PPC experts, which sets them apart from an agency that would focus on Google or Facebook, for example.
An essential factor to consider is three main types of Amazon advertising: sponsored product, sponsored brand, and sponsored display. Your Amazon PPC agency will be able to help you coordinate and manage each of those, as well as tell you where to best place your specific product ads.
The design of PPC is that you only pay for adverts when clicked on (hence the name), but incorrectly placing those ads, you will get no traction. If they are mistargeted, you may pay for clicks that will not convert into sales – ruining any chance of a return on your investment.
The world of PPC changes constantly, so you benefit when you go with a specialist:
They will have the experience of working on the platform.
They will have learned first-hand what works and what does not.
They will (usually) constantly develop their skills and knowledge through training and qualifications.
You Can Use It as a Learning Experience
If you choose to go down the route of creating, implementing, and managing your own Amazon pay-per-click campaigns, you will need to spend some time (and potentially money) on training. Amazon PPC can be complex, so you will not be able to learn everything you need to know overnight, delaying your advertising strategy. As a result, your competitors are getting the sales that could have been yours.
With an Amazon PPC agency, you get two things: your campaign launches quickly, with more assured results, and you have access to a wealth of knowledge. In addition, anything you want to know, you can ask your agency – so there is an opportunity for you to take on the inside, tips, and tricks, without delaying your campaign.
Then, when you have had some success and learned the ropes, you can consider taking the advertising function back in-house. However, bear in mind that you also need to spend a lot of time ensuring that your campaigns are successful alongside the skills and knowledge – so consider whether you can spare that kind of time investment.
Focus On Other Things
On the subject of time: think about what else you could be doing with the time you save by outsourcing your Amazon PPC management. Selling online means keeping a lot of different plates spinning – you need to become a customer service, logistics, supplier management, financial, and technology expert all at the same time.
Simultaneously, you have to manage your life. Therefore, it would be best if you had adequate time away from the business each day to make sure you can recharge, and deal with the day-to-day obligations and tasks that we all have.
Whether you choose to spend the time you save building or running your business or finally getting some much-needed downtime and avoiding a personal burnout that could negatively affect your business and your lifestyle, it is worth evaluating how much that extra time is worth. If you find that it is worth the expense of paying someone else to run your ads, then hiring an agency should be a no-brainer.
Get Expert Support and Advice
When you hire an Amazon PPC agency, you can also benefit from their experience – not just in PPC (which is why you hired them in the first place), but also in terms of the broader seller experience.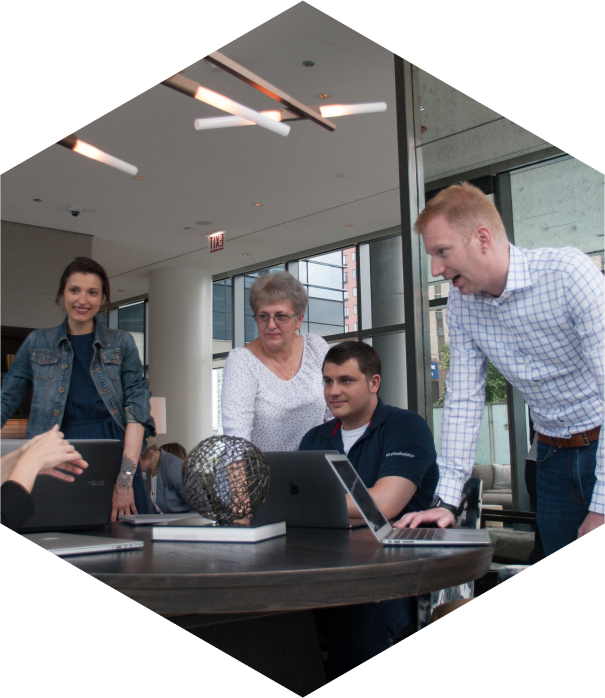 How Can We Help?

Fill out the short form below or call us at:



(888) 846-5382
Need advice on ramping up your impressions? Struggling to fulfill orders for all the new customers? Need support in customer relations? The odds are that your agency has seen it all before with their previous clients – so use them as a resource and ask what they would advise.
It might not be necessarily within their original remit. Still, suppose you have a good working relationship. In that case, it can be a massive benefit to you to access the common mistakes, solutions, tips, and tricks that other Amazon sellers have experienced.
Hiring a Traditional PPC Instead
So far, we have discussed two options: taking care of Amazon PPC yourself or having an Amazon PPC agency do it for you. There is a third option (not doing anything is not an option): using a traditional PPC agency, i.e., one that is not an Amazon-only specialist. This option is not necessarily a bad thing – yes, you will likely miss out on a couple of the benefits from above, but you will still get the help of PPC advertising experts and impact your sales in the same manner.
Any good-quality PPC agency can help you to improve your business. However, one of the most important things you can do before hiring an agency is sit down with them and share your goals and vision. This discussion will give you a chance to gauge their receptiveness level and get an idea of the results you could expect from them.
Just because an agency is not strictly Amazon-only does not mean they do not have Amazon specialists internally or the skills to cross over when necessary.