Incredibly, there are over 200 ranking factors in the Google algorithm. While it's challenging to optimize for all of them, using high-quality content for SEO is crucial to ranking performance. Any SEO agency should tell you content has always been king, but now content quality is the focus.
In this article, we will discuss how the content you produce affects SEO, answer frequently asked questions, and tell you how to produce Google-quality content.
---
Want to learn more about the Digital Authority Partners approach to SEO? Watch this video!
---
What Is Quality Content for SEO?
Firstly, content quality comes down to much more than just the words you use. Based on Google's 2022 Search Guidelines, marketers now follow the E-E-A-T model—experience, expertise, authoritativeness, trustworthiness. However, Google defines quality content as much more than that; so it's time to broaden your thought processes. Now you have to think about layout, load speeds, and user experience too.
Why Is Quality Content Important for SEO?
The importance of quality content cannot be denied — it impacts your rankings both positively and negatively. It could be the root cause of Google not trusting your website and refusing to feature your web pages in results.
Moving your thinking beyond the text that's on your page and focusing on the experience of your website as a whole enables you to naturally take steps to improve the content quality.
How To Write Quality SEO Content?
So, let's talk about writing words — the traditional barometer of quality content. Firstly, your aim is to produce unique, engaging, and informative content that is different from any other website. In a world where over 6 billion website pages exist, that seems incredibly difficult.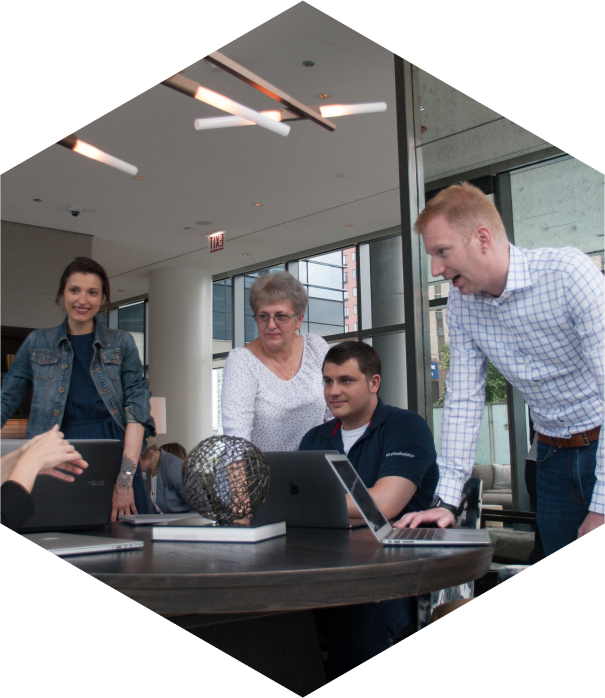 How Can We Help?

Fill out the short form below or call us at:



(888) 846-5382
However, with a little creativity, it can be done. Our top tip is to create highly specific articles that answer hot topic questions within your industry. There are a few ways to find out what people are searching for:
Keyword research using a tool such as semrush
Use Google's suggested search terms when you start typing a query
Ask Google a question and check the 'people also ask' results
Ok, now that you've found your topic, how do you make it trustworthy and relevant? You're an expert in your field, but Google can't just take your word for that — especially if your domain isn't established yet.
The easiest way to establish credibility is to link to sources that support your content within your work. Our top two external linking tips are:
Be sure to pick websites that have a high domain authority and rank well in Google
Never link to your competitors — you don't want to support their endeavors to outrank you
Last but not least, let's mention the quantity of content. There is no specific answer to this question as each page serves a different purpose. An in-depth, step-by-step guide could be 2000+ words, whereas a product page could be 200 words. A great way to measure the content you need is to assess the pages that rank highly for the terms you're using and to produce more words than them.
Are Images & Other Media Important for Quality Content?
As mentioned, quality content steps outside the realms of words. Images and video play a role too. Have you ever landed on a website that is clearly using stock imagery? Some of those are so overused. Guess what? They can negatively impact your rankings. Google likes to see unique and original images; so if you have your own high-quality images, it's recommended to use them wherever possible.
How User Intent Helps With Producing Quality Content?
Until recently, many marketers thought about keywords on topic, targeting those terms that they were most likely to rank for and drew the most traffic to the website. However, many didn't think about the fact that there are many different types of users, each searching for different information.
A great way to visualize this is alongside a sales and marketing funnel.
Firstly, you have people searching with informational intent. They're looking for content such as answers to questions or recipes. These are your cold leads. They know nothing about your business, products, or services. Right now, they don't want to know either.
Then, there's navigational intent. These guys can be assumed to direct traffic. They know what website they're looking for and want to go straight there.
Another group that wants information is those with commercial intent. They want to make a purchase, but don't know what to buy. They're searching for content that helps them decide which product is right for them.
Finally, there are those searchers we're all desperate for — transactional intent. They know what they want to buy — they're searching purely for the purpose of making a purchase.
So now that we've broken down the different forms of user intent, can you tell that people are looking for different types of content? Your sales and marketing departments wouldn't neglect the earlier stages of the funnel, so you shouldn't with SEO.
The Importance of User Experience
Your content is only deemed quality content if it's presented in an easy-to-read, simple-to-use format. That's where technical SEO comes into play.
     1. Mobile Friendliness
Nowadays, the majority of website traffic is from mobile devices. So, if any of your web pages don't offer a seamless mobile experience, you'll face ranking penalties from Google. You can use Google Mobile-Friendly Test to assess the quality of the mobile version of your website, but things to look out for include:
Content running off the side of the page
Text being too small to read
Clickable elements not working
Pages loading slowly
     2. Page Loading Speeds
Is your content quality if it loads slowly? Nope. We're an impatient society that doesn't like waiting around for content to load — Google is impatient too. No matter how amazingly ground-breaking and unbelievable your words are, if your pages load slowly, you won't appear high in rankings — it's that simple.
In Summary
Quality website content is much more than words. You have to provide unique information and media in a user-friendly format. There are websites that have incredible written content, but they are outranked by those who perfect the technical side and offer what Google considers to be an exceptional user experience.
Get your topics right, engage with every type of user, and become a master of technical SEO and your rankings are sure to improve. However, fail to incorporate every element needed to produce quality content, and you may get penalized.