Are you capturing email addresses and other contact details but not sure how to convert these leads into customers? While lead generation is one of the primary purposes of SEO, any good SEO agency will tell you about the importance of lead quality and how you progress them through a lead nurturing funnel to becoming a customer.
Initially, search engine optimization was a method purely for driving more traffic to your website. While this is true, it's become much more complex, thoughtful, and in-depth. Every user landing on your website has a different relationship with your brand. They're at varying levels of the sales funnel, and SEO can help you convert all of them to customers – you have to get creative.
---
Want to learn more about the Digital Authority Partners approach to SEO? Watch this video!
---
What Is Lead Nurturing?
Lead nurturing is the process of creating relationships with your leads. In digital marketing terms, a lead usually starts as an email address and maybe a few other pieces of personal information. Lead nurturing aims to bond with these email addresses, eventually guiding them to becoming paying customers.
How To Generate SEO Leads
The first port of call in sales funnel SEO is to capture leads, but how does SEO do it? A lead is an individual who doesn't have a connection with your business. Often than not, this is their first interaction with your brand, or they've never had a meaningful interaction with you. The core principles of SEO get them to your website, but how you optimize your website for lead generation is crucial.
Firstly, you have to get new users to your website. SEO does this by helping you rank higher for keywords relevant to your product, service, or industry. At this stage, it's imperative to consider search intent. A new user isn't coming to your website to buy – they're either browsing or looking for advice. So articles that answer essentials  questions make a user's life easier and encourage them to trust your expertise are incredible.
Furthermore, with landing pages dedicated to this sales funnel stage, you should include non-committing CTAs with incentives. For example, offering free downloads such as ebooks or 10% off your first order if you sign up are excellent methods for improving conversion rates.
How To Nurture Leads With SEO
It's time to get highly specific and engaging with your content. Once you've captured a lead's data, you know they're interested in your brand's content. Additionally, suppose your content targets correctly. In that case, you can also assume they require your products and services.
Next, you must create content tailored to every level of the sales funnel. Any successful SEO lead generation strategy will factor in all lead types. Now that you know a lead needs what you're offering, you need to persuade them to choose you over your competitors, which is much easier said than done. A great template to follow is:
New leads unfamiliar with your brand and offering prefer educational content.
Leads already in your sales funnel who are aware of your products need convincing that your items are the best choice for them.
Leads nearing purchase or returning customers need you to reinforce why they chose you first – tell them about new products, company initiatives, and your values.
Other Ways of Nurturing Leads
SEO for lead generation can be highly effective. Still, it is more impactful when used as a sophisticated lead nurturing strategy. It's not worth the time and effort it takes to optimize your website if you aren't going to follow up with your leads.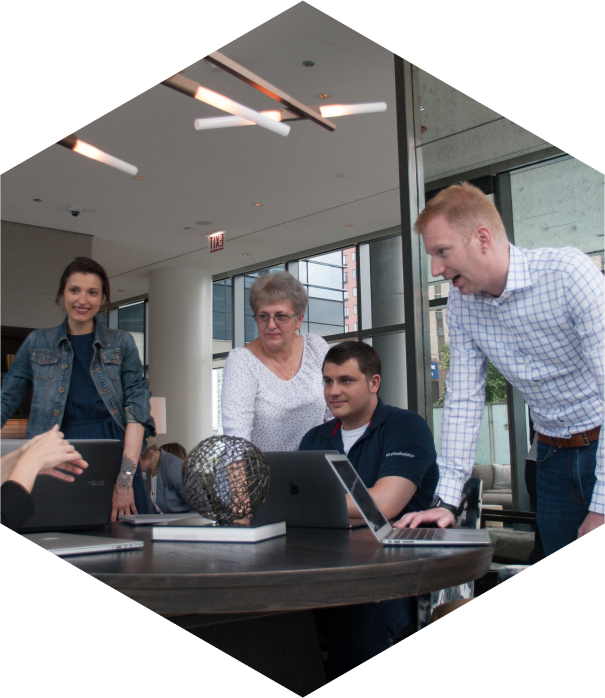 How Can We Help?

Fill out the short form below or call us at:



(888) 846-5382
     1. Follow Up Quickly and Frequently
Follow up with leads immediately if you capture emails and offer a free incentive. An automated lead nurturing email cycle is the perfect way to do this. Once a sign-up hits your email list, they'll receive a welcome email and the incentives you offered. Following this, you'll keep in touch with them, providing further relevant and valuable information about their initial form completion.
Frequently following up with meaningful content keeps your business fresh in their mind. As you gradually introduce more content about your products and services, your company will be the first to come to mind when they're ready to purchase.
     2. PPC and Remarketing
Many people continue to have the SEO vs. PPC debate. The answer has always been that they both have a part to play in a successful digital marketing strategy. However, in this instance, they work perfectly together. If you aren't already aware, remarketing is a method of ads that target only users who have already interacted with your brand.
As we've established, if someone has interacted with your brand, they likely have a want or need for the products and services you offer. Therefore, you can create highly targeted ads to appear for users as they browse the internet, search engines, and other websites. Thus, the perfect tool for either showcasing your product and services or reinforcing why a customer chose you in the first place. Remarketing is an excellent method for targeting every level of the sales funnel.
In Summary
SEO is a great way to capture leads. You could generate customers purely from organic search results by using highly targeted content and focusing on each level of your sales funnel. However, it won't make for the most successful lead nurturing strategy when used alone. Any top SEO agency will tell you that you need to use other channels in conjunction with SEO to guide users from new leads to customers. Additionally, you should refine the experience offered to website users. A lead generation optimized website is crucial for any success.
If you need assistance with perfecting SEO lead generation or want to learn more about how it impacts the rest of the sales funnel, we'd love to help!