A PPC agency has a lot on its plate. It works with several clients, handles multiple accounts, and may offer more than PPC. They must keep their clientele happy while maximizing their earnings. Still, their work is far from over after setting up a PPC campaign. Paid ads need constant monitoring, strategizing, and management.
Worry no more, PPC agencies. We have curated a list of the best PPC strategies to help you produce the best results each time. These suggestions will help you manage a wide range of campaigns without losing control.
---
If you want to learn how Digital Authority Partners can increase your PPC effectiveness, watch this video!
---
Top PPC Strategies To Bring the Best Results for Your Customers
Paid search advertising is gaining popularity. Statista estimates global PPC spending at 144.8 billion USD in 2021. This figure is expected to rise to 163 billion USD by 2022. With these numbers in mind, your PPC business can't afford to miss out on working with so many clients!
Allow these PPC strategies to help you in launching better campaigns that will benefit your clients regardless of their industry.
     1. Hire Talented People
To be the best in what you do, you need to hire the right people. With talented marketers and advertisers, you can handle a variety of campaigns in different industries. But how can you tell if you're hiring the right people to be part of your PPC team? Consider these pointers:
Identify Important Skills
Aside from PPC marketing expertise, your team must also have industry-specific skills. If your clients are mostly in the medical profession, you should hire employees with relevant experience and knowledge of medical terms. Also, knowing the client demographics is a benefit.
Having Experience Is Not the Ultimate Quality
We're typically told to focus on folks that have a strong background in PPC or PPC related to your sector. But being a specialist in PPC isn't everything. Your team can stand out if they have industry understanding and technical skills in website building and management. Assemble a team of PPC professionals, and you'll never fail to wow your clients.
Consider Candidate References When Hiring
Ask for work-related references when hiring and reach out to these people. This is the best way to learn more about a candidate's expertise rather than based only on their resumes.
     2. Work With Quality Customers
Don't waste your talented team's time and efforts. Work with quality clients that will not just keep your team busy but will also add to your already growing PPC portfolio. Consider your PPC projects with these companies a way to challenge your team and bring you more experience working with various markets. Consider these tips
Focus on Business Development
You must set aside time for business development, even if it's only for a few hours each week. This ensures that your team is focused on their tasks and, at the same time, looking for new clients. Consider developing other areas of your business like print ads, SEO, web development, etc. These can be areas for huge ROI.
People interested in PPC will not just be looking at your website. They are most likely to turn to platforms like social media to find and learn about your business, especially your clients. This is why building your social media platform and getting noticed can get you the best clients. Focus on platforms where you can likely get quality clients like LinkedIn, Google+, Facebook, and Twitter.
Understand Client's Business
Establish basic knowledge about your client's company to establish trust. Focus on marketing and advertising areas where you think PPC can bring more ROI. Your clients won't immediately assume you know everything about their business so ask as many questions as possible.
Demonstrate Valuable Service
PPC can give your clients the advantage they need to rank higher online when managed carefully. Point out these possibilities, and share with your clients a preview of what their paid ads campaigns will look like with PPC. Showcase studies of similar companies you've worked with and how you were able to provide valuable changes in their PPC campaigns.
     3. Be An Innovative PPC Firm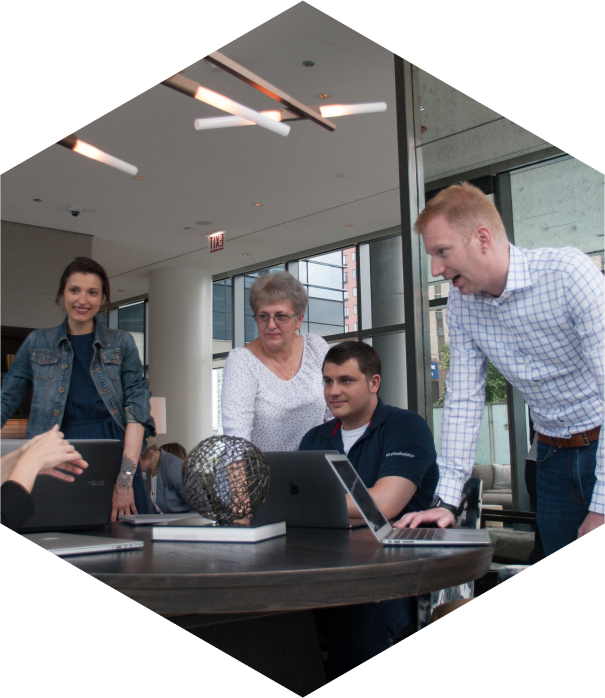 How Can We Help?

Fill out the short form below or call us at:



(888) 846-5382
The PPC industry is constantly evolving. It's your job to keep your team focused, well-informed, and highly innovative to handle all kinds of clients and work with different industries in the future.
Continue Training and Education
Your team should be the go-to when it comes to providing the best PPC service. Prepare your members through staff training and education. Give them access to industry data and the latest in PPC in your field.
Know and Use Various PPC Platforms
PPC ad platforms are also updating, and it's exciting to find out what the future holds for paid ads. Your team must consider developing your skills in all other top platforms, including Microsoft Ads, YouTube, Facebook, LinkedIn, Instagram, Twitter, and Pinterest. Consider the perfect platform-user match according to factors like advertiser budget, platform user base, ad serving volume, and other creative opportunities found in the platform.
Attend PPC Advertising and Marketing Seminars and Conferences
Serious clients take more time to find the right agency. Aside from doing online research, they take time to look for the best company from PPC seminars and conferences. Whether it's an online event or an actual conference, meeting clients firsthand gives you a chance to make a lasting impression and sweep them off their feet.
Final Words
Becoming a successful PPC agency is to create a formidable team. You need a team with great talent, good analytic and technical knowledge and skills, and a deep understanding of your client's industry. Taking time to find and develop promising talent will help you grow your PPC agency and meet all your clients' needs and expectations.