Are you considering a career in SEO or starting your own business, blog, or website? Before diving in at the deep end, we've compiled a beginner's guide to SEO. While search engine optimization encompasses many different skills and expertise, you'll be better equipped to learn in-depth knowledge if you conquer the basics first. While SEO applies to every website, if you're operating an online store, there are unique quirks to consider – our Ecommerce SEO Agency is happy to point you in the right direction.
But first, let's get into five of the best SEO tips for beginners, and kickstart your journey to becoming a search engine expert.
---
Want to learn more about the Digital Authority Partners approach to SEO? Watch this video!
---
Expand Your Skill Set
If you're a complete novice, then you're starting from scratch. However, most people looking to enhance their SEO skills are either marketers, content writers, website designers, or developers. If you're in one of these fields, then great news, you already have the skills that an expert in SEO needs. 
No matter which of these areas you are most familiar with, we suggest spending time diving into the other two areas. Even if you're going to employ someone externally to complete the work for you, you're going to be able to guide your project and contribute to its success if you have a working knowledge of every aspect of SEO. 
Extremely useful free content is abundant, from SEO tips for beginners to the latest algorithm changes for experts. On the topic of the latest algorithms, be wary of educational material from unreliable and out-of-date sources. Search engines are a rapidly evolving space where best practices frequently change.
Don't Forget the Soft Skills
While much of an SEO expert's career is based on their technical skillset and results – and so it should be, you can't neglect the interpersonal, soft skills that enable you to communicate with clients, colleagues, employers, and employees. Whether you're setting out on a journey as a freelancer, joining an in-house marketing team, or starting your own agency, the success of your career depends on how well you communicate. 
Working in SEO requires flexibility and adaptability. The landscape is changing – your bosses want everything done yesterday, and clients want to know why they aren't ranking in position 1 after 24 hours. Learning a few simple skills will help combat most of the difficult situations you will come across. 
You should know how to set expectations – when will the work be done, what results can be expected, and how long will it take to see the benefits. A fantastic way to do this is to set SMART goals. Additionally, always be adaptable and open to new ideas. While you may think your point of view is correct and your proposal will reap the most reward, you're going to face challenges. Sometimes, you've just got to do what the client wants. However, be sure to document the decision-making process to show that you advised them differently.
The best part about soft skills is they're transferable. If one day, you wake up and think SEO isn't for you – you've cultivated abilities that will stay with you both personally and professionally.
Get Familiar with Website Development
Web development is a very complex skill that can take a while to learn. However, you don't need to become an expert to hold your own in a project meeting, make simple code changes, or suggest website updates. Once you know how HTML and CSS work, you can contribute greatly to the process of creating a website. 
Every website designer or developer will say most of their clients don't understand the challenges they face. They think their feedback can be instantly implemented, without massive changes, because they aren't familiar with the ins and outs of development. Additionally, they're then surprised at how much the work costs and the time it takes – that is if the work is even possible.
Familiarizing yourself with development processes gives you a leg up on others. If no one else within your in-house team understands, you can explain to them and help guide the project to be as efficient as possible. Additionally, if you have knowledge of SEO and website building, you would be the perfect addition to a full-service digital marketing agency. Remember, working knowledge is better than no knowledge at all.
Learn How to Read Between the Lines of Data
We live in a world where data is king. Data-driven decision-making is key to any successful marketer's career, particularly SEO experts. You won't be surprised to hear it can be ridiculously easy to get lost in the data – there's so much information to dissect, analyze, and report on.
In order to know which data is valuable to your business, you need to set clear goals and KPIs. From here, you can look to build reporting frameworks that present data in easy-to-understand dashboards – Google Analytics is a great tool for this. 
Once you have easy access to this information, data can be used to make informed decisions about marketing campaigns, highlight areas that are underperforming, present potential opportunities for growth, and much more. Data-driven marketing is an underutilized, not-so-secret marketers weapon – use it. 
Connect with Experts
As a newbie, you may be surprised to hear that successful people are the first to offer advice and help enthusiastic people trying to better themselves. Don't forget – they were once the wide-eyed beginner that you are now. Openly communicate with your boss about your aims, aspirations, goals, and desired training. Head to networking events for your industry or connect with recognized experts on LinkedIn, pick their brains and learn from their experience.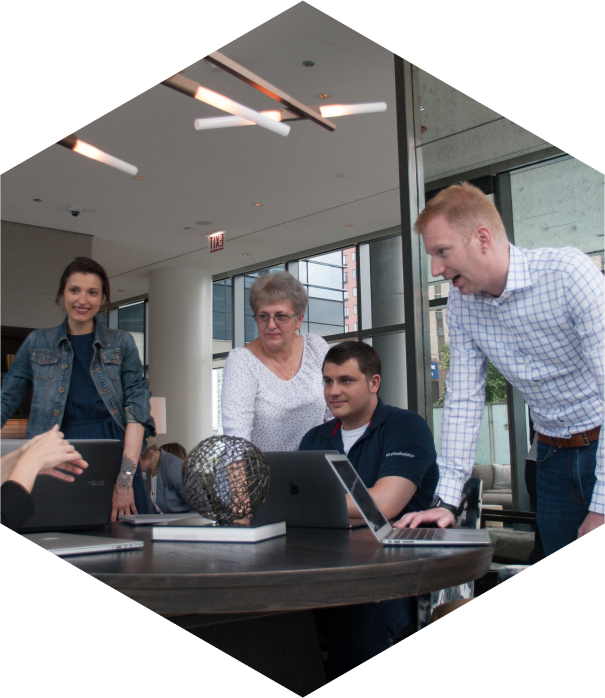 How Can We Help?

Fill out the short form below or call us at:



(888) 846-5382
Building these connections now will help in the future. You never know when you'll need to call upon someone for outsourced work. Alternatively, you could end up applying for a job where they're the interviewer. Make a great first impression, show how tenacious and eager to learn you are, and you'll get expert advice for free.
In Summary
Essentially, forging a career in SEO is about much more than on-page and technical optimization. According to our search engine optimization tips, you've got to become a jack of all trades that understands multiple disciplines while honing the soft skills you need to win over peers, employers, and clients. 
As a beginner, nobody expects you to know everything. However, they do anticipate a willingness to learn and adapt, and a desire to continually improve. Show these traits, and you're set for a great career.