Covering the three broad aspects of search engine optimization (SEO) can be frustrating for beginners. But checklists can help you speed up the process of optimizing your site until you get used to the process. Hiring an SEO agency also enables you delegate the seemingly endless duties required for SEO.
This guide gives you the proper tools to set up your website for SEO success, including:
Checklists for technical, on-page, and off-page SEO
Guidance on how to track keywords using Google Search Console
There's a lot to discuss, so get ready to take notes.
Let's go!
---
Want to learn more about the Digital Authority Partners approach to SEO? Watch this video!
---
1. Technical SEO Checklist: Focusing on Website UX
Your website's user experience (UX) plays a big role in how well you attract leads and customers to your business. Out of all the aspects of SEO, this one requires the most practical knowledge and skill. While you can do the work yourself if you are up for the challenge, hiring a technical SEO consultant helps you optimize your website quickly and thoroughly.
Below is a basic checklist of technical SEO elements your website should have.
Set up Google Analytics, Google Tags, and Google Search Console.
Install helpful website plugins such as SEO and social sharing tools.
Install a Secure Sockets Layer (SSL) certificate and enable HTTPS.
Add security software such as antivirus, antimalware, and a firewall.
Use responsive web design to take advantage of mobile-first indexing.
Keep your website lightweight by optimizing images and other features.
Add canonical tags to your pages to let crawlers know which version to use.
Optimize your 404 to tell users the page is gone and suggest other pages.
Check for any redirect issues on your website and address them.
Search your website for crawl errors using Google Search Console.
Check your web pages for broken links and fix them immediately.
Review your website's link profile and remove backlinks from spam sites.
Use schema markup to modify how your web pages appear in search.
Create an XML sitemap and submit it to different search engines.
Create a robots.txt file to direct crawler bots around your website.
Getting through this checklist calls for a lot of patience because of all the technical elements involved. While you can accomplish everything above with enough study, troubleshooting is still a separate and necessary skill. Regular maintenance checks ensure that everything works fine.
2. On-Page SEO Checklist: Refining Content Quality
Your content quality is vital to improving your website's SEO performance because these are the tools you use to attract and engage your target market. For instance, you support your position as a resource by building content pillars. Always make sure you are creating high-quality content for your site.
Conduct market research to narrow down your specific target audience.
Identify the existing content gaps in your industry and select your niche.
Create a customer journey map and understand your users' search intent.
Plan your content strategy by finding content ideas that use your expertise.
Use topic clusters to solve user problems and build a network of internal links.
Use keyword research tools to find optimal keywords for your content.
Choose a benefit-rich, action-oriented title to attract readers to view your page.
Include your keyword in titles, headers, meta tags, and meta descriptions.
Write a short, effective URL using your keyword for each web page.
Use your keyword throughout your content, but only put it where it is needed.
Use writing tools to adjust your content's tone and readability for users.
Write your posts in an active voice to make them relatable to your audience.
Link to authoritative websites when making relevant claims in your articles.
Write image alt tags to help website crawlers see pictures in your content.
Add a meta description that sums up your page's content in 155 characters.
A subset of on-page SEO you could make an additional checklist for is the content itself. Keep your posts consistent by creating a style guide you and other writers can follow. It should include formatting guidelines such as tone and grammar rules you want writers to follow in your articles.
3. Off-page SEO Checklist: Connect With Your Users
You must know how and where to reach people to get leads and customers. The internet has many platforms from which you can connect with users. Social media is one of them; be consistent in your social media presence to get the most out of social media for your business.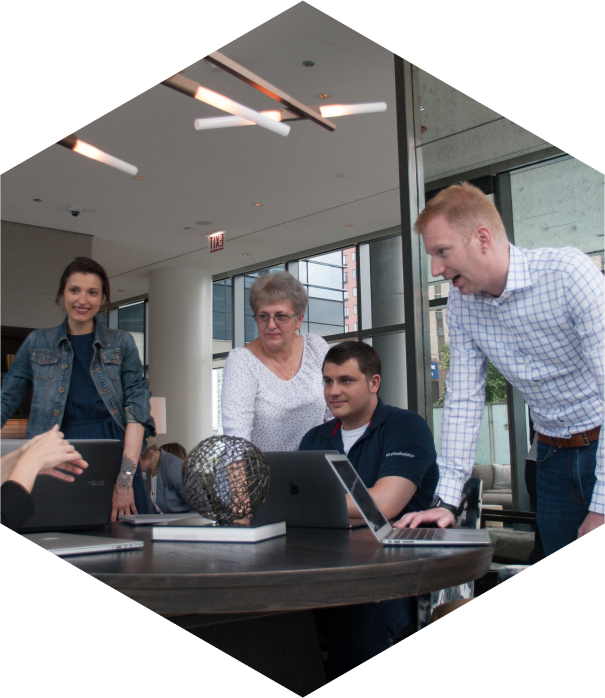 How Can We Help?

Fill out the short form below or call us at:



(888) 846-5382
Set your company's core values and ensure they come through in your branding.
Sign up for two or three social media platforms that work best for your business.
Make sure your branding is consistent across all the platforms you use.
Create a PR plan to generate buzz about your business and backlinks for your website.
Connect with industry peers and related businesses to create a network of contacts.
Register with online directories and local listings to reach more potential customers.
Have a link building plan to gather quality backlinks for your best content.
Use tools to find unlinked mentions and ask for a backlink to your website.
Create landing pages to generate quality leads and collect user contact information.
Prepare simplified or condensed copies of your content for social media posts.
Turn your most popular content into lead magnets such as ebooks and webinars.
Invest in pay-per-click (PPC) marketing and search engine marketing (SEM) campaigns.
Encourage your audience to leave relevant reviews and comments on your website.
Optimize your website and content for local SEO to appear in local searches more.
Pay attention to your content's expertise, authority, and trustworthiness (E-A-T) rating.
The above points cover only surface-level off-page SEO practices necessary for your website. Other crucial ones include marketing calls for their own exhaustive checklists if you decide to do them yourself, although using marketing tools can make the process much easier to follow.
Tracking Keywords With Google
One important SEO analysis strategy to improve your search engine results page (SERP) ranking is to keep track of where your keywords rank. As you continue to create content, your ranking for some of your target search terms steadily increases.
Rather than hopping from topic to topic, work systematically to maximize SEO benefits for your website. Prioritize clusters for striking distance keywords, which are almost at the top 5 entries on SERPs. Google Search Console is your best tool to track and follow through with them.
Here is how to check your website's keyword rankings:
Log in to your website's Google Search Console profile.
On the left-hand side, click on Performance and select Search results in the menu.
Choose a Search type based on which category of SERP you want to review.
Choose a Date range for the performance report you want to export.
On the right-hand side, click EXPORT and select the file format you need.
Open the file on Excel or Google Sheets and create filters to sort the report data.
Sort the data according to your target metrics and highlight the critical entries.
Summing Up
Search engines check your website for markers that denote your content's subject. Technical, on-page, and off-page SEO cover a broad list of optimizations. You do not need to complete all the above checklists, but doing as many of them as possible is crucial to SEO.
These lists are by no means exhaustive, so make sure that you gather as much information as you can when tackling SEO. Alternatively, you can hire an SEO agency to do the job quickly.
Need help managing your website's SEO? Contact us to see how we can help.