One of the most important, yet often neglected, factors when starting a website is choosing a domain name. Usually, people go through the dilemma of using their brand name or a keyword associated with the products and services they offer. Additionally, 600,000 small businesses start in the US every year, and 64% of them have websites. With competition online so high, someone else may already own your desired domain name.
If you find yourself a little overwhelmed, and want to ask for some SEO domain name advice, our Las Vegas SEO agency can talk you through the process. We promise – it's not complicated, keep it simple, don't overthink, and you'll find the perfect domain name.
In this article, we'll explore variations of domain names, the process of finding the best one for your website, and how your decision impacts SEO – let's get started.
---
Want to learn more about the Digital Authority Partners approach to SEO? Watch this video!
---
Does Your Domain Name Affect SEO?
Most definitely, your domain name does impact SEO. Whether you're targeting your brand name or keywords, you want to establish a domain name that drives a lot of clicks, builds awareness of your business, and makes users remember your brand. Additionally, the first organic result in Google Search has an average click-through rate of 28.5%, so you should do everything you can to improve your ranking.
While domain name SEO value isn't the most critical ingredient for raising your ranking score, its overall effect can be crucial. For example, suppose you have a recognized brand or domain name that resonates with a user's search intentions. In that case, your impressions and click-through rate will be strong, meaning search engines see your website as important and valuable.
If you can select a domain name that helps drive traffic to your site, you'll see how positively it can impact all other areas of SEO, a bit like a domino effect.
The Best Way To Choose A Domain Name
As mentioned, you can opt for a brand-focused or keyword-optimized domain name. Either of these methods can provide results, and a little research will help you decide which is the best route for you. First, discuss these two methods and discover which will make your perfect SEO domain name.
Branding Domain Names
You'll have noticed that this is the traditional route to take when picking a domain name for SEO with most sites you visit. Your brand name is what your customers remember. So whether they've found you in-person or online, the first thing they'll search for is your company name.
No matter what – you should use a domain name, or multiple, for your brand. Whether you decide to use them or use them as redirects to your other domain, you need to own them.
There are very few established businesses using keyword-targeted domain names. A brand is what people buy into – they resonate with brand names and build a connection. If Nike decided to use the domain name worldsbestsportswear.com, do you think users would click on that, or would they be looking for nike.com?
Your brand is what builds trust. That trust encourages more people to click on your site, digest, and share your content, resulting in increased SEO credibility and improved rankings.
You should be using a brand domain name if:
You're an established business with many customers.

You've already started promoting your company and raising brand awareness.

Your brand includes details about the services you offer, such as

tastycatering.com.
Keyword Domain Names
When researching SEO and how to choose a domain name, you may think a keyword-optimized domain name would be the best way to go. After all, keywords are a crucial part of any SEO strategy. However, it's a little different when it comes to domains.
An example of a keyword-driven domain name incorporates location and services, for example, carrentallasvegas.com or chicagohairstylist.com. However, these domains don't include the business name – they tell the user what they do and where they are. 
You're right in thinking that keyword content is essential. Still, Google devalues exact match domain names if they don't have quality keyword content on the website to back it up. In our opinion, if you're sure you want to use keywords in your domain, we suggest amalgamating them with your brand, so you've got both bases covered.
Domain Name Length
In theory, the length of your domain name doesn't contribute to ranking factors at all – you're just as likely to appear in SERPs as everyone else. However, if you have a long, difficult to remember, and time-consuming domain to type, you're much less likely to get direct website traffic.
Location-Targeted Domain Extensions
The only domain extension that impacts your search rankings are top-level country domains, such as .uk, .ca, .nl, .de etc. As you might expect, these extensions will drastically impact your visibility in SERPs across different countries. 
If you opt for a .uk domain, don't expect much organic search traffic from the US. Essentially, you're telling search engines that your website is targeted at a specific country, meaning it won't be shown to users, not in that location.
Standard Domain Extensions
Domains that have alternative extensions to recognizable domains such as .com, .org, or .gov don't impact your ranking at all. However, there is an element of user preference you must consider. How trusting do you think a website that ends in .biz or .info? If a user thinks your domain is spam, they aren't going to click it. Consider this when choosing a domain name.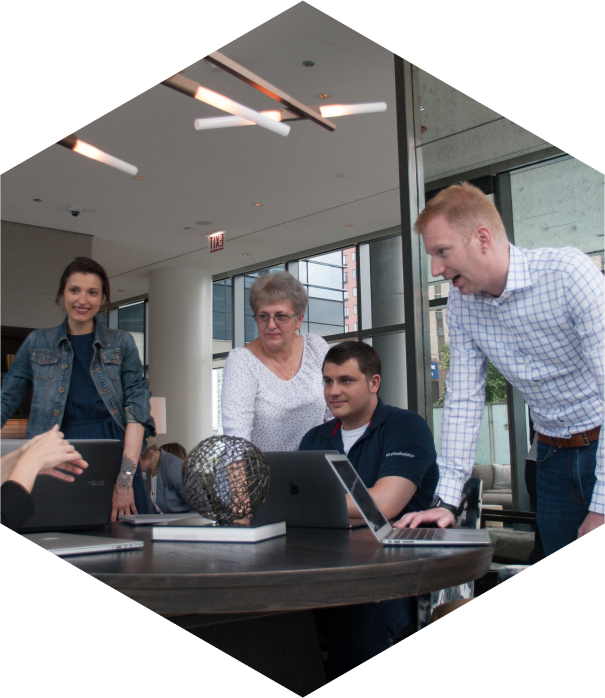 How Can We Help?

Fill out the short form below or call us at:



(888) 846-5382
In Summary
Picking a domain name for SEO is easy – if you don't overcomplicate it. Search engines like what users like, and that's brand names they recognize, can build a connection with and remember. However, your domain name is a tiny part of what should be a broad and complex SEO strategy. It has very minimal impact on your search rankings compared with other elements, so don't get too hung up on it. 
The most important question to ask yourself is would I click on that? If the answer is yes, you're good to go.