Non-profit organizations have a great responsibility to be conscious of every cent that they spend, as their donors pay close attention to ensure funds are spent on their mission-related programs.
However, non-profit organizations still need some of the same operational functions as a commercial business. The organizations still must engage in effective marketing to both keep the donations coming in and spread awareness of their missions.
As a leading SEO agency, we thought we would take this opportunity to outline the five top SEO tips for non-profit organizations. Hopefully, this cost-effective advice will help to boost your ranking position and your donor numbers in equal measures.
---
Want to learn more about the Digital Authority Partners approach to SEO? Watch this video!
---
SEO Tip: Work Towards a Target
The biggest mistake any company can make when it comes to search engine optimization (SEO) is not setting out a defined, realistic strategy. This is even more important when it comes to SEO for nonprofits, because while a commercial organization can take the hit and use mistakes as a learning exercise, or throw more money at the digital marketing team to course-correct, a non-profit does not have that luxury.
Setting a strategy does not need to be difficult, it just needs to be effective. Haphazardly approaching SEO will almost always backfire (or at the very least underperform), simply because there are so many ranking factors at play that a non-coordinated effort is simply not good enough.
Your strategy should set out clearly defined, realistic goals for what you need to achieve. From there, you can begin to assess the steps you need to take to reach your goals – and any activity that is not specifically and directly aligned with your overall goals should be stopped.
Your non-profit's goals might be to be the number one source of information for people interested in your area of expertise, to be a resource for those impacted by your causes, or to put out a direct call for donations, support, or volunteers, for example.
Clearly, most non-profits will want to have a hand in each of those areas (and more), so bear in mind that you can split your SEO efforts by department or division and have each working on their own content, pages, posts, and link-building.
SEO Tip: Work on the User Experience
The ultimate goal of SEO is to get your pages or content listed at the top of page one of the search engine results for appropriate search terms. Your ultimate goal as an organization, however, does not stop there – once you get that higher ranking, you want to convert it into click-throughs, and finally into members, subscribers, donors, volunteers, and so on.
To give yourself the best chance of converting visitors, you need to work on the user experience. This is a large, disparate area that incorporates both the front end (what the user sees and interacts with) and the back end (the technical aspects of your site that make everything work).
Key areas to address on the technical side as a priority include:
Page loading speeds – a slight delay in the amount of time it takes your page to load has a direct effect on the number of visitors who give up and go elsewhere.
Mobile optimization – mobile users want content to be as accessible and useful, and because search engine algorithms now prioritize the mobile experience, ensure that you have a mobile-friendly site.
Navigation – make sure that your website is intuitive and natural to navigate around. Your users and the search engine algorithm alike both need to be able to find the pages they need easily and quickly.
SEO Tip: Create Content
When it comes to the content that you create and publish, different users have different content requirements. Some of your visitors will want to read long-form articles or blog posts that give a lot of information in a friendly and easy-to-understand manner, whereas others will want simple bullet points and will respond more to compelling images and direct calls to action.
Try to appease both sets of people (and those in between) by mixing up your content and landing page output as much as you can while remaining consistent in tone and message.
If your non-profit has a complex message, or there is a lot of information that you need to get across about your work, focus on clarity. Make the content you write, publish, or present easy to understand. Assume your visitor knows little about your mission, the topic, or your work, and explain these appropriately.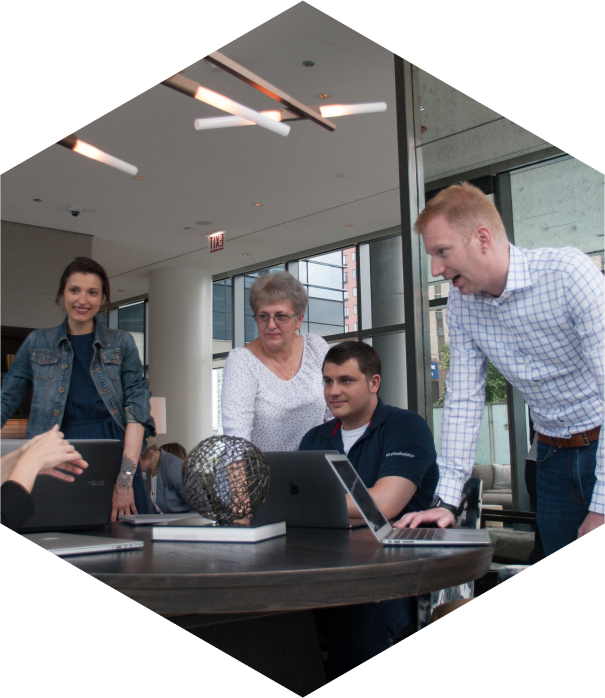 How Can We Help?

Fill out the short form below or call us at:



(888) 846-5382
This is particularly true of your landing pages, because you can present details and technical information on subsequent pages if necessary.
SEO Tip: Building Links
This is where non-profits have an advantage over their commercial counterparts. As long as your non-profit is reputable and in good standing, other companies and websites will be happy to link to your content. Doing so can make them appear to be socially conscious citizens and businesses, and it helps you with your SEO.
Every time you work with an outside vendor, company, or individual, ask them to put a link on their sites, blogs, or social media. Hosting a fundraiser at a well-known venue? Ask for a link. Getting that event catered? Get a link. Using a particular marketing agency to promote your event? Get a link.
SEO Tip: Social Media Posts
Finally, be thoughtful about your social media presence. Post often, but do not saturate your follower's feeds or they may block you. Always try to build your posts around relevant keywords or phrases, and make sure that you incorporate a link back to your blogs, articles, or web pages where appropriate.
Your social presence will have a dual effect if managed correctly. You will become a trusted organization with a growing following, and a newcomer to your site/organization will be able to get proof that you're meeting the organization's mission from your regular updates and interactions.
Digital Authority Partners
For more help in creating an effective and inexpensive search engine optimization strategy for your non-profit organization, get in touch with the team at Digital Authority Partners today.