Ecommerce websites rely heavily on search engine optimization (SEO) to increase organic traffic and improve sales. However, several common mistakes might hinder the effectiveness of an ecommerce SEO strategy.
A reputable ecommerce SEO agency looks for these seven ecommerce SEO mistakes. This guide highlights these common errors and gives some tips on how to fix them:
Poor keyword research.

Lack of unique product descriptions.

Ignoring on-page optimization.

Slow page speed.

Neglecting mobile optimization.

Lack of internal linking.

Neglecting technical SEO.
We have a lot to discuss. Let's go!
---
Want to learn more about the Digital Authority Partners approach to SEO? Watch this video!
---
1. Poor Keyword Research
An e-commerce site that is not conducting thorough keyword research or targeting overly competitive keywords can negatively affect its visibility in search engine results, which reduces organic traffic. Avoid or fix poor keyword research to optimize ecommerce pages using these strategies:
Consider high-volume and long-tail keywords with lower competition but more specific to the company's offerings.

Analyze your main competitors' websites and keyword strategies to determine which audience they are successfully targeting. This is an essential step to

starting your own online shop

.

Understand the user intent behind search queries, including informational, navigational, and transactional intent. Tailor keyword research to capture the intention of users.

Assign target keywords to relevant product pages and categories and create unique and compelling product descriptions using the identified keywords.

Optimize meta tags, headers, and alt tags with relevant keywords to promote on-page SEO.
2. Lack of Unique Product Descriptions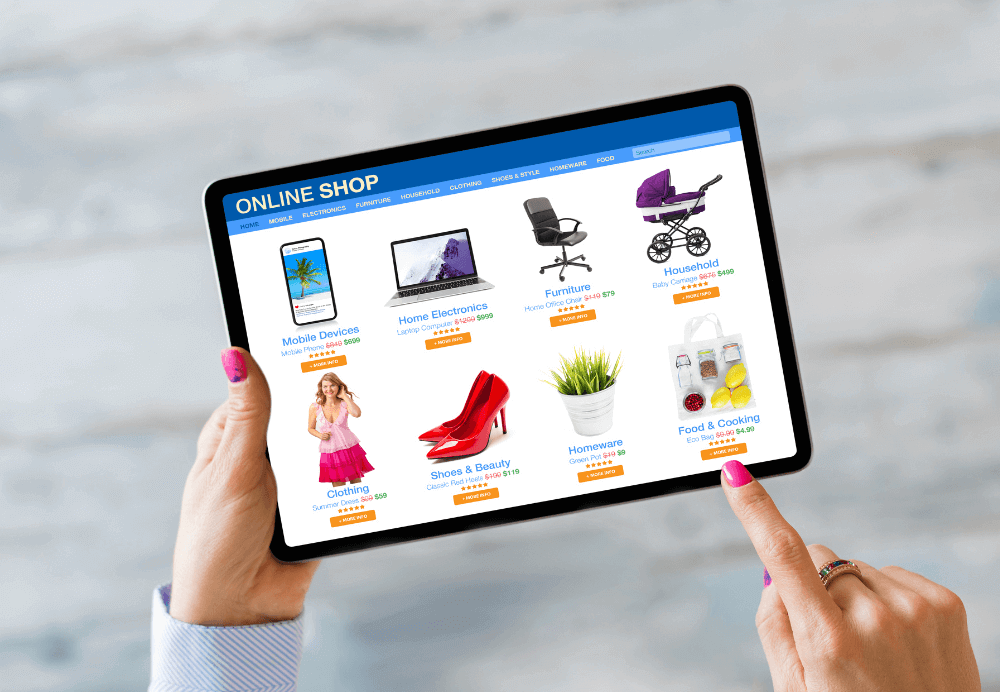 An ecommerce website with manufacturer-provided product descriptions or content from other websites might affect its credibility and authority. Avoid these by writing unique, compelling product descriptions focusing on each product's critical features, benefits, and specifications.
Optimize your product descriptions, such as your Amazon product listings, to rank higher. Here are more tips to fix this common mistake:
Perform a thorough audit of product descriptions to identify duplicate or thin content.

Use keywords naturally in descriptions to improve search engine visibility. Make sure that each product has a distinct description to offer value to potential customers.

Ask customers to leave reviews, ratings, and testimonials for your products, and use these to optimize product pages.

Utilize structured data markup (such as schema.org) to provide search engines with specific information about various products.

Use subheadings, bullet points, and paragraphs to improve the readability of product descriptions and make the content scannable.

Break down complex technical information into easy-to-understand language such as downloading an app, installing a device, or adding features.
3. Ignoring On-Page Optimization
Neglecting on-page optimization elements such as title tags, meta descriptions, headers, and alt tags can reduce search engine visibility, lower click-through rates, and decrease organic traffic. But on-page optimization is fixable and preventable with these best practices:
Craft unique and keyword-rich title tags for each page of the ecommerce site. Include relevant keywords at the beginning of the title tag to increase prominence.

Write compelling meta descriptions that accurately summarize the content of each page. Incorporate relevant keywords naturally and entice users to click through to your site.

Implement proper header tag hierarchy (H1, H2, H3, etc.) to structure content.

Assign descriptive alt tags to all images on the ecommerce site and use relevant keywords in alt tags to improve image search optimization.

Ensure that the site's URLs are clean, readable, and contain relevant keywords. Use hyphens to separate words in URLs instead of underscores or other special characters.

Add category and product names to URLs to provide a clear hierarchy and improve search engine understandability.
4. Slow Page Speed
A slow-loading website can lead to higher bounce rates and lower search rankings. An ecommerce site with slow page speed may result in a poor user experience (UX). These tips improve an ecommerce site's speed:
Compress and optimize images to save space without losing quality. Use image compression plugins, appropriate image formats (e.g., PNG), and browser caching.

Remove unnecessary characters, white spaces, and comments from your CSS, JavaScript, and HTML files, and use minification tools or plugins.

Implement a content delivery network (CDN) to distribute the website's static content across multiple servers in different geographical regions.
5. Neglecting Mobile Optimization
Failing to optimize an ecommerce site for mobile devices leads to a UX as more and more people prefer to use their mobile devices to purchase products or order services. Poor UX affects ranking, visibility, and conversions. Avoid this mistake by following these techniques:
Use a responsive design to allow the site to automatically adjust its layout to fit any screen size.

Optimize images, as large images slow down the website's loading speed, by compressing them and using smaller file sizes.

Increase website loading speeds. Use a website speed testing tool to identify and fix any performance issues.

Simplify the checkout process by avoiding too many steps or requiring too much information.
6. Lack of Internal Linking
Internal links help search engines discover and understand the structure of a website. Lack of internal linking reduces user engagement, lowers search engine rankings, and leads to poor UX.
A poorly linked website also gives customers a negative impression of its brand, which leads to lost sales and trust. Add internal linking using these strategies:
Create a sitemap—a list of all the pages on the website. This aids in identifying which pages are missing internal links.

Add internal links to related pages on the website to assist users in finding the information that they seek and improve search engine rankings.

Use relevant anchor text to help users understand where the link is going and improve the click-through rate.

Include breadcrumbs to help users navigate your website. They list the pages that users have visited to get to the current page.
7. Neglecting Technical SEO
Neglecting technical SEO has several negative consequences for an ecommerce website. It leads to reduced search engine rankings, as search engines use technical SEO factors to determine the order of search results. 
It also reduces UX, causes frustration, and increases abandonment, damaging brand reputation. Fix technical SEO issues on an e-commerce site by using these techniques:
Audit for technical SEO issues using tools such as Google Search Console and Screaming Frog. Fix technical errors accordingly.

Optimize the site for mobile by using a responsive design and optimizing images.

Secure the website by installing an SSL certificate and enabling HTTPS.

Find and fix duplicate content issues. An ecommerce website can have two pages with almost identical content. For this, use canonical tags to help search engines tell which one is the original. Create unique copies for every product or service page.

Build backlinks. These signal to search engines that your website is high-quality and authoritative.

Use Google Analytics to track the effect of technical SEO efforts. This helps you see what is working and what needs improvement.
Summing Up
By avoiding these common ecommerce SEO mistakes and implementing the recommended strategies, you can improve your website's visibility, attract organic traffic, and enhance overall ecommerce performance.
Learn more about how SEO can help improve your ecommerce website. Contact Digital Authority Partners (DAP) for the latest in ecommerce SEO.