Pay-per-click (PPC) marketing is an efficient strategy to boost your sales immediately. PPC marketing helps generate leads faster and converts these into actual sales. It can be the best marketing option when you only have a limited time to promote a product or service.
PPC marketing is the way to go when you need to dominate paid advertising and achieve top search results on Google and other search engines. PPC enables you to position your brand on the internet competitively.
---
If you want to learn how Digital Authority Partners can increase your PPC effectiveness, watch this video!
---
Here are four reasons that PPC marketing is profitable for your business.
1. Drives Immediate Sales
PPC marketing is the best strategy to meet month-end sales quotas because it drives immediate sales. PPC searches your target market for you, connects with them, and places your brand, along with the products your offer, right in front of them.
PPC marketing as a form of paid advertising enables you to reach out to potential clients as fast as possible and encourages inquiries within minutes. If you are in a hurry to generate the required monthly sales, then PPC marketing is for you.
2. Captures Ready Buyers
PPC marketing can attract ready clients through targeted campaigns using remarketing strategies and other artificial technologies. A remarketing strategy targets individuals who have already visited your website or used your mobile app.
Your developer can add tools and technologies to help track former and current users via cookies. These tools will generate a report, and you can use the data to plan where, when, and in what manner you will reach out to potential customers.
Ensure that you provide notice to users or visitors from your site about your use of cookies. The information you gather can guide you on the specific items the user has clicked and lingered on for a longer time. Use remarketing techniques for this to sell your product or service.
Via cookies, you can track where the client is now and send the PPC advertisement to remind them of the previous interest in the brand. This remarketing strategy is beneficial for businesses that need to follow up on inquiries and close the deal. PPC advertisements can be less annoying to potential customers because they have already shown interest in the product or service; they just need a reminder or more persuasion to finish the transaction.
To speed up the sales process, even more, you can ask your developer to add Artificial Intelligence (AI) as a tool in your remarketing strategy. AI can analyze the report from the cookies tracking and generate a faster mechanism to find previous users who inquired about the brand. Also, through the cookies, you can track potential customers by analyzing the submitted profiles of the users. You can then reach out to your target market.
AI can speed up cookie tracking and the generation of results. AI enables you to have more recommended customers and clients, and it does the follow-up by sending them your PPC advertisements and reminders.
AI is a quota maker when you need to hit a specific target by the end of the month. There are more techniques that AI can do for your marketing efforts, such as personalizing and customizing the messaging.
AI can name the user as an auto-response to an inquiry and can respond with a relevant answer such as a quotation, location of the store or shop, office hours, featured items, or list of services. Integrating AI adds to the cost of PPC marketing, but the results it brings are worth it.
3. Best Option for Last-minute Promotions
PPC is the best option for marketing an item-specific or last-minute promotion. It is the solution for rush product launches and media events.
When you have an upcoming event, product launch, or media exposure event, the best thing is to conduct PPC marketing. It will help you gather your target audience and bring them to your event so that you can focus on meeting your clients' needs.
4. Dominate Search Engine Results Pages
PPC marketing places you near or at the top of search results, even higher than the SEO results. Your target audience only needs to click on your site; no need to scroll down. You will have to pay to get that top spot; nevertheless, the quick results you get will be worth the extra expense.
SEO takes time to see results, but you can immediately see positive results with PPC marketing. It is the fastest way to achieve your desired goals, hit your monthly sales targets, and give you the solutions to boost sales immediately.
Larger businesses with high levels of e-commerce, specifically selling software, should consider a specialized Software as a Service or SaaS funnel SEO marketing team to handle your vast marketing needs.
PPC marketing remains effective in achieving short-term goals, but it will not replace good search engine optimization (SEO). Organic techniques like SEO help your brand achieve long-term results. Organic strategies such as content marketing and link building are still essential and will maintain your business's online presence for the long run.
To achieve the best of both worlds, combine PPC marketing with SEO so that you can dominate both the top ranks on the search engine results page. PPC marketing and SEO can give you the best results for your digital campaigns and help you reach your goals faster and better.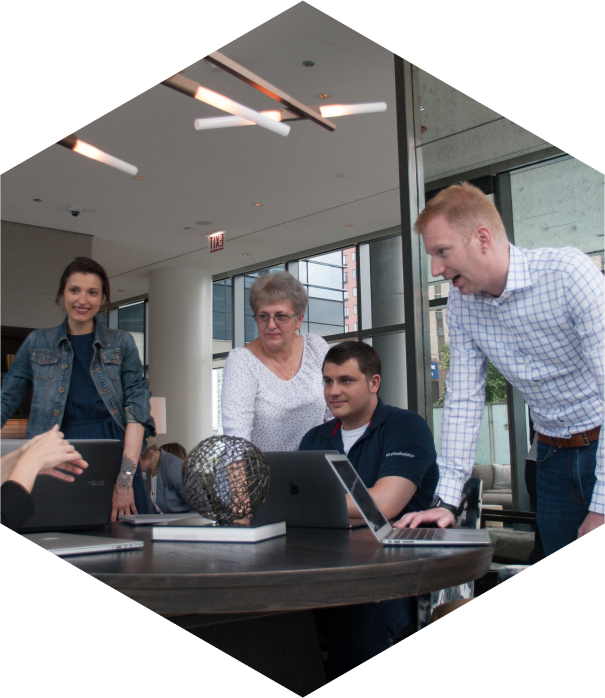 How Can We Help?

Fill out the short form below or call us at:



(888) 846-5382
Contact a Las Vegas PPC Agency if you need a dedicated team to launch a PPC campaign for your business, a new product, or a new service. You will need to be ready to respond to the messages, calls, and other inquiries that will come your way after implementing a PPC campaign. An agency can help you with this.
PPP marketing is a promotional tool that can help a business get over a hump or through downtimes. Integrating your PPC marketing campaign with a remarketing strategy can drive more traffic to your website. Consider implementing a PPC marketing campaign today.