You've probably heard the acronym SEO often when discussing marketing. SEO stands for search engine optimization. SEO improves the appearance and content of web pages to place those pages higher up on search engine results pages (SERPs). So, now you know what it stands for and have a basic idea about what it is supposed to do, but how do you actually conduct SEO, and why is it important?
Continue reading, and we'll give you our expert SEO agency tips for what you need to do to get your web pages to the top of search engine result pages.
---
Want to learn more about the Digital Authority Partners approach to SEO? Watch this video!
---
Why Is SEO Important for Businesses?
Every SEO agency will tell you how vital search engine optimization is, as it's the only way for you to drive organic traffic to your website. So, the fact that organic users account for around 17% of website traffic highlights why you should be doing everything you can to climb the rankings.
Reaching the top of organic search results is great, but SEO helps with other factors that you should also consider.
     1. Quantity of Organic Traffic
When you improve SEO, one of your main aims is to drive more organic traffic to your website. In theory, the more traffic your website receives the higher your conversions. Users are far more likely to click on results that appear on the first page of Google, demonstrating the importance of getting relevant pages to rank high up on SERPs.
     2. Quality of Traffic
As with most things in life, it's quality over quantity. Obviously, with SEO, you want to be generating a high volume of quality traffic. Putting your website in front of an engaged audience of people looking for your product or service that will resonate with your brand and are likely to convert is essential. If you carefully construct your SEO strategy around your desired target audience, understand their behavior, and know what they search for, you'll draw more high-quality traffic.
How Does SEO Work?
Essentially, Google indexes websites, so it can quickly provide all users with the most relevant results based on their search queries. It does this by sending crawlers or bots to trawl through your website, assess its quality, and review the content to position it reasonably within its rankings.
Historically, SEO was all about building a website that spoke to bots. However, this used to be easily manipulated with link farms and keyword stuffing, enabling SEO experts to rank for keywords that were utterly irrelevant to their website. As Google and other search engines become more sophisticated, the primary focus of your SEO strategy should be user experience.
Yes, you still need to cater to traditional elements such as keywords and backlinks, but loading speeds and mobile responsiveness are now just as important.
What Basics Do You Need To Know To Improve SEO Rankings?
There is a range of ranking factors that Google assesses to decide where your website will appear in SERPs. To do this, it uses an incredibly complicated and secretive algorithm. Although the specificities of the algorithm aren't public knowledge, over the years, SEO specialists have deduced what the most important ranking factors are and can tell you how to optimize your website for them. Guess what, we're about to tell you the industry secrets.
     Ranking Factor 1: Backlinks
A backlink is when someone else links your website to theirs. Google sees this as a recommendation. Another person is validating your content's quality, accuracy, and reliability.
You'd think the more backlinks your content generates, the higher you'll be pushed up the rankings, but it's not that simple. You should be aiming for backlinks from high-quality and respected websites such as new publications, industry magazines, and respected bloggers – basically, any website with high domain authority.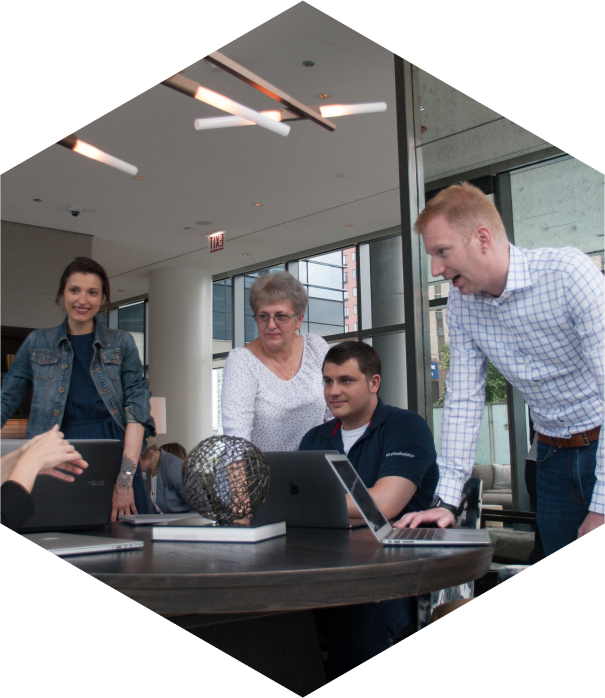 How Can We Help?

Fill out the short form below or call us at:



(888) 846-5382
Links from spam websites and link farms will hinder your ranking. Yes, Google is that clever.
     Ranking Factor 2: Keyword-Optimized Content
For this ranking factor, you need to know what search terms your target audience uses. Once you've discovered this, you can use them in your content, so Google knows what your website is about and the products your business offers. A range of tools, such as Semrush, helps you discover the best keywords for your website.
Our top tip for keyword-optimized content is to use keywords in titles, headings, and subheadings. Also, include them naturally within the content; keyword stuffing goes against the rule of making websites focused on user experience.
     Ranking Factor 3: Mobile Responsiveness
Over 50% of website traffic is done on a mobile device. It's hardly surprising that Google has made mobile responsiveness an essential ranking factor. If you're unfamiliar with the concept, mobile responsiveness is when your website scales perfectly for every device and screen size.
Although there is no confirmation on this, there have been suggestions that Google uses the mobile version of a website to decide its ranking if it gets most of its traffic from mobile users. Either way, it's a crucial factor to consider.
     Ranking Factor 4: Page Loading Speeds
Most people are impatient website users. We're used to instant access to information – we don't want to sit around waiting for pages to load when we can find another website with similar products or services. Google knows people hate waiting, so it penalizes websites that load slowly and prioritizes optimized ones that appear instantly.
In Summary: Why Is SEO Marketing Essential?
Implementing an effective SEO strategy is your ticket to driving high-quality, significant traffic to your website. While there are many incredibly technical and in-depth elements to search engine optimization, you can rapidly improve by focusing on the most crucial ranking factors.
Google is smart enough to know what users are looking for, and reaching the all-important page one results isn't so much a game of doing what Google wants but instead optimizing your website for what users need.
We know that as a beginner, SEO can be quite intimidating. Should you need expert advice or assistance with formulating a winning strategy, an SEO agency will be happy to help.