Like many other businesses, the success of an SEO or marketing agency depends on its continuous growth. New client accounts are needed to keep the company going. Discover how to use organic traffic strategies to find new prospects and convert them into new clients with our 8 winning ways to attract new SEO Agency clients.
---
Want to learn more about the Digital Authority Partners approach to SEO? Watch this video!
---
1. Offer Free SEO Audits
Offering any service for free is always an effective way to attract new customers. In addition, you can use it to prove your skills to prospects while identifying their needs. For example, suppose you have a routine for auditing a website. In that case, you can probably do so in 15-20 minutes and provide a comprehensive analysis, including graphs and charts on keywords, backlinks, domain authority, SERP rankings, and errors.
While presenting your findings to the prospect, you can build your relationship with them and increase your chances of selling them ongoing services that work on the problems you highlighted in your presentation. With an estimated 10% success rate, you should target ten monthly audits to add one new client each month.
2. Leverage Your LinkedIn
Most people aren't using LinkedIn to their advantage. However, they are missing out as the platform can serve as more than just a public display of your resume. It is an excellent place to attract and find new clients. Since people connect with people and not businesses, invest some time and energy in building your personal LinkedIn profile (instead of your company profile).
Include an engaging headline, a compelling About section that tells readers how you can help them, a banner that complements your headline, and a professional headshot as your profile picture. Then, with your profile complete, start connecting to prospects by using the Sales Navigator, which will help you find the right people.
3. Hold Free Local Marketing Events
After years of being locked down inside, people value going to in-person events again. Consider offering a free local event in your area to attract prospects. Since most people aren't interested in learning only about SEO, it's best to make your event all about marketing, branding, or lead generation and include SEO as one of your topics. You don't have to host the event alone. You can opt to invite experts in other marketing fields to provide more value to your guests.
4. Build an Email List 
One of the best ways to sell any products or services is through email lists. If you don't have one yet, you need to build one. Try to consistently add contacts through paid ads that collect email addresses in exchange for attractive lead magnets like trial subscriptions, free consultations, or white papers. start building one
While you are working on building your list, send out about 2-3 emails per week. These could be newsletters or other forms of communication. At the very least, each email should add value to the reader by sharing insights, offering encouragement, or giving something away for free. Now and then, slide in a free SEO audit to connect to prospects and increase your chances of landing a new client.
5. Take Advantage of Other People's Audiences
OPA, or other people's audiences, can help expand your network and connect to new prospects. Do this by partnering with people who don't directly compete with you but already have an existing audience. Part of their audience should be your target audience. For example, you can gain exposure through guest blogging or being a guest on someone's podcast.
6. Write a Book
Writing a book may seem daunting, but publishing your book is relatively easy. Since viewed as very respectable, publishing your book can help you land new clients. In addition, it can help build your reputation as an expert in the SEO and marketing space. And if you don't have the time to write one yourself, hire a ghostwriter.
7. Become a Public Speaker
If you feel comfortable speaking in public, consider becoming a public speaker. It's an excellent way to build trust with prospects and gain exposure. Find out which business events are happening in your area over the next few months.  Or, if you are geographically flexible, explore events around the country. Many of them always look for speakers, so contact them to offer your speaking services. This way, you can build your reputation and generate new leads for your business.
8. Build a Referral Network
Referrals are usually pre-qualified, meaning you have a better chance of converting them into buyers. There are many ways to build a referral network. For example, find out what your target market likes to do.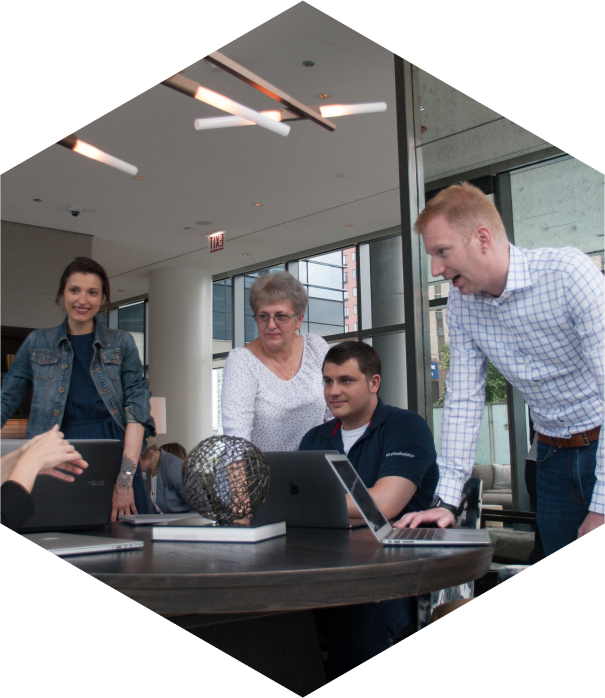 How Can We Help?

Fill out the short form below or call us at:



(888) 846-5382
Once you know, leverage that information to create a club or volunteer group to connect to them while positioning yourself as an authority figure in that group. For example, if you are a real estate agent, build a golfing group that meets to play golf regularly. Then, while connecting with your golfing buddies, you can subtly position yourself as a real estate agent and potentially leverage their networks. This method is one of the best ways to gain referrals organically.
Takeaway 
When you start a business, you may scramble to find clients. But as time goes by and you build brand awareness, you will gain new leads. While it may seem counterintuitive initially, offering free services is a great way to attract prospects and create relationships. This lead accumulation can eventually direct them to buy from you or refer your services to their network.
Other people's audiences and referral networks also offer endless opportunities to network with prospects and find new leads. Just don't be shy to talk to people and share your expertise. While you don't have to oversell, it pays off to subtly insert what value you can provide to the people you meet.
Additional tactics you can use to find new clients include:
Leveraging your LinkedIn.
Host free marketing events in your area.
Building an email list.
Writing a book.
Becoming a public speaker.
And when putting all these methods to work, you will soon add client accounts and grow your business.