A successful pay-per-click (PPC) campaign has the potential to outperform any amount of search engine optimization (SEO). PPC can be very costly, and hard to maintain over a long period of time, whereas SEO can lead to organic traffic growth after a period of time. It's true, while search engine optimization can improve your search rankings over time, a PPC campaign can help you purchase a top spot on Google at the click of a button.
A healthy advertising budget takes both types of advertising into account, but today, let's take a look at how to create a successful PPC campaign from scratch.
---
If you want to learn how Digital Authority Partners can increase your PPC effectiveness, watch this video!
---
7 Steps to Create a Successful PPC Campaign from Scratch
     1. Understanding the Fundamentals of a PPC Campaign
It should go without saying that a Chicago PPC agency can take care of the entire process, but it's at least worth it to have a better understanding of the inner workings of a campaign.
PPC ads show up next to the search rankings on Google, etc.; and you can "bid" for specific terms/keywords that your customers might be searching. You get to decide exactly what text this ad displays, which gives PPC ads an edge over organic listings.
That said, you can also take to social media with a PPC campaign, and the targeting options on these platforms can sometimes make this a better option for businesses.
Either way, all of the above should be outlined in a PPC campaign strategy.
     2. Defining the Aim of Your PPC Ad Campaign
You need to outline the precise goal of a PPC campaign, and a Chicago PPC agency will put a lot of time into researching these early stages. Do you want to drive sales, generate leads, or create brand awareness? You need to specify this aim.
This will then allow you to choose the most suitable platforms and ad formats for your PPC campaign. For instance, ads on certain platforms are more affordable than others, and some provide a higher click-through rate (CTR) and better tracking.
     3. Establishing Your Target Audience Based on Intent
There should be a specific target audience for your campaign.
The key to successful targeting is to target based on intent as opposed to targeting relevant keywords. But what does this mean? It means you should bid for keywords that match the exact point at which your customer is sitting in the sales funnel.
With this in mind, you should know there are three categories in terms of search intent keywords, which include informational, navigational, and transactional intent. This is another reason to consult a Chicago PPC agency, because it's essential to ascertain whether you are reaching people who wish to buy or take a specific action.
     4. Using Tools to Identify the Best Keywords
PPC campaigns need to identify the most relevant keywords that can help you reach and influence a specified target audience. Without this focus, it doesn't matter whether your ad reaches top spot in the rankings because nobody will click on the ad. 
Market and competition research is necessary for this part of the process, and keyword tools will play an important role. It's worth remembering that some keywords, although highly relevant, are not worth the price/bid, and this is why long-tail keywords or branded keywords are often a better option for businesses that want to see results.
Just so you know, MOZ, Ahrefs, and SEMrush are examples of the kind of keyword tools that a Chicago PPC agency will use to help establish your keyword strategy.
     5. Setting the Budget for Your PPC Ad Campaign
Paid search comes with a cost, and you essentially pay for every click that your ad receives. This is why you need to get not only the ad copy and overall message correct from the very beginning, but also the target audience and keyword strategy.
Budgeting requires an eye for detail and calculations, and a PPC budget is necessary. After all, paid search ads can prove costly when the strategy is not effective, and every business should have a budget cutoff point at which to stop or pause a campaign.
This budget will also help calculate the return on ad spending.
    6. Writing Ad Text with a Powerful Call to Action (CTA)
 Copywriting is like a secret weapon for marketers, and creating a compelling ad is one area in which a Chicago PPC agency excels. Ads should be clear and interesting enough to click on, and landing pages should prompt viewers to answer a call to action.
For some marketers, a high-quality PPC ad is one that viewers will click on even if they know the post/listing is an advertisement. Mistakes are not an option for these ads, and, when ineffective, it's necessary to tweak certain parts of the message or text.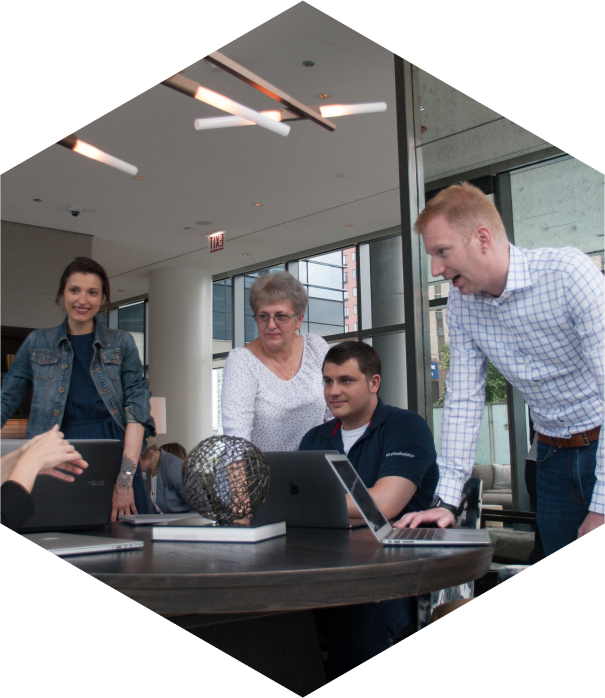 How Can We Help?

Fill out the short form below or call us at:



(888) 846-5382
The best marketers will experiment with different types of text and visual media in order to optimize each ad and target more than one platform if necessary. Viewers also need a good reason to click, but, without a call to action, it's often the case that an audience will take no action at all. Moral of the story? Make sure to use one!
     7. Tracking and Adjusting with the Use of Metrics
Keeping track of data and metrics is a crucial part of any PPC campaign. This helps businesses evaluate the effectiveness of copy, targeting, etc., and then also helps to identify the most valuable keywords to your business. Some platforms provide insights (eg. Facebook/Instagram) and many agencies use advanced tools for the rest.
Here are examples of some of the most common metrics for a PPC campaign:
Click-through rate (CTR) -

How many viewers actually click on the ad.

Cost per click (CPC) -

How much you are willing to pay for each click.

Conversion rate -

Low conversion rates indicate changes are needed to targeting, keywords, or choice of platform, etc.

Cost per acquisition (CPA) -

Indicates the competitiveness of a keyword and whether investing in this particular keyword is worth the return on investment.

Return on ad spend (ROAS) -

This helps evaluate the bottom line and the effectiveness of the budget versus the goals of the overall strategy.
Final Thoughts
Paid search is a route to short-term success, but an ongoing campaign is also a way to build traffic, leads, and sales in the long term. PPC ads can also stop the competition from stealing your traffic and enable businesses to create brand awareness while reaching a specific audience. But strategy is everything for a successful campaign, and, for the best possible results, it's always worth contacting a Chicago PPC agency.