Adopting an e-commerce model into your business strategy is tough at best; it calls for an entirely separate mindset from other business models. Marketing and SEO are also unique when it comes to e-commerce. In this case, the expertise of a fractional CMO is pivotal.
Here is a look at how an e-commerce fractional CMO can boost your business to new heights:
The current state of e-commerce with respect to business
How it perfectly fits the changing preferences of customers
Three top reasons to hire an e-commerce fractional CMO
There's a lot to cover so get ready to take notes! Let's go!
---
Wondering what a Fractional CMO can do for your business? Watch this video below.
---
The Rising Role of E-commerce in the Modern Market
Many business and company owners today are faced with a major dilemma, and that is how the shift to e-commerce affects them. New shopping options have caused a huge shift in consumer behavior and vice versa. Those who cannot adapt fast enough are left in a desperate situation.
Ever since the pandemic, e-commerce has played a central role in responding to consumer demand and driving companies' revenue. The most notable shift is the rapid growth of food delivery services and apps; e-commerce has allowed such services through their apps to thrive even without a physical store.
Retail has likewise enjoyed a boost in popularity and sales due to being readily adapted to meet the logistical demands of e-commerce. Timely delivery aside, e-commerce offers benefits such as personalized shopping experiences, easy returns, and a wider range of product options.
Through e-commerce, users can easily find lower-priced goods, relevant suggestions, and payment methods that suit their preferences. This makes e-commerce a desirable option for modern buyers because it puts choice back in their hands. The focus on customer needs leads to more sales.
Experts forecast sales on e-commerce platforms to rise to 24% of all retail purchases by 2026 and to continue to grow as more people shop online.
How the Evolution of Consumer Behavior Supports E-commerce
Understanding the impact of e-commerce sets the stage for examining another crucial element: consumers' evolving behavior in this digital landscape. E-commerce is not new; it has been steadily growing with large companies such as Amazon and Shopify at its helm. It is a natural step in the evolution of business, with m-commerce (purchases made using a mobile device) catching up.
Perhaps the primary reason why e-commerce and m-commerce are major concerns for today's small business owners is that the pandemic accelerated the adoption of these models. Although in-person shopping has returned, people have become accustomed to these forms of shopping.
The expectation that you can enjoy savings through digital coupons has stuck with the public. Many consumers now expect additional perks to go with their new e-commerce experience. Among these are free shipping and personalized product suggestions.
This has also led to a race among industry leaders to upgrade and integrate the latest technologies into their services to provide the best user experience (UX). For instance, virtual try-ons and AI assistants are becoming part of the e-commerce landscape as ways to compensate for the drawbacks of e-commerce shopping.
Dedicated e-commerce platforms even allow users to browse and purchase from a wide range of stores whenever and wherever they want, without opening another app. The focus on customer convenience makes e-commerce (and m-commerce) necessary to thrive as a business.
Three Reasons a Fractional CMO Benefits an E-commerce Business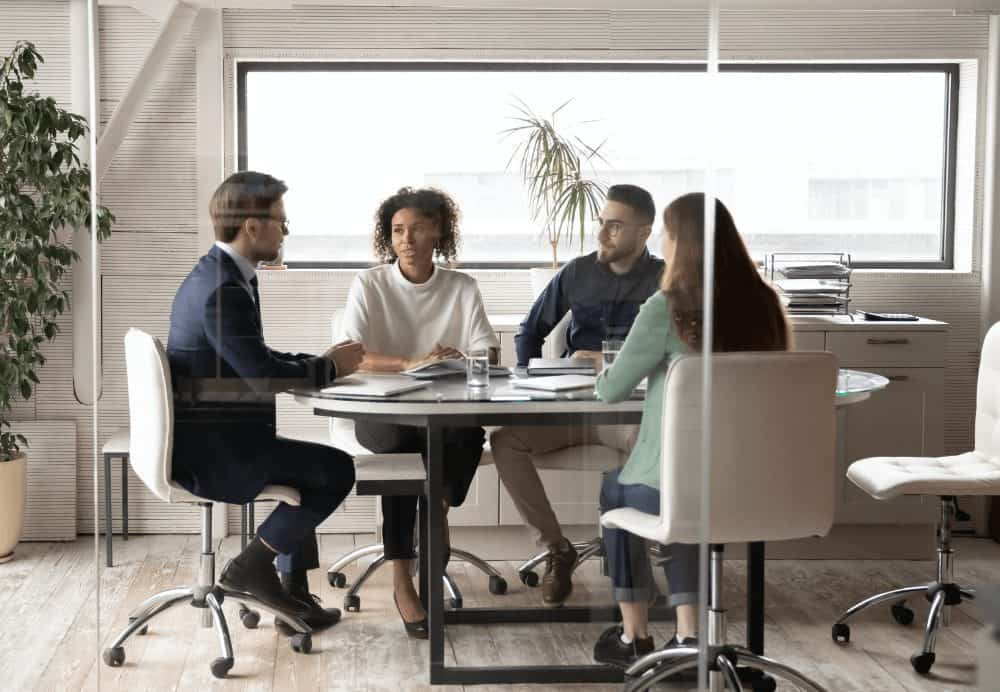 Clearly, adopting e-commerce for any business that has already established itself with a brick-and-mortar store looks like a pretty daunting task. Translating your operations into a digital format requires expert help and advice.
Many platforms and website builders offer "easy" answers to e-commerce dilemmas, but none equip you with the skills and smarts needed to ensure the success of your business. After all, a solid marketing plan is still necessary to reach leads and customers in e-commerce.
This is where e-commerce marketing services provide a viable and valuable solution. Hiring an e-commerce fractional CMO gives you the advantage of years of experience at a fraction of the cost of hiring a full-time C-level executive. Cost efficiency is far from the only benefit, though.
Below are three reasons why working with an e-commerce fractional CMO is the smart choice: 
     1. Work With an Expert With Practical E-Commerce Experience
A fractional CMO is not just some random person looking to fill a top position at a company on a part-time basis; they are veterans who have opted to broaden their employment options. They have real experience to back up all of their e-commerce marketing services.
A seasoned e-commerce fractional CMO can diagnose the issues you face with adopting or revitalizing e-commerce for your business and assemble strategies according to these needs. For instance, on-page SEO is a huge challenge for e-commerce due to page volume. Fractional CMOs have the experience and expertise to help your company get on-page SEO right the first time.
     2. Focus Attention on Audience Needs and Primary Pain Points
UX-related factors, such as a confusing user interface (UI) and product pages with inaccurate descriptions, often weigh down an e-commerce business. Limited product options are another problem that can cause many users to look for alternative services.
You can count on an e-commerce fractional CMO to have a plan to identify and resolve major pain points reported by customers with the best e-commerce practices available. For instance, they can focus on optimizing product listings and having a strategy to attract authentic and relevant user reviews.
     3. Use Data-Driven Optimization to Attract Leads and Customers
Data and statistics are important in marketing, especially for an e-commerce business. Tracking and understanding analytics creates the foundation for an effective strategy. Customer behaviors follow a recognizable pattern that any reputable e-commerce fractional CMO can easily identify.
For instance, while analyzing data, a brand's fractional CMO discovers a 12% conversion rate from their sustainability blogs, above the 8% average. Acting on this, the FCMO increases blog posts and launches targeted ads, boosting overall conversion by 20% and sustainable product sales by 35% within a month. This highlights the effectiveness of data-driven strategies.
Summing Up
Hiring fractional CMOs is a growing trend among business owners, and they are a brilliant option for e-commerce because they bring practical experience that few have. Building a platform to host your product listings and process transactions is not as simple as it sounds.
An e-commerce fractional CMO knows this and has the foresight to review current and potential strategies to meet customer demands. For instance, a fractional CMO can optimize your platform or website to handle traffic and activity and provide a smooth, reliable, and pleasant experience.
Need help finding the right fractional CMO to help build your e-commerce business? Contact Digital Authority Partners to learn how we can help.