Google constantly improves search algorithms to ensure users find what they need online. Most of these updates can affect search rankings calculations. If you are not ready or are caught unaware, you can lose your rank or your keywords may appear lower than previously.
That is why you need a Google Partner agency. This guide highlights how these agencies work and the benefits you get from hiring one:
An established online presence
Winning ad campaigns with Ads
Ability to keep up with the competition
Let's go!
---
Watch this video to learn how Digital Authority Partners tackles Technical SEO!

---
What Is a Premier Google Partner?
A Premier Google Partner is an ad agency or company that has met Google's strict standards in managing various ad campaigns. Receiving a Premier Google Partner badge means that the agency.
Has met the ads spending requirements, managing large ad spending every 90 days
Achieved performance requirements to become certified partners
Earned Google Ads, Search, and Mobile ads specializations
Working with a Google Partner is like hiring the best contractor in the city to construct your dream home. They are experts in ads and paid search, particularly on Google's two ad platforms: Google Ads and AdSense. Thus, they can help enhance your online ad campaigns.
3 Top Benefits of Working With a Google Partner
With a Google Partner, you can quickly collaborate on various online advertising projects no matter what kind of business, products, or services you offer. Below are the top three benefits of working with an expert.
     1. Establish Your Online Presence With Certified Google Managers
An agency with a Google Partner status has a team of account managers with Ads certifications. You will have trained specialists promoting your online presence using paid ads.
A Google Partner agency makes sure they have updated certification and meet Google's high standards for quality service. They also follow the best practices in account management. The following are ways a partner company can establish your online presence.
Help you stand out on Google Search and Maps. They manage your account listings on Google, especially on Google My Business. They keep your contact details up-to-date, respond to reviews, and create relevant business descriptions.
Create the best website to showcase your brand. Businesses with a website expect 40% faster growth. Your Google Partner agency will use website builder tools and custom web addresses to create a professional website for you.
Promote customer relationships. A Google Partner agency engages your customers using videos, emails, and social media.
Find new customers. By advertising on Google Maps and Search, you can place your business in front of people searching for your products or services.
Use of Google resources and online tools. They use Google Workspace tools for sending emails, creating calendars, video conferencing, file storage, documents, and spreadsheets.
     2. Create Winning Advertising Campaigns Using Ads
You need an expert team with a keen mastery of Google Ads to create engaging ad campaigns. Whether working on a paid search or a website, a partner company knows the best strategy for every client.
Your partner agency uses Google Ads features and updated strategies such as the following:
Using above-the-fold ad placement tactics. The content above the fold is what users see first when they load the search page. Ads placed this way appear on different devices, whether on mobile or desktop.
Optimizing with the Image Ad Creator. This tool helps find inspiration and create media advertisements in various pixel dimensions.
Crafting ads with broad match modifiers (BMM). These modifiers control how ads show if your keywords appear in the search query in the exact or similar form. Keywords highlighted with a "+" means these are part of the search query.
Automating PPC with Google Ads scripts. Ad scripts help in reporting, bulk changes, and account alerts, but these can improve PPC campaigns. Agencies use ad scripts to track paid campaign accounts, ad quality scores, and campaign health. They can also create custom scripts for you.
Monitoring auction insights and search terms report. A Google expert can show who is bidding on various keywords using action insights. The search terms report gives an idea of what keywords people use when searching for your business.
     3. Help Your Business Keep Up With Your Competitors
Your Google Partner agency has exclusive access to Google's beta features. When new applications, features, or updates arrive, Google Partner companies are the first to test them out. They use these for at least a year or more before Google launches them for everyone.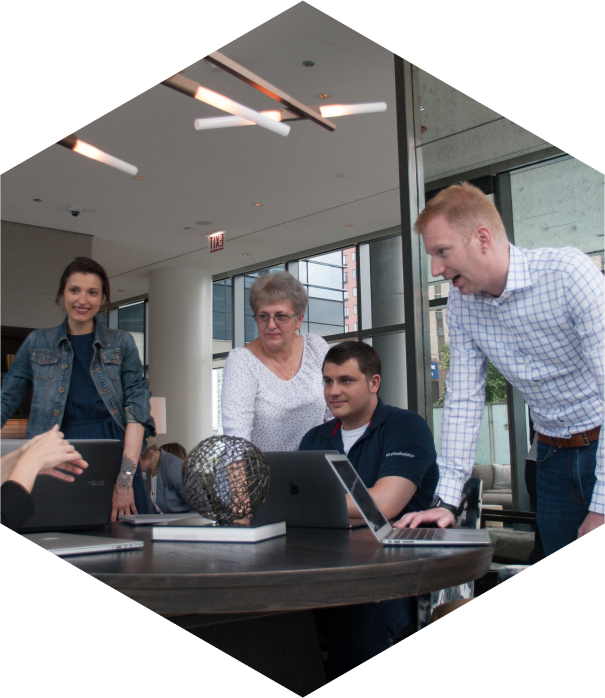 How Can We Help?

Fill out the short form below or call us at:



(888) 846-5382
Think of how you can overtake your competition when your partner agency can leverage these beta features before anyone else. Your partner agency can map out your ad campaigns and various optimization strategies. They can prepare for the impacts these new applications and features could have on your web presence upon release.
A partner agency helps you stay ahead of your competition by
Using their experience. A Google Partner has years of working with various companies investing in PPC campaigns. They know Google Ads better than a regular agency and can help you create more effective campaigns than your competitors.
Taking advantage of product and marketing developments. Digital marketing is constantly changing, with new technologies and trends appearing daily. Google Partner agencies have complete training to stay updated with the latest trends.
Communicating directly to Google. Your Google Partner agency can contact a Google Account Manager in case of issues or errors on your ads. This gives you a massive advantage over your competitors who only work with a regular ad agency.
Google remains the world's most widely used search engine, with a nearly 82% market share as of October 2022. Its closest competitor is Bing, with only 9%, while Yahoo! has a 3% share. So, working with a Google Partner gives your business a better chance to dominate your industry.
Summing Up
Working with a Google Premier Partner agency means you have a team of experts to help your business dominate Google search results. You are on top of Google's search engine results pages (SERPs) because your partner promotes your online presence, creates winning ad campaigns, and helps you keep up with your competitors.
With a partner agency on your side, you can improve your ad reach and increase awareness of your brand. Contact Digital Authority Partners and find out how a Google Partner company can promote your business online.