Search engines constantly update their algorithms to help users find the best results for their queries. Hundreds of updates are rolled out year after year that it's hard to keep up. That is where an SEO agency can help.
Working with an SEO team can improve site traffic and brand popularity. But you can't just work with the first company you find online. So how do you select the best SEO agency?
Let's begin.
---
Want to learn more about the Digital Authority Partners approach to SEO? Watch this video!
---
What Is SEO?
SEO stands for search engine optimization. It's a set of strategies to help you optimize your website to rank high in search results. With the right SEO strategies, you can drive visibility, promote sales, and improve traffic to your site. SEO can also help drive foot traffic to your shop.
Google is the most widely used search engine globally. Over three-quarters of desktop search traffic in the United States originates from Google. Adopting SEO as part of your online marketing strategies can help you target Google and get your website on top of its search results.
What Is an SEO Agency?
An SEO agency is a company that specializes in website optimization services. This agency identifies optimization opportunities and modifies your website accordingly. The aim is for your site to rank better on the search engine results page (SERP).
SEO agencies vary in services, industry specialization, pricing models, etc. When hiring the right SEO company to help you with website optimization, you must learn about these factors.
What Does an SEO Company Do?
Every SEO agency works differently as much as every client's campaign is different. But SEO services are similar across campaigns, industries, and niches.
Below are what an SEO company can do for you.
     1. Conduct a Thorough Analysis of Your Website
Behind every successful SEO campaign is thorough research and analysis. An SEO agency will start with an audit of your website, considering its on-page, off-page, content, and technical aspects. An audit considers how well your website relates to search engines' best practices.
It can take a week or more to complete an SEO audit. Once done, an SEO agency can create a campaign that matches your needs.
     2. Develop Your On-Page SEO
An SEO company can help you with on-page or on-site SEO. It is about optimizing website elements so you can rank higher and boost traffic to your site. On-site SEO is a practice that will improve your content, HTML structure, website architecture, page loading times, and more. An agency has the tools and the knowledge of the latest trends to improve your on-site SEO.
     3. Improve Your Off-Page SEO
An SEO agency can help you win your off-page SEO. Off-page SEO is strategies beyond your website which affect your rankings in SERPs. Optimizing off-page factors is essential because these factors tell search engines that your site is vital to people online.
An SEO company will promote off-page SEO by creating quality backlinks and using strategies like forum posting, local listing, guest posting, and social media marketing.
     4. Communicate Updates
A reliable and transparent SEO agency will regularly update your campaigns, especially when you've hit SEO milestones such as ranking for long-tail keywords, ruling voice search, staying updated on the latest Google algorithms, etc.
An SEO agency will assign an account representative who will personally provide updates and handle all your concerns about your campaigns. Having a representative is much better than talking to people handling various aspects of your SEO campaign.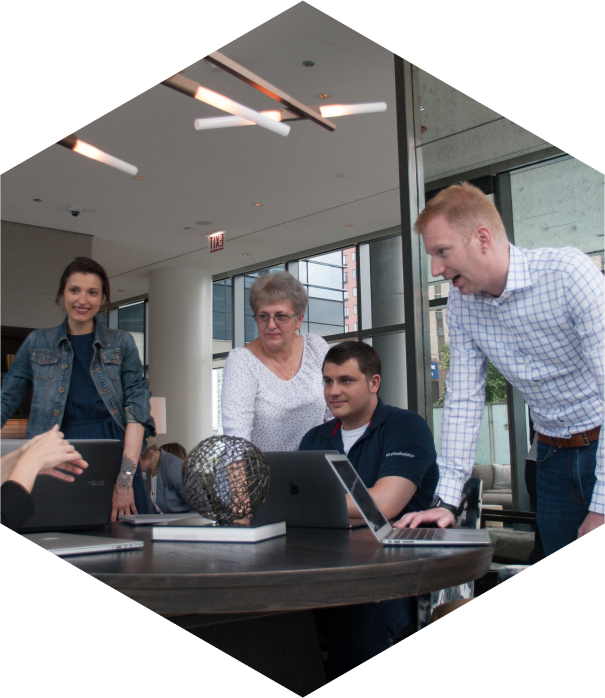 How Can We Help?

Fill out the short form below or call us at:



(888) 846-5382
     5. Create Engaging Content
Most SEO agencies provide content creation services. They partner with a content marketing specialist to produce engaging, updated, and quality content for their clients. Strategic keyword research is part of content creation, as your clients use specific terms to find you on SERPs.
And it's not just about text content. Content creators can prepare videos, images, comparison tables, infographics, and other types that match your audience's preferences.
     6. Test Campaigns
An essential part of creating and maintaining SEO campaigns is testing. SEO testing will ensure that you're not wasting time and resources on a campaign so you can start reaping results.
Agencies test your campaigns using different variables to see which would yield the best results. However, it takes time to see results in SEO. Still, once you find the right formula strategy, you can rest easy and expect the best in no time.
Is the Cost of SEO Services Worthwhile?
The cost of SEO services varies. Forbes reports that it could go as low as $250 monthly for small businesses geographically limited and with a small target population. The cost could reach $1,500 monthly for those limited geographically but targeting a larger population.
The cost will depend on many factors, including optimization goals, timeline, payment method, pricing models, and tools or software needed for the campaign.
An SEO agency can save you time and effort in optimizing your website and promoting your brand, products, or services. It's worth paying an expert to help you with SEO so you can concentrate on the most critical aspects of your business, such as your products and customers.
Choosing an SEO Agency
Now you know what SEO and SEO agencies are and how an SEO company can help you promote your business online, it's time to find out how to select the right company.
Here are some pointers.
Select agencies with a good track record. An SEO agency with numerous positive customer reviews, third-party reviews, case studies, and testimonials shows how satisfied its customers are with their work.
Work with agencies with an experience in your market or industry. An agency that has worked with companies or businesses in your industry knows your market and your customers better. They can produce results based on specific KPIs and industry metrics.
Choose an agency that supports your goals. When looking for the right agency, be specific with your goals and what you want in an SEO agency. An agency must be able to create a strategy that will help you achieve your goals.
Summing Up
An SEO agency aligned with your business goals and plans can help you tremendously promote your brand, products, or services. As the organic search continues to evolve, having an expert SEO agency that knows your industry well will give you excellent results. Follow our tips to find the right SEO partner today.