Pay-per-click (PPC) advertising is not just a buzzword that marketers use carelessly but a real and powerful way to improve your marketing strategy. Paid search can reach a vast audience and produce immediate results that can more than justify the investment. But what might that mean for you exactly?
This article outlines the basics of PPC and PPC strategies.
---
If you want to learn how Digital Authority Partners can increase your PPC effectiveness, watch this video!
---
What Is a PPC Strategy, and How Can It Benefit Any Business?
PPC ads refer to any of your ads that show up for specific keywords that potential customers use on search engines or social media. Each time an online user clicks on one of these ads, you pay a set amount to the relevant platform.
But let's be more specific...
PPC ads enable businesses to decide exactly what information the online user gets to see. This is important because search engines usually display random information from your website when online users perform a search query.
PPC ads can also ensure that the competition does not steal your online traffic because other companies are sure to use PPC to appear next to your organic rankings. Aside from protective measures, much of the PPC strategy is proactive and uses various marketing tools and methods to generate more traffic, leads, and sales.
With this in mind, you might consider PPC ads as a type of real estate on search engines and one that drives traffic, leads, and sales toward your business. There are many benefits to using PPC in your online marketing strategy.
Choosing the Right Platform and Targeting the Right Audience
You can use many different platforms for a PPC strategy, such as Google Ads, Facebook, Twitter, Pinterest, and YouTube. Choosing a platform will depend on factors such as the advertising budget, creative opportunities, and platform user base. There are also different ad formats to consider, including text ads, image ads, and video ads.
Researching the target market is essential for creating a strategy that will work.
It's possible to create PPC campaigns based on factors such as search behavior or the type of content that online users view. For instance, a search campaign might focus on showing ads on the results page of search engines for a specific keyword, which enables businesses to provide solutions to these individuals.
So targeting is highly complex, and it's always best to consult a top PPC Agency in Chicago and other areas to ensure you get off on the right foot with your PPC strategy.
Contracting a PPC Agency to Create High-quality PPC Ads
PPC ads are not always successful, and the quality of the ad text (copy) is often the main reason for failure. This is also a tricky process because Google ads and social media ads only allow for limited space for you to grab the attention of online users.
The truth is that writing keyword-focused copy is a skill, but there are no tricks behind the process. This is why most businesses hire PPC agencies to write ads for them. Writing PPC ads needs to consider how the user is feeling right at the moment and then how they might feel after reading the advert, which isn't easy!
A "search term" refers to the exact word or phrases an online user types into a search engine. Search terms usually include keywords used to specify where PPC ads should appear.
There are different types of keywords. A generic keyword broadly describes your product, service, etc., while a branded keyword includes the name of your company or brand. A long-tail keyword targets longer search query terms. 
Most PPC ad strategies test a variety of keywords with more than one PPC ad.
Creating a Goal-oriented PPC Strategy for Success
A PPC ad strategy needs to be goal-oriented. These goals will change from one business to the next and coincide with specific objectives that you need to identify.
Some businesses simply want more leads, sales, or repeat customers, while others seek to increase brand awareness. For example, a brand needs to increase the visibility of a new product. It's then possible to place display ads with identified keywords or topics and use targeting to ensure the right people see these ads.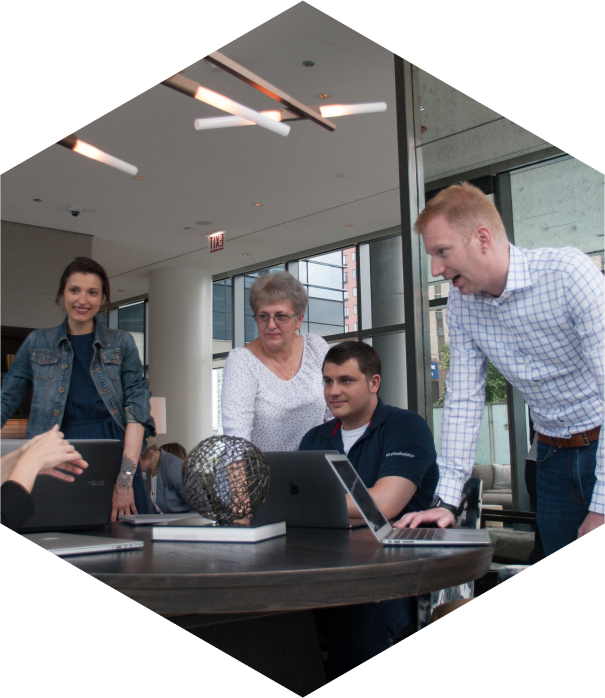 How Can We Help?

Fill out the short form below or call us at:



(888) 846-5382
Social media platforms offer the perfect solution for targeting because they provide many different targeting options based on interests, behavior, and demographics.
Tracking to Optimize and Improve a PPC Strategy
You can extract a massive amount of data from the performance of PPC ads, and tracking is often the key to success for any campaign. After all, you cannot fix or improve what you do not know. Tracking this performance can show exactly what you need to change.
But which metrics are most important for tracking?
There are different metrics. For example, a top PPC agency will often use revenue and return on ad spend (ROAS) as key performance indicators (KPIs). But some strategies look to increase brand awareness or engagement, for which social media insights are valuable tools. And one of the most fundamental metrics that can track progress is click-through rate (CTR).
CTR is the number of impressions on a PPC ad versus the number of clicks it receives. You can just divide the number of clicks your ad receives by the number of times it appears. 
For example, if your PPC ad has one hundred impressions and receives one click, your CTR is 1%. A high rate means that users find your ad relevant.
A PPC campaign aims to get online users to visit a particular website and perform a specific action. And this means that CTR is an excellent way to improve the relevance of PPC ads.
Final Thoughts
This is merely an introduction and a beginner's guide to PPC strategies. For the best results, your company needs research and a PPC strategy. Contact an experienced PPC agency to get things right from the start. 
Either way, PPC ads should be a priority for every online marketing strategy and an avenue that should result in more traffic and leads and a healthy return on investment.