Chatbots are now an integral part of the process in every industry, and this is certainly true in terms of healthcare app development. Without this technology, customers are lost and businesses are unable to take advantage of the opportunities they present.
But exactly how can healthcare chatbots assist your patients?
Healthcare chatbots are complex, to say the least, and expertise is needed to ensure this technology is deployed correctly. In other words, just about anyone can add a chatbot to a WordPress website, but that doesn't mean the chatbot will be effective.
In this article, we consider five ways that chatbots can help your patients.
---
Watch this video to learn how Digital Authority Partners designs software that works for your business!
---
5 Ways Healthcare Chatbots Can Assist Patients
Chatbots are programmed robots that can facilitate conversations with online users. This means they can answer questions, suggest solutions, or carry out various tasks that can help automate and streamline a healthcare website. In today's market, they're a crucial part of healthcare app development. 
For instance, chatbots can use algorithms to make appointments or suggest products to patients. Some chatbots have so much artificial intelligence (AI) that they can resolve problems for patients that only humans were able to address in the past. 
Now, let's take a look at five ways healthcare chatbots can assist patients.
     1. Healthcare Chatbots are More than Just Convenient
Chatbots are not only convenient but also preferred to human interaction by many patients. It's true, healthcare patients value convenience' and this means they want to have quick access to your products and services. 
However, in the past, it was only possible for staff to answer calls or inquiries from these patients one by one. Chatbots can generate multiple conversations at once and essentially free up these employees who can focus on other tasks of higher value. 
Believe it or not, some recent studies show that most online users even prefer to engage with chatbots over another human!
     2. Chatbots Help to Create a Sense of Continuity
Healthcare chatbots enable businesses to communicate with patients around the clock. This translates as more opportunity, but there is further benefit to this ongoing access because chatbots can help avoid any breaks in the customer journey. 
But what does this mean?
Losing prospects early is one of the biggest pains that can affect a marketing funnel. This is often because people are easily distracted, but also for the fact that people can easily lose interest when there is no continuity in the process.
Chatbots help create this continuity and ensure there is "someone" there to at least answer the query. Also, even when the transaction or query is finished, chatbots can further this engagement by offering additional products, services, or suggestions.
     3. Healthcare Chatbots Can Provide Medical Assistance on the Spot
Chatbots can provide solutions to queries and access to resources and assistance that can help patients on the spot. It's sometimes a case of trial and error, but the accuracy of chatbots and confidence in this technology continues to increase.
This assistance (or resource) might refer to relevant blogs and articles, or studies and general pieces of advice relating to a specific inquiry. For some patients, chatbots can offer reminders to take medication or even short consultations that use a database of medical data to arrive at a particular suggestion.
In many ways, this means that healthcare chatbots can act as personal nurses to patients. Some chatbots can even connect to wearable devices, which allows for the collection of valuable data that can further enhance the efficacy of the chatbot.
     4. Chatbots Can Extract and Collect a Wealth of Useful Data
Chatbots have incredible power when it comes to extracting data and collecting information. After all, chatbots can engage far more patients than any human, and the collection of this data is more accurate due to the nature of automation. This data is key for a wide range of tasks that can truly transform the effectiveness of a healthcare organization. 
For instance, you can run reports to interpret the data and gather insights to improve certain areas of the business. This information can also help improve the effectiveness of communications because almost every aspect of a chatbot can be tweaked or changed over time. And then there's the prospect of lead generation, for chatbots are incredibly good at gathering contact information that can help generate more leads and sales for the organization.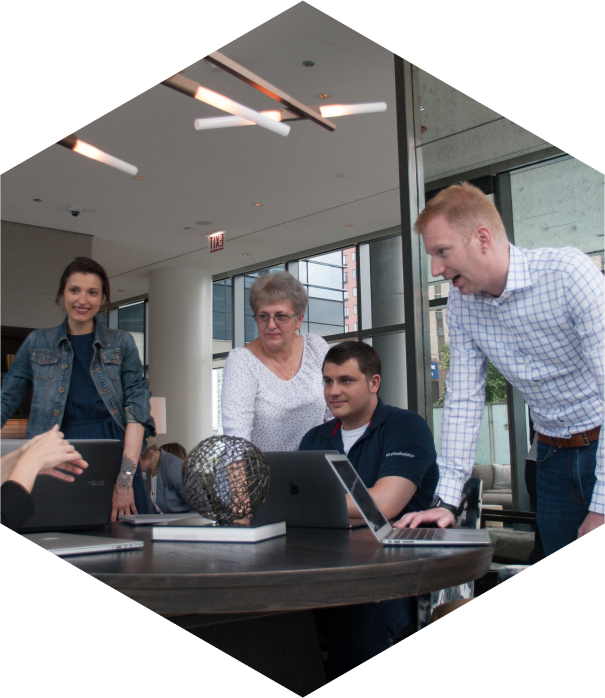 How Can We Help?

Fill out the short form below or call us at:



(888) 846-5382
     5. Healthcare Chatbots: Saving Time and Money through Automation
Many inquiries look the same in every industry, and the healthcare industry is no different. This means that many requests can be repetitive and rather tedious, and many patients don't want to sift through a long line of frequently asked questions (FAQ). Chatbots can be connected to different APIs and algorithms which allow them to deal with an increasingly large number of requests. 
This automation can save time and money in healthcare, and the same theory can be applied to in-house systems. For example, chatbots can be built to deal with a long lineup of tasks such as employee queries relating to payroll or annual leave. Either way, chatbots can save businesses a lot of time, and a study by Business Insider projects the emergence of chatbots to save the healthcare industry more than $5 billion by next year.
Final Thoughts
Healthcare organizations can use chatbots to assist almost every process and area within the business. Most businesses have already invested in this technology for the reasons stated above, and there is no doubting the power and functionality of the tech. The time and money saved through the use of chatbots are also rather obvious; and when it comes to convenience, it's clear the patients are also satisfied.
At the same time, not every chatbot is effective, and it takes a concerted effort from a healthcare app development team to implement a chatbot that performs as needed.