PPC, or pay-per-click, is one of the most effective tools for online marketing — if it is handled correctly. Many businesses simply do not have the time or internal skillset to continually manage their PPC strategy, which can mean that opportunities are missed and competitors move ahead.
A PPC agency fills this knowledge and time gap. Here is everything you need to know about the wonderful world of pay-per-click advertising and agencies, specifically for B2B marketing.
---
If you want to learn how Digital Authority Partners can increase your PPC effectiveness, watch this video!
---
What Is PPC?
Pay-per-click advertising is where you, as a company, pay a set fee every time that one of your ads is clicked on. This means you are not paying for ads that are not working, only for those that are actually actioned in some way by your target buyer.
One of the key benefits of PPC is that you can manage your campaign as it progresses — unlike a fixed ad like a billboard or magazine article; if something is not working, then you can edit and tweak it until it is. Similarly, you can repurpose your campaigns to take advantage of market movements and search preferences.
What Is a B2B PPC Agency?
Businesses typically fall into one of two categories: you either sell your products or services directly to consumers (B2C) or you sell to other businesses (B2B). When you use the services of a PPC agency, you need to choose one that specializes and has a successful track record in campaigns for your category.
A B2B PPC agency is exactly that: it is a pay-per-click advertising company that deals with businesses selling to other businesses.
What Is a B2B Advertising Campaign?
Any time that one business promotes its services or products to another business, this is B2B advertising. In pay-per-click terms, this simply means that the campaign is geared toward a business rather than an end-user/consumer. So for example, when a major laptop manufacturer targets a large sales organization, this is B2B advertising, and when they target the individual at home, this is B2C advertising.
Does B2B PPC Work?
The simple answer is yes — if it is structured and managed correctly. If you have a good level of PPC skills within your organization, or if you engage with a high-quality agency, then you should see almost immediate benefits including:
Being able to create custom campaigns for every buyer you engage with
Better management of the entire sales lifecycle
Staying up-to-date with current search terms and preferences
A more-organized, better-managed sales funnel
Of course, the ultimate goal of any PPC campaign is to increase clicks, conversions, and sales within a reduced timeframe. The benefits listed above all feed into that goal — with the added benefit of being able to learn a lot more about the type of businesses (and the people within them) that are interested in your company.
Is Google Ads Good for B2B Companies?
Google Ads is a powerful tool for PPC marketers, regardless of industry or audience. You can use the platform to completely customize your advertisements and target buyers in different sectors, locations, and various other demographics, making it excellent for business-to-business providers.
Another great feature is that you can upload existing customer lists to your Google Ads profile so that you do not spend money advertising to people who already use your products or services.
There are a few things that your PPC agency should be doing to make sure your B2B campaign is effective:
Get comfortable with extended buying time frames — B2B sales cycles are significantly longer than B2C
Understand your business intimately, ensuring that all of your relevant keywords are in play
Specifically target the type of buyer that you want
Optimize your copy, both for the ads themselves and for the landing and conversion pages
Do I Need a PPC Agency?
Not necessarily. If you have the in-house resources to rely on, then you can keep your PPC campaigns in-house. However, it takes a lot of time, skill, knowledge, and experience to run effective PPC campaigns, particularly in a competitive B2B environment; so unless you have an individual or team that is dedicated to your PPC strategy, then you may want to outsource.
What Makes a Good PPC Agency?
A good PPC agency has your goals at the center of everything they do, and they have the skills and abilities to attain those goals. Every campaign that they design should be focused on your desired outcomes and should show a return on investment for you.
How Do I Choose the Right Agency?
The quality of the PPC agency generally depends on where their experience and skill-set intersect with your business: both the market that you target and the type of industry you operate in. The most effective agency for you will be the one that has provable experience in helping companies similar to yours attract the type of clients that you are pursuing.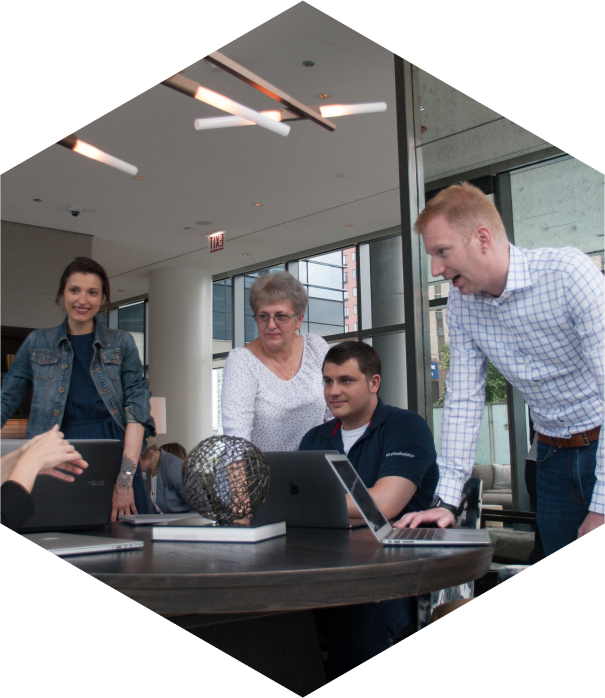 How Can We Help?

Fill out the short form below or call us at:



(888) 846-5382
In addition, you need an agency that will work closely with you to understand the intricacies and unique selling points of your business, as well as help you to identify achievable goals. They also need to be fully up-to-date with the state of digital marketing in general — the environment evolves and changes rapidly, so even experience from a couple of years ago can be outdated.
The payment model is also an important factor — you can usually find PPC agencies that will charge you a fixed fee, by results, or as a percentage of your ad spend. There are pros and cons to each, so find which works for you and your business. Alternatively, you can find and engage with an agency that adopts a hybridized payment model if you would rather.
Finally, as with any outside agency, you need to make sure that they are set up to work how you want to work. Whether you want detailed, frequent reports, on-site meetings, fully remote catch-ups, or you have other needs, before you sign up with an agency, ensure that they can cater to your requirements.