While optimizing your website, you may have stumbled upon keyword cannibalization. Let us find out what "keyword cannibalization" is in the context of search engine optimization (SEO) and how to keep it from happening.
An experienced SEO agency knows the detrimental effects of keyword cannibalization and, to avoid it, uses time-tested techniques like:
Auditing your website regularly
Analyzing the performance of your content
Merge, delete, or redirect pages
Are you ready to find out more about keyword cannibalization?
---
Want to learn more about the Digital Authority Partners approach to SEO? Watch this video!
---
What Is Keyword Cannibalization?
"Keyword cannibalization" means having many articles and blog posts on your website that compete for the same topic in search engine results. The topic they rank for could be too similar, or you may have optimized these articles for the exact keywords or phrases.
When you try to optimize your content for the same search queries, they end up keeping each other from ranking. For example, your "exercise for seniors" site has three articles about "pre-workout exercises," which rank for the exact key phrases.
When someone uses this keyphrase, Google shows only one or two results from your domain. This is because your keywords are competing with each other. Search engines cannot distinguish which content should rank higher for a query.
Also, the backlinks you worked so hard to create and your click-through rate (CTR) will be distributed among your three posts, not just one. This results in your content ranking lower than others.
     Recognizing Keyword Cannibalization
When marketers try to improve a site's ranking by optimizing it, they start by doing a site audit, which reveals a site's strong points and possible ways to improve it. Part of this review looks for instances of keyword cannibalization.
Perform a Google search to see if you have any keywords that are competing with each other. Type in site: name of your site + suspected keyword. For the site "exercise4seniors.com," type "site:exercise4seniors.com pre-workout exercises" in the search bar. Check the first three or four results for keyword cannibalization.
You may also type your keywords into a Google search to find out your keyword rankings. If your keywords rank one or two, you have nothing to worry about. But if you spot them at seven, eight, or farther, you may need to sort your keywords to improve your rankings.
How To Prevent Keyword Cannibalization?
Prevent keyword cannibalization by investing in thorough keyword research and strategy. To avoid overlap and competition, you should set up your web pages to target different keywords and search terms. Let us talk about ways to prevent keyword cannibalization.
     1. Audit Your Site Regularly
Regular site audits help you find issues hindering site performance, like keyword cannibalization. Auditing twice a year is recommended for a small business with a small site. For a larger company or those with a large site with new content every month, a quarterly audit helps keep issues at bay.
SEO audits help you avoid problems with your site's performance that could hurt your rank on search engine results pages (SERPs). A complete checklist saves you time. So remember to:
Check historical rankings. This technique is best if you are looking for cannibalization for specific keywords. Use an SEO tool like Ahrefs Site Explorer for Organic keywords. Filter your results with the keyword you wish to investigate and click the ranking history.
Perform a site: search. From Google search, type site:yourwebsite.com + topic. You get the pages on your site that are related to this topic.
Start a Google search without search clustering. Begin a site: search but remove host clustering. Google will not include similar pages with the same host as the results. Doing so helps you better understand the rank of your sites and select the best option to solve cannibalization.
     2. Analyze Content Performance
As we mentioned earlier, two pieces of content competing for the same keyword will have a hard time ranking. Even if you have awesome, well-written content, your audience cannot expect to find it if your keywords overlap.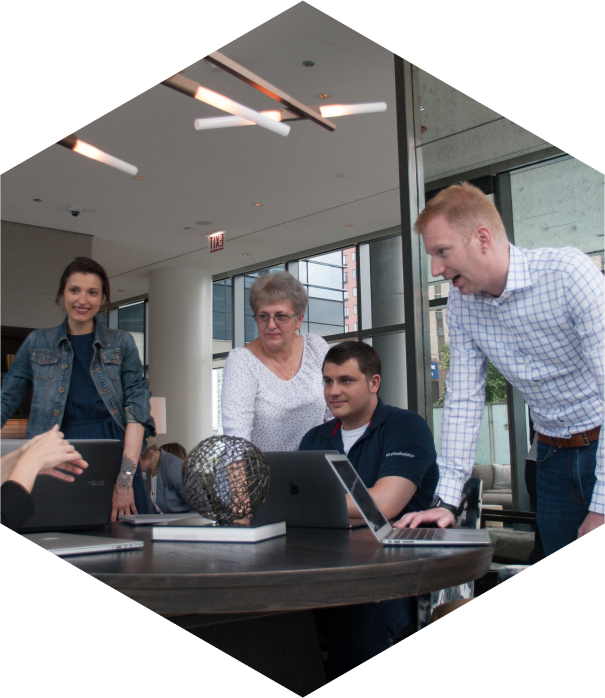 How Can We Help?

Fill out the short form below or call us at:



(888) 846-5382
If you have a small site with little content, you can quickly check your posts and articles to evaluate their performance. But if your site is huge, with new posts almost every day, it's easy to get lost. Track such content performance metrics as:
Content rankings or position in SERPs. Combine ranking with CTR, impressions, and organic traffic. Getting lower rankings for two or more pieces of content with the same keyword or keyphrase indicates keyword overlap and needs fixing.
Organic search traffic or the number of site visitors coming from unpaid sources. Keyword cannibalization keeps your content from getting high search traffic.
Organic click-through rate, the percentage of searchers that click on your site. Keyword cannibalization splits organic CTR between two pages.
     3. Merge, Delete, or Redirect Pages
Once you find articles or blog posts that attract the same people and have the same content, combine them to create a great piece. This helps your rankings improve since Google prefers long-form, well-written site content. You may also delete or redirect pages to avoid overlapping content. Stop cannibalization by
Using a duplicate post plugin. Yoast Duplicate Post plugin copies one of your identical posts and ensures your page is redirected and the exact content deleted.
Setting up an internal linking structure. Link posts that are least important to posts that are more important. This helps Google identify the essential content and show it on SERPs.
Creating a good site structure for online shops. Your products may target the same keyword; therefore, each product page must link to the category page. Always check old product pages that can cannibalize essential pages. Delete these and redirect.
Summing Up
Keyword cannibalization happens when two or more pages try to rank for the same keyword, topic, or query. This affects SEO because you compete with yourself regarding ranking, visibility, revenue, and other important site metrics.
You must learn how to find instances of keyword cannibalization and how to prevent them. By conducting regular website audits, analyzing the performance of your content, and merging, deleting, and redirecting pages, you can deal with keyword overlap and solve cannibalization.
Do you want to learn more about keyword cannibalization and other advanced SEO strategies? Contact Digital Authority Partners today, and let's get started!