As a startup or fledgling business, it can be challenging and daunting to try and establish yourself as one of the top results in SERPs (search engine results pages). Battling companies with based websites, catalogs of content, and years' worth of backlinks are challenging but not impossible. Often, people turn to an SEO agency to help them out, but when you're new to the game, you have a precious little budget and want to make it stretch as far as possible.
If you're in that boat, there are a few content SEO strategies for startups you can employ to kickstart your journey to the top of the rankings, and this article explains them for you. By the end of this read, you'll be ready to propel your new website up the rankings or set a portion of your budget aside for an SEO agency for startups to do the work for you.
---
Want to learn more about the Digital Authority Partners approach to SEO? Watch this video!
---
Keyword Optimization
One of the core principles of SEO is keyword optimization. Essentially, this practice entails discovering the most relevant search terms your target audience uses to find the products or services you offer and strategically using them within your content to help your pages rank for those searches.
     1. Keyword Research
Firstly, you need to research these keywords, but how do you do it? An abundance of free tools such as Semrush and Ahrefs provide you with keyword data. However, as a new business, you can't attempt to rank for the most searched, highly competitive key terms.
Because your competitors are more established than you and have higher domain authority, your website won't rank highly for these terms, no matter how much you try. So instead, we suggest looking for long-tail, less searched keywords. That way, you can claim top-ranking spots relatively quickly.
It would be best if you ranked in the first position for a term used 40 times than in position 200 for a keyword searched 20,000 times.
     2. Keyword Usage
Once you've established a list of keywords you'd like to rank for, you need to add them to your content. At this stage, our top tips would be to try and use them in titles, headings, subheadings, and body content. Titles and headings carry more weight in terms of helping you rank for search terms. However, ensure your keywords fit within your content naturally and don't interrupt the reading flow – this makes for a poor user experience.
Tailored Landing Pages
Another crucial element of startup SEO is landing pages. A landing page allows you to target precise keywords – these could be location or demographic-based. As mentioned above, high-volume keywords aren't from your traffic. So, if you can create multiple pages with tailored content targeting long-tail keywords, you will likely drive more traffic and increase the chance of a conversion. Landing pages across all industries have a conversion rate of 9.7%.
An additional benefit to new landing pages is the fact they increase the number of pages on your website and boost the amount of content. Packing your website with content as a new business can be challenging. Landing pages can help with that, and the more content you have, the higher your website's chance of ranking.
Thought-Leadership Content
Another of our SEO strategies for small businesses is establishing yourself as a thought leader. Just because your business is new doesn't mean you aren't an expert in your industry. Take time to write keyword-optimized articles that answer questions, discuss industry hot topics, or provide solutions to problems. People will become familiar with your brand as an expert.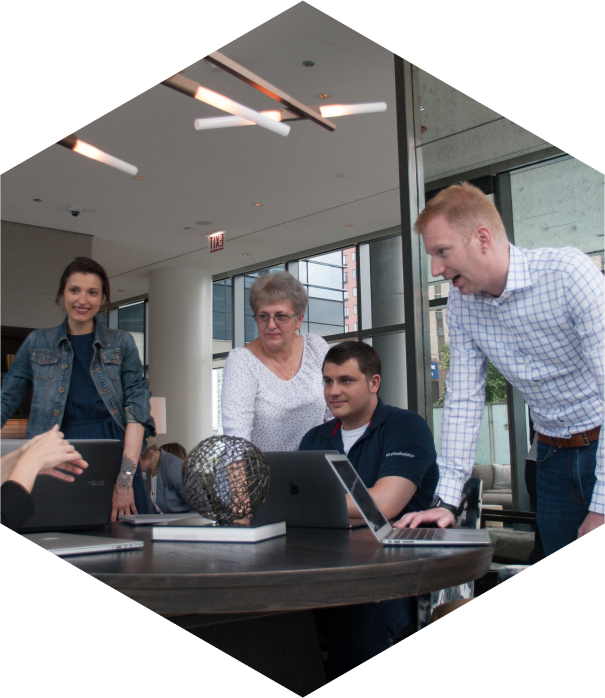 How Can We Help?

Fill out the short form below or call us at:



(888) 846-5382
What's great about writing thought leadership content and, most importantly, answering questions is your chance of being the featured snippet in Google (also known as position 0). If you type a query into Google, the first result will likely be an outlined box with the answer to your search. As a result, this bypasses all other SEO ranking factors, giving the most appropriate response to any question asked. Do you need help with SEO best practices for new businesses? Consider learning more about our Fractional CMO for startups service.
Establishing yourself as a thought leader improves your SEO, helps you climb the rankings, and shows potential clients that you're an expert in your industry. In addition, if they find your article helpful, they'll likely return for more information or take a look at your products and services.
Locally-Inspired Content
Did you know almost one-third of mobile searches are location-based? If you're a business that relies on local customers to succeed, you should think of mastering local SEO, and creating locally-inspired content is a great way to go. For example, if you've opened a restaurant and want to attract people visiting your town or city, creating articles detailing upcoming events or the best sights to see broadens the spectrum of keywords you're targeting and gives users the information they desire. Additionally, it puts your restaurant at the forefront of their mind for a potential place to eat – and everyone needs to eat!
While not specifically content-related, you can also use Google Business to create a local SEO listing. These sit above organic listings and appear as points on a map.
In Summary
While SEO for a new business can be difficult, the above steps will put you on the path to establishing your website high in the rankings for your industry and chosen keywords. If you don't feel confident doing the work yourself, an startup SEO agency will do it for you. However, be sure to request that they keep you informed of what they're doing and teach you why they're taking those actions. As a result, this will help you learn what the experts are doing, helping you implement it yourself in the future.