Finding your feet in such a confusing space can be challenging as a marketer and someone new to pay-per-click advertising. This beginner's guide to PPC will give you the fundamentals you need to know to get you through those grueling early learning stages. If you've opted to do it alone, rather than having a PPC agency manage your accounts, you're in for a steep learning curve, but one that can be incredibly rewarding. Alternatively, if you're on the hunt for an agency to manage your accounts for you but want to hold an informed conversation, understanding the basics is a must.
Did you know Google estimates a business makes $8 profit for every $1 they spend on ads? This article will teach the PPC basics, including terminology, account structure, and keyword research guidelines. By the end of this quick read, you'll be more than prepared to take the PPC world by storm and start generating revenue through this channel.
---
If you want to learn how Digital Authority Partners can increase your PPC effectiveness, watch this video!
---
What Is PPC?
Pay-per-click (PPC) is a method of digital advertising – in which advertisers pay a fee to a platform whenever a user clicks on their advert. Using Google Ads as an example, it's almost a way of buying traffic to your website. For example, when conducting a Google search, you'll notice the first two or three results have an ad symbol next to them, meaning these websites have paid and optimized their ads to appear above organic search results. 
However, a lot goes into creating winning PPC campaigns. It's much more than outbidding your competitors to ensure you claim the top spot. If that were the case, companies with the highest budget would always appear first, making it unfair to those smaller businesses. Instead, if you're creative in the keywords, target effectively, provide compelling ads, and link to relevant landing pages, platforms will reward you with higher ad ranking and lower cost per click.
A Basic PPC Glossary
You'll notice a lot of acronyms, unfamiliar terms, and a whole load of brain fog. But, fear not – this list of basic PPC terms will get you through the early days of PPC account management.
     Impressions
An impression is the total number of people who have seen your ad and whether they've engaged with it.
     CPC = Cost-Per-Click
Cost-per-click is the amount it costs you to acquire the clicks on your ads. Although you've specified an amount you're willing to be for a click on a particular keyword, this could cost less. You would calculate this by taking the total cost of that specific ad and dividing it by the number of clicks it generated.
     CTR = Click-Through Rate
CTR tells you how impactful and relevant your ads are. Presented as a percentage, it informs you of the number of people who clicked your ad vs. impressions. The higher the click-through rate, the better your keyword relevancy and ad content.
     CPA or CPC = Cost Per Action or Cost Per Conversion
CPA or CPC? Referred to as either, it is one of the most effective ways to assess how well PPC is performing for you. Although PPC advertising focuses is not more focussed on ROI as opposed to brand awareness, you need to know how much it's costing you to acquire leads. So, for example, if you're spending $100 per conversion, and your average customer spends $80, you're not making a profit from PPC.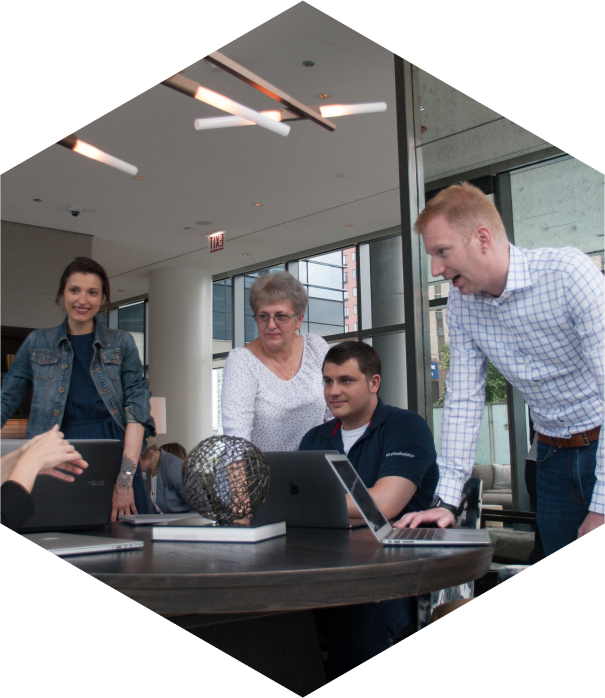 How Can We Help?

Fill out the short form below or call us at:



(888) 846-5382
PPC Account Structure Explained
A Google Ads account and most other PPC platforms have a broken-down structure into multiple levels, which can be confusing when you first encounter it.
Level 1: Account
Level 2: Campaign
Level 3: Ad Group
Level 4: Keywords & Ads
Essentially, this structure aims to keep your account organized, make it easy to navigate, and produce helpful analytics. By systematically following this account structure, you'll be able to monitor the success of each campaign, refine performance, and improve results. On the other hand, if you have a messy account, you'll find it difficult to improve outcomes – especially if you have multiple products or services in one ad group.
How To Do Keyword Research
    What Are Keywords and Keyword Research?
There are differences between SEO and PPC, but one similarity is that you need to select keywords that you're going to target. These are the terms for which you want your ads to appear. Keyword research is the process you go through to find the most relevant and potentially rewarding keywords that you should be targeting. 
Thorough keyword research is crucial to the success of your PPC efforts. Targeting the wrong keywords could result in little to no traffic. Alternatively, spend a lot of your budget without generating any results.
      Your Keyword Research Should Be:
Relevant: First things first, you need to find keywords relevant to your business, brand, products, and services. Relevancy is the most critical factor. Targeting keywords that your ideal audience is looking for is the best way to get results. Some businesses attempt to target high-traffic terms that aren't relevant – this will result in low-quality scores, your ads not being shown, or lots of traffic with no results. 
Exhaustive: When looking for keywords, be as thorough and exhaustive as possible. You'll be surprised by the long-tail keywords you find that can be incredibly rewarding. Long-tail keywords are less common and don't drive high traffic, but they are targeted and will present your ads to engaged users.
In Summary
As a newbie, PPC can be confusing. However, a basic understanding of terminology, acronyms, and account structure will give you the foundation knowledge to communicate effectively with a PPC agency or create your PPC campaigns. 
When optimized correctly, your PPC advertising campaigns give you the power to buy their way to the top of the rankings. However, much like SEO, PPC is an ongoing battle between you and your competitors. Therefore, you must keep on top of optimization, refine your keywords, and make your budget stretch as far as possible.