Pay-per-click (PPC) advertising is a powerful way to improve your marketing strategy. It's true!  Paid search can reach an incredibly large audience and produce immediate results that more than justify the investment. But what exactly might that mean for you?
It means that PPC advertising could be the most effective way to generate more traffic, leads, and sales for your business. How does it do that?  Pay-per-click advertising uses specific terms and keywords that let online users know about your business. You might already rank high on search engines for some of these words but branded PPC will give you a much better chance of appearing at the top.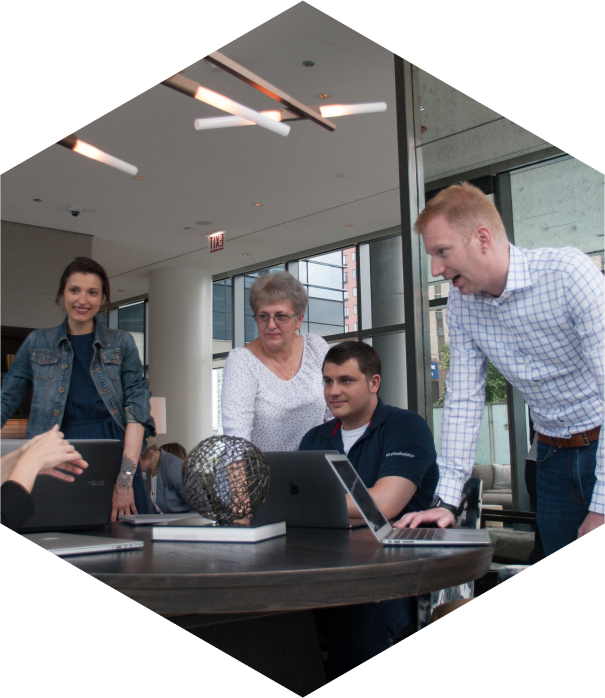 How Can We Help?

Fill out the short form below or call us at:



(888) 846-5382
 And that's just part of the story...
---
If you want to learn how Digital Authority Partners can increase your PPC effectiveness, watch this video!
---
Why PPC Ads are a Major Focus for All Marketing Agencies
If you ever need some clarification on which tools and tactics work best for building an online presence, take a look at what the marketing agencies are doing! You might also consult this marketing study or what the New York Times has to say about ads making a comeback. Either way, it makes sense to pay attention when the experts talk.  And when it comes to marketing strategy, it's clear that PPC ads really do work!
Many reasons exist for why every business should use PPC ads to generate traffic and leads. However, for newcomers to the world of PPC advertising, it's understandable that you might want us to "cut to the chase" and outline some clear-cut reasons why you should consider PPC ads for your next marketing strategy.
5 Reasons You Should Consider PPC for Your Next Marketing Strategy
     1. PPC Ads Will Stop the Competition from Stealing Your Online Traffic
If you ask an experienced marketer at any top Chicago PPC Agency, you will know that paid search is a proven way to generate more traffic. This is because paid results appear higher than organic results - no matter how hard you work to gain the top spot. If competitors of your business want to steal some of your traffic, they can use PPC ads to outrank your website and target your audience through the many search engines.
 With this in mind, you should use paid search ads for more traction on search engines and to ensure that online users can clearly see your information amidst all the noise. What's more, taking this approach to the search results should save you the expense of losing invaluable customers to the competition - something to avoid at any cost!
     2. You Can Decide the Exact Information/Message that Users See
PPC ads contain a concise and compelling message that online users will find impossible to resist. Okay, depending on the quality of the text/message, results may vary but an outstanding PPC ad campaign is one that delivers impressive results.
These ads usually contain an image, video, or text and unlike organic listings, you have full control over what appears within these ads. That is to say, organic listings include information and links based on what a search engine extracts from your website whereas you can actually choose the precise text or images and links that will be featured on a PPC advertisement. By the way, this might sound like a rather trivial consideration but the precise nature of this content is everything in marketing.
     3. Branded PPC Ad Campaigns Can Deliver Powerful Results
Branded PPC ads use specific terms and words that include the name of your brand or elements of your product/service. This is a method many marketing experts recommend and a cost-effective way for agencies to dominate search engine results. After all, the cost of these words sometimes provides a higher return on investment. Since branded keywords are so specific, any leads achieved via a branded PPC campaign are usually of better quality than what you might receive with a PPC ad campaign that focuses on generic keywords.
     4. PPC Ads Provide Immediate Market Access for New Products/Services
For almost every business, there is always a time to promote new services or products. It takes time to build awareness online using organic search engine optimization (SEO), but paid search on social media and search engines can provide immediate traction. Such is the nature of paid search.  This also means you can potentially list your products or services ahead of the competition in spite of them being new to the market. This same process can prove invaluable for your business in other ways since there should always be something new and exciting that your business wants to advertise to the world.
     5. Optimize the Conversion Experience for Better Results
Although organic listings are what you should want for your website, it should be noted that you also have minimal control over the conversion process. For instance, online users might click on your about page or services page but not the exact piece of information that you want them to see. PPC ads can help you drive traffic to a specific page (maybe a landing page) or at least encourage that user to take a particular action.
With this in mind, PPC is a great way to not only show a precise piece of information to your audience but also to optimize the conversion experience that follows.
Final Thoughts
PPC marketing can be included in any marketing strategy and it can prove beneficial in both the short and long term. When online users perform a search, they are faced with an ocean of options. Paid searches can cut through all the noise and ensure your brand is the first one that grabs their attention. Also, first impressions are everything online, further highlighting the importance of knowing exactly what you want to say and then building a concise and powerful message that online users will notice and with which they will engage.