If you're considering a PPC agency to help you with your paid ad campaigns, this guide is for you. It will focus on some of the most common questions about hiring a PPC company and some handy tips such as:
Why do you need a PPC agency?
Why do you need research to find the right PPC help?
Why must you define your PPC goals?
Why select a firm that relies on data and analytics?
Why use a local agency?
Pay-per-click (PPC) is a paid advertising strategy that will give you instant exposure, traffic, and leads. But it takes an expert to make the most out of PPC. Are you ready to find the best PPC partner?
Let's begin!
---
If you want to learn how Digital Authority Partners can increase your PPC effectiveness, watch this video!
---
Why Hire a PPC Agency?
Outsourcing your PPC needs lets you rest easy knowing that experts are handling your paid ad campaigns. Experts at the firm you hire will handle research, ad creation, optimization, monitoring, and reporting for you. Thus, you have more time to focus on the critical aspects of your business.
A PPC consultant helps you with the following:
Strategic keyword research
Creation of engaging paid ad copies
PPC metrics reporting, interpretation, and analysis
Time and cost savings
Updates on the latest PPC tools and strategies
More and more marketers prefer digital advertising to promote their businesses online. Digital advertising spending worldwide is $521.02 billion in 2021 and could increase to $876 billion by 2026. PPC is a crucial part of an overall digital marketing strategy.
What Should You Check To Find the Right PPC Company?
As part of your hiring process, research relevant certifications and industry experience. Check customer reviews and case studies to reveal the company's qualifications further.
Explore at least three or four candidates. Don't rush this process. You don't want to end up with an unqualified, inexperienced, or overpriced company. You do want to end up with the right agency for you.
     1. Check for Google Certifications
Look for companies that have received certifications, like Google Ads certifications. Such certifications demonstrate the expertise of a PPC partner in online advertising. Working with a certified partner ensures you are enhancing your paid ads and completing your goals using best practices.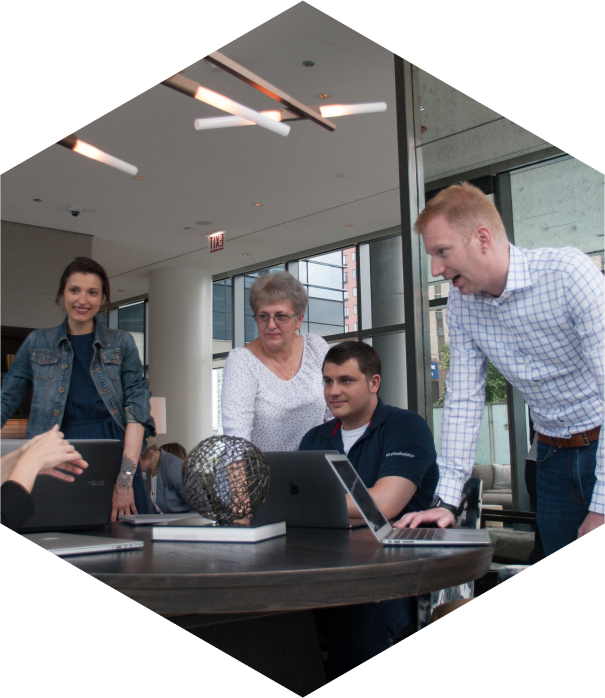 How Can We Help?

Fill out the short form below or call us at:



(888) 846-5382
     2. Read Reviews of Previous Clients
A good PPC partner would have stellar reviews from previous or current clients. Reviews reveal a PPC company or agency's reliability. You get insights into the quality of the agency's work. Choose an agency highly recommended by their clients.
     3. Review Agency's Industry Experience
Partner with a firm that knows your industry inside out. Sometimes it's hard to find out the agency's industry expertise, especially if it's not on their homepage. But you can check this through their 'about page' or their 'portfolio page'.
Check their social media as well. Look at their messaging style and how they communicate with their clients. You'll get a good idea of their expertise in your industry or niche and how they relate with their clients and prospects.
     4. Explore Relevant Case Studies
Make sure you consider case studies. Case studies reveal how well the agency addresses a client's pain points. A good case study lays out the agency's goals, its digital strategy, and the factors that determine campaign success.
Case studies show the actual work that the agency poured into different campaigns. It details how the strategies improve the client's paid ad campaigns. These details will give you a picture of how the agency will help with your concerns.
Why Do You Need To Define Your PPC Goals?
Define your PPC goals to determine what you want to achieve. Without your goals, you will find it hard to make an intelligent decision in your campaign.
Before working with a PPC partner, set your goals with your team. A few of the goals commonly set are:
Increasing your qualified leads to your sales funnel
Improving product sales
Increasing traffic number to your landing pages
Developing brand awareness
With your goals, a prospective agency will understand what you expect from them. They can then create strategies to meet your demands.
Why Choose a PPC Agency That Uses Hard Data and Analytics?
Partner with a firm that utilizes data and analytics to enhance your strategies. Then you can become rest assured you'll have the best campaigns.
Data helps agencies determine the cause of problems and why you're not hitting your goals. A PPC agency will gather and study data to visualize the relationship between different aspects of your campaigns. Data from competitors and audience research help the agency refine your campaign to make it better than others in your niche.
Let's say a real estate broker for condominium units decided to offer beachfront homes. They sought the help of a PPC consultant to showcase their brand and promote the properties.
The agency will start with an audit to reveal strong points of current campaigns and any inefficiencies. They will review current data and perform research on the broker's target market to create the best campaigns.
The ideal agency will not create your campaigns based on guesswork. Hard data will guide them in selecting new keywords and creating better ad copies.
Why Is Hiring a Local Agency Better?
A local PPC agency knows your area of operation, the people living and working there, and the culture. They can design your campaign to appeal to this community. That means you will reach your target audience and have better opportunities of enticing them to buy your products or services.
For instance, a local agency will know the local festivals and holidays. They can plan special campaigns to match these events. You have a focused campaign for people to take advantage of sales, discounts, and special offers during these special events.
Simply put, local PPC management helps you run relevant ads. These campaigns will have less competition because you narrow your target market. As such, you get higher quality leads and conversions. That means the people more likely to be interested in your offer are the ones seeing your ads.
Summing Up
To make the most of paid advertising, you need the help of an experienced PPC partner. Ask the right questions and check the right information to find the best partner for your company.
Consider researching, identifying your campaign goals, and relying on local PPC strategies. A good agency will keep your PPC campaigns on track and take you closer to your marketing goals.
Do you still have questions about how to find the right PPC partner? Let us help you get started. Contact us today.