A new SaaS website isn't particularly packed with pages and content. Usually, it's minimalistic, and the maximum you'll see is a homepage, maybe a few supporting pages, and a contact form.
This is why an SEO agency will tell you SaaS companies find search engine optimization (SEO) challenging. Small websites with minimal content aren't conducive to a high-ranking website.
But a well-optimized homepage drives traffic and conversions to your site if you work with the right SaaS Marketing Agency. Do you want to know how to optimize yours? Let's begin!
---
Want to learn more about the Digital Authority Partners approach to SEO? Watch this video!
---
How Are SaaS Homepages Special?
The Challenge of SEO for SaaS
On average, businesses use 80 SaaS applications. In this increasingly competitive industry, it can be difficult to win the SEO battle.
For most websites, including SaaS companies, the homepage is the main landing page, no matter the traffic source. Due to the limited number of pages, there's nowhere else to send somebody, so the homepage has to be multifaceted.
This presents challenges. Typical businesses will use their home page to rank for branded keywords and then target other industry keywords, such as product categories, on other pages. However, SaaS companies don't have that luxury.
Generally, the homepage acts as a content page, introducing topics and diverting users to other pages. The roles of a homepage are to:
Welcome users to the website
Introduce and offer first impressions of the brand
Briefly tell the user what the company does
Describe the value provided and how the company is different

Direct users to further information with links and CTAs
However, SEO strategy for SaaS needs to factor in the lack of content and that the homepage is more sales-driven.
SaaS SEO Tips: Keyword Usage
We've established that SaaS companies might not have many pages. Therefore, it's important to get creative with keywords, enabling them to rank for much more than their brand.
In the next part of this SaaS SEO guide, we'll look through the different types of keywords and how you can use them.
      1. Branded Terms
It's challenging to increase brand awareness in any industry, especially with a limited website. Although it's imperative to target keywords other than those related or similar to your brand name, you must appear for branded terms.
However, because few people know your brand currently, a tactical way to ensure ranking is to include your brand name at the end of the title tag.
More established brands often include it at the start. However, what you offer is the most important thing. Putting your brand name at the end of the title tag leaves more space for you to target topic-focused keywords.
Usually, you'll naturally include your brand name within body text throughout the page, so you don't need to worry about targeting this. Our advice would be to try and place it sporadically in headers, subtitles, and testimonials.
However, be sure to leave space for topical keywords too.
     2. Product Category Keywords
We've conquered the basics of brand search terms. Now it's time to get into the commercially motivated search terms.
Here, we're discussing keywords that describe what your software is, not what it does or its individual attributes.
Examples include CRM software, ERP systems, eCommerce website builder, content management system, etc.
What's great about these keywords is that they capture a selection of audience types. Should an investor, client, or other stakeholder be searching for a product like yours, these are the terms they would be using.
How To Use These Keywords
Aside from your brand, these are your primary keywords. They'll drive the majority of traffic, making them the most important. It's crucial to strategically place them within the content to give your website the best chance of ranking.
For successful Saas SEO, you should use them in:
Title tags and descriptions
The <H1>
Opening paragraph or introduction copy
Image alt tags
     3. Don't Forget Keyword Intent
When selecting a primary product category keyword, user intent will define your success.
If you're unfamiliar with search intent, it gives an indicator of what the user wants to achieve from their search.
Often, category search terms return informational or commercial intent.
Users with information intent are looking for advice and guidance, such as how-to guides. They aren't looking to make a purchase.
Commercial intent is people who want to make a purchase. They don't know what to buy and need assistance from reviews, comparisons, and recommendations.
Before finalizing your keyword selection, head to Google, perform the search query, and see the results that appear. You need to rethink your keyword if you see lots of articles and no product pages or homepages.
If Google thinks user intent doesn't match the purpose of your homepage, the homepage won't rank. As a start-up SaaS company, you'll find it incredibly difficult to drive traffic this way. Even the big companies don't get their homepage in those results.
When you find yourself in this situation, pick a different primary keyword to target. Then, attempt to optimize for your original term on another page relevant to the search intent.
     4. Attribute, Feature, and Benefit Keywords
Features, benefits, and attributes of your software aren't going to be your primary terms. However, they are an important part of any SaaS SEO strategy as any SaaS Fractional CMO would quickly point out.
An easy and impactful way to include them on your homepage is to design a list focused on the functionality of your product. Usually, most companies already have this on their page – they just haven't optimized it.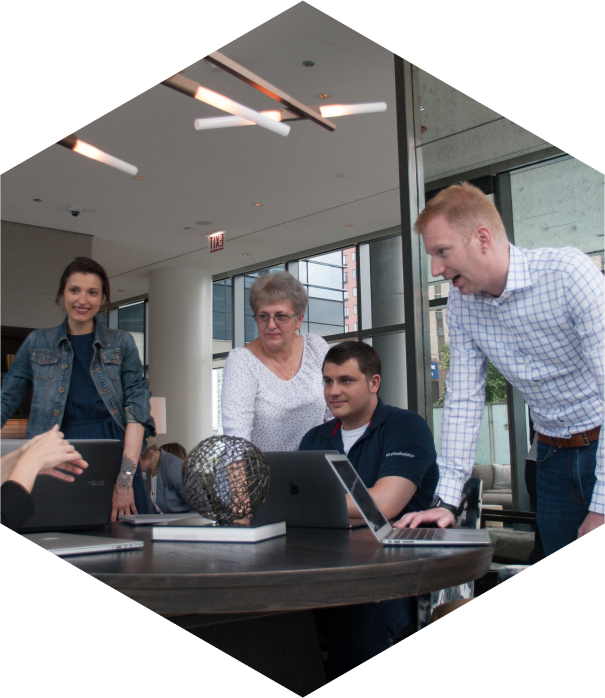 How Can We Help?

Fill out the short form below or call us at:



(888) 846-5382
Once you've done this and you have time to build out your website further, you can use your chosen keywords as anchor link text to new pages.
Benefits of doing this include:
Search engines gain a deeper and more meaningful understanding of what your software does, enabling it to rank for applicable terms.
The new pages you've created improve your overall domain authority.
Users will understand what your business does and the benefits of your software without leaving the homepage.
Summing Up
While all the chat around SEO is focusing on user experience, the most important part of an SEO strategy for SaaS is keyword selection. Choosing the most appropriate keywords, and implementing them effectively, is crucial to driving organic traffic to a small, unestablished website.
There are other elements to consider, such as linking, brand awareness, and user experience. However, if you follow our top SaaS SEO tips, you'll give yourself the best chance of driving traffic and conversions.
And, with the SaaS industry estimated to be worth approximately $172 billion by the end of 2022, it can be lucrative to get SEO right.
For expert assistance in SaaS SEO, reach out to the Digital Authority Partners team today.