Marketing your dental practice is no easy task. While word-of-mouth is the best way to get new patients, online marketing is a close second. Also, digital marketing is something that you can control. That's especially true when you combine best SEO practices with PPC for dentists.
Marketing is a fact of life for all businesses, including dental practices. It's how you can generate connections with new patients. In this digital world, an online presence is essential for every dentist. That makes an optimized, informative, and fast-loading website necessary.
But, without SEO, even the most attractive and informative dental website will be nearly impossible to find. As a result, working with a digital marketing agency that has experience with the dental industry vital.
However, the problem with SEO for dentists is that it can take months before it makes a difference. That's why running pay-per-click search engine ads are a great complement. While your website does the slow climb to the top, your PPC campaigns will get the word out.
The digital marketing landscape constantly changes, making a multifaceted approach to marketing the way to go.
The critical components of digital marketing are:
A fast-loading, responsive, optimized dental website
A robust social media presence
Search engine optimization
PPC advertising
Reputation management
That's a lot to deal with while you're trying to run your dental practice. But, just like you have hired someone to deal with insurance billing, you can hire a digital marketing specialist. Coordinating all of the digital marketing components takes a knowledgeable and experienced professional.
---
If you want to learn how Digital Authority Partners can increase your PPC effectiveness, watch this video!
---
If You're Wondering Where To Start, It Starts With Your Dental Website
Dental SEO and PPC for dentists bring traffic to your website, putting it at the core of your dental marketing strategy. Of course, your website needs to be attractive, but it also needs to load quickly and look great on a smartphone.
It also needs easy, intuitive navigation. However, this is pleasing to your visitors, but it also pleases the search engines. Therefore, a fast-loading, responsive website automatically scores SEO points.
But, a fast-loading, responsive website theme is just the beginning. Content still rules the internet, and you'll need to post informative, dental-related blog posts. Many people search for solutions on the internet, and providing that information helps you rank and attract new patients.
Over the long term, quality, informative, and helpful content confirms your reputation as a knowledgeable, competent, and helpful dentist. Also, use location-specific keywords to rank for your town or city. For example, if you're a dentist in Houston, you want to show up on search results for dentists in Houston.
Extensive keyword research might be necessary to determine what dental-related content people in your area search. Also, your keywords need to align with the services you provide. For example, "Orthodontist" might be a big keyword in your town. Still, if you're not an orthodontist, you'll need other keywords.
However, while keywords are essential, they are critical to use them correctly; over-using them can harm your SEO. Keywords need to be read naturally and used in context. Also, keywords need to be used appropriately in headlines, titles, and metadata.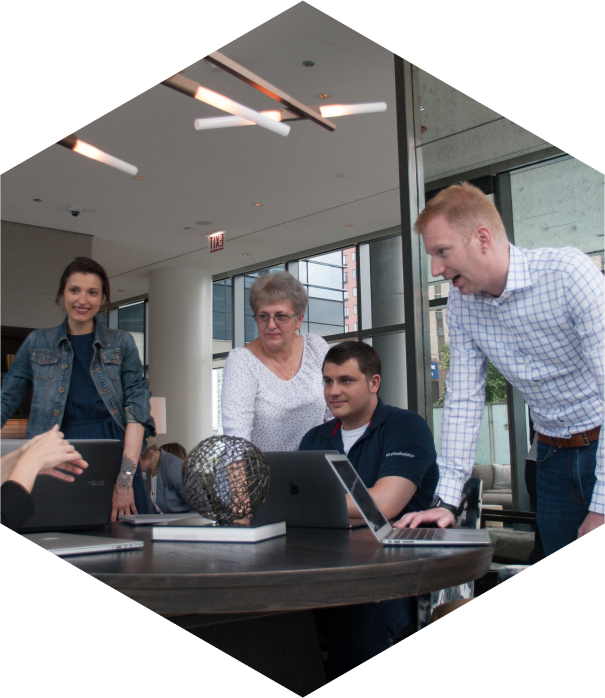 How Can We Help?

Fill out the short form below or call us at:



(888) 846-5382
PPC for Dentists Is Essential
Even the best, optimized website can take months to gain traction. That's why pay-per-click ads are so important. These paid ads can close the gap, getting you massive amounts of traffic overnight.
Google AdWords works by selling keywords on an auction basis. You'll set minimum and maximum bids to get your text ad on top of the search results. It's an indispensable tool for small businesses, including dental practices.
But, if not done correctly, you can waste a lot of money. Therefore, hiring a digital marketing specialist familiar with PPC for dentists is recommended. They can research the best keywords, set the bids, and time the ads to get the best results. They can also analyze the backend data to improve your PPC campaigns and website content.
You can purchase PPC on social media platforms. Facebook, Instagram, Twitter, and many other platforms are now a part of daily life. Your current patients might be recommending you, word-of-mouth, to their social media friends. For this reason, setting up social media pages for your practice is very important.
Both buying social media ads and creating viral content are essential. To do this, you'll need a wide-reaching social media strategy.
Dental practices that share informative content, such as infographics, get a high level of engagement. Also, if you and your staff are doing charity work in the community, let people know.
Interactive content, like quizzes and polls, goes viral and gathers valuable information. This information can further build a robust dental marketing strategy. Finally, be sure to post beautiful pictures of your work; a bright, white, happy smile is the best advertising any dentist could have.
Reputation Management Is Also Part of Digital Marketing
Review sites such as Yelp can make or break any small business, including a dental practice. A bad review can be even more damaging to a dentist. Unfortunately, very few people like going to the dentist, and bad reviews are just one more reason to avoid it.
In a way, online reviews are a digital version of word-of-mouth. They also play a role in building trust. Therefore, you need to have a way to deal with negative reviews.
The best way to address bad reviews is to get more positive reviews from your current patients. You can also have a testimonial page on your website. In addition, a digital marketing agency can help you since they have the tools needed to monitor various review sites.
Combining SEO Best Practices With PPC Is the Best Dental Marketing Strategy
It all starts with an attractive, responsive, and optimized dental website, forming the core of your marketing strategy. Next, you'll need PPC for dentists while your website climbs through the ranks. While AdWords and social media ads achieve immediate results, organic SEO for your dental practice achieves steady long-term growth.
An effective digital marketing strategy is the best way to gain new patients for your dental practice. First, however, hire a digital marketing expert with experience promoting local dentists to get the best results.