SEO is highly complex. If you're unfamiliar, learning SEO can be overwhelming. With SEO, a few key objectives overshadow the more minor details. This article will cover the essential parts of medical SEO.
If you have a medical business, you understand how crucial ranking high in search engines can be. People trust Google and other major search engines to provide the best results for their queries. That's why it's vital for businesses to invest in SEO–to get seen by the people searching for what they offer. Additionally, SEO isn't a one-off campaign. When you invest in SEO, you're looking for the long-term.
SEO has many facets, but the three most essential components are on-page optimization, off-page optimization, and technical SEO. Therefore, these are the three main areas of SEO that you should focus on when trying to improve your website's ranking.
Of course, other factors come into play, but you'll be well on your way to ranking higher in search engines if you can nail these three key components. First, let's jump into the one you're probably most familiar with, on-page optimization.
---
Watch this video to learn more about the Digital Authority Partners approach to Medical SEO!
---
On-Page SEO Optimization
On-page SEO optimization revolves around everything you control on your website. Everything from text, headers, site speed, images, and videos affect your on-page SEO. So, that begs the question, how do you improve your on-page medical SEO?
     1. Optimize for Mobile
When it comes to SEO, optimizing for mobile is more critical than ever. With an increasing number of people using their smartphones and other mobile devices to search the web, optimize your website for those devices. If your website isn't mobile-friendly, you're likely losing out on potential traffic.
That's why it's essential to make sure that all of your website's content is easily accessible on mobile devices. You should also use a responsive design to adjust to the device's screen size. Then, your website will adapt automatically.
Additionally, you should use shorter paragraphs and headlines and ensure to format all images and videos for mobile viewing correctly.
You may be thinking, "How does mobile optimization improve SEO?" Of course, the most critical data is the average read time and bounce rate. Optimizing your website for mobile makes it more likely that viewers will stay on your website longer, interact with your content, and help your website rank higher.
Additionally, when people click on a site that isn't formatted correctly, they'll immediately click off. Therefore, your bounce rate will be negatively affected.
     2. Website Design, Headings, and Content
The foundation of your site is its design, copywriting, and content. Content is still king for SEO, filling your website with high-quality, keyword-rich content.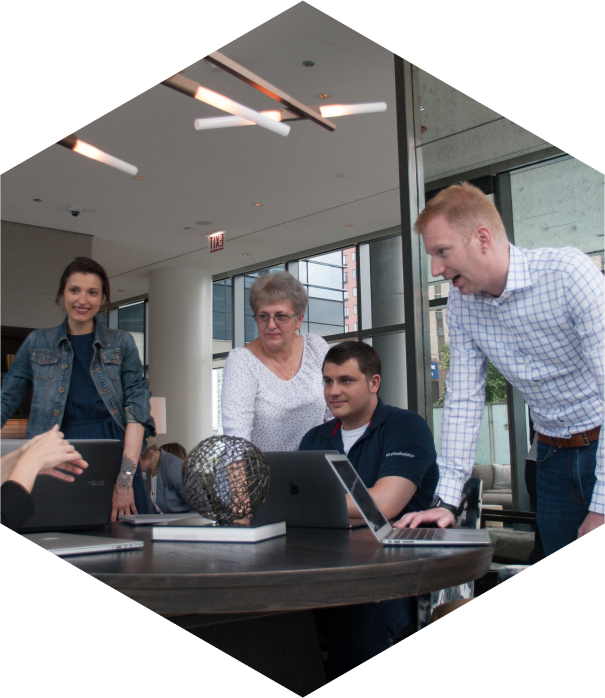 How Can We Help?

Fill out the short form below or call us at:



(888) 846-5382
Remember that the average amount of time a user spends on a page is a crucial SEO factor. As a result, your content should be longer, more valuable, and entice viewers to continue reading or stay on your site.
Your website's design should be user-friendly and easy to navigate. In addition, link your pages together so that users can move from one page to another. Internal linking is a significant factor in SEO because it helps search crawlers understand your website.
Your headlines and subheadings are essential for users and search engines. That means headlines should be clear and concise, include your target keywords and elaborate on your article's main points. The keywords you try to rank for are the ones your customers are looking for on Google.
Off-Page SEO Optimization
Next, off-page SEO is getting your website to rank higher in search engines by using other websites and resources to link back to yours. In other words, Google uses different metrics (other than what's on your website) to rank sites. So, let's jump into the best practices for off-page SEO.
     1. Backlinks
One of the most important off-page SEO techniques is link building, or getting other websites to link back to yours. The number and quality of your backlinks are key ranking factors. Google views each link as a vote for your website, so the more votes (or links) you have, the higher your website will rank.
To get started with link building, you can reach out to other websites in your industry and offer to guest blog. Guest posting is when you write an article for another website in exchange for a link back to your site.
You can also participate in forums and answer questions related to your industry. As long as you provide valuable information, people will be happy to link back to your website.
Another factor to consider is the quality of backlinks you receive. For instance, receiving backlinks from the New York Times will yield much better than links from an unknown site. Ideally, you want high-quality backlinks that show your content is valuable.
     2. Social Media Engagement and Google My Business
Think of it like this: social media is another avenue to get more quality traffic to your site, leading to better rankings in search results. The first step is to create profiles on the major social media sites (Facebook, Twitter, Instagram, etc.). Make sure your profile is complete and includes a link to your website.
As you create content, share it across your social media channels. Engage with other users by commenting on their posts and sharing their content. The more you interact with others, the more likely they will visit your site and link back to your content.
Another way to improve your local SEO is by claiming your Google My Business listing. Google My Business is a free listing that allows businesses to control how they appear in search results. You can add photos, business hours, contact information, and even posts by claiming and verifying your listing. Adding local SEO keywords to your Google My Business will help local people find your business. It'll also help with your overall SEO.
Technical SEO
Technical SEO is optimizing your website for Google's search crawlers. Essentially, it's making sure your website can be easily found and indexed by Google so people can find it when they're searching for keywords related to your business.
     1. Title Tags and Meta Descriptions
Title tags are the titles of each page on your website. They're also one of the first things people see when they find your site in search results. Like meta descriptions, title tags should be clear and concise while including relevant keywords.
A meta description summarizes your page that appears below your title in search results. It's your chance to persuade people to click on your link and visit your site. So, make sure your meta descriptions are clear, concise, and include relevant keywords.
     2. Website Speed & Security
Your website's speed and security are essential factors in online SEO. A fast website is a good user experience, and Google knows that. They want to provide their users with the best possible results, making them more likely to rank websites quickly. You can improve your load time based on image size, videos, and code efficiency.
Additionally, a secure website is another sign of a good user experience. People don't want to input their personal information on a website that isn't secure. You can tell if a website is safe if it has "HTTPS" at the beginning of the URL.
Final Thoughts
SEO is a process that takes time and effort, but it can be a gratifying rewarding effort. If you're looking for ways to get more traffic from search engines, there are plenty of tips outlined in this article. We recommend starting with an SEO to-do list.
Then, take some of the items in this article and start implementing them onto your site or your strategy. With time and effort, you should begin to see an improvement in your rankings and traffic from search engines.
If you need help with getting started or don't have the time to invest in an SEO strategy, consider contacting an agency specializing in medical SEO. They'll help tailor a system to help your business achieve its goals!