Is your company getting everything it needs from its digital marketing strategy? If you work with a qualified search engine optimization (SEO) agency, you have a much better chance of answering that question with a resounding, "Yes!"
SEO forms the foundation of much small business online marketing. It helps attract everyone, from people with general interest in your niche to those eager to buy a product or service within the next 24 hours.
To make sure they find your company first, follow this seven-step checklist for SEO power.
Let's go!
---
Want to learn more about the Digital Authority Partners approach to SEO? Watch this video!
---
1. Optimize Landing Pages and Fix SEO Issues
To ensure that your landing pages are optimized for SEO, keep in mind the following. First, include relevant keywords throughout the page. Add them to the title, in the headings, and in the body copy. Second, make sure the page loads quickly. Speed is a key ranking factor for Google. And finally, make the content on your page relevant to what users are searching for.
By following these three simple tips, you can help your landing pages rank higher in search engine results pages (SERPs). And remember to always use responsive design for all pages.
2. Clean Up Google Business and Local Listings
To get your business noticed online, one of the first places you should start is with your Google My Business (GMB) page. This page is an online directory listing for your business, and it can help improve your presence in search results.
Take a look at the information on your GMB page and make sure it is accurate. This includes your business name, address, phone number, (NAP) website, and hours of operation. You can also add information about your business, such as a brief description, photos, and services offered.
Also pay attention to local SEO listings on other directories. While great reviews and ratings help, simply having a presence can improve your SERPs considerably. Make sure your NAP is 100% the same on every platform. Your SEO agency can help with this task.
3. Check Out Your Competitors
Effective SEO involves outranking other companies who offer the same thing you do, so consumers find you first. This can be accomplished by studying their marketing strategies and looking at the data.
There are a few things you and your SEO agency can learn from your competitors. First, you can learn what strategies are effective for them. This can help you tailor your own marketing strategy to be more effective. Additionally, you can learn about their customer base and what demographics they target. This information can clarify your own target market.
Finally, studying your competition can give you insight into what areas they are lacking in. This provides an opportunity for you to fill that void and attract customers who are looking for a better product or service. Understanding your competition is essential for developing an effective marketing strategy that will help you achieve success.
4. Get High-Value Local Backlinks
Backlinks are one of the most important ranking factors for any site, and that's especially true for local SEO. There are a few ways to get high-value backlinks from local sites. 
One is to find local directories and submit your site. This can be time-consuming, but it is worth it to get quality links. Another way to get high-value backlinks is to partner with other local businesses.  For example, if you are a florist, you could partner with a local wedding planner. You could provide a discount to their customers and they could link to your site on their own site.
Finally, you can also create great content that other local sites will want to link to. Always make sure the Backlinks are from high-quality websites that are relevant to your target audience's interests.
5. Include Schema Markup
Part of the technical side of SEO involves adding schema markup to your website's code. This includes your company name, address, phone number and other contact information, business hours, services offered, ratings, and other pertinent information. 
Schema markup can be used to improve the way your page appears in SERPS. It can give your listing a richer appearance, making it more likely that users will click through to your site.
Schema Markup is also used by voice search assistants, such as Google Assistant and Amazon Alexa, to return more relevant results for users. If you have a website that is optimized for voice search, adding schema markup can help you rank higher in these results.
6. Get Reviews!
Consumers today are more likely than ever to seek out online reviews before they make a purchase. Also, businesses that have more ratings and reviews are more likely to rank higher in search engine results pages. This is because search engines like Google use signals from user behavior, including ratings and reviews, to help determine which results to show for a given query.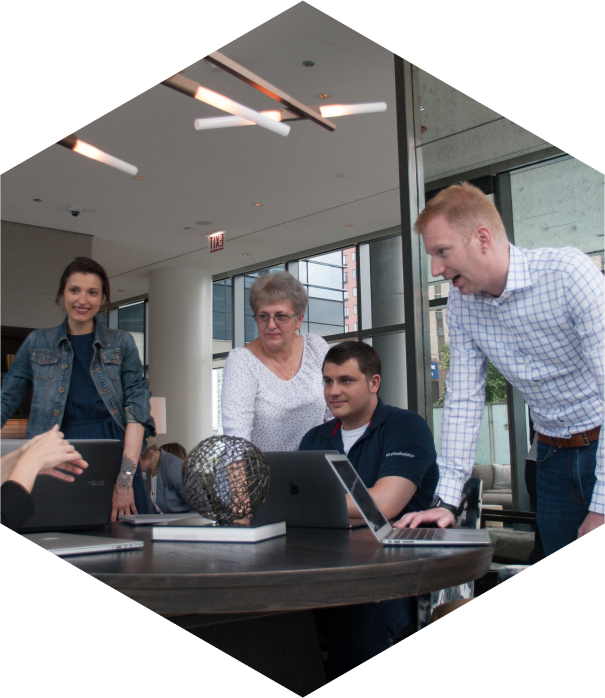 How Can We Help?

Fill out the short form below or call us at:



(888) 846-5382
If you are not actively encouraging customers to leave ratings and reviews, you could be missing out on an opportunity to improve your SEO. There are a few different ways to get more reviews. You can include calls-to-action on your website and social media channels, send follow-up emails after transactions, or list your business on third-party directories that allow customers to leave ratings and reviews.
Take the time to respond to consumer messages to give an even better impression of your brand. This is one thing an effective SEO agency can manage for you.
7. Bolster SEO Efforts with PPC
When done correctly, paid search or pay-per-click (PPC) advertising can be an effective way to reach more potential customers and drive more traffic to your site. By bidding on relevant keywords and phrases, you can make sure that your ad appears when people are searching for products or  services like yours.
Paid search can also help you better target potential customers based on their location, interests, and other factors. Incorporating paid search into your SEO efforts can help you get more traffic to your site and improve your chances of ranking higher.
Summing Up
This seven-point checklist for effective SEO will start your company's website on the path to success. However, it takes ongoing effort to make the biggest impact. Contact Digital Authority today to get the help you need from a qualified and experienced marketing agency.