To succeed in the modern marketplace, business needs to embrace digital marketing. That is no real secret – search engine optimization (SEO) has been an established marketing force for many years now. Your company's ranking on search engine results pages can directly affect your business growth
In this article, we look at how SEO helps and answer the question 'how do I choose an SEO agency?'
Let's begin!
---
Want to learn more about the Digital Authority Partners approach to SEO? Watch this video!
---
What Is SEO?
Search engine optimization, or SEO, is the process by which your website ranking is improved. Search engines like Google crawl and index web pages and use the information they find to rank them. Each page is compared to other similar/competing pages and ranked for a large number of different factors.
The way you construct your site and the content you use on it has an effect on that ranking position. SEO is crucial to any business, as most consumers looking on the web will not look at results past the first page. Getting to the top of page one gives you a competitive advantage, as more traffic will flow to you.
Link Building
Link building is one of the core factors that search engine algorithms use to determine your authority. This is where a link to your website is hosted on another site, blog, or post. Some links are easy to get simply by listing your business on a directory, whereas others will be more difficult.
So if you run a medical practice, you would want the American Medical Association to link to you. Both the search algorithm and your visitors will lend particular prestige and authority to that connection. However, getting that link is more difficult as a result.
The quantity of links you have is important but not as valuable as the quality. And you should be very wary of any spam link-building strategy or 'get links quick' schemes.
Algorithm updates are frequently rolled out specifically to tackle these practices. That means your money will be wasted as the links are discredited, and your website will be penalized.
Keywords and Content
When most people think about SEO ranking factors, keyword research is usually at the top of the list. This is because it is invaluable, and it informs a lot of the other factors. You cannot optimize your URLs and tags, for example, until you know your keywords.
When we talk about keywords, we are really talking about search terms. What is a potential visitor to your site likely to enter into the search box? You need to be optimized for those search terms so that Google knows to associate you as a result.
When you have your keywords ready, it is time to look at your content. This includes your landing pages (home, about, services, etc.) and any blogs or articles. You should make sure that all of your content incorporates the keywords that you wish to be associated with.
To lend even more strength to your keywords, be sure to use them in headers and calls-to-action where possible.
Your content should also be tailored to meet the demands of different users. Some will prefer to watch a video (provide a transcript for SEO purposes), while others choose a long-form article. Try to build up a library of content that uses different media types and covers different topics.
Two Types of SEO
SEO ranking factors are frequently categorized into two broad groups, namely on-page SEO and off-page SEO.
In the simplest of terms, on-page work is all about building the most effective, accessible, and engaging website possible. That applies to both human visitors and search engine web crawlers. On-page SEO, therefore, is related to all of the optimization techniques that are used on the website that you control.
Off-page SEO, on the other hand, is about how the rest of the internet sees your website. You need to be perceived as a trusted, knowledgeable, and reliable resource. The way your site is referenced on pages that you do not actively control is key to this.
Benefits of SEO
The higher your ranking on search engine results pages (specifically Google), the more traffic your site will get. Without traffic, you cannot convert visitors into customers, so to grow your business, you need SEO.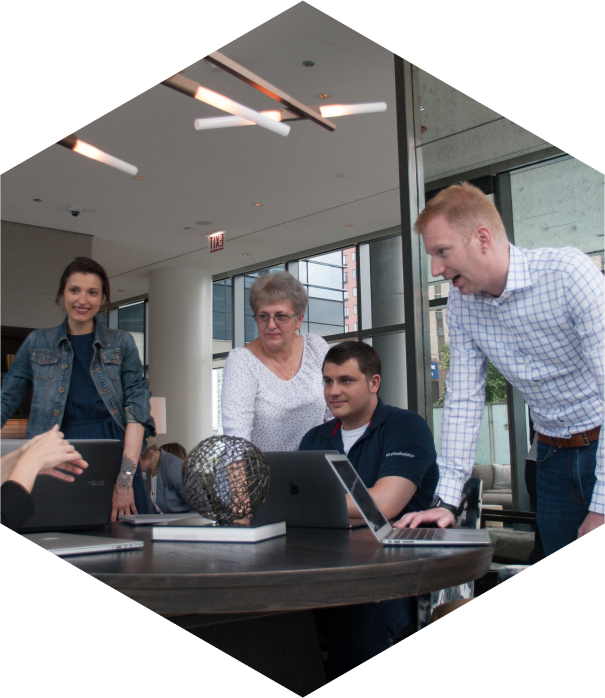 How Can We Help?

Fill out the short form below or call us at:



(888) 846-5382
Fortunately, many of the core SEO techniques are directly related to the user experience. This means that your SEO strategy will also typically lead to a better on-site experience for your visitors. In an ideal world, then, the tactics you use to drive traffic will also increase your conversion percentages.
Choosing an SEO Agency
Using the services of an SEO agency is the most cost-effective strategy for most businesses. Success does, however, rely on choosing the right agency for your company. So what should you look out for?
Experience – Your SEO agency should have a good track record of successful SEO campaigns. Ideally, you want the experience of working with a company like yours, both in terms of size and sector.
Communications – You will need to liaise with your SEO agency, both to express your requirements and to receive reports. Make sure this is on your terms, as having endless meetings in jargon you do not understand will be pointless.
Price – Of course, the price of the services has to be taken into account. Different agencies operate under differing pricing models, so make sure that you understand the costs upfront.
Goal alignment – Ultimately, the SEO agency works for you. Everything they do should be aligned with your goals and help you achieve the results you want.
Multi-discipline – Even within the world of SEO there are different disciplines. Some agencies will specialize in technical SEO, some will be content creators. Make sure that either the agency has the skills that you need or that they are multi-disciplinary.
Summing Up
If you would like to discuss a customized SEO and digital marketing strategy, then get in touch with the award-winning team at Digital Authority Partners – we have the skills and experience to help you grow your web presence. We have worked with clients of all sizes and in a range of industry sectors, and we can help you too.
Talk to us to find out more.