The online side of healthcare has seen many changes over the last few years, from the rising interest in healthcare digital marketing to the growing need for telehealth services. New and upcoming healthcare trends provide your website with growth opportunities.
Position your website at the top by following the seven latest trends in healthcare digital marketing. In this guide, we'll cover these specific topics:
Use omnichannel marketing
Capitalize on SEO practices
Encourage client feedback
Personalize your services
Comply with privacy laws
Add telehealth to your practice
Maximize tech tool benefits
There's plenty to cover and no time to waste.
Let's go!
---
Are you looking for help with marketing your healthcare business? Watch the video below to learn our approach to healthcare marketing and why 150+ healthcare companies have chosen Digital Authority Partners to help them generate more leads and patient appointments.
---
1. Use Omnichannel Marketing
As the name suggests, omnichannel marketing means using all available channels to push your product or service. It's an invaluable tool in healthcare digital marketing.
However, it's not as simple as signing up for every social platform you can find. It's also not merely posting the same content on all your accounts.
Omnichannel marketing is creating multiple touchpoints along your target market's search journey. In short, use each channel differently. For example, a chiropractor could do the following:
Posting quick tips on correcting posture to cure back pain in their Facebook group. The post then directs readers to their site for the full version.
Uploading a short video tutorial on correcting posture to their Instagram story. An ad for the chiropractor's services page can then follow.
Sending a marketing email to readers about their new ebook on proper posture. The call-to-action (CTA) button in the email then brings readers to the chiropractor's website to download the file.
Omnichannel marketing also helps to differentiate the many marketing practices you might want to try and correctly attributes success to the channel that converted a customer.
2. Capitalize on SEO Practices
The trends listed in this guide can be grouped loosely as customer-oriented practices. It's no different for search engine optimization (SEO). After all, SEO is what makes your website and digital content more visible online.
There are many optimizations you can make, but these are the top three you need to do:
Local SEO: Businesses – and healthcare practices – can benefit significantly from local SEO. For example, claiming your Google My Business page makes you visible on Google Maps searches. Creating local city pages and content also helps boost your ranking in local search.
Quality Content: Searchers and search engines want good, reliable results. This means website content that shows expertise, authority, and trustworthiness. Focus on creating high-quality, well-researched, user-friendly content to improve your SEO score.
Mobile-first Indexing: Users and search engines favor mobile devices. So optimizing your website for mobile users nets you a higher ranking on search engine results pages (SERPs).
3. Encourage Client Feedback
The shift towards digital healthcare means that content and services are accessible to a much wider audience. However, this also means that users do more searching and comparing before making a decision.
Allowing reviews and comments on your website goes a long way in healthcare digital marketing. Whether written or video, reviews by current clients let prospective clients know what to expect and helps them decide if you fit their needs. Additionally, reviews provide reassurance for potential patients.
If you plan to reach out to patients for video testimonials, ensure your HIPAA-compliant process. That is, make sure that:
The patient fully understands what they agree to beforehand.
All patients that agree to provide a testimonial give you written consent.
Any personally identifiable information (PII) is left out of the testimonial.
These are only essential points, and a lot more needs to be covered. It is your ethical and legal responsibility to understand and apply HIPAA fully.
4. Personalize Your Services
Customers like to feel important and special. Offering personalized services is an excellent way to increase customer satisfaction and retention.
This is especially important in healthcare, where critical information is communicated between an expert (the doctor) and a layperson (the patient). It can be frustrating for both parties if the patient cannot correctly understand the information.
Some basic ways to personalize the customer experience include:
Taking the time to know your customer and their needs
Tailoring medical explanations to the patient's needs and speaking directly to them
Being personable when communicating with the patient
Of course, there are plenty of other ways to personalize the customer experience for your service. The core idea is to make patients comfortable throughout their interaction with you.
5. Comply With Privacy Laws
Privacy laws apply in the healthcare industry, whether online or in-person. Regardless of which touchpoint you receive a patient's information through, PII is still subject to relevant privacy laws.
Examples of healthcare data privacy laws you should know include:
The Health Insurance Portability and Accountability Act (HIPAA)
Centers for Medicare & Medicaid Services (CMS) Electronic Health Records (EHR)
The Health Information Technology for Economic and Clinical Health Act (HITECH)
Guarantee HIPAA (or other privacy law) compliance by creating a security checklist that itemizes critical points. Make sure you:
Invest in essential security tools and safeguards like antivirus, antimalware, and firewalls to minimize risks of data breaches and hacking attempts.
Understand where and what data is stored in your system and identify potential vulnerabilities to address.
Use certified electronic health record technology (CEHRT) to ensure your data management system's ease of use and safety compliance.
6. Add Telehealth to Your Practice
Adopting communication technology in healthcare is not new. However, the need for telehealth has increased in the past few years out of necessity.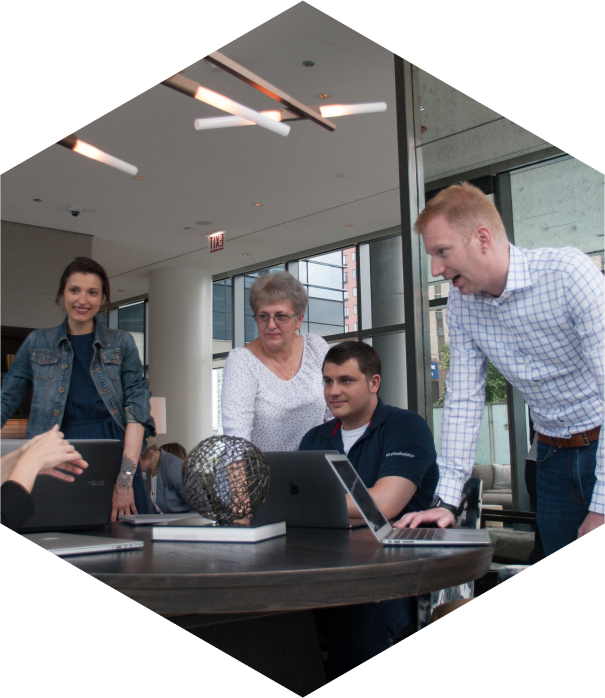 How Can We Help?

Fill out the short form below or call us at:



(888) 846-5382
Telehealth has plenty of critical applications that both healthcare professionals and patients can benefit from:
Teleconsultation: Teleconsultation is essentially an online doctor's appointment. This saves patients the trouble of unnecessary trips outside while allowing doctors to work remotely if necessary.
Remote monitoring: Doctors can fulfill long-term care through regular teleconsultation. In this way, patients can report on the effectiveness of their treatment. Remote monitoring works well with online self-report tools designed to track progress.
Smoother communication: Because appointments are easier to schedule and attend over video calls, it is also easier to communicate important updates or information between patients and doctors.
7. Incorporate Tech Into Your Practice
Besides telehealth, there are other ways you can use technology in your healthcare practice to embrace digital transformation:
Online appointment system: Custom systems aren't uncommon and typically use contact forms. However, free online tools such as Google Forms allow doctors to gather more personalized and relevant information ahead of the appointment.
Customer relationship management (CRM): CRMs help collect and organize information about current and prospective patients. CRMs also act as a centralized management system that assists lead generation and customer service.
Certified electronic health record technology (CEHRT): CEHRTs protect you and your patients from cyber attacks and data leaks. If you should incorporate any piece of technology into your healthcare services, incorporate this.
Summing Up
Trends come and go, but they impact healthcare delivery. Take charge of how you market your website and services by using the trends in this guide to help you stay on top. Contact us to work with our experts on a winning healthcare digital marketing strategy.