Using artificial intelligence (AI) changes the way you do search engine optimization (SEO) in ways you cannot do on your own. If you ask an SEO agency why AI matters, you quickly learn that being up-to-date with technology determines your online competitiveness.
But what tools do you need for your website?
This guide tells you five ways to apply AI technology to your SEO approach:
Find ideas with AI software
Write better with AI tools
Boost UX with a chatbot
Start using voice search
Use AI editing software
There's a lot to discuss, so get ready to take notes.
Let's go!
---
Want to learn how Digital Authority Partners approaches SEO? Watch the video below!
---
5 SEO Applications of AI Software
AI tools and software have evolved enough to meet every SEO need, whether the SEO IS on-page, off-page, or technical. Options vary by price and function, with premium software offering the most value. This means that spending is unavoidable if you want the best.
However, that does not mean that free or freemium software (those that lock crucial features behind subscriptions) is worthless. How effective or well-suited these tools are depends on your business needs. For instance, not all websites are interested in AI content creation software, and so on.
Learn more about finding the best software for your strategy by reading through this guide.
     1. Find Ideas With AI Software
One of the most common applications of AI in SEO is for generating or supporting your content strategy. However, not all small businesses have the financial resources to pour into new technology, which can be costly, nor would they be eager to make such a big decision suddenly.
When you have limited resources, consider potential cost-benefit when adopting AI to determine the optimal choice for your business. Answer critical needs first before seeking tools for enhancement. For instance, researching content ideas can be taxing, so it might be best to find tools for that first.
Here are three examples of software that solves that issue:
Marketing Hub: An SEO solutions platform from HubSpot that helps you optimize your blog posts through its Content Strategy Tool. This feature gives recommendations for pillar page ideas based on data such as user search intent and keyword volume.
BrightEdge: BrightEdge is another all-in-one SEO software that covers everything from analysis to forecasting. Boost your content strategy with AI-powered, data-driven recommendations. Use Market Insights to determine topics you should be targeting.
Bertha.ai: This is a paid writing tool from Yoast SEO that eases the process of content creation. Install the WordPress plugin, and it is ready to work. Supply it with information such as your target keyword to generate paragraph or meta tag ideas.
     2. Write Better With AI Tools
After gathering fresh blog ideas, the next step is writing content. However, even that can become tedious and repetitive. For instance, a pillar page strategy calls for content that connects and overlaps but remains distinct.
Fortunately, a variety of AI tools and software can remedy this situation. They come in writing, copyediting, and paraphrasing variants. Not all of them are necessary, but knowing which ones are can make your writing process smoother.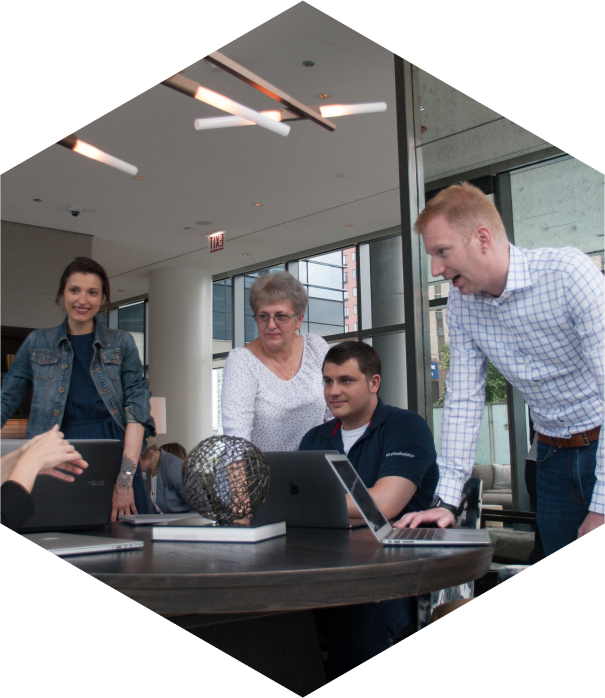 How Can We Help?

Fill out the short form below or call us at:



(888) 846-5382
Here are three content creation AI tools you should consider investing in:
Grammarly: This is probably the most popular AI writing tool. It scans your document and provides real-time feedback on four traits — correctness, clarity, engagement, and delivery. You can customize your writing goals to match your audience, too.
Quillbot: One of the greatest challenges of writing is repeating the same phrases over and over. With Quillbot, you can instantly rework your ideas so that they retain the same thought but express it differently. Use it to keep your content dynamic.
Anyword: Using machine learning to generate content from scratch is among the most advanced applications of AI. Anyword is a tool that can write entire articles based on a prompt you provide. Copyediting is still needed, but it is excellent for getting started.
     3. Boost UX With a Chatbot
Before investing in AI, you must understand its benefits and limitations. A perfect example is that AI tools require generous input to produce quality output. Therefore, starting small is the best approach to implementing website integrations, especially if you hope to scale them.
Chatbots are among the critical apps you can use this way. Installing a customizable bot can boost your website's user experience (UX). This is an essential SEO benefit of AI tools because optimized search and navigation help keep users looking through your content.
In fact, programmable chatbots take this a step further by being an interactive mode of answering user queries and suggesting relevant articles for them to review.
     4. Start Using Voice Search
Another UX-centric AI tool that your website should have is voice search. Over the past decade, smartphones and other smart devices have emphasized the importance of accessibility. Voice search, combined with screen reader apps, allows users to navigate your website hands-free.
In short, adding this piece of AI software to your website boosts UX for everyone, not just people with vision issues. More importantly, the adaptation of speech recognition software is still slow among website owners. Get ahead of competitors by prioritizing convenience for users.
You can manually code this function into your website or find a company specializing in speech recognition software, such as Speechly or Voxpow, to provide the service.
     5. Use AI Editing Software
Not all websites post audio or video content. However, it is worth noting that advances in software have enabled AI to play a significant role in production. It can range from synthesizing your voice for lifelike text-to-speech (TTS) audio to replacing video backgrounds after the fact.
Using either is sure to upgrade the quality of your content. Premium software features, such as color matching between different clips, allow you to produce seamless videos at the touch of a button. Adopting a video content strategy for your website has never been easier.
Summing Up
Adaptation is integral to surviving in a rapidly evolving online ecosystem. The shift toward speech recognition and machine learning software is inevitable. Websites that fail to keep up with new technology must work much harder to stay in the competition – and often don't.
Become a leader by creating an AI integration strategy for your website. Be one of the first to make big changes in how users interact with online content.
Need help choosing which AI tools to use? Contact us to learn more about how we can help.