Search engine optimization (SEO) is time-consuming, complicated, and seems overwhelming. When you add social media, how do you find the time? But it's important to know that your social media affects your SEO.
Here we share five ways social media affects SEO, according to an SEO agency. Want to learn more? Let's begin!
---
Want to learn more about the Digital Authority Partners approach to SEO? Watch this video!
---
What Are SEO and SMO?
SEO is the practice of optimizing a website to rank higher in search engine results pages (SERPs). Social media optimization (SMO) is the practice of using social media to improve the visibility of a website or piece of content. SEO and SMO are essential for online visibility, yet each has different purposes.
SEO is focused on getting a website to rank higher in search engine results. In contrast, SMO focuses on improving a website's visibility or piece of content through social media. While they have different purposes, both can enhance the visibility of a website.
How Does Social Media Affect SEO?
     1. Social Media Sites Have High Domain Authority
What shows up first when you search for a colleague on Google? If they don't have a significant online presence, their LinkedIn profile will appear as search result number one. What does that mean for your business? When someone searches for your company, your website and social media profiles (YouTube, Instagram, Facebook, et cetera) will pop up.
If your social media profiles aren't optimized, you're missing valuable online real estate that should showcase your brand. Make sure you use keywords in your bio and your posts to ensure that your social media profiles are ranking high in SERPs. Additionally, if you have a blog, post it on social media. That improves your blog's visibility and drives traffic to your website.
     2. They're an Additional Traffic Source
You can use social media to generate traffic to your website. When you post on social media, include a link to your site. People interested in your post can click through to your website and learn more about your business. You can also use social media ads to drive traffic to your website. Target your ads specifically to people interested in what you have to offer to increase the chances that they'll click through to your website.
     3. Improved Brand Awareness and Recognition
Social media is a great way to improve brand awareness and recognition alongside SEO. People who see your company name pop up in their social media feeds will become familiar with your brand. As they see your brand more frequently, they'll start to recognize it.
For social media to have the most impact on SEO, post high-quality content relevant to your target audience. This content engages your target audience and gets them talking about your brand. As people talk about your brand online, your website will show up more in search engine results.
Online forums like Reddit with open discussions are excellent ways of gaining positive buzz about your company. And if there's any negativity, you can address it immediately, showing that you take customers' concerns seriously.
     4. Linking Your Socials All Over
When you link your social media on every platform your business is represented on, it allows Google's algorithm to sift through and determine SERP rankings. If you're not linking your social media platforms to your website, you're missing out on valuable SEO ranking factors.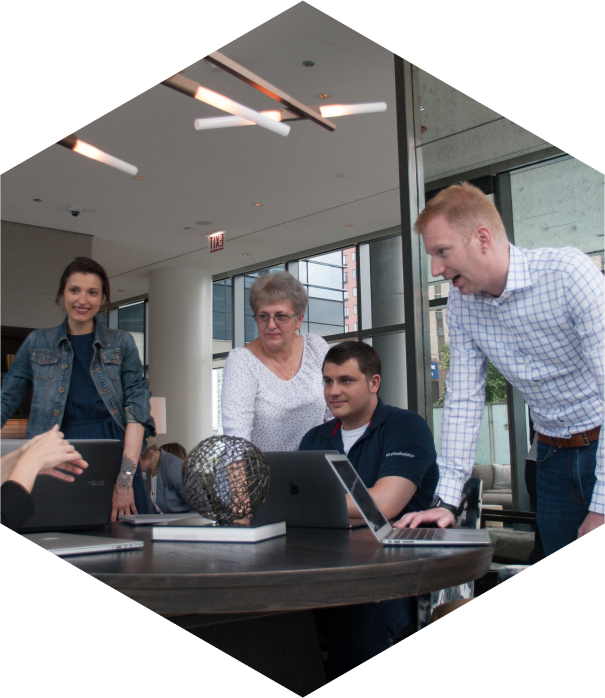 How Can We Help?

Fill out the short form below or call us at:



(888) 846-5382
In addition, the number of shares, likes, and comments on a piece of content signals to Google that people find the content valuable. The more social signals a piece of content has, the higher it ranks in search engine results. To rank your site higher in search engine results, share your content on social media and encourage others to do the same.
     5. The SEO of Social Media
Social media has its own search engines. For example, when you're searching for a YouTube tutorial on how to change the oil in your car, YouTube's search engine crawls its database for relevant videos with relevant keywords.
Think of social media platforms as their own search engines. Use keywords for your social media posts, descriptions, and bios. These search engines are looking for quality content relevant to what people are searching.
Make it easier for them to do that. Ensure you provide value to your audience with your social media posts. That way, not only will people be more likely to find your content, but they'll also be more likely to share it.
For instance, suppose a software business creates a YouTube channel. If they only post videos describing how to use their software, people outside their customer base probably won't see it. However, if they create entertainment videos answering industry questions, challenge videos that are easily shareable, or videos that solve common pain points, they're more likely to go viral and bring organic traffic from a search engine and algorithm like YouTube.
Summing Up
Social media can be a great way to improve your SEO, but it's vital to understand how it works and what you need to do to make it work for you. If you're unsure where to start, consider hiring an SEO company. We can help you create a social media strategy to improve your SEO and help you reach your target audience. Contact us today!