Any SEO agency would say content is the most important aspect of search engine optimization (SEO). In fact, recent changes in search algorithms mean building bigger and better articles is the best way to generate website traffic. Yet, what does it all mean for you?
This guide gives you three steps to creating a consistent game plan for SEO content:
Optimize Content for Users and Search Engines
Format Your Web Pages for User Experience (UX)
Remember to Add Your Meta Tags Descriptions
There is a lot to discuss, so get ready to take notes.
Let's go!
---
Want to learn more about the Digital Authority Partners approach to SEO? Watch this video!
---
1. Optimize Content for Users and Search Engines
"Optimizing" content comes in many forms, which can be initially confusing for someone new to running a website. Many a checklist exists for this exact purpose. Each one covers or focuses on different aspects of content and SEO, depending on who creates and publishes it.
A popular suggestion is to find topics that boost ranking, but how do you define that? Content must meet specific requirements in order to influence your ranking on the search engine results pages (SERPs). One of these is that it should serve the interests of your target market.
Below are actionable steps you can take to optimize content for users and search engines.
     Pick Topics That Answer Intent
If you want to rank in the SERPs, you need to write about topics that answer search intent. This is not as difficult as it sounds. You can use AI-powered marketing or keyword research tools to sift through mountains of clickstream data to determine how users conduct searches.
Some can even produce the exact terms that direct users to your web pages. That makes it immensely easier to understand which SEO topics work best for your brand and which do not. Delight your customers, and you also win search engines' help in attracting online traffic.
     Choose Your Words Carefully
An SEO keyword satisfies the needs of users and search engines. Your target keyword should match what and how users search online. It should appear in strategic positions on your web page. Likewise, it should be semantically close to popular terms to appear in broader searches.
Keywords are not the end; your articles' composition also affects user experience (UX), which impacts SEO. Use writing tools and grammar checkers to smooth any bumps in your content. Create a style guide to give your articles a consistent tone and voice that shines through.
     Write Introductions With APP
Apart from the title, your article's introduction is the best place to hook readers. Excellent SEO content follows tried-and-tested formats or patterns that keep users engaged. Several copywriting techniques can help you here, especially agree, promise, and preview (APP).
To use the APP technique, ask yourself the following questions as you write your introduction:
Do you agree with your audience on the issues or subject?
What solutions or benefits can you promise to provide them?
Did you include a preview of topics covered in your content?
     Include AIDA in Your Content
Another copywriting technique that aids in building high-traffic content is the attention, interest, desire, and action (AIDA) model. While the APP technique applies to your introduction, the AIDA model guides the flow of your article as a whole. Using both together is great for SEO.
Applying AIDA to your articles means ensuring that the following distinct parts are present:
An attention-grabbing headline or hook that draws in customers
A section focusing on solutions or benefits that interest your readers
A discussion of your unique selling points that customers desire
An action-oriented conclusion telling readers how to apply what they read
Make creative SEO content by concentrating on what helps your target market most.
     Make Unique Branded Keywords
If you want to monopolize inbound traffic, use branded keywords that are unique to your website. The most basic of these is your business or company name. Any unique, marketable, proprietary content that you develop yourself also helps you dominate traffic.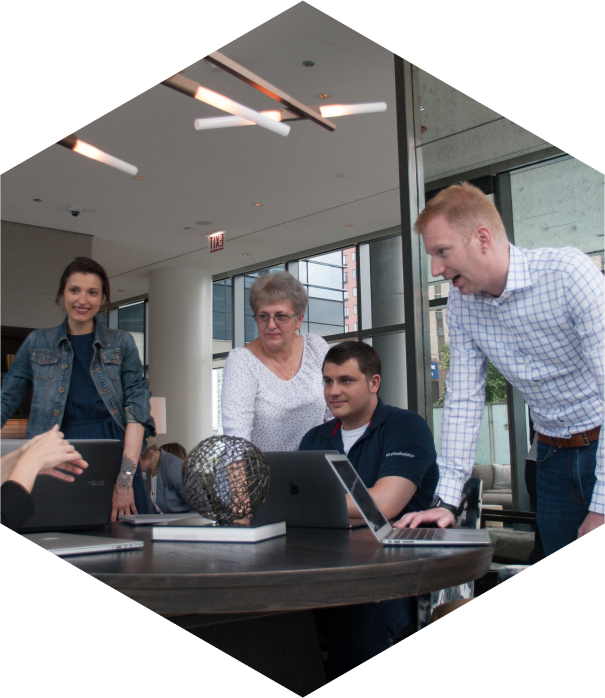 How Can We Help?

Fill out the short form below or call us at:



(888) 846-5382
Both of the above ensure that links and mentions from other websites lead back to you.
Slogans and taglines also make fantastic branded keywords, especially on social media. When creating branded keywords, be intentional. Just think of large companies that, to this day, have recognizable branding, such as KFC's "Finger lickin' good" or Nike's "Just do it."
2. Format Your Web Pages for User Experience (UX)
SEO is not all content and marketing. Some aspects of it deal with UX, too. That means visuals and layouts matter just as much when it comes to attracting and retaining customers' attention.
Users are methodical in their approach to searching for information. Whenever someone opens your web page, they immediately look at key areas for clues that help them judge your content. Basically, they want to know whether your content is beneficial to them.
How you present your content matters because placing important information in hot spots around your page increases the likelihood that a person stays on your website.
To address UX or web design concerns, you have three options. You can hire an SEO agency to help, use preformatted website themes, or conduct an eye-tracking usability test. A website that is easy to use is more appealing to users, especially in the fast-paced online world.
3. Remember To Customize Your Page's Meta Tags
Simply put, meta tags are pieces of HTML code that describe data. They serve a vital role in SEO, guiding how search engines crawl and index your website. For instance, meta titles and meta descriptions influence which search terms trigger your content to show up on SERPs.
When present in a snippet, a well-written meta description helps signal whether your content meets user needs. If you feel up to the challenge, you can further improve this by creating rich snippets that allow users to explore more of your content without leaving the SERPs.
You can also create robot meta tags, which direct search engine crawlers to index the page or not. Another standard meta tag is the nofollow tag for outbound links that are handy to keep but not necessarily beneficial to your SEO strategy.
Summing Up
Content may be king, but consistency is key. SEO operates at its finest when you can replicate its effects across your content. Creating checklists for composition, UX, and meta tags makes the process smoother, but remember to investigate other elements to optimize further.
As you continue familiarizing yourself with best practices, producing high-traffic SEO content slowly becomes second nature.
Do you want to upgrade your website's content strategy? Contact us to find out how we can help.