Even the best online marketing strategy requires updating to compete, remain relevant, and bring in more cash flow. If you're a healthcare provider, you need advanced techniques for PPC hospital ads.
We'll outline seven methods of enhancing PPC ad copy's performance. You will learn the following:
Other places to publish ads and draw more targeted traffic
New features and technologies for a more efficient healthcare PPC plan
What first-party data can do for your PPC campaign
How to use the right keywords to get the right clicks
Ways to use AI to hyper-personalize PPC ads
Remarketing tactics to recapture leads and reduce bounce rates
Ad customizations to increase conversions
Are you ready to take your PPC campaigns to a higher level? Read the tips below.
7 Advanced Hospital PPC Ad Strategies That Accelerate ROI
If you want to succeed in digital marketing, you should always believe you can do better. When it comes to PPC advertising the techniques below will deliver.
     1. Go Beyond Google Ads to Draw More Traffic and Decrease Healthcare PPC Costs
Most medical practices use Google Ads as their primary platform for PPC hospital marketing. And there's a good reason for that: it's the largest and most popular ad network. But if you want to stay ahead of the competition, explore other options too.
Bing Ads. It's the second-largest PPC network and has more than 10 billion monthly searches. It also offers cheaper clicks than Google Ads.
Facebook Ads. The largest social media platform also lets you run paid campaigns. Even better, it offers excellent tools to break your ideal demographics into specific segments.
LinkedIn Ads.This is the top social media network for professionals and entrepreneurs, making it an ideal place for your hospital's B2B marketing. It also provides other unique paid marketing options, like sponsored content, to support PPC.
Amazon Ads.The world's largest online retailer is a powerful place to advertise, especially if you're in the B2C space. Hospitals can give their facilities and services a major boost and pay only when someone clicks the advert.
     2. Use Smart Bidding To Automate Auctions and Improve Conversions
Smart bidding is a set of AI-powered tools that aid in managing your hospital PPC ad campaigns. It uses real-time data and machine learning for automated decisions about ad placements, budgets, and keywords. As a result, you'll see improved conversions in your hospital ads at a lower cost per conversion.
Smart bidding has four types:
Target cost-per-action (CPA). This automated bidding option helps you get more conversions at your desired cost.
Maximize conversions. The aim here is to get the most conversions possible within your budget.
Target return on ad spend (ROAS). Automated bidding helps you generate more conversions while also achieving your ROAS goals.
Enhanced cost-per-click (ECPC). With this option, you pay a little more per click when it's likely to lead to a conversion and less when it isn't.
     3. Collect First-party Data To Improve Relevance and Targeting
First-party data is any information you collect about your current and potential customers. It's valuable because it lets you personalize your marketing messages, improve ad relevance, and guarantees more accurate ads.
You can collect first-party data by using::
Sign-up forms. You can offer something valuable, like an ebook or white paper, in exchange for contact information.
Contact forms.Include a form on your website or landing page so visitors can get in touch with you.
Surveys and polls. Use these tools to collect feedback about your products, services, or brand. You can also use surveys to segment your audience.
Cookies. These small pieces of data are stored on a user's device and help you track their activity across the web. You can then use this information to serve them relevant ads.
     4. Use Negative Keywords To Avoid Irrelevant Clicks
Negative keywords are words or phrases you add to your campaign so that your ad won't appear when someone searches for them.
For example, let's say you're a hospital that specializes in heart health. You might add "plastic surgery" as a negative keyword so that your ad doesn't appear when someone searches for "top plastic surgery hospitals."
Using negative keywords spares you from spending on non-converting clicks. It also improves ad relevance, leading to higher quality scores and lower costs.
To find negative keywords:
Start by brainstorming a list of words and phrases related to hospitals generally that aren't relevant to your specific hospital.
Use keyword research tools, like Google's Keyword Planner, to find more negative keywords.
Take advantage of the search-terms report to see the actual words people use to trigger your ads. Then, add the irrelevant ones to your negative-keyword list.
     5. Maximize Artificial Intelligence (AI) To Hyper-Personalize Hospital PPC Campaigns
Audience segmentation is a powerful marketing tool because it tailors your message and offers to each group. As a result, you're more likely to convert leads into customers.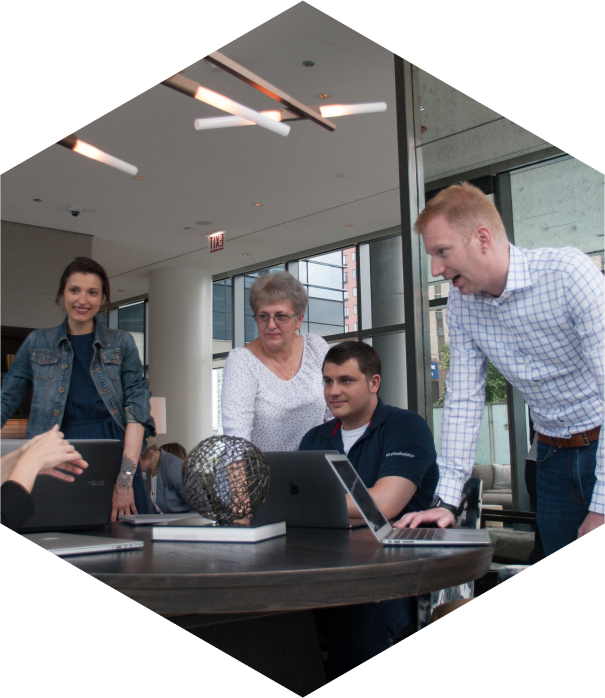 How Can We Help?

Fill out the short form below or call us at:



(888) 846-5382
And one of the best tools to get it right is artificial intelligence (AI), which you can use to hyper-personalize your marketing plans.
Here's how it works:
AI collects and analyzes data about your leads and existing customers. Where do they come from? How do they purchase healthcare products or book appointments online? What other information are they searching for online?
This technology further creates more specific audience segments based on the analysis results. In other words, it refines your market. For instance, it might break down your female leads aged 25-34 into two groups: those who are single and those who are married.
You can then use these segments to develop more audience-specific ads. Even better, run these copies with tools like automated Google Ads. This one will help you test different ad versions and determine the best-performing one.
     6. Apply PPC Remarketing Strategies To Recapture Lost and Dormant Leads
Do you know that you can use PPC for remarketing? That's right.
PPC remarketing is a technique that displays ads to people who have previously interacted with your brand, probably by clicking, checking your landing page, or even setting an appointment with your clinic.
The beauty of remarketing is that it allows you to keep your brand top of mind for this population. You can stay in touch with leads who might have forgotten about you or were too busy to act on their initial interest.
You can set up PPC remarketing in many ways, but here are three of the most effective ones:
Target people who have visited your website but didn't convert. Show them ads with special offers or discounts to encourage them to come back and complete a purchase or book an appointment.
Connect with prospects who have shown interest in specific products or services. For instance, you can remarket to visitors of your cosmetic surgery landing page with ads for that particular procedure.
Reach out to people who have already booked an appointment but didn't show up. Send them a reminder ad or offer a discount for their next visit.
     7. Use Geo-targeting To Connect With Local Customers
If you're looking for the best leads, usually you don't need to set your sights too far. In fact, they're right around your hospital or clinic.
But to ensure that they know you exist, consider using geo-targeting. This PPC technique customizes your ads to appear only to people in your defined geographic area.
For example, you can target prospects within a certain radius of your hospital or clinic. You can also choose to target specific cities, regions, or countries.
Here are some tips to get started:
Include relevant locations in your ad copy. For instance, you can say, "Looking for a cosmetic surgeon in Los Angeles?" or "Find the best dental clinic near you."
Use location extensions. With these, you can add your hospital's address, phone number, and even directions to your ad. That way, people who see your ad will know exactly how to find you.
Bid on geo-targeted keywords. These keywords include locations. For example, "cosmetic surgery Los Angeles" or "dental clinic New York."
Summing Up
Hospital PPC ads work until they don't. Avoid wasting time and money on ineffective copy by ensuring they are optimized, updated, and relevant to your target audience all the time.
The advanced PPC strategies above can help you do just that. But hire a healthcare digital marketing team if you want more ideas and better execution.
Digital Authority Partners (DAP) is a full-service healthcare marketing agency with deep experience developing and executing PPC campaigns for hospitals and clinics.
We'll be happy to discuss your specific needs and develop a tailored solution to help you achieve your marketing goals. Contact us today to learn more.