Amazon opened up their tech stack late last year to enable businesses to create skills on top of the Alexa development platform and existing voice-enabled devices. Just a few months later, the e-commerce giant announced a 20 percent increase in fourth quarter sales and cited the Echo Dot as being the best-selling Amazon product in the world.
Meanwhile, the number of Alexa-enabled devices had doubled in 2018 and Amazon committed to this trend by hiring twice as many research scientists to focus entirely on voice technology.
But what might this mean for you and what does Amazon for Business look like exactly?
In this article, we look at Alexa for Business and how Amazon plans to revolutionize the workplace.
Alexa for Business: the beginning of digital transformation
As voice technology continues to transform life at home, Amazon is making inroads into the traditional office environment and changing how we work. In fact, Jeff Bezos believes that Amazon for Business can create the ultimate balance between work and personal life, while improving efficiency and productivity.
It's a bold statement but the success of Echo Dot suggests this is also a statement that will play out.
You see, the workplace is an increasingly busy place and the online world has made certain work-related tasks and processes significantly more streamlined. However, there is still room for improvement and many use cases in which voice technology can improve the speed, flexibility and efficiency of any office environment.
When you think about, this is exactly what has happened with voice technology in the home space and the Echo Dot has proven highly beneficial – most especially in the kitchen (through various Alexa skills such as timers, recipes, cooking tips, easy reordering of perishable goods and more). What's more, Alexa is expected to act as a "third-hand" in the future and take care of much more complex or important tasks.
Either way, the possibilities are endless when it comes to Alexa for Business and it looks like this is only the beginning of digital transformation in the workplace. In this article, we will explore some of the major use-cases Alexa for Business can already deal with, improving productivity & workflows and streamlining labor processes.
What is Alexa for Business?
Now, in order to realize the utility and true potential of voice technology at work, it's important to understand why voice technology is so relevant in the first place.
Alexa for Business can help businesses get more work done, faster, and with increased accuracy. Amazon has been creating an amazing lineup of voice-enabled devices that can help executives and employees improve productivity in the office.
Amazon has now opened up their technology stack to third party developers and companies who want to create their own Alexa skills and solutions which can be used to address everyday problems in the office.
In case you might be asking yourself, Alexa Voice Search (AVS) SDK is the platform on which device makers can build these products with Alexa for Business. Interestingly, AVS is widely considered as the next step in digital optimization and will do for voice-related resources, what search engine optimization (SEO) does for text-based content.
Just so you know, BlackBerry and iHome are just two of many brands to integrate Alexa and create voice-enabled devices that can be shared across the organization.
You see, voice is the most natural way in which people communicate. Conversations convey context and provide insight, which enables people to better understand each other. And for the first time, chatbot technologies (hint, Alexa skills are nothing more than chatbots, at its core)  allow for real conversations which make Alexa skills compliment the office environment and help employees communicate with each other.
But that's just part of the story...
For example, researchers recently discovered that the average employee spends more than 4-hours per week looking for important documents. While Alexa is not responsible for finding these documents, Alexa-enabled devices can certainly speed up the search process. In other words, Alexa might not provide major changes at every turn but there are minor or micro-improvements that will increase productivity.
Alexa for Business tech stack enables organizations to create their own practical skills and internal solutions to improve operations at the office. When integrated the right way, Alexa for Business should make the workplace feel a lot more connected and increase productivity in the process.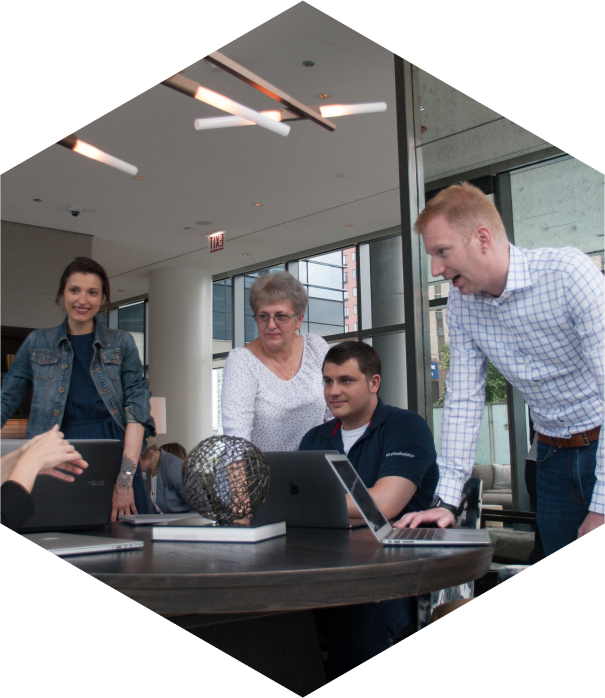 How Can We Help?

Fill out the short form below or call us at:



(888) 846-5382
How does Alexa for Business work?
As an executive, you know the importance of getting things done quickly in the workplace.
With this in mind, you can purchase off-the-shelf Alexa solutions or even build your own internal skills to increase productivity and streamline various aspects of your organization.
In terms of the actual process, Alexa for Business takes existing data about skills, devices and user accounts in the organization and uses this information to respond to specific requests.
For example, Alexa for Business can streamline the process of booking a meeting room and you can simply start this process by stepping inside a particular meeting room and saying "Alexa, is this conference room free?" or "Alexa, book this conference room." On the other hand, you can start a meeting by saying "Alexa, start the meeting" and Alexa will use the location, calendar information and local devices to start the meeting.
Finally, Alexa for Business enables businesses to build their very own bespoke skills and solutions.
Whether you need to automate certain aspects of invoicing or re-ordering office stationery, Alexa skills can be created to complement and enhance the existing office environment. Now, that's not enough say you can create any concept you manage to conjure up but with the right Alexa skill development agency, this certainly possible.
What is the cost for Amazon Alexa?
As an end user, if you purchase Amazon Alexa for your home, there is no additional monthly fee to operate. Some skills may require additional purchases and monthly fees, but Alexa doesn't charge consumers for using their device and marketplace skills.
However, Alexa for Business is NOT free. If you choose to deploy Alexa at your workplace, Amazon will charge a monthly fee of 7 dollars for each device registered at your workplace and 3 dollars for each enrolled user. Operative term is enrolled. It doesn't mean you need to pay for every single person within the range of an Alexa device (like secretaries and administrative personnel), just for the people actively using the skill in question. So let's do some simple math.
Let's say you install 10 Alexa devices and have 20 users actively leveraging a skill. That means your monthly cost is 10x7 (devices) + 20x3 (users) = $130 per month.
To be clear, this cost only applies to private Alexa skills that you build for your business. Shared devices can be placed in any part of the office for anyone to use.
For the most part, these devices are left in meeting rooms, lobby areas, kitchens and other shared spaces in the workplace. On the other hand, personal devices belong to individual employees who can enroll on Alexa for Business to use these devices to complete personal tasks such as setting reminders, making calls and scheduling meetings.
If you buy any Alexa skills for your business from other app developers, they will also bake in the Amazon licensing fees accordingly into your monthly subscription.
Needless to say, the business will also need to invest in whatever amount of Alexa devices that might be needed.
Now that we know how Amazon Alexa skills for business work and how their pricing works, let's get to the meat of the problem - tangible, real and amazing Alexa for Business skills that work in an office setting.
Existing use-cases in business for Alexa devices and skills
Alexa for Business has an open API feature which means that the potential for Alexa for Business is endless. What's more, creating these skills is not rocket science but as mentioned above, the right Alexa skill developer can help you build the right systems and get everything in place.
Here are just a few more examples of existing use-cases for Alexa-enabled devices and skills:
Video conferencing. Alexa is capable of starting a video conference with a simple voice command. After syncing with a workplace calendar, the user can say "Alexa, start the meeting" and Alexa will turn on all the equipment that will be used for the call. As you can imagine, this saves a lot of time and frustration for what now seems like a very menial task.
Streamlining daily tasks. Alexa can also be used to help employees to improve productivity by automating or organizing routine tasks. For example, Alexa can set reminders for phone-calls and keep track of daily to-do items. What's more, Alexa can use voice recognition to allow staff instant access to corporate applications without having to sign-in.
Smooth management. An impressive dashboard acts as a command center for Alexa for Business and executives can monitor and manage all devices from this console. Similarly, new employees can be enrolled on this dashboard, while Alexa skills can also be added or removed from the system. Overall, this central console should ensure the smooth implementation of Alexa for Business and provide an easy-to-understand control system for the entire process.
Monitoring device usage. Alexa for Business also enables management to control Alexa devices. In this sense, administrators can use a centralized console to monitor certain tasks or device usage throughout the organization. This process is not only good for organization but also for keeping on top of efficiency.
Email organization. Believe it or not, Amazon Echo is now able to manage your Office 365 or Gmail and read, reply and organize emails according to preference. Just so yo know, Astrobot is the application which enables this ability.
Website monitoring. You can use Alexa to provide status updates and reports about the company website. For example, an application called "Vigil" can send push notifications when the website is down or provide regular reports with regard to big detection and potential vulnerabilities in terms of security.
Invoice assistance. Voice technology can streamline invoicing and help keep important documents organized. However, Alexa can also use the Accounts Receivable Factoring skill to calculate the amount of an invoice and the rate of factoring which is yet another menial task for executives and accountants.
Schedule management. Alexa can use certain skills to set reminders, co-ordinate meetings and organize to-do lists. You can also integrate these applications with Gmail and Office 365, along with iCloud and Google Calendar.
Locating services. Whether you need a to re-order stationary or contact a handyman to fix the plumbing, voice assistants can find local services in a matter of seconds.
At the time of writing this article, there are more than 150 products with in-built Alexa and several thousand skills which you can add on top of these devices. There are also many solutions already at work on Alexa for Business including Polycom, Skype, Vonage, Zoom and Salesforce – the outstanding CRM tool.
Once again, the potential of Alexa for Business is infinite and the capabilities of these devices/skills is certain to grow in the coming years.
Interested in learning more about specific Alexa skills in the B2B space? Check out our article on Alexa for healthcare: 17 real use cases you should really know about.
How Alexa for Business can help any organization
While Alexa is not yet common in the workplace, it would seem that most employees are eager to use Alexa at work.
In fact, recent studies show that 38 percent of professionals currently use Alexa for personal reasons, while just 11 percent asserted to using the voice assistant at work. However, when asked if they would like to use Alexa for work-tasks, more than half of these individuals said that they could benefit from having the voice assistant.
More studies also support this trend or implication and show that more than 60 percent of organizations expect to integrate voice technology within the next two years.
When you consider the great advancements made by Amazon in recent years, it also makes sense that Alexa will be the most common voice assistant in the workplace.
But don't take my word for it - recent statistics also indicate that Alexa is already leaps and bounds ahead of any other voice assistant.
That is to say, Amazon already dominates the smart speaker industry and Echo accounts for more than 70 percent of the US market.
When Alexa is integrated at work, employees can sync their personal devices and it's easy to imagine how quickly this adoption will take place. Amazon is also releasing Alexa Windows 10 for desktop and many top tech companies including HP, Acer and Lenovo have integrated various smart sound technology to their upcoming computers to support voice commands for Alexa.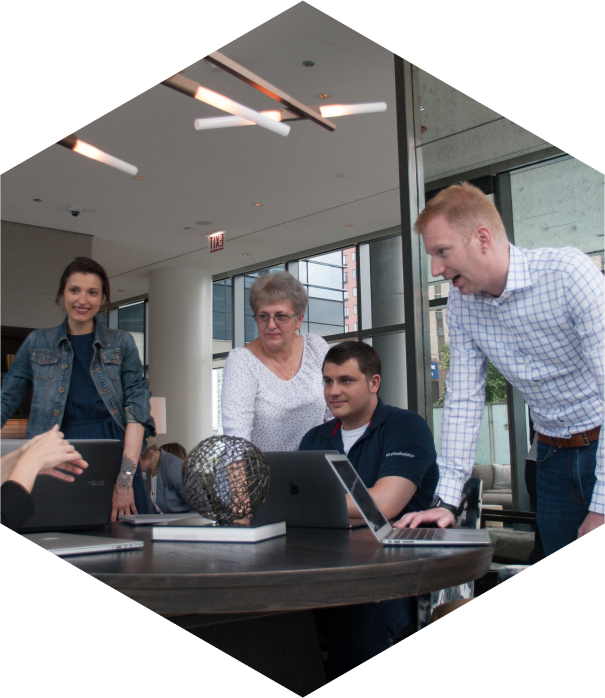 How Can We Help?

Fill out the short form below or call us at:



(888) 846-5382
Alexa for Business: transforming one company at a time
It's true, voice technology is just the start of voice-enabled digital transformation and many businesses are already using Alexa skills to augment products and enhance their services.
For example, Capital One has been using an Alexa skill to help customers check their balance or perform routine account-related tasks. What's more, the financial services company has built another Alexa skill which allows the IT department to check and monitor various data systems across the organization. On the other hand, the use of artificial intelligence in pharma is also on the rise and Alexa for Business is already present in many healthcare companies and institutions.
However, Alexa for Business is changing the way every type of business is run and it's not simply a case of placing echo devices all over the office. It also has a manageability and security model which enables IT departments to set up thousands of devices in a matter of minutes. Also, employees who use Alexa at home can merge their personal and business accounts to take advantage of existing settings.
In this sense, it's really about bringing everything together, while initiating a new and faster ways to get things done in the office.
Developing applications with Alexa for Business
Alexa for Business can take user experience to the next level and revolutionize many processes in the workplace. If employees enjoy using their personal devices, they can enroll on Alexa for Business, and adding shared devices can improve the overall efficiency and productivity of any office.
While there is the price of Alexa devices to consider, the improved productivity will likely result in cost savings over time and this is certainly true when the right devices and skills are chosen. As for Alexa skills development, executives can contact Digital Authority Partners to identify and build the best applications.
Reasons for caution with Alexa for Business
The truth is, Alexa for Business can simplify a whole lot in the office but there are many factors to consider before implementing voice technology in an office: Is the system secure and is private data protected? Will employees feel comfortable with the skills and process? What skills should you even use?
As for security, Alexa may not be used all the time but Alexa is always listening. For this reason, voice-enabled devices can accumulate important data that may not need to be there in the first place. For this reason, there are certain security concerns that a business needs to consider before implementation.
As with everything in life, there is also an air of uncertainty when starting out with voice technology and this is why most businesses can use a developer to ensure a smooth roll-out.
Final Thoughts
The online world has changed the way we work in recent times but this is only the beginning of a much greater digital transformation. With personal smartphones, shared devices and high-speed internet, we are no longer tied to the old way of getting things done and the traditional office environment. Everything is moving faster and everything needs to be more efficient, and Alexa for Business is a practical solution that can bring the people and responsibilities in an organization closer together.
It's still early days for Alexa for Business and voice-enabled devices like the Echo are still mostly used for consumer-related functions. However, as Amazon continues to invest heavily in voice technology, it would seem that every other business should capitalize on following the trend, sooner rather than later.
You may also be interested in reading our ultimate guides to mobile app development and b2b marketing.