Meeting the monthly revenue target for your ecommerce shop or professional company can be a daunting task. Good thing there is pay-per-click (PPC) advertising that can help you meet your sales target and achieve your company goals.
A business-to-consumer (B2C) PPC Agency can help you garner daily inquiries, which you can start accommodating and converting into sales. A B2C PPC Agency uses paid online advertising strategies to attract your target market and generate leads. Here's how it works.
---
If you want to learn how Digital Authority Partners can increase your PPC effectiveness, watch this video!
---
B2C PPC Agency Points You to the Right Keywords
A study from BrighLocal, as cited by Smallbizgenius, found that 97% of customers look for local businesses online. If your site content matches the keywords your target customers use in their search, you could rank well on their search results page. Finding and targeting these keywords is what your PPC Agency will do for you.
Your agency would research keywords that best describe your brand. These are also the keywords that your target clients use to search for products and services similar to what you offer.
These keywords should also be high-value, meaning they can bring your the most volume for the cost they entail. That means your agency will check the cost of each keyword and the average volume of traffic it generates. The agency recommends how much you need to bid for the keywords and conducts an audit on your website quality score.
Of course, a good PPC agency will work around your budget. They will choose keywords in the scope of your budget but can still attract traffic you need to get a significant number of leads.
Users who click on your PPC ads make up your traffic, your lead. The fact that they clicked on the ad means they are likely interested in what you offer. That is your signal to reach out to them and guide them into the purchase journey until you convert them to buy.
Your PPC agency will monitor your keywords to figure out what works and doesn't work to make adjustments where needed. At the same time, they will keep looking for high-value keywords for your niche.
Helps Increase the Click-through Rate of Your Keywords
A WordLead study cited by Tech found that 65% of consumers click on PPC ads. Also, paid ads can generate a 200% of return on investment (ROI). You can capitalize on this earning opportunity for your business with the help of your PPC agency.
Let your PPC agency create compelling ad copies that resonate with your target audience and attract more clickthroughs.
Once your PPC ad campaign is up and starts receiving clicks, you also get more leads to nurture to become actual customers.
A high click-through rate (CTR) helps in your organic traffic. The CTR is the number of clicks your ad gets divided by the number of times your ad appears. Your agency should try to get a CTR of about 4% to 5% on the search network or 0.5% to 1% on the display network. This rate raises your website's quality score and helps you rank better on the search results page.
As your website score increases, you'll have fewer need to bid for higher value keywords. You can start reaping more profits. Your paid ad campaigns and organic efforts go hand in hand in helping your website earn higher reputation remarks among search engines.
Ultimately, your PPC agency will help you capture your target market to have more leads and income.
Help Put Your Ad on Top of Search Results 
A winning PPC ad appears at the topmost of the search engine results page. It appears higher than the organic search results, giving your brand and website a chance for better visibility online. Your PPC agency can maximize the optimization efforts for your ad copy and bid on the right keywords to help your ad appear at the top of search results.
Your PPC agency can optimize your ad copy by creating a landing page for it and making sure there are backlinks to increase your online visibility. You can win the bid if your site's quality score is high and the bid amount is within your budget.
Then, once your target audience types the exact keywords in the search bar, your PPC ad will appear at the top spot in search results. The more users click on your ad, the more leads you can convert into income.
Your PPC agency should also optimize for mobile devices. In a study by Power Traffick, also cited by Smallbizgenius, 53% of users click paid advertisements using their mobile devices. Also, companies can earn $2 for every $1 that they spend on paid advertising. Improving the mobile-friendliness of your site pays.
PPC is the investment that will give you the rewards you expect, helping you stay on top of your game.
Analyze Your Ad Campaigns 
A B2C PPC agency helps you improve sales performance by giving you regular reports and analyses on your ad campaigns. Your PPC agency can give feedback on data reports. They can provide insights on CTRs and discuss more strategies to increase the conversion rate.
Discuss the implications of the reported insights and recommend adjustments to your ad campaigns. You can continue bidding for keywords that give you a higher conversion rate and modify words to include those your customers use to find you.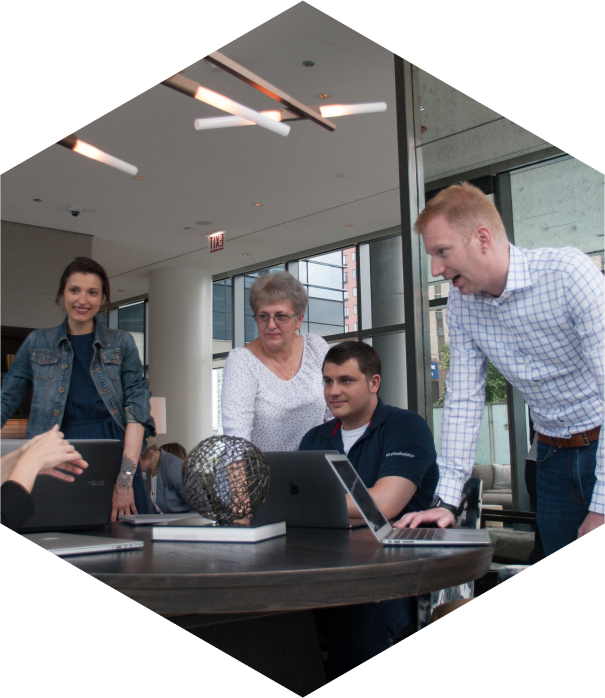 How Can We Help?

Fill out the short form below or call us at:



(888) 846-5382
Your PPC agency is there to do the hard work of data gathering and analysis for you. All you're left to do is reflect on your business goals and decide on initiatives to realize the company vision.
The monthly summary reports from your PPC agency should wrap up the success and challenges of your campaigns. Recommendations to increase sales targets must be present as well. A good PPC agency will ensure that you get the most from your investment.
You will learn more about your target market and their choice of keywords in searching for your brand as you compare more data results and analysis. You'll also get the big picture about the channels they use to purchase your product or service.
Lastly, sufficient data will help you track the PPC ad copy from which they click to go to your landing page. This data comparison will help you create efficient ad copy that drives results.
Final Words
A B2C PPC agency provides solutions to increase monthly revenue and improve brand visibility online. Through careful keyword research and PPC ad campaign implementation, your brand and site gain more traffic and generate more leads that can turn into sales.
A PPC agency's ability to provide accurate data analysis helps you make informed decisions that can chart new directions for your company to grow at the soonest possible time.
Ultimately, partner with a PPC agency that will put your needs first and who makes sure to reach your target.