The future of healthcare is virtual, immediate, and patient-centered, and apps are quickly becoming a cornerstone of that movement.
The market is exploding, and there is more demand – and competition – than ever. What does this all mean? It means that while there are fantastic opportunities for those looking to launch healthcare apps in 2023 and beyond, good medical apps for patients have to be built well, offer enhanced functionality, and be of great value to users.
Companies and providers looking to launch a healthcare app in 2023 or renovate an existing app can learn tons from successful apps already on the market. The best of these apps combine tons of valuable features with an excellent user interface, top-notch security, and built-in communication tools.
---
100+ companies trust us with their mobile app development needs. Watch the video below to learn why.
---
What Is a Healthcare App?
Companies looking to launch healthcare apps can learn a lot by looking at those that perform well and are popular. But what is a healthcare app? Many apps fall under the category of "health" and can do things like teaching you the best way to do sit-ups.
The U.S. Food and Drug Administration defines a mobile health app as mobile software that diagnoses, tracks, or treats disease. This app is different from a wellness app, like tracking the user's steps, miles biked, calories consumed, hours slept, and more.
What Are the Benefits of Healthcare Apps?
Part of the reason healthcare apps have become so successful is that they provide a range of benefits to users. These benefits can include the ability of the user to manage their health better, communicate with providers, receive test results, and document their health care. In addition, the best apps don't just provide a provider's website functionality in a mobile setting. They go further and empower patients to act proactively to improve their health and, in the process, help reduce the cost of healthcare.
What Makes a Good Medical App?
According to one market study, the global mobile health market is exploding, with growth projected at a compound annual growth rate of 11.8 percent from 2022 to 2030. 
But while the projected growth is strong, competition is already fierce. By the end of 2021, there were nearly 54,000 mobile healthcare apps on the Apple app store, an almost 5 percent increase just since the third quarter of 2021.
Simply having a mobile app is not enough these days – any app looking to gain real traction among users and grow in popularity has to meet a handful of vital criteria. It's worth noting that while there are indeed thousands of apps, as stated above, most have relatively limited use – with the majority having 10,000 downloads or less, which in the world of mobile app usage means they are not players.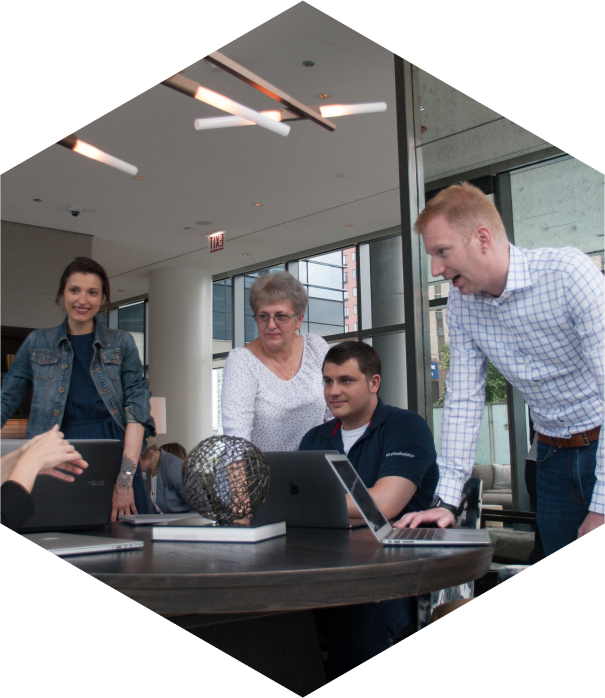 How Can We Help?

Fill out the short form below or call us at:



(888) 846-5382
Good healthcare apps, and ones that get downloaded a lot and make a positive impact on the lives of those using them, share a handful of key features:
They are easy to use:

Most well-designed mobile apps are simple enough to use that most people can get going immediately, though there is evidence that users will welcome a quick tutorial.

They provide clear and actionable information for users:

People download these apps to learn how to care for and manage their health. This information must be easily accessible and easy to act.

Accessible communication with healthcare professionals:

Patients expect easy access to healthcare professionals, whether their primary care provider, a scheduler or a nurse who can answer basic health questions. The app should negate the need for a patient to call the office and may even be used instead of an actual office visit.

They build community:

Studies have shown that a person's health improves when engaged in public improvements and has some form of accountability. Social features in healthcare apps allow patients to ask questions, gain support, and learn.
Best Healthcare Apps for Patients in 2023
Now that we know what makes a good healthcare app let's explore which apps are in the lead. 
HealthTap:

HealthTap gets you answers to health questions from real doctors, with thousands of available topics. There are a massive amount of questions posed and answered by health professionals. While the app is free to download and use, a paid option allows you to post a question and receive a response from a doctor within 24 hours. You can also use the app for one-on-one consultations.

Talkspace:

Talkspace

focuses

on mental health, operating on the premise that convenience is a barrier to seeking care. Talkspace starts with a questionnaire covering needs and care preferences, then matches the user with a therapist. Sessions are conducted directly through the app.

Generis:

Uses personal DNA information from sites like 23 and ME to provide DNA-based fitness, nutrition, and supplements recommendations.

Teladoc:

You would visit the doctor more often if you did not have to make an appointment, drive to a remote office, find parking, and then burn time waiting in a reception room, right? Teladoc cuts out all of that, giving you quick and easy communication with doctors who can quickly prescribe medications or move you on to a higher level of care.

Medisafe Pill Minder:

A simple medication reminder can be a massive benefit for people who take multiple medications or older people who may forget to take their medications or that they have already taken them. Medisafe Pill Minder helps you stay current on your meds and comes with doctor visit management and appointment alert features.
Struggling With Healthcare App Development?
Making an excellent healthcare app is hard work – with changing standards and complex design criteria, most find that they need help. For healthcare app development assistance from pros, turn to Digital Authority Partners. Digital Authority Partners specializes in digital design and also can help you with SEO, digital marketing, and outsourced CMO, all of which will result in more downloads, more monthly visits, and more qualified leads.