One of the many things the pandemic highlighted was the need for greater flexibility in the industry regarding healthcare. The standard practice of face-to-face care required a sudden shift toward virtual care using digital platforms. With healthcare providers already facing a growing population that's living longer, it should come as no surprise that the industry is investing an estimated $250 billion on digital solutions in a bid to revolutionize its practices.
Thankfully, there's no shortage of digital options available to them. For example, Medscape is an app that allows physicians to stay up-to-date on the latest drug information. Additionally, Kareo, a cloud-based app that will enable doctors to access medical records and manage appointments, further shows that there is a whole spectrum of choices.
However, as numerous and varied as these apps may be, they fall into five broad categories. In this article, we will look at these categories, the features that these apps all share, and the state of the digital healthcare landscape in general.
So let's kick off with five main types of healthcare apps available today.
---
100+ companies trust us with their mobile app development needs. Watch the video below to learn why.
---
1. Healthy and Fitness Apps
Probably one of the most popular categories, these apps help monitor the health of a patient and the public in general. Offering guidance on everything from exercise to diet, and nutrition to pregnancy, many of these apps can also schedule appointments with doctors. 
2. Emergency Medicine Mobile Apps
Emergency medicine mobile apps act as a point-of-care reference for physicians. In addition, these apps contain easy-to-access databases of medical conditions, serving as an efficient tool for medical staff when caring for patients in emergencies. 
3. Clinical Diagnosis Apps
Clinical diagnosis apps provide access to a patient's health records (including charts, scans, X-rays, and lab results). A particular portal for physicians to diagnose a patient, with many apps also offering information about symptoms.
4. Medication Tracking Apps
Medication tracking apps help patients keep to their medication schedules. It can track doses, time intervals, and any other factors that might affect their medication—for example, exercise and meals.
5. Hospital Apps
These apps tend to offer broad-based information about medical facilities — from listing the doctors currently available to the kinds of healthcare services being provided, along with ER waiting times.
There are undoubtedly other categories, but the five listed are among the most well-used healthcare apps and contain the most popular features of healthcare apps. These features include the ability to locate doctors, book and cancel appointments, get prescription reminders, access personal medical records, download medical reports such as X-Rays and MRI scans, etc. However, as varied as these features may be from app to app, there are two underlying functionalities that every healthcare app must have to make them viable tools. 
The first is the ability to gather medical and patient data quickly from several different sources. There's little point in an emergency mobile app or medication tracker if they don't account for all the variables in the decision-making process. Medical apps, therefore, must have the functionality needed to access everything from medical records and appointments to doctor profiles and ER waiting times — and they need to be able to do it in real-time. This involves a lot of different platforms exchanging a lot of different types of data — and with no consensus yet on a common standard (current FHIR guidelines come in four versions). However, as challenging a task as data gathering may be, it pales in comparison to the second, and arguably most important feature required by healthcare apps.
Data Security and Privacy    
The safeguarding of personal data has become a flashpoint in the digital world, and no more so than in the healthcare app arena. Healthcare providers walk a constant tightrope, balancing the protection of patient privacy with the need to offer fast and effective care. In addition, any required apps meet strict regulatory requirements set by HIPAA (Health Insurance Portability and Accountability Act).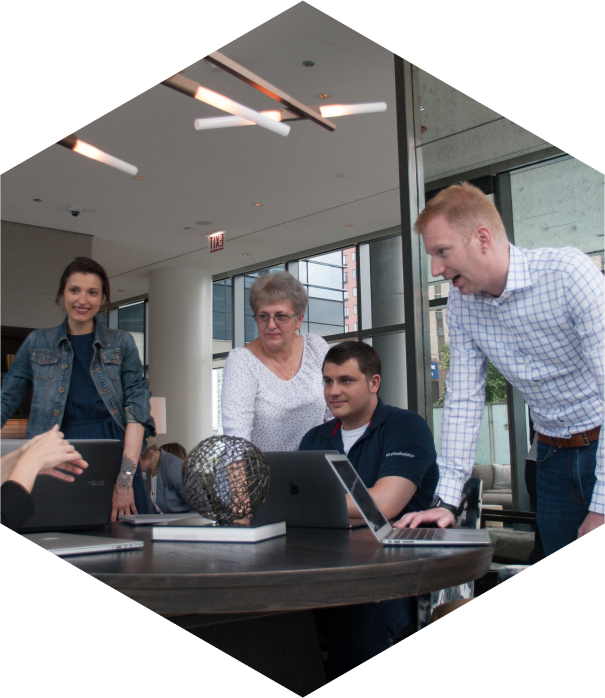 How Can We Help?

Fill out the short form below or call us at:



(888) 846-5382
Of all the personal data available on an individual, their health records are perhaps the most sensitive — and for criminals, the most valuable. As a result, any app accessing or transmitting this information must meet HIPAA's data protection requirements or face a hefty penalty.
What complicates the issue further is that there isn't a global privacy act — the data laws that an app observes in the US won't be the same as those in Europe. With Canada having its own set of privacy laws and many other countries following in turn, the complexity of the issue can quickly become a minefield for app developers. 
An extraordinary amount of care needs to be taken by medical staff when using apps to make sure they don't compromise a patient's safety in the name of convenience. So how do patients feel about this move into app-driven healthcare?  
The Digital Healthcare Landscape
According to a study published by ITOnline, nearly 66% of Americans prefer digital health management to the physical variety. With 79% saying they'd be willing to wear a digital device in order to manage their health. 
These positive figures — for the US, at least — have been a contributing factor to the explosion of healthcare apps in recent years. With over 350,000 mobile health apps now available in popular stores (a figure that includes health, fitness, and medical), the number of healthcare apps has nearly doubled since 2015. In addition, increased smartphone usage and recent investment in the health market have primarily increased mobile health apps. 
A third of all doctors are starting to prescribe apps to their patients as part of their treatment. So healthcare app development is a vast business ready to grow. You may think dating apps are popular, but Americans seem far more concerned about the number of steps they've walked than who they're meeting up with at the end of it.