With the legalization of marijuana happening left, right, and center, it was just a matter of time before the cannabis industry enjoyed unprecedented growth.
One specific subset of the cannabis industry is all the rage right now, so much so that it is turning into a multi-billion-dollar industry on its own. According to market analysts, the CBD oil segment is expected to be worth around $20 billion by 2024.
As a consequence, more and more players are entering this market.  It is already an uphill battle trying to differentiate your CBD e-commerce business from your competitors.
It therefore becomes obvious that brands need to adopt a proper CBD marketing strategy if they are to rise to the top of the graph and stand apart from their competition.
To that end, we've put together a comprehensive cannabis and CBD oil marketing guide to give you a holistic picture of how to market your CBD brand like a pro in 2021 and beyond.
---
Watch this video to find out more about how Digital Authority Partners can create a great marketing strategy for you!
---
What is CBD?
Cannabidiol - often abbreviated CBD - is a popular compound that is extracted from the flowering tops, leaves, and resin of two strains of the cannabis plant: industrial hemp and marijuana. You can read more about it here.
CBD belongs to a broader class of compounds called cannabinoids that are found in abundance in the cannabis plant. There are around 113 known active cannabinoids on the plant; THC is the most prevalent, with CBD right behind it.
Unlike THC which, when ingested or smoked, is known for delivering the "high" feeling typically associated with marijuana, CBD doesn't produce a sense of euphoria, hallucination or psychoactivity when consumed.
The marijuana plant has plenty of THC — or Tetrahydrocannabinol; it is also a decent source of cannabidiol.
How big is the CBD market?
The CBD market is already huge, and it is growing rapidly-thanks to increasing acceptance by consumers, continued research into its benefits and favorable legislation like the federal Farm Bill 2018.
Conservative figures say CBD sales will rake in more than $1.8 billion annually by 2022, an impressive jump from sales of approximately $500 million in 2018. For a couple of years, experts have forecast that the CBD consumer market will soon outperform the entire legal cannabis industry.
However, a closer look at performance trends shows that the CBD market in America is actually following in the footsteps of the legal marijuana market, which is estimated to be worth over $23 billion in the next half decade or so.
Why has CBD become so popular?
Why are millions of consumers indulging in CBD products these days? The following noteworthy benefits may explain its popularity:
CBD is not psychoactive. This is the overarching property that makes CBD be perceived as more acceptable and safer than other cannabis products. As already mentioned, unlike THC, CBD doesn't have any psychoactive effects when vaped, smoked, ingested, or applied to the skin. In short, anyone can use it without the risk of getting high, which is a big plus.
It's legal. Perhaps the most defining reason why CBD has enjoyed a popularity wave is that the sale of CBD products became completely legal after passage of the Agriculture Improvement Act of 2018 (aka Farm Bill 2018). You cannot say the same about other cannabis products in the US, such as marijuana, which has yet to be legalized in the majority of US states.
It's an effective alternative treatment. There are hundreds of scientific research studies and reviews showing that CBD is indeed effective in addressing a wide array of conditions related to depression, anxiety, and pain. Here are some demonstrated CBD benefits:
CBD oil fights pain. Studies have shown that CBD is a promising alternative treatment for the pain associated with a number of conditions: migraines, Multiple Sclerosis, muscle spasms, arthritis, lupus, digestive problems, cancers, and much more.

CBD oil

soothes depression. CBD has been found to increase the levels of happy-feel hormones such as serotonin. These biochemicals promote calmness and deactivate the compounds responsible for sadness, hopelessness and other symptoms of depression.

CBD oil helps with cancer pain relief. CBD has shown great potential for alleviating pain related to cancer and cancer treatments, for example: chemotherapy.
If that isn't incredible enough, scientists and researchers have carried out studies that seem to suggest CBD can be a potential treatment for many cognitive decline and brain-related conditions such as: Huntington's Disease, Alzheimer's Disease, PTSD, bipolar disorders, Parkinson's Disease, Lou Gehrig's disease (ALS), and more.
In fact, the first-of-its-kind CBD-based drug for epilepsy, Epilodex, has recently been green-lighted by the Food and Drug Administration.
Marketing a CBD brand
Given that the barrier to market entry is significantly low for the industry, starting a CBD business can be quite attractive. That's why the number of CBD stores has mushroomed into the thousands almost overnight, both online and in the brick-and-mortar segment.
The truth, however, is that getting a CBD brand off the ground can be particularly challenging. Marketing your CBD brand can be even harder, especially considering the fact that many people are still not well-educated about the differences between CBD and marijuana.
The challenges with CBD marketing brands
Despite the boom in the industry, CBD businesses and the market as a whole are facing numerous challenges, most of which have to do with legislation, legality, and consumer confusion.
Challenge #1. Lack of education
Despite the recent surge in popularity, CBD has been riddled with confusion right from the start. Gradually, a growing number of people now know what CBD is.
What most people do not know is that CBD is a completely legal, safe and effective alternative to other medications. A stigma is still associated with CBD oil because of its relation to marijuana and hemp, both of which can be used for recreational purposes. So, a hesitation towards embracing CBD products continues.
Challenge #2. The market is getting crowded
The CBD market is highly unregulated. In addition, the hurdles to entry are so few that literally anyone can jump on the CBD bandwagon.
The rapid popularity of CBD products and the unprecedented growth of the industry means that the market is likely to eventually face the same stiff issues that once plagued the craft beer industry. 
If you aren't familiar with that situation, craft beer producers have been struggling in the last few years after a multitude of local breweries started popping up across the country.
As the market becomes oversaturated, only the most strategic CBD brands will weather the cut-throat competition. That's where several factors come into focus. 
Factors like proper branding, a well-defined CBD marketing strategy, and product placement are some of the checkpoints that must be in place to ensure that your brand will grow in this incredibly competitive market.
Challenge #3. Brand fit
CBD products have become a sort of cure-all, making it more difficult for any brand entering a market to know where exactly it should be positioned.
Should you focus solving pain problems? Or depression? Should you work within the pets or food industry? Finding a proper fit for your CBD brand is critical to properly positioning it.
Most brands fail to do determine brand fit. You can see this for yourself. Just check out Purekana, NuleafNaturals or PlusCBDOil, some of these are brands that command the lionshare of online traffic. None of these brands have a specific unique angle or brand mission that is stands out. They sell the more or less the same products and do little, from a branding perspective, to capture new buyers.
Brand differentiation is an all-important element that can make or break your CBD marketing strategy. The health benefits of CBD are overwhelmingly diverse. The market should be the same.
It is important to position your brand in a way that it resonates well with your target customers. Craft your brand and products to better meet their preferences, solve their problems, and match their personalities.
Challenge #4. Targeting the right audience
The legal status of CBD products varies from state to state. CBD consumers can come from all backgrounds, ethnicities and age groups. As such, developing the right targeting strategy can be a challenge if you don't have answers to the right questions from the outset.
Which age group should you target? Who should be your typical customer? What symptoms or conditions are your target audience trying to alleviate? What motivates each type of buyer when buying CBD oil?
These are some of the key questions you need to answer before building your brand and defining your CBD marketing strategy. For example, if you choose to market to the vaping community and arthritis sufferers, how will you straddle both lines?
More importantly, you must consider your competition when picking the right targeting strategy. Remember that some of your rivals might not be CBD-oriented. Some of them could offer prescription meds and natural remedies. Do you have what it takes to go after both types of target competitors?
Challenge #5. Conflicting and confusing laws
It is not a big secret that laws relating to sales of CBD products at the local, state, federal and international levels are complicated, confusing and of a conflicting nature in most cases. This has led banks, lenders and other potential partners to perceive CBD brands as high-risk businesses.
Needless to say, this can make it quite tricky for CBD brands to work with ad agencies, investors and consulting firms.
Building a CBD brand the right way
Building a brand is hard. Period. Building a CBD brand, in a market that is still in its infancy, with off-of-the-charts customer expectations, and industry specialists who are utterly clueless about positioning brands in a way that is both meaningful and memorable, quickly becomes even more difficult. 
What we're going to share with you below is exactly what we told each and every one of our clients. Feel free to use the information below as a template when thinking about how to best position your brand for success.
1. Determining and setting the brand fit
Against the background of these challenges, creating a rock-solid CBD brand begins by showing your target audience that you are unique and poised to offer something different that is absolutely worthy of their money.
Know your target customer. Like everything in marketing, you should begin your CBD branding journey by knowing your target audience and their pain-points. Gain a deeper understanding of who you will serve, what your products will provide them, and how you will position them.
What are the likes and dislikes of your target audience? What do they want to gain from CBD products? Are they after health benefits, recreational use or both? Where do they live, and what laws are applicable?
For example, during our research last year we discovered that the elderly are the best target audience. Earlier this year, a report from Forbes reached the same conclusion. Secondly, pain management is the most "popular" condition among CBD users. A brand that wants to excel at propelling its CBD brand as one of the best in this space should leverage these two data points when crafting brand strategy.
Next up is to throw an eye on your competition. Research the competitors in your chosen niche and market area. Be sure to also check how they are doing what they do. How much traction do they have with your target audience? What are their strengths, weaknesses, and selling points? 
When it comes to analyzing your competition, leave no stone unturned. This way, you will have enough information to plan your attack and create a sound brand that stands taller than the rest and outpaces the competition. We talk in more detail about all competitor analysis in this article. 
Define a value proposition for your brand and your products. The value proposition is what you bring to the table, and therefore forms the core part of your competitive edge. It tells your target customers why they should buy from your brand, and not from your rivals.
Here's an example of a compelling value proposition based on the example above: elderly customers using CBD oil. 
[Brand's name] mission is to help every senior citizen live a better life. Our products are 100 percent natural and can help you manage your pain so you can enjoy spending time with your loved ones.
It's simple. It presents the benefit. It addresses a common problem for many elderly people: pain management. 
Most importantly - it focuses on one benefit versus being just a generic CBD brand which helps nobody!
When defining your value proposition, make sure to keep the following points in mind:
Take a look at your closest competitors. Study their unique value propositions (UVPs). In doing so, you can fashion your own UVP based on what works for them and improve on where their marketing strategy fails.

Discover the singularity of your brand and its products. What can make your brand truly different? Include this in your value proposition.

Include a well-defined mission and vision statement so the target audience can identify with your brand and beliefs.

Make sure your brand benefits are crystal-clear to the customers. Once you have zeroed in on the benefits, try to describe why they are valuable to your ideal target consumer. In other words, how are your CBD products going to deliver value to the end user?

Don't forget to make a connection between your UVP and a problem that your target audience wants to be solved for them.

Speak your customer's language. Use clear, non-ambiguous language that customers can understand.
2. Create a distinct identity
CBD products are plentiful and most serve the same purpose. For your brand to be easily differentiated, create a distinct identity. What is the most memorable thing about your brand and your products? What is your elevator pitch?
Work on a robust brand strategy that will be used as a guideline to identify and promote your products. Revisit your UVP, knowledge of your target audience, and set clear goals that will form the foundation of your brand strategy.
Craft a message for your brand that resonates with your target audience. Again, you should know the ins and outs of your target customer. What they are like, what they are after in CBD products, and what makes them tick.
However, before you do this, you need to put yourself in the shoes of your target audience. A recognizable brand is not only loved by, but also appeals to the customer on a more personal and emotional level. After all, 59 percent of people say they would purchase a new product from familiar brands.
Clearly communicate your brand message with customers and employees. Creating an identity isn't always enough. You have to instill your beliefs, brand message, and mission in both your employees and your customers. 
Educate. It pays to educate your customers in the CBD industry. The base ingredient (CBD) is well known. However, people still do not know enough to use CBD products. Educate your target audience about how CBD can help them. Teach them about the nuances of CBD oil and let them learn more through you.
Use this teaching as an opportunity to show how your products are better than anyone else's out there.
3. Build a robust presence online around your CBD oil brand
Take advantage of affiliate and influencer marketing. 
Give your brand more recognition by collaborating and partnering with like-minded micro-influencers. These are online personalities with a large social following.
They have great influence over millions of social media users, and they can help build buzz and pizzazz for your brand.
Extend your brand online to make it instantly recognizable as a leader in the industry.
Invest in building an online presence that will be your 24/7 spokesperson. 
When you have a brand that is recognizable online, it can interact and engage your target audience even when you are offline. 
In this way, your online presence will market and sell for you nonstop. The best part of this is that you don't have to spend a fortune to accomplish this.
4. Build and own an email list
Despite the negative talk around email marketing, email is very much alive and kicking. In fact, one of the best ways to promote your brand online is through compelling emails. It is effective and enjoys a high click-through rate (CTR). In fact, according to a 2014 study, email delivers the highest return on investment (ROI) among most marketing avenues.
Even better, there are numerous email marketing tools out there, most of which are free and easy to use.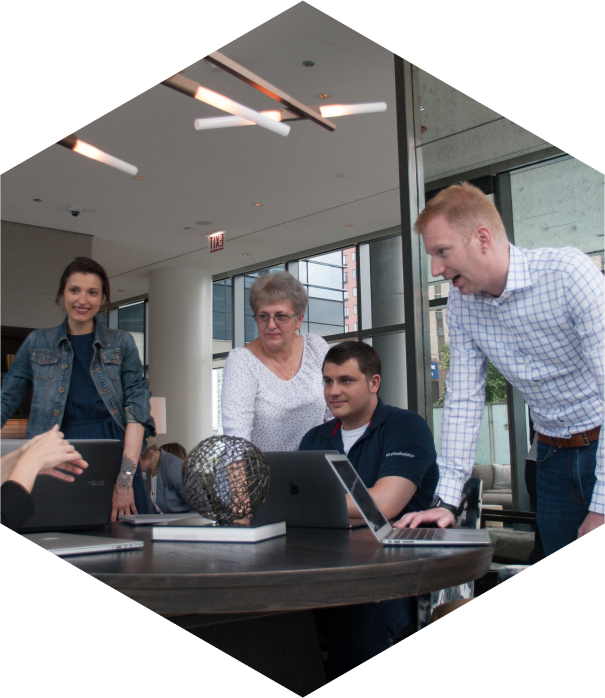 How Can We Help?

Fill out the short form below or call us at:



(888) 846-5382
It is 5 times more expensive to attract new customers than to keep the current ones. Email can be a great way to ensure they are engaged and happy, as well as keep your brand at the top of their minds.
An actionable email strategy begins with a vibrant and highly segmented emailing list. 
That's why you need to build an email list that will be used to reach out to target users and regularly keep in contact with them. Here are some tips that will help you stay on top of your email list-building efforts:
Leverage social media channels. Include click-through-ads (CTAs) in your Facebook posts. Pin a tweet with a "subscribe to my newsletter" CTA. Create a CTA-oriented post on Instagram. Your possibilities are truly endless.

Make sure to upgrade pop-ups within your blogs, articles, white papers and other content.

Take advantage of blog and article teasers.

Create slide-ins for your landing pages, blogs, and more.

Timed pop-up surveys have also proven to be very effective at getting feedback and building an email list.

Clearly describe benefits and value in your call-to-action.

A little humor and a fun twist to your CTA will not hurt.
Ultimately, you will have to create a compelling newsletter series that will always keep your brand at the top of their minds.
5. Craft a winning PR strategy
Create a robust PR strategy that will educate your customers, promote your brand, and boost engagement. Here are some few points to remember:
Keep in mind that modern PR is more relational than ever before. So, keep it personal and tailor your content and PR message accordingly. That's why it pays to know your audience: so you can align your brand story.
Identify PR outlets that resonate well with your target audience. Your customers will likely pay attention to media coverage published on sites they trust. As such, you need to prepare a list of relevant outlets that will most likely get their attention.
Good candidates can be micro-influencers, journalists, editors, press release sites, newspapers, industry thought leaders/influencers, TV channels, high authority blogs ... the whole shebang. These are the partners who will help push your PR message and get people talking about your CBD brand. All this should be part of your robust marketing plan. 
Create relevant, quality content that is strategic in nature. You content-related CBD marketing initiatives and deliverables should add value to readers, as well as align with their views, tone, and style. 
To this end, given that the CBD oil market is in its infancy, it will help to focus your CBD marketing strategy on informational content. Create content that helps users become more educated about what their interests. Let's use the example mentioned above: how the elderly use CBD oil. If you were targeting this audience, your blog should have articles on any of the following topics:
10 reasons seniors turn to CBD oil for pain management

Can CBD oil help improve your memory?

Does CBD help with neurological disorders?

How CBD works for pain relief

CBD & Arthritis: Does it relieve symptoms?  
Or even consider creating and pitching PR outlets with news-like coverage along the following lines:
Why more than 50 percent of patients with arthritis who use CBD report positive results

Why the CBD market is expected to hit $16 billion by 2025

5 stats proving that CBD oil can help with Brain Health
In the words of Leo Burnett, "Make it simple. Make it memorable. Make it inviting to look at. Make it fun to read." 
And make sure your PR pitches are specific and to the point about what your target audience wants.
6. Content syndication for your CBD business
As a marketer, you know that content is everything.
However, creating high-quality, engaging content that is original and relevant to your target readers is only half of the battle. The other half is getting your content in front of the right audience, wherever they are, and at the right moment.
Content is an effective way to immerse your customers in a brand's story and experience.
That being said, you need to spread the educational content you create through syndication to third-party sites. These should be high-authority websites, blogs and digital magazines that will get many eyeballs on your content.
Increase SEO by taking these actions while increasing awareness about CBD and, specifically, your brand. That calls for a comprehensive SEO and SEM strategy that takes mobile and local SEO into consideration.
Stay at the top of search rankings when people search for CBD. Sprinkle relevant CBD-related keywords throughout your content to make sure that your brand, business, and products are found easily via search engines, most notably Google.
7. Create complimentary types of content
US adults now spend nearly 50 percent of their day interacting with content. That's a good thing for your CBD brand, but you need to up your content game.
Do not solely depend on traditional content (articles, blogs and emails) to educate and promote; work with other formats such as videos and podcasts. The more variety of formats that contain your content, the more engagement and buzz you will get for your CBD brand. 
Following these guidelines and promoting your product the right way will bring more people to your site and consequently, boost your brand.
Unfortunately, today's online user has an attention span of about 8 seconds. 
That's all you get. 
You need to keep rotating the content as well as adding new stuff that will always keep your brand relevant. Keep your content not only exciting and fun but also fresh and valuable to the reader.
Summary
The CBD industry will continue to grow rapidly for the foreseeable future. It is expected to become a $23 billion dollar market by 2025.  More and more players will continue to enter the fray, and the competition will certainly become ever more stiff.
How do you build and market a CBD brand that will withstand the heat?
Ultimately, marketing a CBD brand follows the same general rules as any other brand. However, in the case of CBD, there is an industry factor present as well.
The industry is constantly evolving and it will be a few years before it matures. 
The right strategy will take both the brand and the industry into consideration to ensure the brand gets a foothold now and consolidates its position as the industry evolves.
Ultimately, taking the right steps will go a long way when connecting with the target audience and propel the brand to the top of the pile.
Not sure where to start? Drop us a note by clicking on Contact us at the top right of this page or call us at 312-820-9893 for a free audit of your current CBD marketing efforts.