Admit it—"product manager" sounds a lot like "project manager" or "project lead," two other hot roles in tech and enterprise. From the outside looking in, they start to look interchangeable.
But a product manager is a distinctly different and hugely important role in manufacturing, marketing, IT, and service industries, guiding the development, strategic direction, and improvements of a product. 
And in the digital age, product management is fast becoming the role that many aspire to but for which few are chosen. A talented product manager is worth his or her weight in gold to any digitally enabled companies - from manufacturers to ecommerce, healthcare to finance, and everything in between. 
A good product manager will enjoy job security, career longevity, and financial prosperity. So let's dig deep into what a product manager is, what a product manager does, and what makes a product manager good.
Introduction to Product Management
Compared to other roles within an enterprise, a product manager is a generalist, a jack-of-many-trades, and a cross-functional leader. A fabulous product manager is not a salesperson, an engineer, a developer, a designer, or a stakeholder … but it helps the product manager immensely to know a little bit about all of the above. 
In a nutshell, a product manager is the champion of a digital product. For example, Netflix is a digital product. A great product manager has no turf to protect—not engineering dependencies, not stakeholder hypotheses, not marketing objectives. The product manager's whole job is ensuring that a new product in development, or a new feature of an existing product is viable, functional, and profitable. And ensuring that he or she uses data to inform both new features and product optimization techniques to improve online conversion - whether in the form of sales, leads, signups, or engagement metrics. 
What is a product?
What does a product manager do? Manages products, of course. It's a deceptively simple designation that seems like it should be self-explanatory, but it's not. 
In order to understand the role, you need to understand what needs to be managed. What exactly is a product?
Many people think of "product" as the merchandise that sits on the retail shelf or an Amazon listing, waiting for you to buy it. 
Product managers know that there's much more to it. In the digital age, a product is defined as a digital experience - with rules, standards, design guidelines and user experience considerations that fall in the purview of a product manager. In this context, a product is defined as a holistic digital experience, not widgets, app icons, or a physical product.
What makes up the holistic experience of a product, from a product manager's perspective? Here's the "product equation":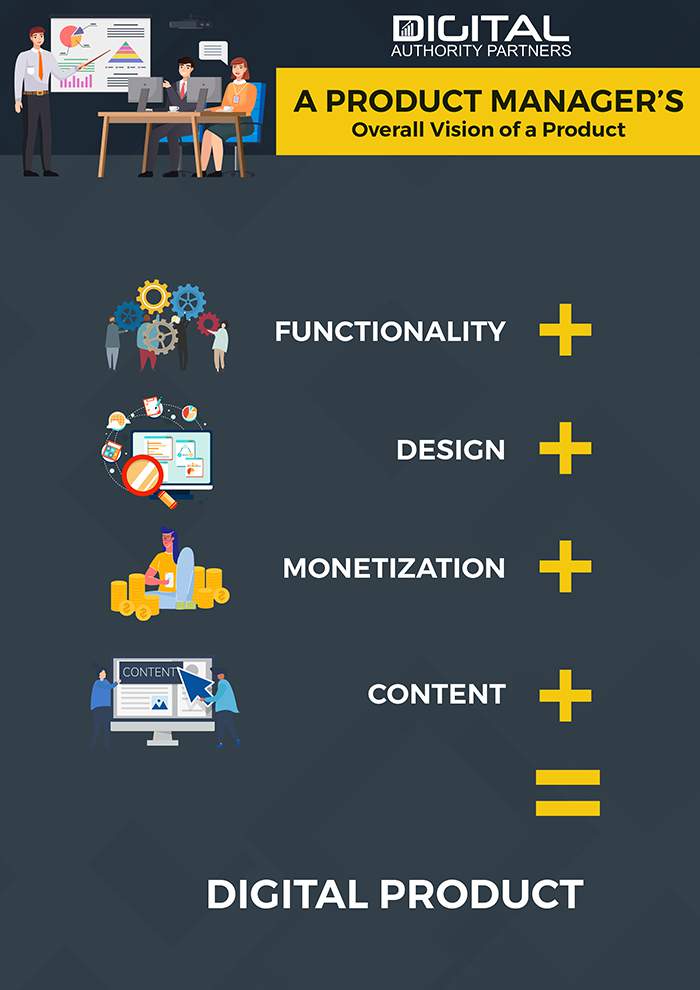 Digital Product = Functionality + Design + Monetization + Content
Let's break down each of these components, one at a time:
Functionality: How the user interacts with a digital experience from the moment they land on it to the second they leave the site/mobile app. 
Design: The visual aesthetic and interactive interface that a user experiences. 
Content: The information presented in a digital space that supports a digital product, engages users and compels them to take a specific action online, usually in line with the monetization strategy set forth for a digital experience. 
Monetization: The revenue strategy. This may seem more like a business function than a holistic user experience function. That said, the holy grail key performance indicator that a product management team is successful is often tied to the revenue or the revenue potential a specific digital experience brings to an organization. 
The product equation sets each product management challenge on the same playing field. Whether it's a physical or digital product, the job of the product manager is basically the same—to address all four components of the holistic user experience to create a viable product.
What is Product Management?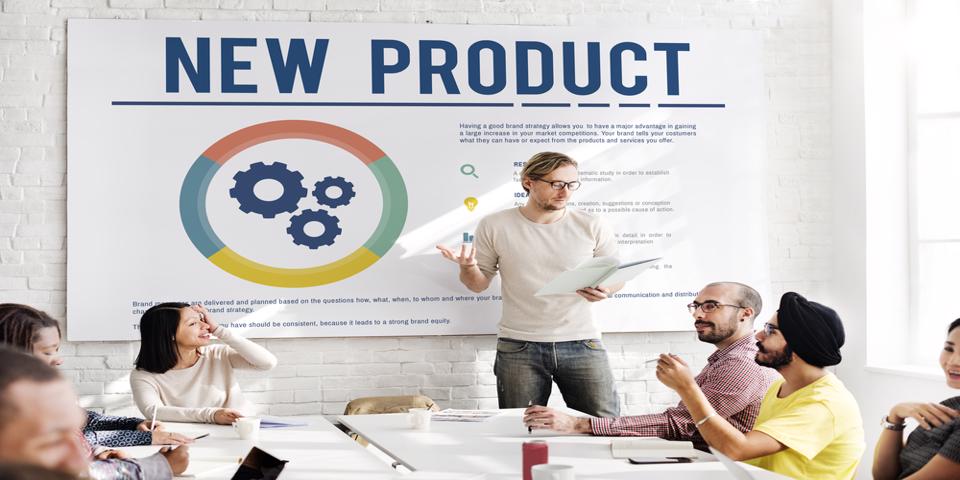 Now that we know what a digital product consists of, we can define the role of the product manager. Product management is an organizational function that encompasses the art and the science of shepherding a product through all stages of its life cycle, from inception to launch and then continuous improvement strategies that are defined and implemented throughout the product's lifecycle.
Product management is essentially a business function, focused on maximizing the business value of a product. That said, it is a business function that must keep its perspective focused with laser-precision on the customer. 
Remember, the customer's experience is the product. Understanding how the customer interacts with and responds to the company's value offering is essential to creating a viable product that will produce revenue and profit for the company. If the customer's experience of the value offering isn't as intended, product management must fix it, aligning the company's value proposition with the customer's needs and preferences.
Put differently, a product management team is successful if the user never thinks about how they're interacting with a digital platform. It should be seamless. Think Amazon.com - when you go to the website to either find a new product or buy a specific one from the site, your mind is on auto-pilot. You don't have to think at all about how you interact with the site. That is the definition of greatness in product management: frictionless digital interactions that do not make users think, even for a second, how to interact with a web, mobile or wearable device. 
Who is a Product Manager?
The product manager is the product's champion, spokesperson, and nurturing force ultimately responsible for whether the product succeeds at a specific company. That is if the employee is truly empowered to make a difference and not blocked by certain internal forces (misalignment among stakeholders) or external forces (competitors, traffic to the site, etc). 
The buck stops with the product manager. If the project succeeds, the product manager gets a big portion of the accolades. If the product fails, the product manager has to own it. Therefore,  the product manager must be a vigilant advocate on behalf of the product, with a constant eye towards making the product experience better for the consumer, customer, or end-user.
The product manager is a servant of two masters in some way—bridging the gap between the needs of the customer and the business needs of the company. This can be a tough gap to bridge. Successful product managers create a vision of success for the product, and rally other stakeholders to adopt that vision and turn it into a reality. 
Product Manager vs. Product Owner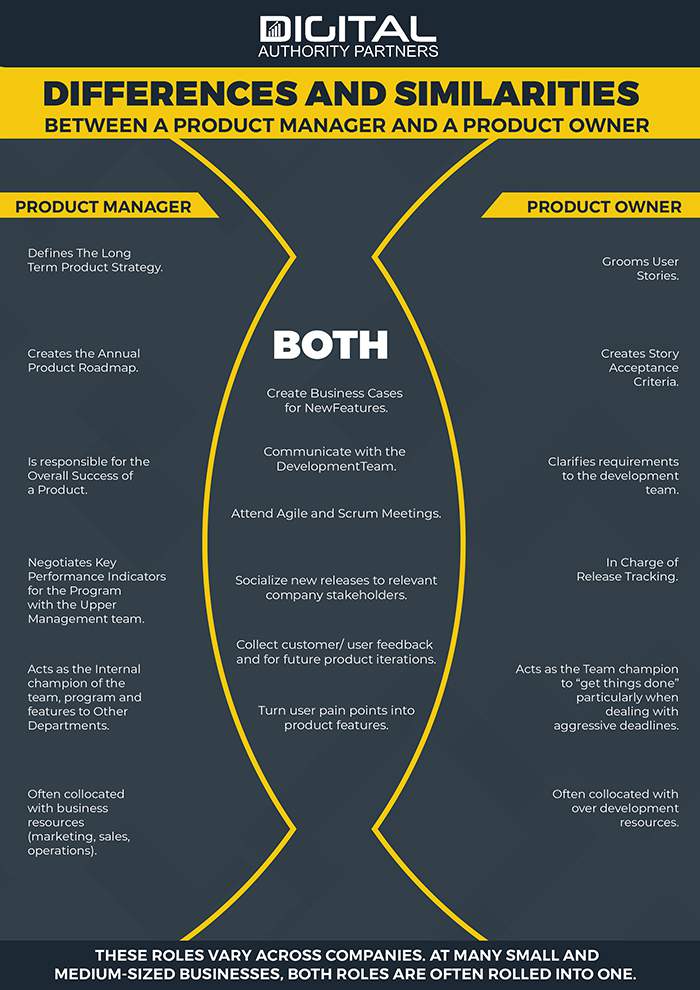 You might feel you're starting to get a handle on this whole "product manager" business until you wade further into the weeds of industry jargon and discover the term "product owner." Is it the same thing? Isn't the person who "owns" something the person responsible for managing it? Is the "owner" the inventor? Do they get royalties?
None of those end up being true. "Product owner" is a different organizational function than product manager, and it's one that exists mostly in organizations that practice Agile Methodology. 
In Agile-led organizations, the "product owner" takes a tactical, practical view of product development and implementation. His/her job is to translate the vision of the product into actionable tasks, and then execute those tasks in collaboration with cross-functional Agile teams (project managers, UX architects, designers, developers, QA specialists, merchandising departments and more). Put differently, what the product owner "owns" is the Agile backlog, not the product itself. A product owner may also own a specific component in a product experience versus the entire product. A great example would be a "top of funnel" product manager at Amazon.com who owns only the Homepage experience, the Browse and Search Experience, or the Cart and Checkout experience, rather than the end to end web experience. 
What can we learn about the role of the product manager, contrasted with the product owner? The product manager must articulate the vision that the product owner must then implement within cross-functional Agile teams.
How does a product owner fit into the overall team?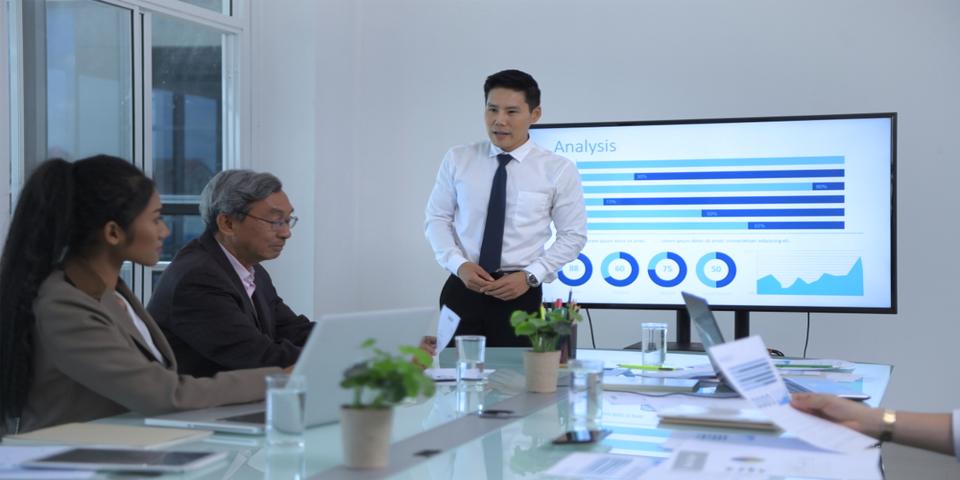 Let's dig into the role of the product owner by doing a side-by-side comparison between the roles of the product manager and the product owner. Note that at most small to medium-sized businesses, the role is one and the same. It's usually large companies and enterprises where there is a clear distinction between the two roles. 
Primary View
Product Manager—External. Stakeholders, senior management, outside the company.
Product Owner—Internal. Agile team.
Accountabilities
Product Manager—The "voice" of the product. Creates the product vision. Understands the macro forces within the industry, including macro product trends, competitive analysis, etc.
Product Owner—Leader of the Agile team. Owns and orders the backlog. Ensure the product features are in line with the expectations of the product manager.
Tasks
Product Manager—Roadmap creation, prioritization, requesting funding for the project.
Product Owner—Requirements gathering with stakeholders, detailed requirements grooming, participate in Agile team rituals.
Crossover Between Product Manager and Product Owner Responsibilities
Participate in stakeholder discussions.
Participate in demonstrations. 
Creating epics and user stories.
Organizations Using Product Managers
Not every organization has clearly defined the role of a product manager. In the history of corporate organizational structures, it's a relatively recent addition. However, many brands with decades-long records of viable and successful product launches attribute their success to their investment in product management as a discipline and practice.
Bottomline on top: Here's a quick high-level infographic showing how Product Managers are integrated within a typical organization.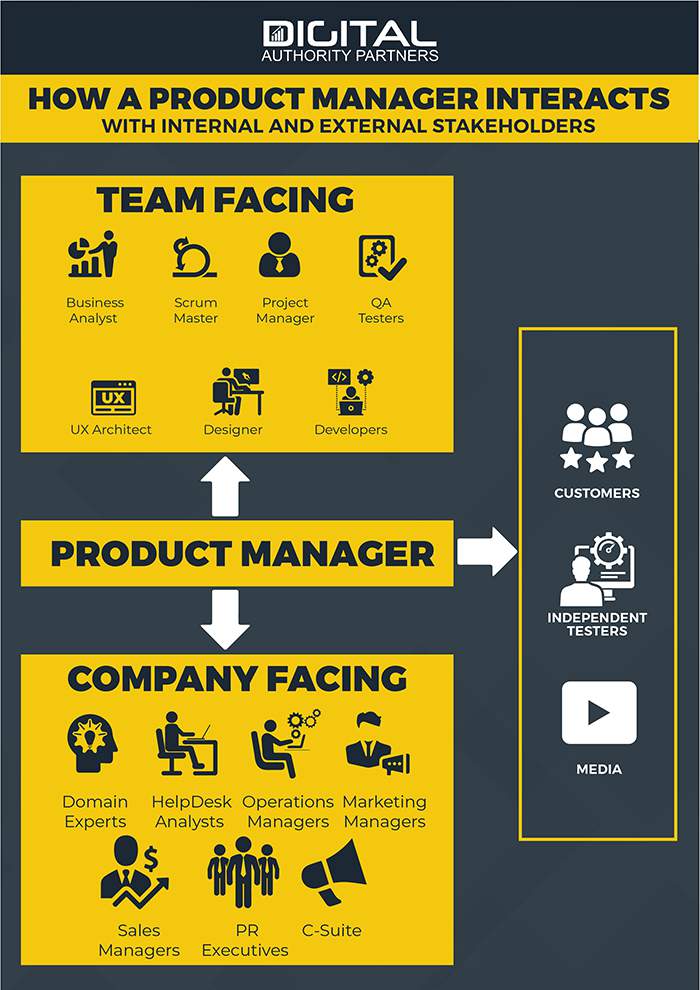 Brief History
Product management can be dated back to a memo written in 1931 by Procter & Gamble employee Neil H. McElroy to justify the creation of a new role. McElroy wanted to hire "brand men," people in the organization who would represent and advocate for the "brand" in internal meetings. 
Then as now, the "brand" was the customer-facing identity of the company, how customers would come to experience the company. As we have already discussed, from the standpoint of product management, the experience is the product.
Tech giant Hewlett Packard took McElroy's "brand man" concept a step further by recognizing the public-facing nature of the brand. That meant that the "brand man" had to know how the public experienced the brand. It was the job of the "brand manager," later the "product manager," to be close to the customers, immersed in their experience of the brand, and serve as the customer's ambassador in the boardroom. The thought process was that the "brand manager" will represent the voice of the customer and push an organization towards aligning their business goals with the goals of the consumer. 
The brand manager would speak for the customer in business meetings, keeping the stakeholders focused on how the public would react to their products as they refined them, or launched completely new lines of products. Hewlett Packard credits this investment in and focus on the "brand man" approach to its jaw-dropping 50-year unbroken record of 20%+ year-on-year growth between 1943 and 1993.
Product managers played a key role in the development of physical products for decades. When the Internet age ushered in the popularity of digital products, the product manager role adapted to fit this new landscape by applying the same four-variable product management equation (Functionality + Design + Monetization + Content) to a digital-product paradigm.
Types of Industries
With decades of history behind it, the product management discipline represents a crucial part of the organization of many well-established companies, as well as newer companies, that manufacture physical or create digital products.
Product management is much more ubiquitous in digital industries. Most of the titans of the digital space have well-defined product management divisions. Check out the infographics below for some of the most well-known companies that leverage product management per industry.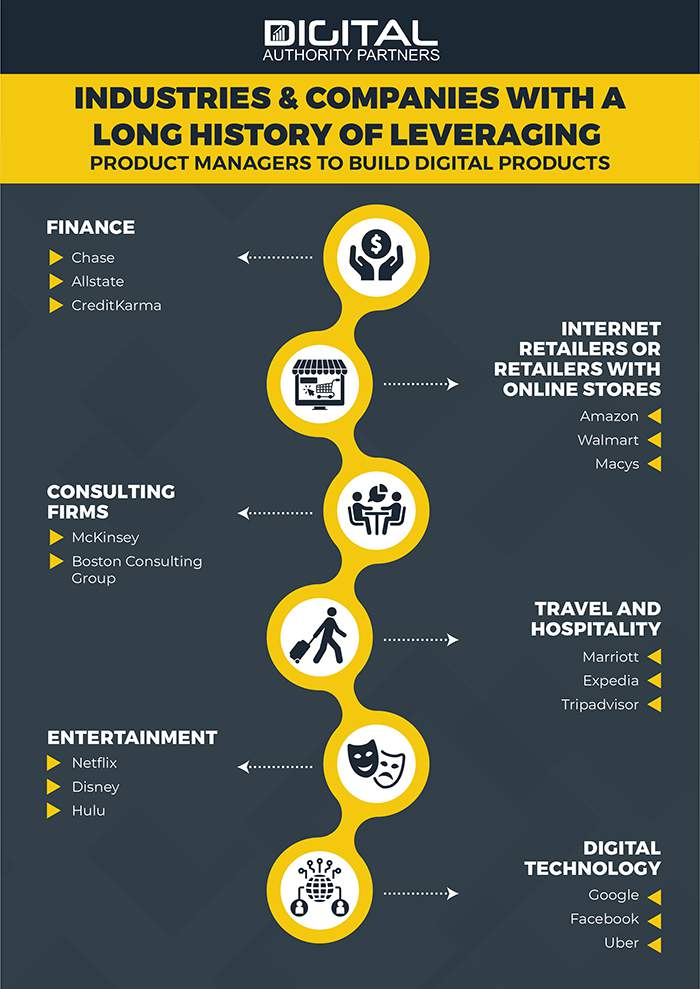 These include:
Digital technology (Google, Facebook, Uber)
Finance (big banks, fintech)
Entertainment (Netflix, Disney)
Internet retailers or retailers with online stores (Amazon, Macys)
Travel and hospitality (Marriott, Expedia)
Consulting firms (McKinsey, BCG)
How much do organizations pay product managers?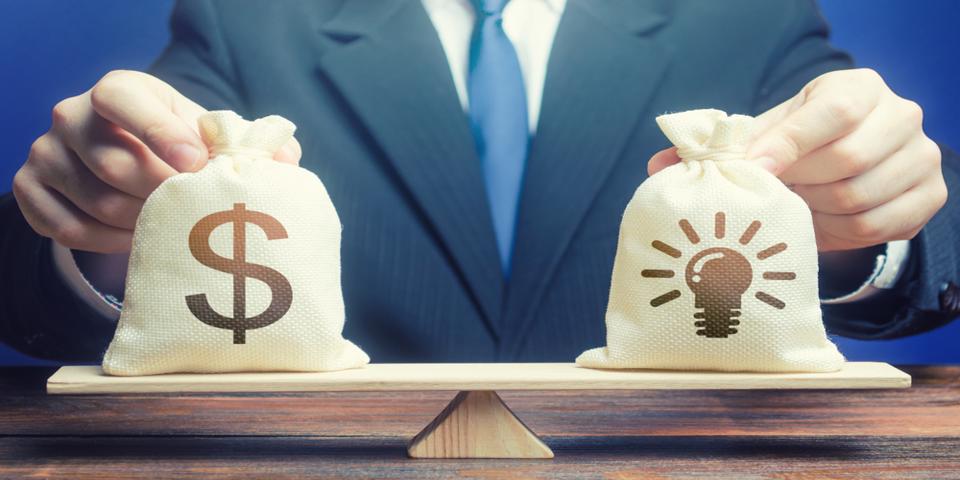 There's no standard pay for a product manager. Product management compensation depends on many factors, including:
The maturity of the product management department within the organization.
Position of product management in the organizational hierarchy.
Seniority of the employee.
Experience and/or track record of an applicant.
Negotiation skills of the applicant.
Salary paid by competitor organizations.
Bottomline on top: Here's an infographic showing average salaries for product managers across industries.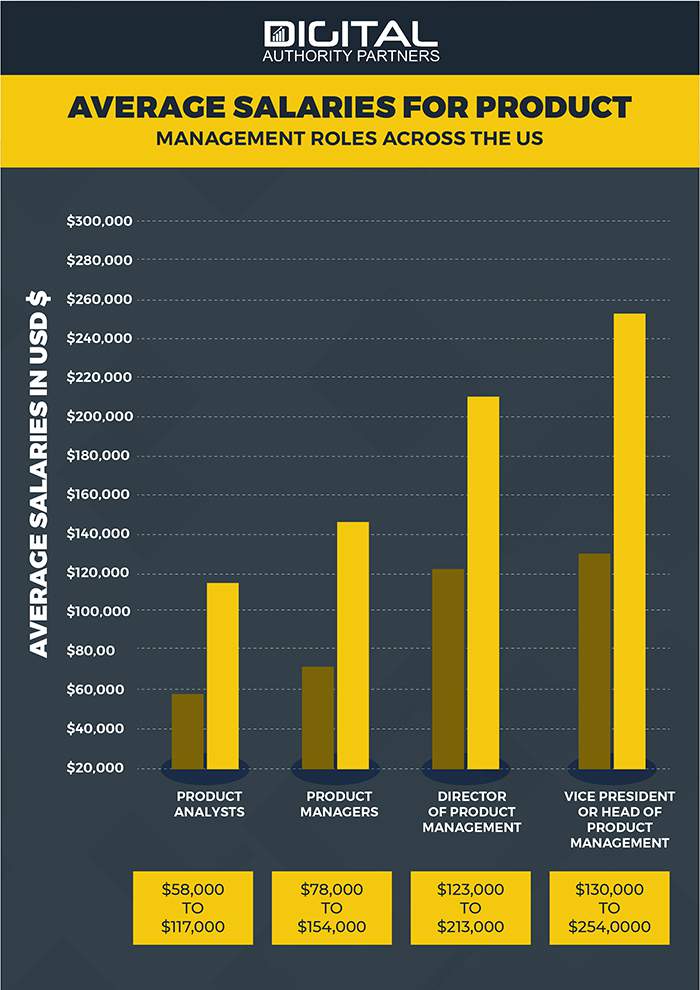 Surveys of product management compensation have revealed the following ballpark numbers across the United States for base salaries. Note that some organizations have additional benefits in their base packages, including stock/ shares and performance-based bonuses. 
Product Analysts: $58,000 to $117,000
Product Managers: $78,000 to $154,000
Director of Product Management: $123,000 to $213,000
Vice President or Head of Product Management: $130,000 to $254,0000
Organizational Hierarchy
Where the product manager falls in the organizational hierarchy varies from company to company. 
However, the most vital role of the product manager is to act as the "voice of the market" or "voice of the people." If key decision-makers fail to heed that voice, it's "game over" for the product before it even starts. After all, what product can succeed if it fails to take into account the opinions of the people who will ultimately buy it? 
For this reason, it's not uncommon for product management to fall very high up the chain, possibly reporting directly to the CEO. 
Most commonly, however, product managers sit within the marketing organization. At times, companies have experimented - and failed - with aligning product management with IT and making product managers report to their CTO. More recently, companies have begun experimenting with creating a role of a Chief Product Officer, which usually reports directly to a C-suite member. 
The Position of a Product Manager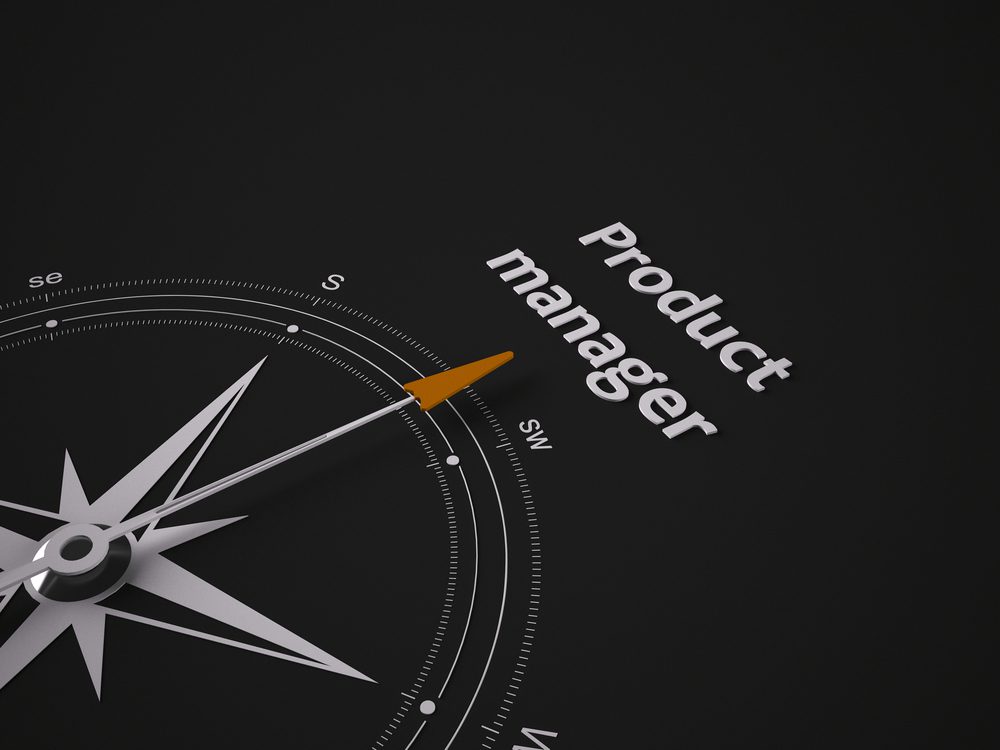 Product management is a cross-functional role, making it notoriously hard to locate within a defined department. Traditionally, product management was viewed as a marketing role and positioned within the marketing department. This makes sense inasmuch as product management requires market intelligence and an understanding of the customer.
Marketing sometimes involves defining the product as well as communicating the product's value proposition to its target market. In such a circumstance, product management has a place in relationship to marketing, since it is all about defining the product.
In tech companies, however, marketing departments can be much more laser-focused on "marketing communications"—messaging to the customers rather than gathering feedback to define product parameters and improvements. In organizations that emphasize marketing communications in their marketing department, product management belongs elsewhere.
In the past, technical companies founded by engineers, especially companies that make B2B products, made product managers report directly to development or engineering leads. This is less common nowadays, because time spent by product managers writing technical product requirements for engineer review was time away from immersion in the market, from identifying customer-side problems to solve, and from understanding the customer experience, which is the primary function of product management. 
Making product management report to engineers sets up a dynamic where engineering tends to win every argument. 
Maybe the product managers get listened to, but at the end of the day, what engineering says goes. What is best for engineering, however, isn't necessarily best for the user's experience of the product. This is why a push-pull dynamic between engineering and product management often leads to a more successful product. Read this article for a passionate - and accurate - analysis on why product managers should never roll up to an engineering organization. 
The Product Management Department
How a product management department is structured makes a big difference in how efficiently the product management process works, in addition to how well it scales. Companies may map out a product management structure, in anticipation of scaling up, even in the early stages when the product management department only consists of one product manager.
Product management departments may be structured in one of several ways:
One product manager per product. One of the easiest ways to structure and scale a product management department is to assign one product manager to each product—or one product manager to each product function. 
Within this structure, it will vary from company to company who the product manager reports to, how many developers and designers are assigned to each product manager, and how much autonomy the product manager will have.
One product manager per required skill set. Under this structure, each product manager might work on multiple products, applying a specific skill set to each product they work with. One product manager might be a specialist in market research, another for technical aspects of product management, another for user personas, etc.
While this structure is efficient, problems arise when a product manager leaves the company, leaving a gaping hole in the product management strategy across the entire product lineup.
Product managers as part of a PM group. Depending on the size of an organization, you may have a group of product managers working together on different components of the digital experience. We've given the same example in passing above. Think of the Amazon.com website. Holistically, from a user's point of view, it's only one site. But Amazon has individual product managers for specific components of the website. There's a product manager for just the homepage, browse experience, search experience, product details page, cart, checkout etc. And then all product managers work together to make sure the "handoff" of a user from one part of the site to the other is smooth and frictionless. 
Interaction and Relation with Other Departments
Product management can't silo off—the role is cross-functional by its very nature. To be successful, a product manager or product management team must interact seamlessly with a variety of stakeholders, functions, and teams. Check Out this infographic for a high level bird eye/s view on how a product manager interacts with different internal teams.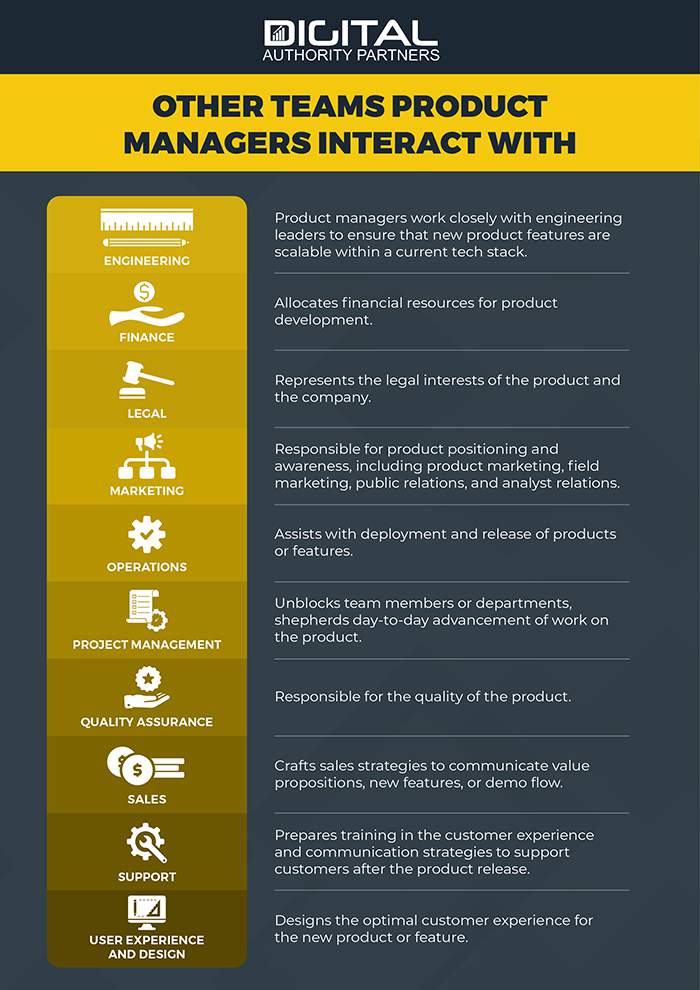 Engineering. Product managers work closely with engineering leaders to ensure that new product features are scalable within a current tech stack. 
Finance. Allocates financial resources for product development.
Legal. Represents the legal interests of the product and the company.
Marketing. Responsible for product positioning and awareness, including product marketing, field marketing, public relations, and analyst relations. 
Operations. Assists with deployment and release of products or features.
Project Management. Unblocks team members or departments, shepherds day-to-day advancement of work on the product. 
Quality Assurance. Responsible for the quality of the product.
Sales. Crafts sales strategies to communicate value propositions, new features, or demo flow. 
Support. Prepares training in the customer experience and communication strategies to support customers after the product release.
User Experience and Design. Designs the optimal customer experience for the new product or feature.
Agile Teams - and How the Product Manager Fits In
Product led organisations that adopt an agile framework encourage an adaptive approach to product development, responding to feedback quickly within cross-functional, self-organizing teams to deliver value to customers quickly in the form of incremental releases of new products or features. In contrast, a waterfall approach would require the product manager to define all requirements upfront, get alignment internally among stakeholders, then "freeze" the requirements phase and simply work with the design and development team until these requirements are implemented before defining new ones. 
A product manager is not a traditional scrum team member. By contrast, a product owner, a separate role we have already discussed in this guide, is a defined scrum team member, and shouldn't be confused with the product manager. To recap, the product manager role is more strategic, while the product owner role is more tactical.
To break it down even further, in an Agile environment the product manager's roles include:
Defining the vision for the product.
Setting the long-term direction for the product.
Conducting competitive research.
Conducting market research.
Building the near-term product roadmap.
Working closely with stakeholders, partners, prospects, and customers to discover their needs.
Prioritizing and scoring features based on their value to the business or the customer.
The product owner's roles include:
Communicating to the development team the vision for the product and the business intent.
Gathering technical requirements in consultation with internal stakeholders.
Grooming the product backlog.
Breaking down epics into smaller stories.
Estimating sizes of the user stories.
Attending scrum meetings, including sprint planning, standups, and retrospectives.
Creating mockups and contributing to UX design.
Documenting user story details including acceptance criteria.
Documenting new features to be implemented.
Agile functions that both product managers and product owners fulfill include:
Writing acceptance criteria.
Attending iteration demos.
Demonstrating the latest iterations to customers.
Gathering customer feedback.
Product Manager Roles in an Agile Environment, Up Close
Here's a visual representation of how product managers interact with other members of an agile team.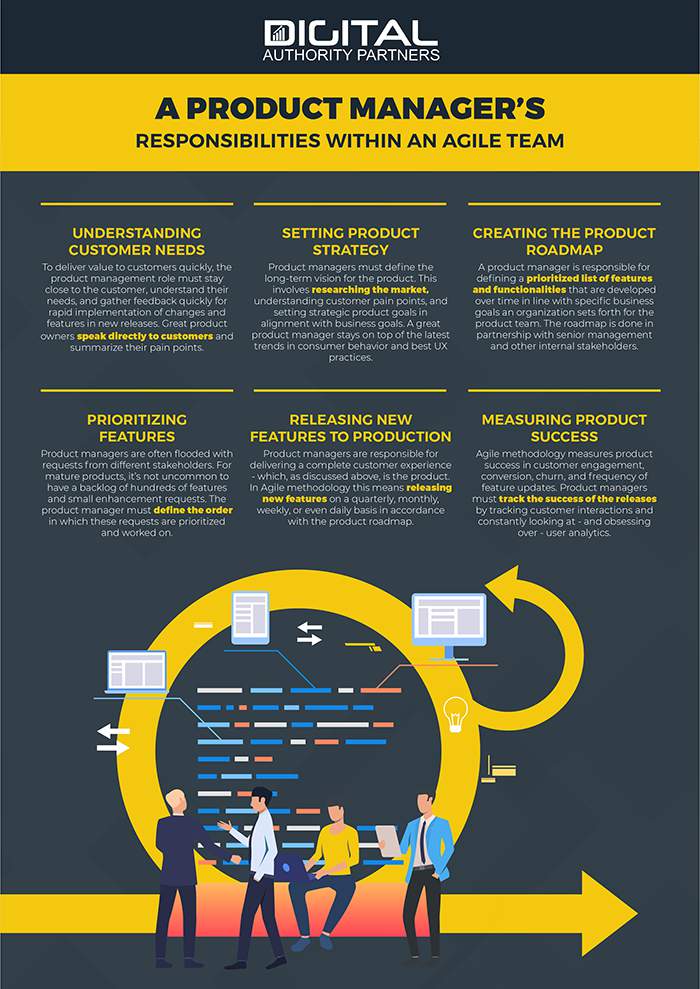 Here's a list of expected outputs a product manager is often responsible for within an agile team. 
Understanding Customer Needs. To deliver value to customers quickly, the product management role must stay close to the customer, understand their needs, and gather feedback quickly for rapid implementation of changes and features in new releases. Great product owners speak directly to customers and summarize their pain points. 
Setting Product Strategy. Product managers must define the long-term vision for the product. This involves researching the market, understanding customer pain points, and setting strategic product goals in alignment with business goals. A great product manager stays on top of the latest trends in consumer behavior and best UX practices.
Creating the Product Roadmap. A product manager is responsible for defining a prioritized list of features and functionalities that are developed over time in line with specific business goals an organization sets forth for the product team. The roadmap is done in partnership with senior management and other internal stakeholders. 
Prioritizing Features. Product managers are often flooded with requests from different stakeholders. For mature products, it's not uncommon to have a backlog of hundreds of features and small enhancement requests. The product manager must define the order in which these requests are prioritized and worked on. 
Releasing New Features to Production. Product managers are responsible for delivering a complete customer experience—which, as discussed above, is the product. In Agile methodology this means releasing new features on a quarterly, monthly, weekly, or even daily basis in accordance with the product roadmap.
Measuring Product Success. Agile methodology measures product success in customer engagement, conversion, churn, and frequency of feature updates. Product managers must track the success of the releases by tracking customer interactions and constantly looking at - and obsessing over - user analytics.
Other Team Members a Product Managers Will Interact With Regularly
To contrast the role of a product manager in an Agile environment with other Agile team members, here's where the rest of the team stands in relationship with the product manager and the product owner.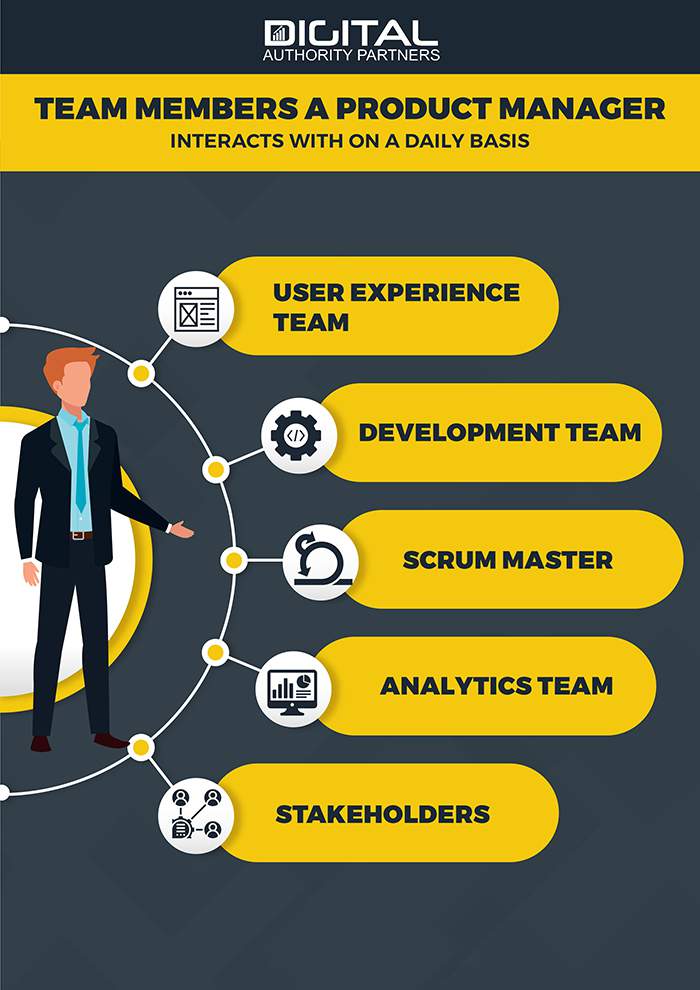 User experience team.  Usually, a product manager will work closely with a team of user experience architects and designers. The UX team is responsible for turning a product manager's requirements into wireframes and designs.
Development Team. This cross-functional, self-organized team is responsible for producing a working, tested product based on the input of the product manager and product owner. That is "working code."
Scrum Master. The scrum master coaches the team in Agile practices, guiding the Agile team and removing impediments. The scrum master also works as a project manager, shepherding the sprint along and making sure that deadlines are met and quality standards are upheld. 
Analytics team. Mature organizations will have a team of analytics analysts and analytics managers whose sole job is to constantly monitor the performance of a live digital experience and report back on what's working, what's causing friction and what should be entirely removed from a digital experience. This, in turn, impacts the product roadmap and prioritized list of features the team is working on. 
Stakeholders. Stakeholders are other employees in an organization affected by the development of the product, including but not limited to IT, sales, operations, portfolio managers, and product support teams (e.g: account managers).
Waterfall Teams - and How the Product Manager Fits In
Waterfall Methodology differs from Agile in that their work is more linear and less iterative. Each phase of the development follows sequentially after the other, dependent on the success of the previous phase as shown in this infographic: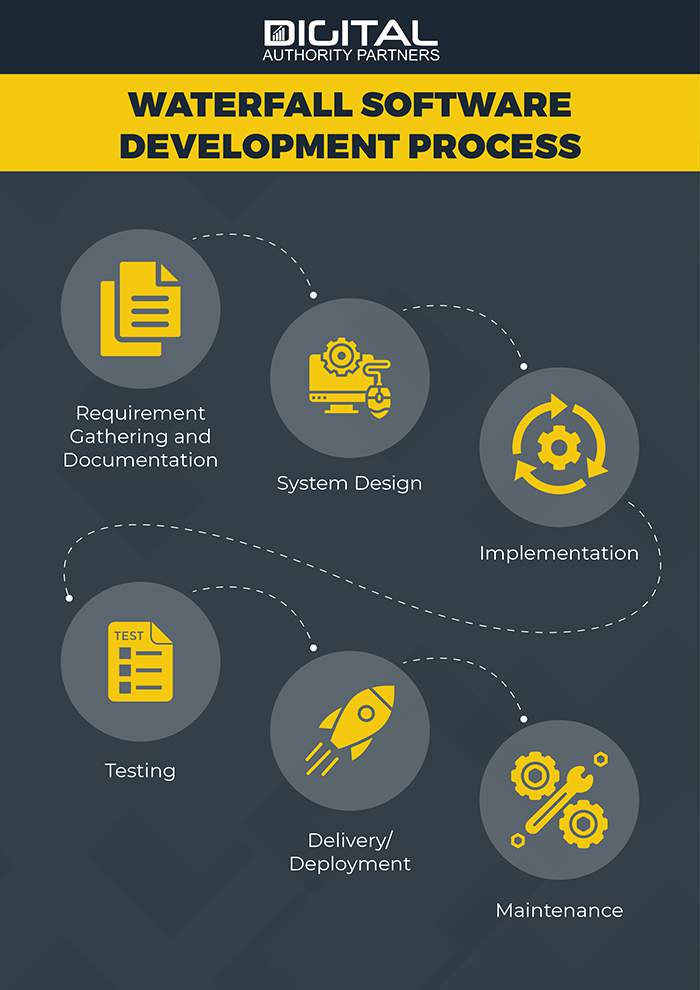 The phases include:
Requirement Gathering and Documentation
System Design
Implementation
Testing
Delivery/Deployment
Maintenance
The waterfall software delivery method only iterates when the full stack of phases is complete. For this reason, Waterfall development is less "agile" than Agile development which simply means less able to pivot quickly or gather real-time feedback. When requirements and designs are agreed on internally, the development team would usually not entertain additional requests until the agreed-on features are deployed to production.
Developed for the manufacturing and construction industries, waterfall product development has fallen out of grace for software or digital product development over the last couple of decades.
In Agile environments, a product manager tends to be strictly outward-looking, focused on market knowledge, strategy, product oversight, marketing support, and sales enablement. Inward-looking tasks like resource management, process enforcement, and software deliverability are the purview of the ScrumMaster. The product owner sits in the middle, with both outward- and inward-looking responsibilities. 
In contrast, in a Waterfall environment, the product manager has a range of inward-looking responsibilities in addition to the outward-looking ones, including resource management, scheduling, budgeting, task allocation, software delivery, and quality management.
Skills Needed to Become a Product Manager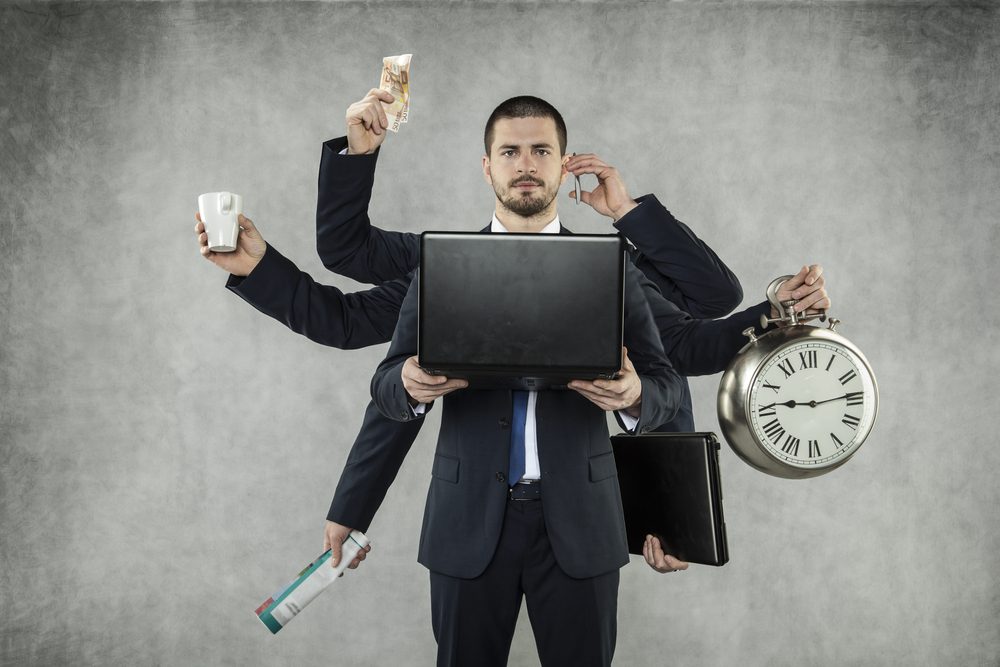 First and foremost, a product manager is a leader. The product manager must manage cross-functional teams composed of members from multiple departments. Good judgement is essential, as are analytical skills, time management, and the ability to cope with stress.
In addition, because product managers often sit at the intersection of different organizations, with competing tactical goals, product managers are often forced to deal with a significant amount of ambiguity and uncertainty. And they need to do this well while also staying true to the ultimate success metrics for his discipline (whatever those may be for a specific organization.)
Product managers must also be tech- and computer-savvy, especially when it comes to how a specific platform works and its architectural constraints (known as tech dependencies or even, in some cases, tech debt) . They must also be business-savvy, with a deep understanding of market forces and user experience best practices. In short, they need to have a little bit of everything. 
To unpack what is required of a product manager, let's touch on some of the key qualifications the role involves:
1) Product Management Terms. Jargon and core concepts of product; industry knowledge and competitor analysis. You know the following terms and much more: Acceptance Criteria, Product Backlog, Buyer Persona, Customer Journey Map, Fibonacci Agile Estimation, Iteration, Kanban, Lean Software Development, Customer Lifetime Value, Minimum Viable Product, MoSCoW prioritization, Net Promoter Score, Product Analytics, Product Market Fit, Rapid Prototyping, Retrospecting, Roadmap, Sprint & Sprint Backlog, Standup, SWOT Analysis, Unique Selling Proposition, Vanity Metrics, Wireframe.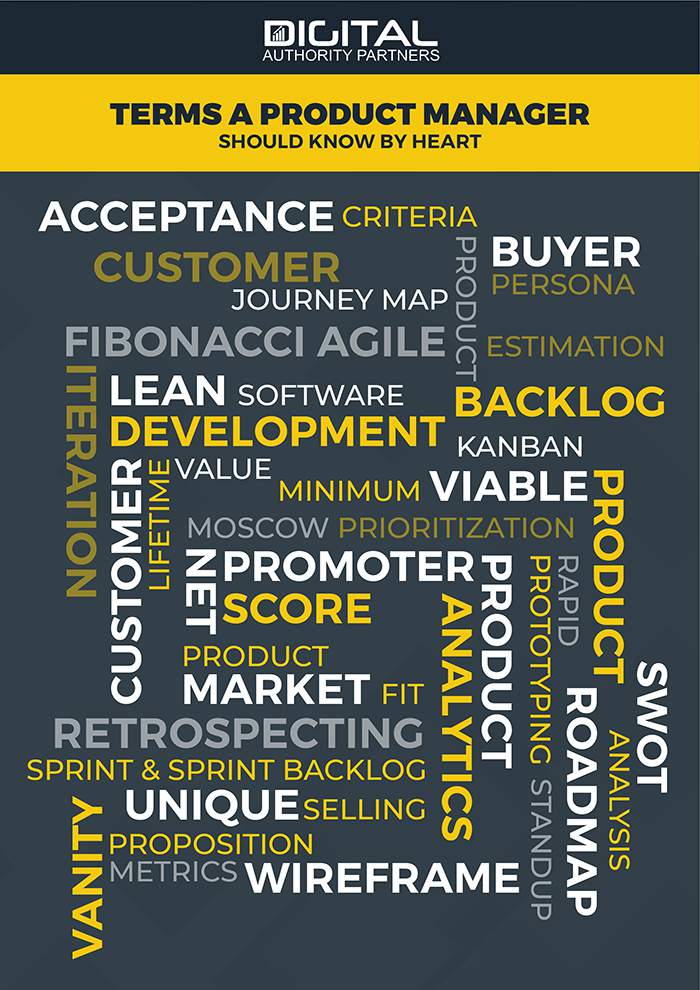 2) Relationship Management. Relationship skills are of paramount importance for product managers. A product manager must build bridges between multiple stakeholders, which requires empathy and authentic relationships.
3) Work with stakeholders/ customers. In order to build empathy, a product manager must sharpen his/her listening skills, and must be keen to discover what a stakeholder or customer is actually trying to communicate, whether verbally or between the lines.
4) Understand technology. While not necessarily coders themselves, a basic understanding of coding logic will help a product manager interact effectively with development teams. 
5) Prioritization. With responsibilities to the customer as well as cross-functional teams, somebody always wants something from the product manager. A successful product manager must prioritize, by expertly assessing the importance of a specific task in relation to all the other feature requests currently in the backlog.
6) User Experience. A product manager must have a very solid knowledge for UX principles. UX is all about the user's experience of the brand, which is the product, and therefore squarely in the product manager's purview.
7) Leadership. Managers manage, and the product manager must manage a cross-functional team, fostering collaboration between multiple departments and disciplines.
8) Analytical Skills. A product manager must be a problem solver, and it takes strong analytical skills to properly recognize problems and zero in on solutions.
9) Attention to Quality. A great product manager is hard to satisfy, always alert for bugs to fix, weaknesses to shore up, features to add, and ways to make the product better.
Education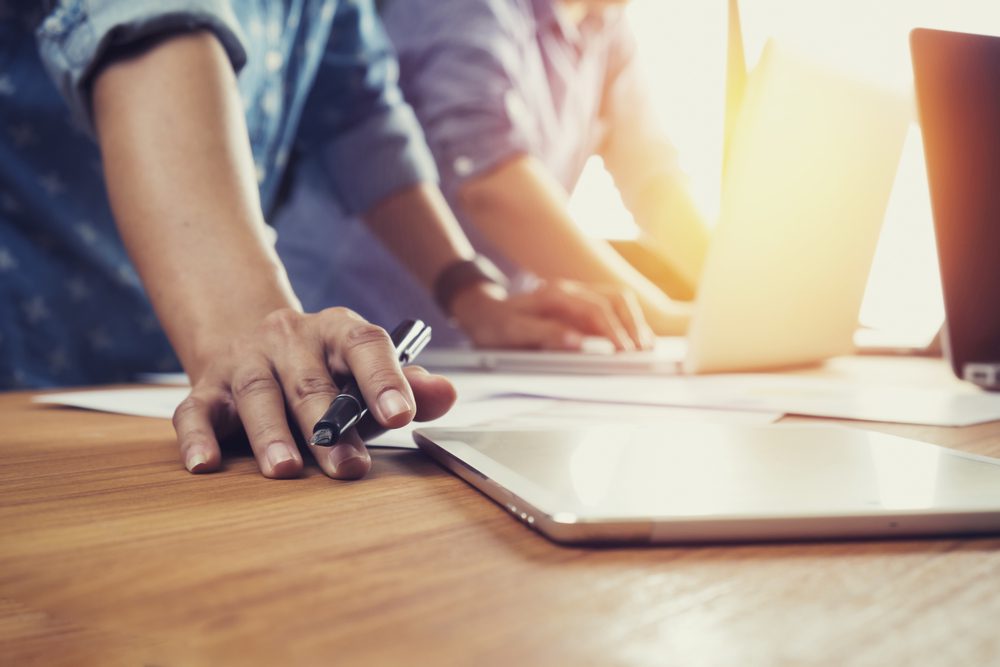 When looking for product managers, hiring managers tend to check for a bachelor's degree in business or a business-related field, like advertising, communications, economics, management, marketing, public relations, and statistics. 
However, there is no hard-and-fast educational requirement that acts as a barrier of entry to product management. People with all manner of degrees, or even no degree at all, have gone on to success in product management, learning on the job or bringing to bear skills and experience not directly related to formal education.
Becoming a Product Manager Without Any Experience
No two career journeys are alike. Other than a few tech-industry junkies, many high school and college students haven't even heard of product management. They might discover their aptitude for the role later in their career, having built a body of education and experience that doesn't directly relate to product management.
Is that game over? Is it too late to break into product management? Absolutely not. Smart and talented aspiring product managers can learn the necessary skills, either on their own or through formal education, highlight skills from other roles that cross over, and make a compelling case for themselves when applying for roles in product management.
So how should someone approach applying for a product management position when their resume doesn't reflect the typical PM qualifications? Some guidelines to follow include:
Don't Downplay the Importance of Experience. The best indicator of future success in a role is past success in a similar role. You won't get anywhere by pretending that product manager experience is of minimal importance. Rather, you should study, take classes, and steep yourself in the applicable skills so that your lack of product management experience becomes less of a liability.
Hone the Skills that Hiring Managers Will Be Looking For. The most important skills to showcase are business acumen, UX, technology, domain knowledge, and that combination known as "soft skills"—people skills, communication skills, emotional intelligence, and social intelligence.
Understand the Needs of the Team. Even if the team already has an experienced product manager on the job, you could have some soft or technical skill that the product management team is lacking. 
Turn Your Lack of Experience Into an Advantage. While you shouldn't downplay the importance of proper management experience, your experience in another field can actually be turned to an advantage. Development teams can become tunnel-visioned and benefit from outside-the-box thinking. 
Do Your Homework. Whether they have experience or not, you can always outdo your competitors in terms of homework. Dig deep into the company's vision and make sure you can articulate how that vision resonates with you and how you would fit in. Try to discover who you will interview with and whom you would join on the team. Find out if they prefer Agile development, Waterfall development, or some other method. 
Show your Wow Factor. Whether or not you have product management experience, success in other enterprises isn't a bad indicator of your ability to succeed in other activities. Don't be shy, and don't be afraid to brag about your accomplishments, especially those that can be quantified (sales increased, costs cut, etc.) 
Make a Killer Resume. Many resumes get ignored, not because the applicant is unqualified but because the resume is either lackluster in appearance, too hard to read, or not compatible with automated applicant tracking software (ATS). Invest in a spectacular-looking, ATS-friendly resume that is easy to scan, with your key accomplishments in bold so the eye finds them. 
How To Write Your Resume For The Product Management Role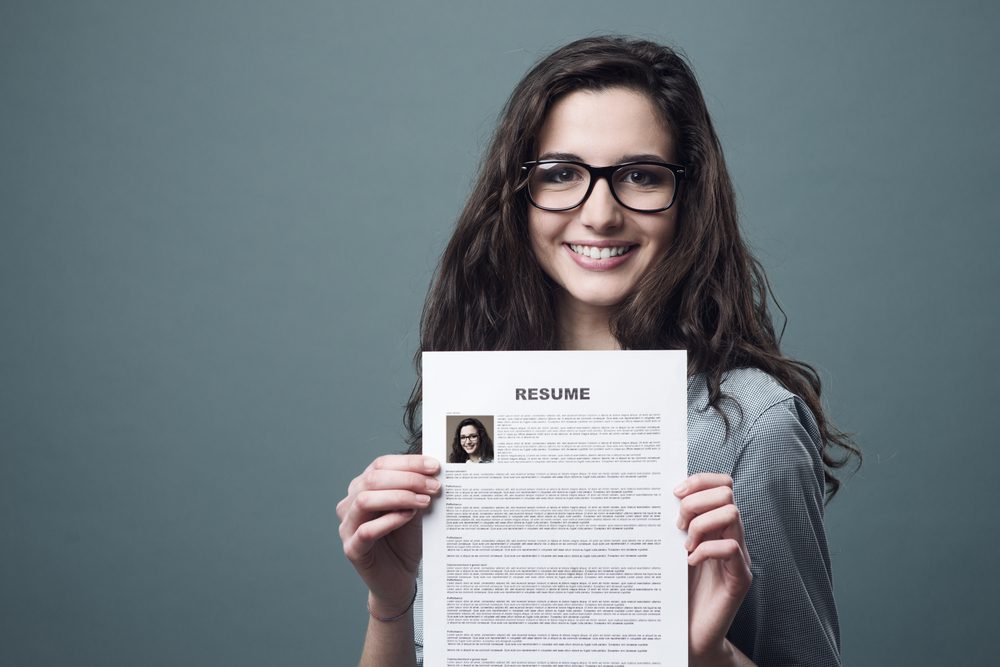 When writing a resume for a product management role, basic resume-writing rules apply, including:
Limit your resume to two pages, maximum. 
Use Microsoft Word if possible, as it is the most cross-compatible.
Use a readable font like Arial, Calibri, Cambria, or Tahoma. Try to pick a popular font that comes standard with most word processors.
Don't use text boxes. While they can make the resume easier to format, it can mess up an ATS to screen for your experience. This in turn may disqualify your resume from being seen by an actual hiring manager. 
Be consistent. For example, if you tab one date of employment to the right, tab all of them right. If you put periods at the end of bulleted sentences, put periods at the end of all bulleted sentences.
Make sure the resume is "scannable." Most hiring managers won't read every word of the resume, so make sure that whatever they do read is impressive. Avoid big blocks of text, single spacing, or more than four bullet points. Put key accomplishments, especially quantifiable accomplishments, in bold.
If you have product management experience, make sure to emphasize that on the front page. If the experience was recent, you can easily do this by foregrounding the "Work Experience" section, which is the section that most employers find the most interesting.
However, if the experience is far in the past, it may have to go on the second page of your career chronology. You can still highlight your product management bona fides on the front page, though. Modern resumes usually contain a "headline" and an introductory paragraph. You can include "product manager" in the headline and highlight key product management accomplishments in the introductory paragraph.
Great resumes also contain a "skills" or "core competencies" section, which can go high on the front page and can include ATS-friendly keywords. Make sure to include key skills like UX, "soft skills," "coding," "cross-functional team building," etc.
Another thing to consider is that product management is a leadership role - so your resume should reflect that.
Good leaders are hard to come by. An organization will hold onto them tooth and nail when they find them, but because the role is so crucial they will be reluctant to put someone untested in such a role. People usually earn leadership roles by demonstrating the qualities of a leader, or by leading in other roles. 
Here are some ways to demonstrate the kind of leadership necessary for successful product management on your resume: 
Communicate a Clear Product Strategy. Note that this involves both the ability to compose a product strategy, as well as the soft skills to articulate that strategy effectively. 
Focus on the Market as Well as the Product. The development team won't get much face time with potential customers - so it's your job to do it. Actively engaging and liaising with current and prospective customers will help you become a much better and more effective product manager
Understand the Primary Function of Product Management. Make sure you understand why your company has a product management process in the first place. Usually, it is because they want an outward-facing advocate for the product that stays close to the market and represents the customer in the development process.
Back Up Ideas with Facts. Products succeed based on results, not dreams or hypotheses. Build your ideas based on facts, and you will own the room.
Make Management's Job Easier. Good product managers provide objective advice to their bosses and their bosses' bosses, backed up with facts, making their decisions easier. Nothing screams leadership potential like reducing your supervisor's burden of micromanagement. 
What's Next? Work Life After Being A Product Manager
No one wants to wind up in a career dead end. Careers have an arc and a progression, and it's reasonable to wonder "What's next?" How will you grow in your career after you are ready to move beyond product management?
Here's a quick infographic (more details below):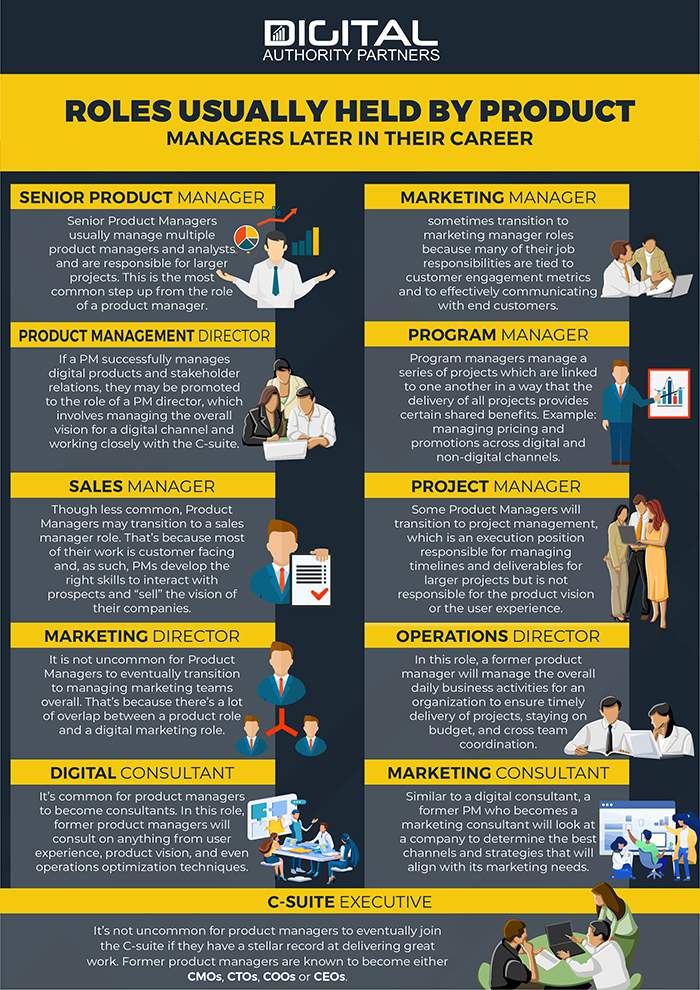 The most common roles for product managers to move onto include:
Senior Product Manager: Senior Product Managers usually manage multiple product managers and analysts and are responsible for larger projects. This is the most common step up from the role of a product manager. 
Marketing Manager: Product Managers sometimes transition to marketing manager roles because many of their job responsibilities are tied to customer engagement metrics and to effectively communicating with end customers. 
Project Manager: Some Product Managers will transition to project management, which is an execution position responsible for managing timelines and deliverables for larger projects but is not responsible for the product vision or the user experience.  
Program Manager: Program managers manage a series of projects which are linked to one another in a way that the delivery of all projects provides certain shared benefits. Simple example: managing pricing and promotions across digital and non-digital channels. 
Sales Manager: Though less common, Product Managers may transition to a sales manager role. That's because most of their work is customer facing and, as such, PMs develop the right skills to interact with prospects and "sell" the vision of their companies.
Product Management Director: If a PM successfully proves they can manage both digital products and stakeholder relations, they may be promoted to the role of a PM director, which involves managing the overall vision for a digital channel and working closely with the C-suite on overall company vision and strategies.   
Marketing Director: It is not uncommon for Product Managers to eventually transition to managing marketing teams overall. That's because there's a lot of overlap between a product role and a digital marketing role. As such, product managers and marketing managers usually work side by side throughout the product life cycle. 
Operations Director: In this role, a former product manager will manage the overall daily business activities for an organization to ensure timely delivery of projects, staying on budget, and cross team coordination. 
Digital Consultant: It's very common for product managers to exit the product management role and become generalist consultants for other companies. In this role, former product managers will consult on anything from user experience, product vision, and even operations optimization techniques. 
Marketing Consultant: Similar to a digital consultant, a former PM who becomes a marketing consultant will look at a company to determine the best channels and strategies that will align with its marketing needs. In this role, a former PM would look at market trends and competitors to define an overall branding and marketing strategy. 
C-Suite Executive: It's not uncommon for product managers to eventually join the C-suite if they have a stellar record at delivering on specific Key Performance Indicators (KPIs). Former product managers are known to become either CMOs, CTOs, COOs or CEOs.  
Responsibilities of a Product Manager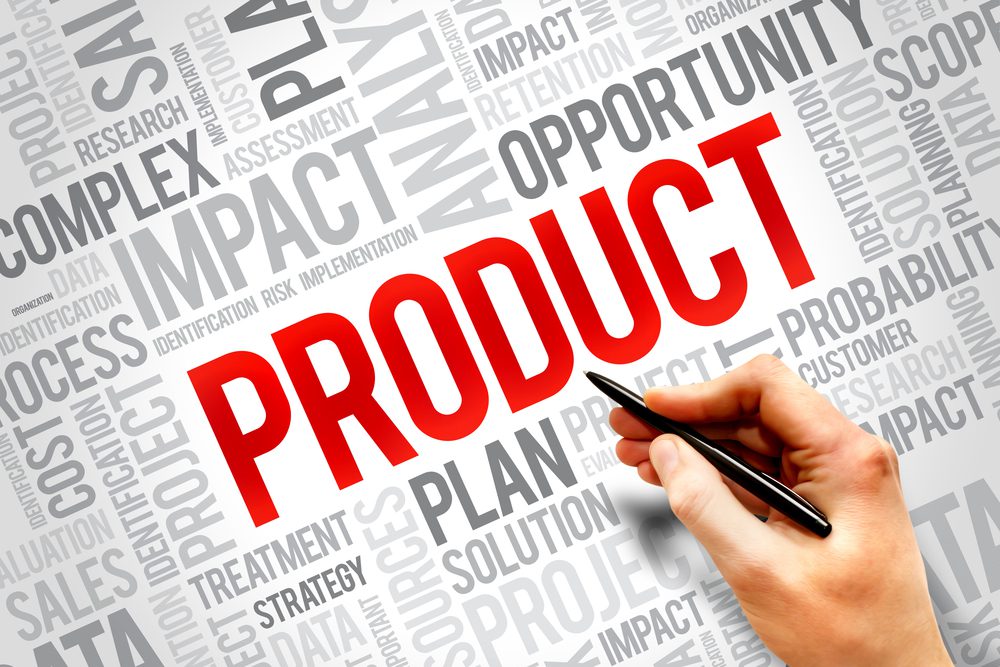 One of the reasons the role of product manager has grown in prominence is because product development cannot be contained to one department—not engineering, not UX or design. All these factors play an important role, but they aren't necessarily equipped to do each others' job or take each others' role into account.
The product manager brings it all together by representing the product in the development process, and by extension the customers. The product manager doesn't get engaged in every single development task, but has to understand each task and reconcile the needs of the different departments and stakeholders in the product's drive to market.  
Key Responsibilities of a Product Manager
Key responsibilities of a product manager include: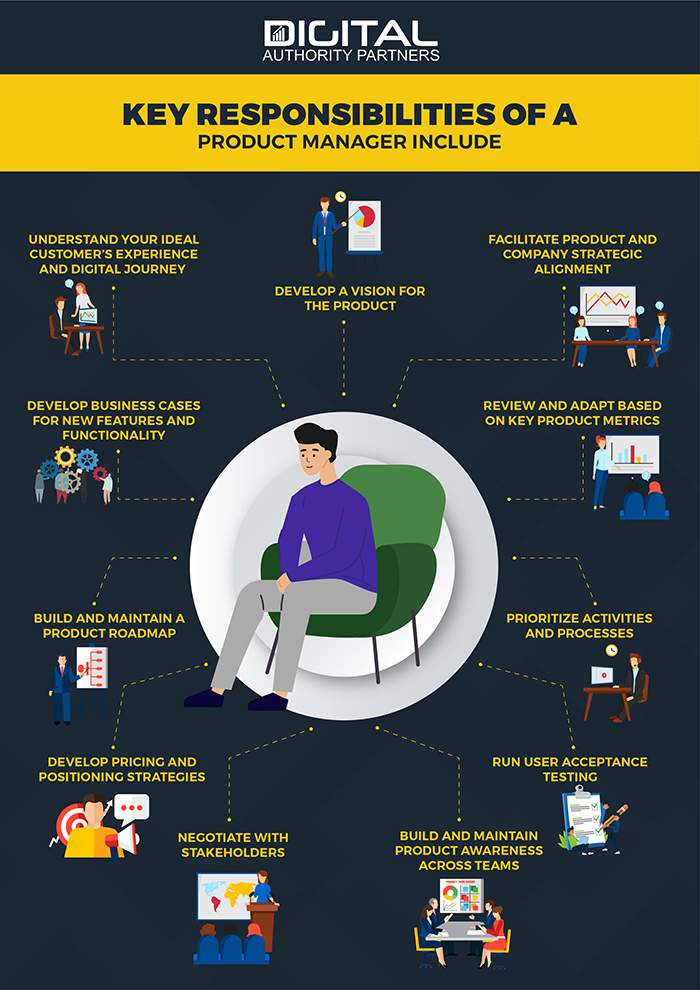 Understand your ideal customer's experience and digital journey 
Develop a vision for the product
Facilitate product and company strategic alignment
Develop business cases for new features and functionality
Review and adapt based on key product metrics
Build and maintain a product roadmap
Prioritize activities and processes
Develop pricing and positioning strategies
Negotiate with stakeholders
Run user acceptance testing
Build and maintain product awareness across teams
Understand your ideal customer's experience and digital journey 
Product managers cannot succeed unless they have a crystal clear understanding of the customers they serve. This is where the product manager acts, to some extent, as a marketing manager. In other words, they must first understand their ideal customer, their needs, pain points, and ideal way of interacting with a business. 
There are often subtle differences, for example, between Business-to-Consumer and Business-to-Business customers. 
There are also specific factors that impact how consumers interact with a brand - preferential pricing, product merchandising, restrictions tied to online purchases, returns and exchange policies and more. 
An effective product manager leverages internal stakeholders and consumer research to first understand all these specific attributes tied to their clients' needs - and then they create a digital roadmap which is in line with these expectations.
Develop a Vision For the Product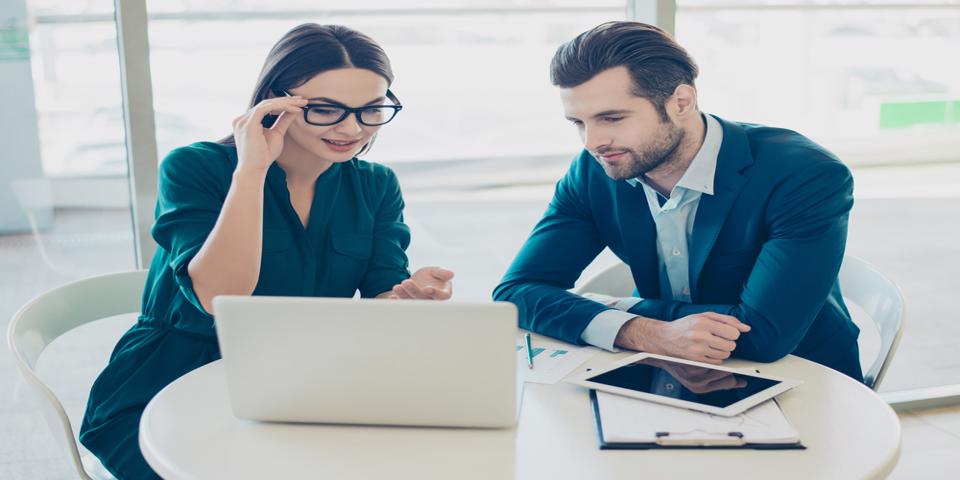 A product vision statement describes the overarching mission of the product and a high-level strategy to implement that mission. It answers the question of why this product should exist, as well as the broad strokes of how the product will live up to that purpose. 
More than a simple series of statements, a product vision is a narrative of success that stakeholders and collaborating teams can rally around. A product manager must craft and articulate the product's vision and craft the product strategy
This vision should be short and sweet, guide a product manager's overall strategy but also be in line with the vision of the company overall. A product vision doesn't exist in a vacuum - it feeds off the company's overall strategy and "translates" it into a series of features and functionalities that inform the digital experience. 
Last but not least, the product vision must be a shared vision across various departments - from sales, to marketing, engineering to operations, and everything in between. 
Facilitate Product and Company Strategic Alignment
A product only succeeds if everyone is pulling their weight in the same direction. 
But make no mistake - it is the company (aka the C-suite) that should create the overall goals and objectives for the product. It's the product manager who is then responsible for taking on the product and bringing the C-suite's vision of that product to the finish line. 
Although it seems counterintuitive, it's sometimes the case that the company developing the product may be undermining the development process in the course of normal business. The most common way a company does this is by NOT creating and abiding by a common vision, thus forcing a product manager to create and execute a roadmap based on ad-hoc requests without any holistic vision. 
When this happens - which is, unfortunately more often than you'd think - the product manager is stuck in a project management role with no ability to actually grow professionally or be an effective leader. 
Develop business cases for new features and functionality
The "business case" for the product is its justification in terms of profit potential, cost, risk profile, and viability compared to alternative solutions. 
It must contain the strategic context, a compelling case for the product or solution, an economic analysis with return-on-investment projections, a commercial approach, a financial case including affordability and time constraints, and the management approach. 
Poised between the business, development, and customer-facing departments, it often falls to the product manager to make the business case for the product. 
A product business case is informed by two primary factors: the business context in which a product feature is requested and the financials tied to developing that feature. In other words, there must be a projected Return of Investment for any feature developed by a product manager and their team. 
A simple business case formula for any new feature goes something like this:
What's the business goal a feature will impact? It could be more sales, more customers, more engagement on the site, fewer calls to a call center, or anything in between. 
How will we track the success of the feature? This is usually tied to the analytics put in place to look at how a feature is performing over time.
At least once a quarter, a product manager should be able to go to the C-Suite team and present on the return of investment for their program across a variety of features. The PM should be able to present the features which have positively impacted the return of investment for the product and provide information on the present value of the program and other Internal Key Performance Indicators defined by the company overall for the digital program. 
Last but not least, a proper business case helps secure more funding for the program to implement new features or simply ensure continuous investment in the program over time (aka, same funding for another year). 
Review and adapt based on key product metrics
Metrics are an insight into the health of the product. 
Product metrics could include expected traffic, time-on-page, conversions, or other assessments of customer interaction with the digital experience. Reporting on product metrics and analytics can reveal areas of product weakness that can be strengthened, as well as strengths that can be maximized. Tools like Google Analytics, Amplitude or Mixpanel should be a product manager's best friends. 
One of the most important elements of teamwork is accountability. Objectives and key results (OKR) are a set of agreed-upon benchmarks that the various stakeholders can be held accountable for in the process of developing the product. 
Many companies fail at this stage. They build features without any specific product metrics in mind. Or they implement features simply because they come down as requests from the executive team. If you find yourself in one of these organizations, know it's a toxic one and you, as a product manager, cannot be effective at your job. It's both a product manager's role to push to have actionable metrics and clear analytics in place and to report back on these product metrics early and often. 
Build and maintaining a product roadmap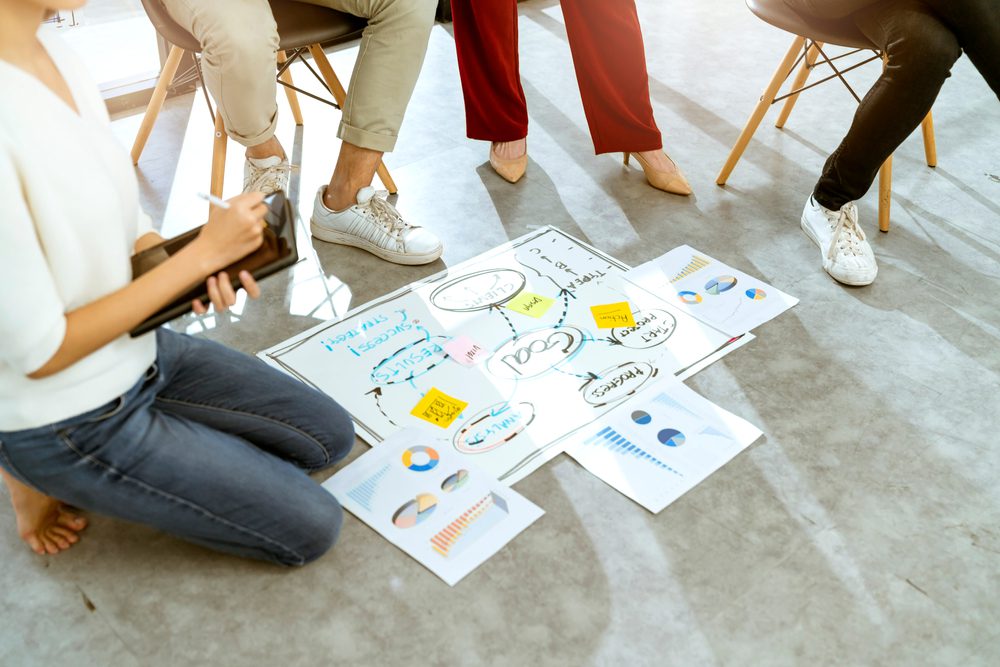 The product roadmap is a visual tool that displays the vision, direction, progress, and priorities of the development process. It includes both short-term and long-term goals, as well as strategies to align departments and achieve the goals. 
The roadmap is cross-functional and applicable to multiple departments; as a result, the product manager is ideally placed within most organizations to create the product roadmap. 
There are many ways to create a product roadmap. There are tools available online that help product managers do a thorough and comprehensive product roadmap: Aha, Product Plan, Craft and others. 
If your team doesn't have a budget for this, you can always use ©Excel or ©PowerPoint to show the product roadmap in a table format for the next quarter/ year. 
Prioritize activities and processes
As a product manager, you're responsible not only for the roadmap but for also the day to day delivery of product features. This means, in a nutshell, that you're responsible for the overall process. 
Simply put - ideas are cheap. What makes a product team successful is how they concretely execute those ideas. That means how the team takes care of prioritization of features, workload during a sprint, meeting deadlines, getting the proper documentation to move a feature along (example, wireframes, designs, release notes etc) and keeping team members accountable for their part of the product. 
What many experienced product managers first look at when they land in a new job is process. Fixing the process and creating a rationale for how "things are done" is more important than the work itself. That's because it is the process that helps a product group function like an assembly line. When every member of the team knows their role and understands how features are prioritized and executed, everyone wins. 
Develop pricing and positioning strategies
Pricing and positioning of different offers on websites/ mobile apps are critical to the overall success of a company. Whereas product managers are NOT responsible for setting the price, how that price is communicated to customers through digital channels absolutely falls under a PM's area of responsibility. 
If you carefully look at Amazon.com, you will see how the company experiments with different pricing strategies over time. Some features Amazon product managers have worked on include price matching, showing pricing information in different colors, strikethrough for price discounts, how promo codes are shown on the product details page, the "People Also Bought" feature on the page, how services are presented to customers (aka: installation, warranty plans) and more. 
A company sets the pricing. A product manager decides how to best show that pricing strategy to a customer in a way that persuades the customer to actually make the online purchase. 
Negotiate with stakeholders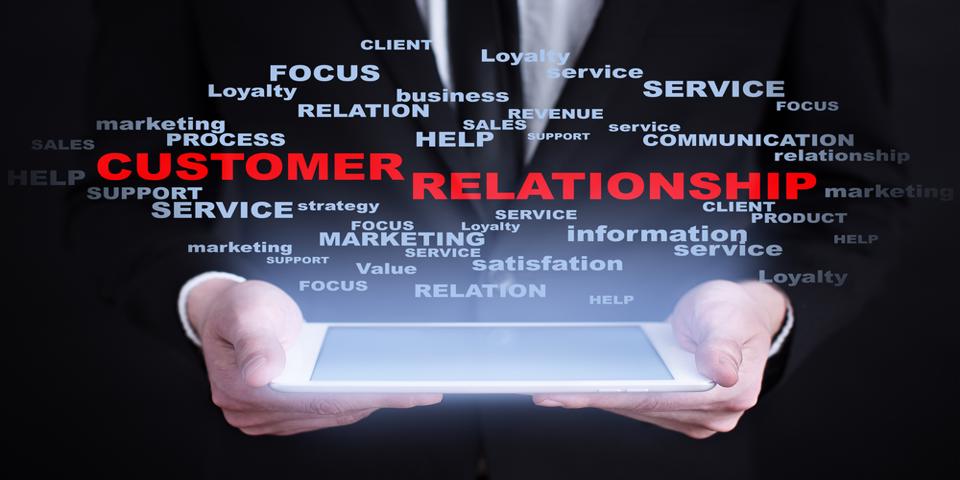 All stakeholders in the product have their needs, preferences, and requirements, even when it seems like those needs undermine the forward momentum of the product development. 
A successful product manager must make sure that no stakeholder feels shortchanged in the process of bringing the whole team into alignment with the product. 
The most important part of "stakeholdering" is active communication. You must constantly explain and socialize certain decisions made with regards to the product vision, prioritization of features and timelines. 
As a product manager, you will never win a popularity contest. Usually, each stakeholder thinks their feature is the most important feature in the world, and they want it done yesterday. As such the product manager is constantly caught between a rock and a hard place. But proactive communication can mitigate some issues. As a product manager, focus on explaining why a feature is prioritized over others and be a sounding board for your stakeholders - empathize with them and their needs while adhering to the overall product roadmap you've put in place. 
Run User Acceptance Testing
User acceptance testing (UAT) is the last stage in the product life cycle before a feature is moved to production. At this stage, a product manager often organizes a testing session, which could be several days long. 
At a UAT session, both stakeholders and the team (product managers, user experience architects, designers, developers) come together to test the final feature before it is moved to production. 
The goal of a UAT session is to make sure the work that was agreed to be done was completed. It's a way for everyone involved to test a feature and get cross-team alignment that a feature is "done, done" and ready to be moved to production. It is also one last chance to catch any system bugs and mistakes made during the development phase. 
UAT testing is best conducted when the product team, in conjunction with the QA team, defines a set of testing scenarios for the feature. This is usually done against the original designs and expected outputs (aka what the user does online and what they see after they interact with a feature.) 
This isn't the time to ask for new features or introduce complexity to the program. It's the time  simply to validate that the feature previously designed is working as intended. 
Building and maintaining product awareness across teams
Right after a feature goes live, a product manager shouldn't only go on to the next one in the backlog. Instead, great product managers take the time to socialize the work done. This is part of the overall product awareness process. 
Here's an infographic on how to do this best: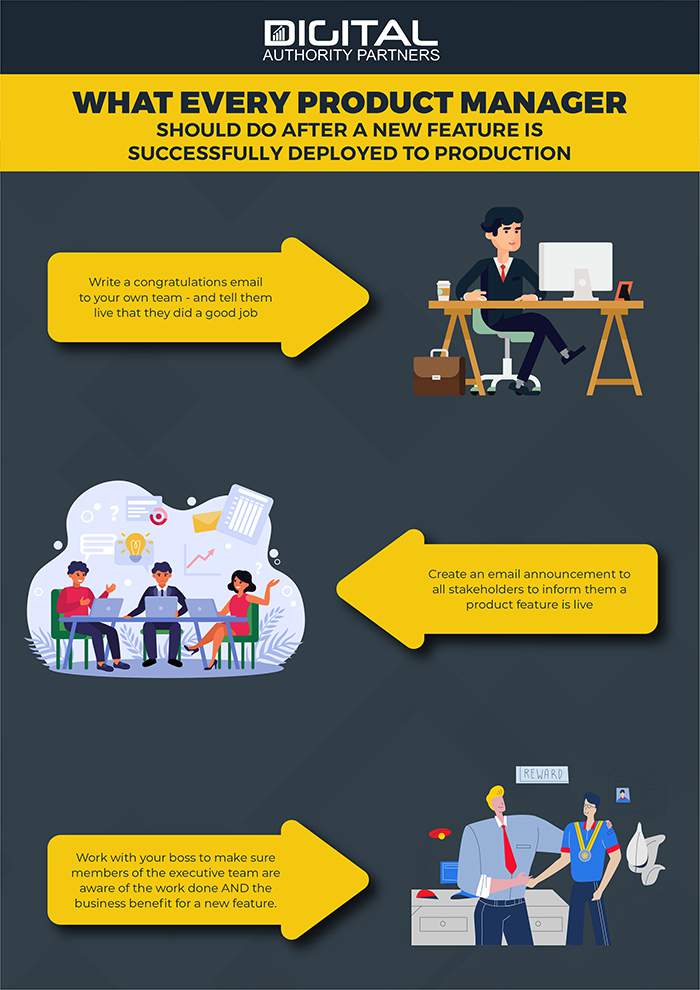 If a feature is moved successfully to production, make sure you take the time to:
Write a congratulations email to your own team - and tell them live that they did a good job
Create an email announcement to all stakeholders to inform them a product feature is live and that they should go check them out on their own.
Work with your boss to make sure members of the executive team are aware of the work done AND the business benefit and key performance indicators your team will track to prove the success of the feature.
It may sound counterintuitive, but this is probably the most important part of being a product management leader. Usually this responsibility is taken on by a director of product management. But the product manager can help by creating the talking points their bosses should have handy when praising and defending a product. 
Biggest Challenges for Product Managers
Every role has challenges. A lot rides on the product manager during the development process, so it is important for product managers to understand what challenges they might face so they can prepare for them. 
Even the most experienced and talented product managers face roadblocks that they must overcome. Here are some of the biggest and most common challenges a product manager can expect to face: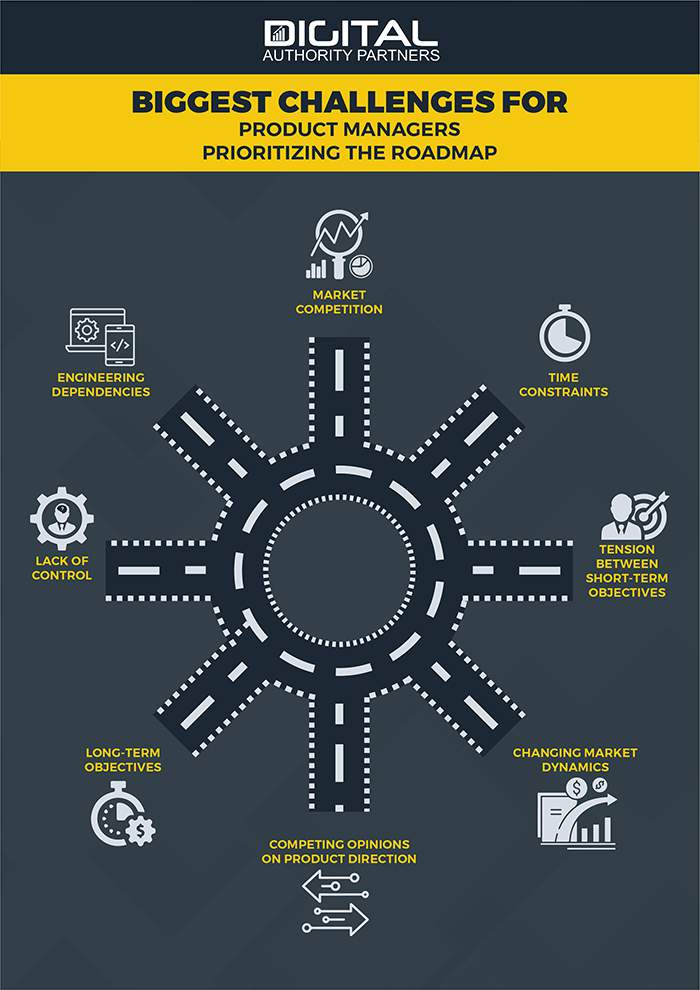 Prioritizing the Roadmap
Most product roadmaps are crowded with features each one crying out for attention. A good product manager needs to cut through the noise. Great products come from research, market validation, and customer feedback. A product manager needs to prioritize these features and functionalities on the product roadmap and fight for them, defending their position from stakeholders that want to fight for development priorities that ultimately don't contribute as much to the product's viability. Note that the roadmap should include primarily features and functionalities. That said, it should be clear to any product person that not every idea a team member suggests will actually make it into the roadmap. An easy way to think about a roadmap is in terms of "big ticket items." These are features which will significantly improve the user experience and, generally, should be mapped on specific key performance indicators these features with impact (e.g: conversion from search, top of funnel conversion, monthly active users etc).  
Engineering Dependencies
At most companies, at least fifty percent of a product manager's headaches are tied to the engineering team. That's because IT is often a shared function and part of another organization (there are exceptions to this rule, particularly in the startup world). 
Because of that shared function, there can be conflict between the product team and the engineering team. That's because IT organizations are often run as cost centers, with limited resources and people with different skill sets. How does this impact the product team? Here's an example: you want to build two features in parallel but they both require the same one resource. How to approach the problem? Prioritize features. And remember that this can be a difficult problem when you have a variety of features you're working on and only so many developers. 
Engineering dependencies can be hard to negotiate. These types of dependencies, though critical to development, may undermine the overall direction of the product. But engineering is not forgiving the way other development functions are. Keeping engineering on track with the product vision is a frequent tension that falls to the product manager to resolve.
Market Competition
In a competitive market, it becomes harder and harder to create a compelling value proposition that will vault your product to the front of the pack. 
A product manager's exposure to customer feedback is essential to creating a winning product in a competitive market. 
The product manager's listening and analytical skills must be razor-sharp to tease out pain points in a market full of solutions, to find the underserved market segment, a better solution, or a winning feature.
At times, market competition can hurt or even kill a product. Here's an example: influencers on Linkedin often complain that features on the platform are less compelling than on Facebook, and that how people interact with a video or post is oftentimes less prone to creating a viral experience than on Facebook. 
When things like these happen, it's not because product managers at Linkedin are worse than at Facebook. It may very well be that Linkedin has fewer product managers or other priorities. But this is a great example of a situation where the market is evolving but some companies are not changing their functionalities as often as their competitors. 
Another great example is the epic fail of the Amazon phone back in 2017. When the phone launched, nobody wanted to buy it and the company lost 170 million dollars in the process. The phone actually provided quite a few great features, but it wasn't enough to compel consumers to switch to this phone. Again this wasn't a product failure per se. But Amazon did not create enough differentiation with their phone in a market dominated by Apple and Samsung. And as a result, they failed. This is a great lesson for product managers: you may do a lot of things well but fail because competitors still did better overall than you. 
Time Constraints
The deadlines never stop when you're a product manager. In fact, product managers must get used to constantly changing prioritization based on priorities and existing resources. Different departments have different needs, and they always seem to need them now. Juggling deadlines, making sure that key tasks are on schedule, and making sure every department has what it needs to stay on track is a constant challenge for the product manager at every phase.
Lack of Control
A product manager has many cross-disciplinary responsibilities, but little control over how those responsibilities get executed. Outside of setting goals, providing direction, establishing cross-functional strategies, and keeping stakeholders on track, the product manager may discover that much of the actual work is out of his/her hands, especially if the product manager does not have profit-and-loss responsibilities.
Tensions Between Short-Term Objectives and Long-Term Objectives
Major projects always have short-term and long-term goals, and it may feel like one is taking time from the other. The deadline for a short-term objective may be breathing down your neck, but a long-term objective may be more crucial for the product's success and can't be neglected indefinitely. Striking a balance between the urgent and the important requires constant vigilance and attention on the part of the product manager.
Competing Opinions on Product Direction
There will be as many opinions on the team as there are members on the team. Smart people are passionate about their viewpoints and seem willing to defend them to the death. A product manager must not only be a leader, but a peacemaker, objective in assessment and analysis of competing opinions and not just caving to the loudest opinion in the room. 
There will always be someone who is unhappy with the final decision, and product managers must take on the challenge of assuaging egos and keeping everyone invested in the project and on board with the chosen approach. Product managers are rarely crowd pleasers - and that's something people in this role must accept early on. 
Changing Market Dynamics 
Product managers are responsible for assessing the market for the product, which is why they must spend so much time in proximity with customers, assessing their feedback. But markets are not static. What if a new competitor emerges, new technologies change the game, or customer priorities shift dramatically with changing economic, political, or cultural conditions? A product manager must be as dynamic as the markets themselves, nimble and ready to pivot quickly based on new information.
What A Product Manager Does Not Do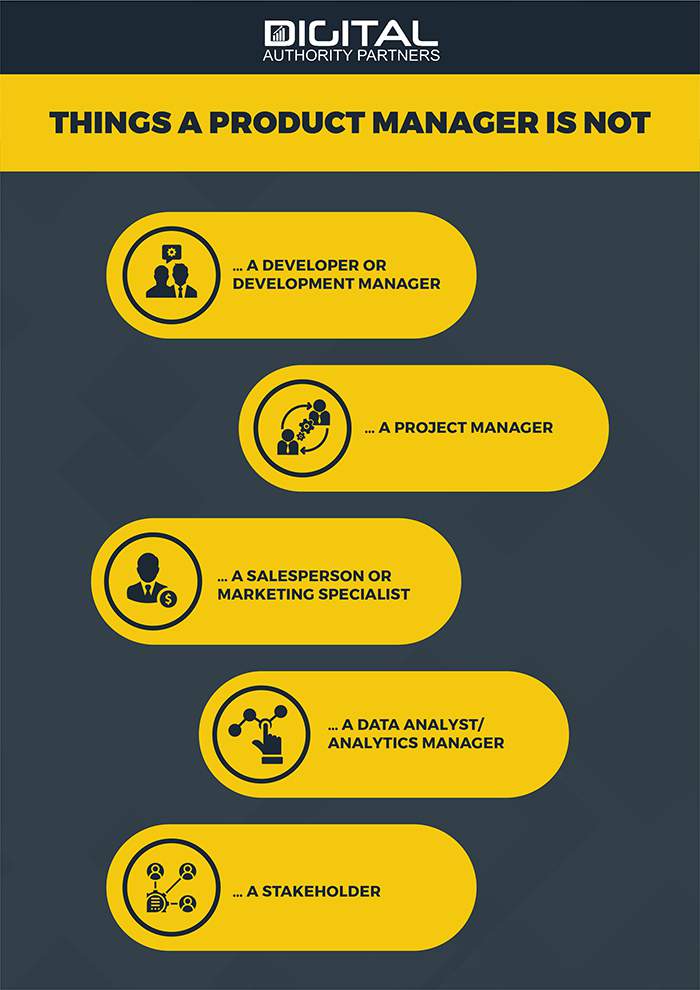 One of the best ways to understand a role is to understand what a role is not. Product managers must understand what is not involved in the product management role. This helps them understand what they should delegate, which skills they should focus on strengthening vs. which they can ignore, and what they should not take on if asked to. 
We have already talked about how the product manager role is different from the role of the product owner. Let's look at some more examples of roles that commonly, erroneously get conflated with product management.
A product manager is not …
… a developer or development manager. Development is a technical role. The product manager's role is a business role. Good product managers understand the technical process enough to be dangerous and may have some acumen as a coder, but this is only because they set the direction of the product. This means avoiding giving the developers and engineers tasks they can't handle. But the product manager shouldn't perform technical functions—his/her time is better spent close to the market, gathering feedback from potential customers.
… a project manager. Yes, the title sounds similar, but the jobs are different. Product managers have more of a "big picture" role, responsible for the overarching vision and roadmap planning. Project managers take hands-on responsibility for the execution of various projects on the product roadmap, marshalling resources, budgets, and timelines to keep a specific project on track and in alignment with the product goals—which are set and shepherded by the product manager at a high level.   
… a salesperson or marketing specialist. Product management often gets confused with a sales or marketing role because a product manager must be close to the customer base and has to be able to articulate the product's value proposition better than anyone—even the sales team. However, the product manager is not responsible for selling or marketing the final product to the customer. The role is much bigger than that—if the product manager doesn't stay focused, the sales team has nothing to sell, the marketing department nothing to market.
… a data analyst/analytics manager. Again, it's easy to mix up the product management and data analytics roles, because analysis of consumer and product data informs many product management responsibilities. However, although the product manager makes robust use of the output of data analysts, (s)he is not usually responsible for analyzing the data. (S)he is responsible for interpreting the data and making sound business decisions based on that data.
… a stakeholder. While product managers inform stakeholders about key milestones and decisions, as well as hear their feedback and respond to their needs, the product manager is not a stakeholder. The decisions a product manager has to make often require a level of objectivity that can't be assumed for a stakeholder.
How Organizations Should Utilize Product Managers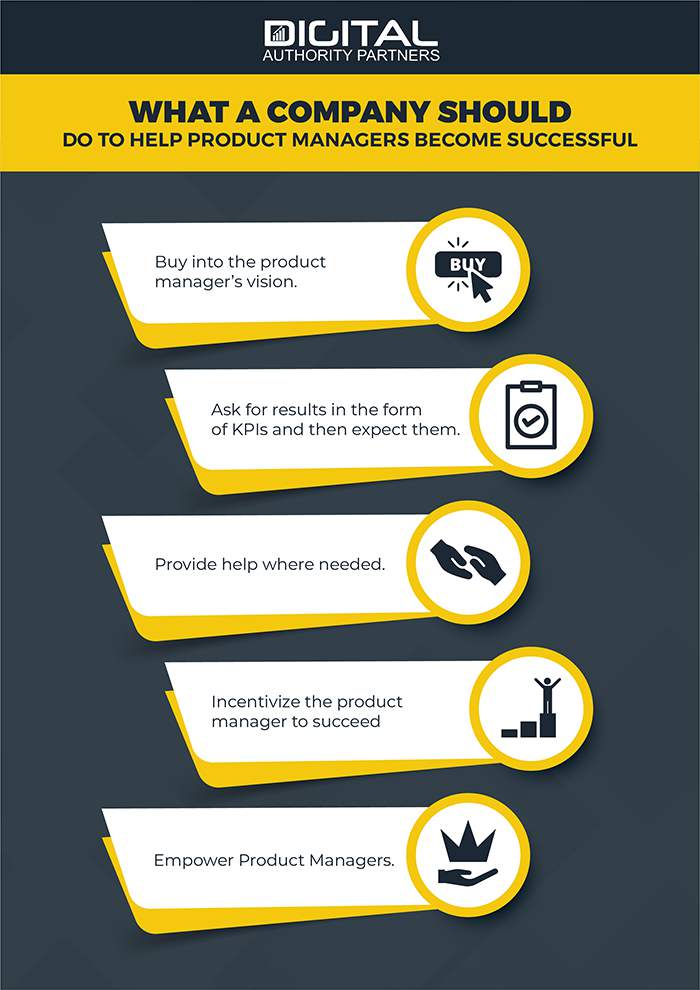 Different organizations take different approaches to product management, often with mixed results. Some managers sour on the product management department for delivering lackluster results, without realizing that they have hobbled the department in its inception. 
Rules for Making The Product Management Department Successful 
To get the most mileage out of a product manager, directors and stakeholders should:
Buy into the product manager's vision. If stakeholders can't buy into the vision, you need a different vision or a different product manager, but the worst possible choice is to proceed with a product vision that the directors have not bought into.
Ask for results in the form of KPIs and then expect them. Buying into the product vision doesn't mean you don't have the right to expect verification. Still, try to keep a "hands-off" policy with product management. Set KPI expectations and let the product manager figure out how to produce those results. Consider it delegation.
Provide help where needed. Every product manager has blind spots. Be a servant-leader, at the ready with information and support when needed, while letting them retain the decision-making prerogative within the scope of the product.
Incentivize the product manager to succeed, while making sure that they have something to lose (within reason) if they fail.
Strategy And Execution
One of the most effective ways for management to interact with product management is for management to assume the role of an investor, while the product manager assumes the role of an entrepreneur—or, as it is sometimes described since the effort is contained within a larger organization, an intrepreneur. 
Good product managers are leaders, creatives, generalists capable of wearing multiple hats. Given enough free rein, they can make management's job a lot easier and produce product wins far bigger than the directors could on their own.
It can be hard to give up that kind of control, but product management is not the department to micromanage. The product manager is accountable to management, but trying to direct the product manager's efforts defeats the purpose of the product managers.
Product Success
Revenue and profit follow in the wake of product success, which is what the company hires a product manager to achieve. Organizations can set product managers up to deliver product success by:
Empowering them. Constraining product managers is a sign of distrust in the product manager's ability to do their job and undermines their work.
Expecting a strong product vision and product strategy of them. Cross-functional development teams need this unifying vision to achieve a multifaceted goal like product development.
Focusing on business outcomes. Let product managers know the problems you need them to solve, and then step back and let them work it out. Competent product managers should be able to run with a problem and produce unexpected solutions.
Conclusion
One of the best things aspiring product managers have going for them is that great product managers are hard to find. When a good one rises through the ranks, they can become company stars, truly indispensable to their organizations. 
Great product managers get a lot of leeways to be creative, with a hand in development, marketing, sales, and engineering without final responsibility for any of them. That said, it's a high-impact leadership role. When it comes to product success, the buck often stops with the product manager.
Most of all, the product manager is in a privileged position to speak on behalf of the customer, to be an advocate for the product, to make it the best it can be. When it comes to achieving business objectives, few roles are more important. 
You Might Also Like: