What Is B2B Marketing?
B2B (short for business-to-business) marketing is self-explanatory. It refers to all marketing efforts, tactics, and strategies directed at other businesses or organizations (as opposed to individual consumers).
With B2B marketing, a company promotes or sells its products or services to other companies for use in running their day-to-day business operations, in production, or in resale to other customers.
This is not the same as B2C (business-to-consumer) marketing, which includes marketing strategies geared towards individual shoppers or consumers.
In contrast, as a B2B marketer, your target audience typically includes business executives, procurement officers, and other people who make purchasing decisions on behalf of their businesses or organizations.
Like everything else in the business world, B2B marketing has gone digital. In fact, according to Accenture's Make Music, Not Noise report, more than 61 percent of B2B transactions already begin online.
Forrester Research anticipates that the B2B e-commerce market in the US will grow at a compound annual growth rate (CAGR) of 10 percent to reach over $1.8 trillion by 2023.
B2B sales jumped by a whopping 25 percent in 2018 alone, according to BigCommerce.
Whereas digital disruption is a blessing for B2B marketing, it's not without challenges. In an increasingly digital business landscape, B2B marketers are more time-strapped than ever before.
B2B businesses are continually struggling to (i) generate more leads, (ii) improve lead quality, and (iii) bring in new business. How can B2B marketers overcome these challenges and stay ahead of the curve?
In our ultimate guide, we'll break down everything you need to know to take your B2B marketing to the next level.
---
We're the top B2B Content Marketing Agency in America. Watch the video below to learn why.
---
Who are the Typical B2B Customers?
There are four major types of B2B customers: companies selling services to other companies; government agencies; wholesalers (resellers); and institutions. Let's take a closer look at each.
(a) Companies selling to other companies
These are companies that sell services to other companies, helping them operate more efficiently, increase production processes, and improve customer satisfaction.
An IT managed firm like Infosys is a great example of this type of B2B buyers. Because they offer IT services to other businesses and organizations, these companies usually don't interact directly with consumers.
If you're interested in learning more about marketing strategies that get results in the information technology space, check out our comprehensive guide on IT marketing.
(b) Government agencies
The U.S. government is the single biggest spender on goods and services in the world. It buys just about anything you can think of, from stationery and fuel to aircraft and weapons, as well as security, insurance, technology, and medical services. And so do state, local, and foreign governments.
Still, most governments don't have a centralized department that procures products and services. Instead, this responsibility is delegated to relevant government agencies.
Take U.S. Customs and Border Protection, for instance. The federal agency buys border monitoring hardware and software from third-party technology firms, which means it's a B2G (business-to-government) buyer. But government agencies are not always efficient purchasers of goods and services. In this podcast on all-things government innovation, you can listen to Codrin Arsene, the CEO of DAP, talk about how technology can increase efficiency, connection, and transparency in both local and the federal government.
(c) Wholesalers
These are marketing in-betweeners, companies that resell services and products produced by other companies without materially changing them. These include retailers, brokers, and other resellers who buy directly from producers and manufacturers.
And many of these big-box retail brands, brokers, and wholesalers muscle a lot of power in the market. If you manage to partner with nationwide retailers, for instance, they can put your products in front of many customers, and your sales may dramatically increase. Only a solid B2B marketing strategy can help you convince wholesalers to purchase your services or products.
A CBD manufacturer like Folium Biosciences (FB) is a great example of a company whose target buyers are wholesalers. FB may need help marketing to CBD shops, web stores, and other retailers or may even need help marketing to customers. After all, without resellers, the manufacturer will definitely struggle to gain a foothold in the market. Thankfully, that's where CBD marketing comes into play.
(d) Institutions
Companies may also need help promoting or selling their services or products to either nonprofit or for-profit institutions. These include organizations such as charitable organizations, religious institutions and branches, hospitals, civic clubs, colleges and universities, and many others.
Most nonprofit institutions are after affordability because they face budget challenges. The lower the costs, the more impact they'll make on the ground.
A hospital is a classic example of an institution that needs a B2B healthcare marketing strategy to keep patient satisfaction high, increase patient inflow, and boost their bottom line.
For example, let's assume a hospital has created a telemedicine service. A good healthcare marketing plan will include content, an ADA-compliant website that's mobile-friendly, video marketing, and other multichannel efforts. If you'd like to learn more about how hospitals can market themselves more effectively, check out our top-down guide to healthcare marketing.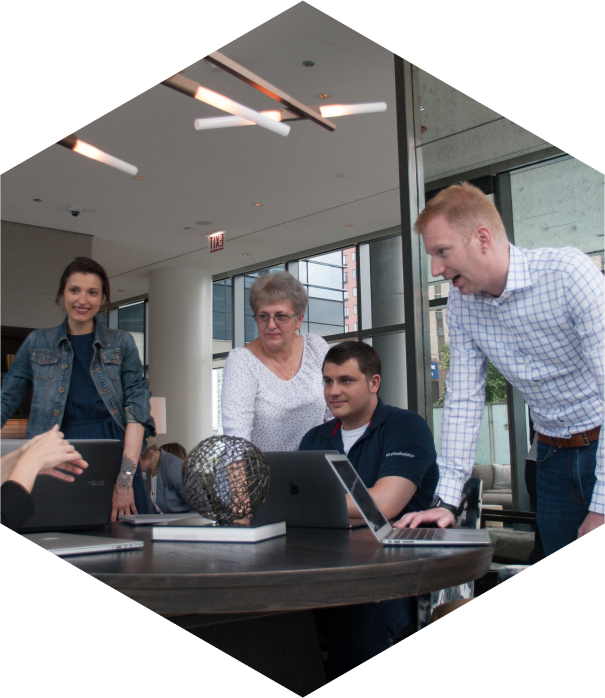 How Can We Help?

Fill out the short form below or call us at:



(888) 846-5382
Key Differences Between B2B and B2C Marketing
While they bear some surface resemblances, B2C and B2B marketing are actually not similar, and understanding their differences can help you tailor your campaigns, boost sales, and improve your ROI.
First of all, B2C marketing involves promoting services or products directly to individual consumers typically for personal enjoyment, consumption, or use. B2B marketing, on the other hand, entails marketing directly to other businesses.
In short, B2B and B2C marketers focus on totally different target audiences. But this isn't the only fundamental difference between the two. The table below explores others.
| | | |
| --- | --- | --- |
|   | B2B Marketing | B2C Marketing |
| The Buyer | B2B buyers are other businesses and organizations | B2C buyers are individual consumers |
| Target Audience | They target small audience of key decision makers in the company | They focus on large audience of individuals |
| What motivates a purchase | B2B buyers are driven by logic, efficiency, and financial incentive. Emotion plays little to no role in the purchase decision | Because consumers are after entertainment and personal gain, emotion plays a big role |
| Content | B2B customers want to be educated. They want to know how the product or service will benefit the business bottom line. | Consumers also appreciate educative content, but seek entertainment and deals. Fun content that motivates purchasing may or may not be related to what product does. |
| Goal | B2B customers are after expertise, efficiency and ROI. | Consumers are after fun, deals, discounts, etc. |
| Purchase Intent | B2B buyers consider long-term solutions when buying products and services. This results in longer contracts, longer multi-step buying cycle, and longer relationship with the vendor | Customers don't always care about long-term relationships, and may not purchase for the long-term. |
| Purchase Process | Customers prefer to deal with sales reps and account managers | Consumers usually make a direct purchase |
Target Audience
Both B2C and B2B marketing efforts need to be well-targeted to deliver the best outcome. However, this can be quite challenging for B2B marketers.
You see, B2B marketing usually focuses on a small audience of groups, usually composed of one or more decision-makers. As such, it doesn't matter if everyone in the office needs higher-quality printing paper; only upper-level staff and office managers can make that call.
B2C marketing, on the other hand, focuses on a large audience of individuals. That makes it easy for B2C campaigns to reach the right consumers, even if they are not the eventual buyers. For instance, a teenager may come across a skateboard ad on Instagram and later convince their parents to make the actual purchase.
What Motivates a Purchase
Bringing the customer into the sales funnel is the first step in marketing, regardless of whether it's B2B or B2C. The purchase motivation, however, is quite different for the two.
For B2B buyers, the purchase decision is driven primarily by financial incentives, characteristics of the product or service, and logic. Even if the product/service is top-notch, it won't make the cut if it doesn't make business sense to the decision-maker.
Take a new CRM software, for instance. Will it increase lead generation? Is it an upgrade compared to an existing software? A simple cost-benefit analysis here will determine if the product is going to boost the company's bottom line and ROI or not.
On the other hand, consumers are driven by immediate benefits, desires, and emotions.
Decision Making Process
B2C customers make a purchase for personal enjoyment, consumption or use.
In light of that, they want basic information about the product or service in the shortest time possible. They want to see what others are saying about the item, read online reviews, and seek recommendations.
And because emotion is a big driving factor, the research and decision-making process is usually shortened, resulting in an almost immediate purchase.
B2B decision making, however, involves several levels of consultation, meetings, and due diligence.
For instance, when B2B buyers notice the initial cost-benefit, they will proceed to check out your website, and then go through professional reviews.
Some will also do a comparison analysis, considering competing products or services. This results in a longer, complex, and multi-step purchase cycle that involves many parties.
Content Marketing
Content is a crucial part of both B2C and B2B marketing, but their strategies, drivers, and styles are very different.
B2B buyers are interested in being educated on the characteristics and financial benefits of the product or services. In a nutshell, they want to know the ins and outs of the product/service before they make the first move. That's where B2B content marketing comes to the rescue.
Often, B2B customers prefer informative blogs, articles, ebooks, white papers, online tutorials, webinars, and press releases. Marketing content can be long and detailed to prove expertise and to educate.
Consumers, on the flip side, prefer their content in the form of video, mobile apps, entertaining blogs, and contest-style games.
Customer's Goal
Consumers are after experiences, fun, and promotions. That is why B2C marketing has to be engaging and resonate well with the consumer. In most cases, the customer wants instant or rapid results. They may seek what's popular rather than what's practical. For example, a person may go for a trendy car instead of focusing on fuel economy.
B2B customers, on their end, focus on several factors, including efficacy, expertise, and return on investment. After all, this is a business, and the stakes are never higher.
Ultimately, B2B buyers aim at making purchases based on long-term results. They are interested in cultivating long-term relationships, resulting in longer contracts and a more complicated selling cycle.
Purchase Process
As we've mentioned, the purchase process is typically much longer for B2B marketing than B2C marketing. That is largely because B2B customers have to confer with their supervisors and other key decision-makers before arriving at a purchase decision.
Frequently, B2B customers prefer (if possible) to deal with sales reps and account managers rather than a marketing team. They want people who talk hard facts, rather than hype.
Ordinary consumers often want to get rapid results, and usually don't have to confer with anyone else before deciding to buy. They aren't exactly looking for long-term relationships or solutions either. Which is why they make their purchases based on short-term gains.
Instead of focusing on building relationships, consumers pay more attention to the product or service itself, gauging whether it will improve their lives.
When all's said and done, B2B marketers must focus their messaging on the challenges, interests, and needs of customers who make purchase decisions for or on behalf of their companies because B2B customers make a purchase to improve their organization and its bottom line.
B2B Buyer's Journey
The B2B buyer's journey is a framework or process B2B buyers go through before ultimately making a purchase. In layman's terms, it's the "route" which the customer follows before arriving at a purchase decision.
Buying products or services for a business or an organization is fundamentally different from making a personal purchase.
It's fairly easy to get a sense of the B2C buyer's journey because the customer is usually an individual, family, or a group of close friends. That implies that the purchase decision is usually quicker given that the buyer doesn't have to involve many people in the process.
On the other hand, B2B buyer's journey is distinct because you are dealing with various decision-makers who may also have to confer with upper-level managers or executives before making a purchase decision. This makes the process more complex, longer, and a little cumbersome.
Not just that -- B2B buyer's journey can vary greatly from one industry to another, adding more complexity to the mix.
Even still, it makes sense for marketers to understand the B2B buyer's journey as it's a key component of any marketing strategy.
Every marketer understands that you need to know your target audience to craft a winning B2B marketing strategy. It allows B2B marketers to target their customers with the right B2B campaigns and at the right moment.
Without a clear understanding of the buyer's journey, your B2B marketing efforts and campaigns will likely fall on deaf ears. With this blueprint, B2B marketers can estimate where the buyers are on their journeys and deliver the right message to push them to the next stage.
Major B2B Buyer's Journey Stats you Should be Aware Of
The B2B marketing space is always evolving, and so does the buyer's journey. Here are some interesting statistics and industry insights that might help you get the most out of the buyer's journey:
Everything is going online (including B2B buyer's journey). As noted in this Forrester Research report, nearly three-quarters of B2B buyers conduct at least 50 percent of their research online prior to buying a product or service offline.
Is the era of the salesperson coming to an end? This SiriusDecisions study seems to suggest so, saying 70 percent of the buyer's journey is over even before the customer gets in contact with sales. Moreover, the report shows that two-thirds (67 percent) of today's B2B buyer's journey happens digitally, while 82 percent think salespersons are unprepared.
According to research carried out by the CEB Marketing Leadership Council in conjunction with Google, B2B customers often reach out to the vendor or sales rep or consult with peers after completing around 57 percent of their buyer's journey.
Content is of paramount importance to the buyer's journey, with at least 90 percent of online buyers saying they treasure valuable content, according to CMO Council.
Marketing and sales sway only 32 percent of the B2B buyer's journey, as Gartner report.
80 percent of B2B buyers prefer to get information from educative blogs, articles and other pieces of content instead of advertisements, according to B2B PR Sense.
B2B buyer's journey has a social pitstop. According to a buying report from International Data Corporation (IDC), 84 percent of C-level executives, CEOs, and other decision-makers say social media has an effect on their purchase decisions.
This is corroborated by Biznology which says 55 percent of B2B buyers use social media to do purchase research.
Email is part of the action. 74 percent of business buyers say they are most likely to use email to recommend or share valuable content.
3 Key Stages of B2B Buyer's Journey
B2B buyer's journey isn't exactly a simple A to B journey. In fact, the buyer's journey of each B2B customer is unique, but generally comprises three core stages: awareness stage, consideration stage, and decision stage.
(a) Awareness Stage
This is the first stage in the buyer's journey. It represents a point at which the customer "sees" or becomes aware of the fact that they have a problem or a challenge they need to solve. This is further broken down into three mini-steps:
Identifying Need - At this point of the awareness stage, the potential customer has become aware of the challenge or problem but doesn't exactly know that your company, product or service exists. Your best bet here is to create awareness of your company and its solutions that might help solve their problem through newsletters, email marketing, blogs, social media updates, and so on.
Research - Still in the general awareness state, the potential buyer now starts researching possible solutions to their challenge or problem. Most of them will turn to online resources, with 70 percent doing a Google search.
The B2B marketer's main goal at this mini-step is to provide the customer with lots of useful information tailored to their buyer's persona. Note, however, that the customer may prefer user reviews, statistics, facts, and hard numbers. To that end, you need to center your content around the customer's pain point.
Prioritizing - The education research is over, now comes the due diligence based on specific demands of the business. You can use a hyper-targeted message and ads to urge the customer to the next stage.
Overall, the Awareness stage offers a great opportunity for B2B companies to build rapport, kickstart relationships, and cultivate buyer trust in their product, services, and brand.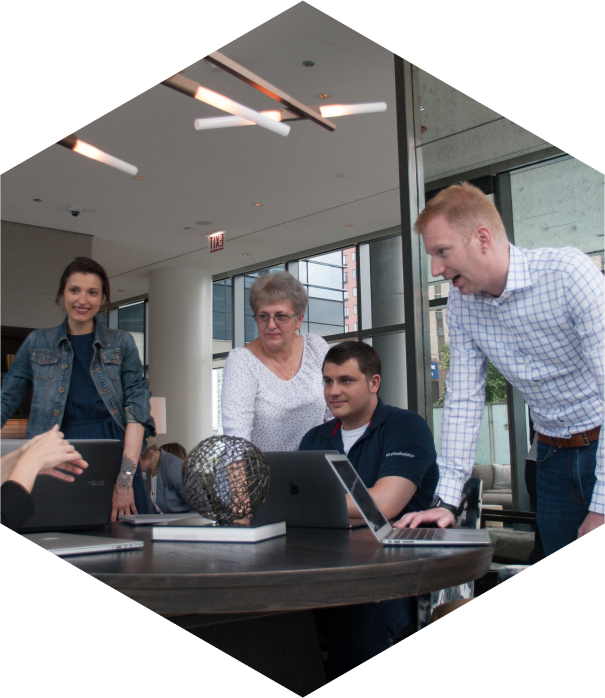 How Can We Help?

Fill out the short form below or call us at:



(888) 846-5382
(b) Consideration Stage
Call it the investigation stage -- this point in the buyer's journey is where the customer has clearly defined their problem and is fully committed to zeroing in on the right solution. More importantly, the customer has done preliminary research and narrowed down the list to one, two, or three potential sellers.
As a result, the B2B consideration stage is mostly dedicated to comparison, juxtapositioning, and considerations between the product or services offered by the preferred candidates.
A highly-targeted content marketing strategy is crucial at this stage, too. After all, more than two-thirds of B2B buyers during this stage turn to Google searches at least twice, according to DemandGen report.
Unlike the consideration stage of the B2C buyer's journey which is usually short, the one for B2B buyer's journey lasts longer, sometimes lasting six to 12 months.
Your best shot is here is to develop a rock-solid, lead-nurturing strategy that includes the use of social selling, testimonials, webinars, case studies, white papers, live events, and much more.
And the numbers seem to agree: 67 percent of B2B marketers report a 10 percent increase in sales after embracing a lead-nurturing strategy. For 15 percent of B2B marketers with the strategy, sales opportunities jumped by more than 30 percent, according to HubSpot.
At this point in the B2B buyer's journey, the customer will likely do a comparison study of your competitors. You can expect the vast majority to get in touch with your sales team at this stage, looking for custom services, product demos, and more clarification. That's where case studies come in handy.
(c) Decision Stage
If you're still on the race at this stage, then your chances of scoring a paying customer are very high. The B2B customer has done the proper legwork as far as consultation with stakeholders and thorough research is concerned. It's safe to say that you have successfully made a lead conversion, but the selling cycle is far from over.
In the B2B buyer's journey, the decision stage is not a once and done. It's an ongoing process, and the purchase is continually reviewed. You've probably offered a free assessment, free consultation, demos, or free trial of your product or service.
As a B2B marketer, you have to stay on top of customer satisfaction and engagement, and find ways to delight the buyer right off the bat. Remember, that you are gunning for a long-term relationship that will result in longer contracts and more business.
Happy B2B customers can make a huge difference. You can easily turn them into brand ambassadors and product evangelists. More crucially, they can play a big role in advancing your referral program, always giving positive recommendations and reviews about your brand, product or services.
The bottom line is that the B2B buyer's journey is long, tedious, and filled with complexities. B2B buyers typically figure out problems, investigate, and get approval from their bosses prior to considering a purchase. Because of emphasis on intense research and the fact that the buying cycle is longer, lead-nurturing is your best bet.
Elements of a Winning B2B Strategy
A killer B2B strategy is built from the ground up with the target customer in mind, which is why you need to define your buyer personas, understand your buyer's journey, and eventually figure out which channels will get the most traction.
Once you have personalized your sales funnel, the next crucial step is mapping out your sales cycle and defining how it'll interact with your B2B buyer's journey.
No matter what you sell or what industry you are targeting, the following key elements should be an integral part of your B2B strategy:
(1) Clear Mission and Vision Goals
The first step in creating a sound B2B branding strategy is to set goals that are realistic, measurable, and well-defined. This can be best accomplished by outlining your B2B brand's mission and vision, as well as core values.
Before you do this, you must define your target audience. Who is your typical B2B customer? What are their pain points, interests, and so on? What kind of level of efficiency, professionalism, and expertise are they looking for?
Once you know who your ideal client is, you can now determine your value proposition. What are you bringing to the table? What's that unique feature you're offering that will appeal to your ideal client?
These first two steps will help you craft your B2B brand story, so you can outline your company's core values, vision, and mission statement. At this stage, all the decision-makers and C-level teams should be thoroughly involved to figure out the fundamental values of the brand.
Your mission statement should be simple yet concise and clear. It should be able to communicate the fundamental values and vision of your company, as well as how it adds value to customers.
For instance, Google's mission statement is "to organize the world's information and make it universally accessible and useful." This statement in and of itself is clear, shares Google's vision, and showcases the value to its customers.
(2) Website That Converts 
Your B2B website is your gatekeeper, your business card, and often the first point of contact for the customer. That's why your site should be built to make a compelling first impression. After all, visits to your website often mark the entry point into your marketing sales funnel.
This leads to the question, what makes a great B2B website?
It should offer a superior user experience. If your B2B site is difficult to navigate or use, the visitors will flee to your competitor's website. That's a big no-no. It should have a responsive design with a preference for strong UX because these can increase conversion rates by up to 400 percent.
That means using attractive CTAs, including white spaces, optimizing page load speeds, keeping consistent pages, catching your 404s, using images smartly, segmenting info with bullet points, writing compelling headlines, and using hyperlink differentiation.
It should be adaptive and ready for mobile. Over 52.2 percent of web traffic originates from mobile devices, according to Statista. More importantly, more than 80 percent of B2B buyers use mobile for work, according to BCG report. However you look at it, your B2B website should be built with a mobile-first mindset. A mobile-friendly website is clutter-free, loads in a snap, and uses fewer plug-ins or scripts.
It should be optimized for search (SEO-friendly). Your brand needs to be found easily online, which is where search engine optimization comes into the picture. Do proper keyword research, and optimize your content for them. Don't forget technical SEO and other ranking factors.
It should include numerous well-designed forms and landing pages. Inbound lead generation is one of the biggest challenges for B2B marketers, and good landing pages can help. Landing pages are hyper-targeted, creating hype and buzz for a particular product, service or promotion.
In that way, they help drive conversions and push potential customers further down the sales cycle. In fact, just 10 to 15 landing pages can increase lead generation by 55 percent, according to HubSpot. Landing pages also provide a perfect opportunity to include highly targeted CTAs.
Includes lots of Call-to-Action (CTAs). CTAs are the bread and butter of B2B inbound marketing. They'll help you ramp up your email list, lure web visitors into your sales funnel, and improve lead conversion. As a general rule of thumb, keep your CTAs short, don't be demanding, convey value, indicate urgency, and make them obvious.
Site messaging should be clear and obvious. B2B customers are big spenders who do lots of due diligence. If you the messaging on your website is misleading, ambiguous, or otherwise vague, you will lose a potential customer right at the gate, even if your product or service is superior.
A blog is a must-have. B2B websites with blogs generate 55 percent more web traffic. Every modern website should be loaded with relevant, educational, and preferably fun content. Considering that B2B customers want to be educated, you need to center your content marketing around a well-designed blog. Fill it with fresh content, including white papers, case studies, how-tos, industry insights, and so on.
(3) Choose the Right Types of Content for your Niche
Content, as you might have heard, is the king of online marketing in general. It was true several years ago, and it's even truer now. When it comes to B2B marketing, however, not all contents are created equal.
Here are the top types of content that are poised to get big results for B2B marketers:
Videos: We live in an incredibly visual world. It's no wonder video has become one of the most critical B2B strategies. In fact, 73 percent of B2B marketers confirm that video has improved their ROIs. The good news is that you can apply video to other content categories, including emails, social media, blogs, and even testimonials.
Emails: Despite the negative talk, email continues to be one of the most important channels for B2B marketing. It boasts one of the highest click-through-rates (CTRs). That's why it's no surprise that 40 percent of B2B marketers report that email newsletters are crucial to their marketing strategies, as per HubSpot.
Checklists: Nurturing leads and existing B2B customers is an ongoing process. Checklists play a critical role in engaging the customer throughout the sales cycle.
Case Studies: Research and comparison studies are a big part of the B2B buyer's journey. They are useful across every stage of the purchase cycle. 77 percent of B2B buyers say they use case studies during the evaluation stage, while 71 percent find them useful in the awareness stage, according to a Hawkeye study.
Testimonials and Peer Reviews: 54 percent of B2B customers seek out peer recommendations and go through reviews and testimonials before even reaching out to sales. Interestingly, 60 percent of B2B buyers search for testimonials and reviews, according to Google report.
eBooks & White Papers: These are standalone downloadable digital assets that contain useful information. They may be gated (for signups) or ungated. Either way, white papers have staying power, which is why 71 percent of B2B buyers say they use them for research.
Blog Posts: The staple of content marketing, blog posts not only drive inbound web traffic but also improve organic visibility. Your blogs can be in the form of case studies, videos, infographics, images, or just written copy. Rightly, B2B brands that blog enjoy 5x more web traffic than those who don't.
Product Demos: These play a great role in the decision and investigation stages of the B2B buyer's journey. Storytelling and product demos can help your B2B buyers remember 22x more of your content.
Buyer Guides: Like case studies and white papers, buyer guides can be useful across all stages of the B2B buyer's journey. They may also help with lead generation and nurturing, increasing the buyer's purchase experience.
Industry Reports: If you want to set your B2B brand apart from the rest, you need to write and avail yourself of industry reports. Quality reports help paint your company as a thought leader.
Infographics: They have become a mainstay of B2B content marketing. Infographics get the attention of your target audience, reinforce your brand, and make your content shareable. Let's not forget they help marketers make a point. People remember 65 percent of visual content after three days.
ROI Calculators: B2B buyers are not driven by emotions. Their purchase decisions and goals are based on logic, financial incentives, and long-term ROI. That's why ROI calculators are all the rage in B2B marketing.
(4) Search Engine Optimization
When it comes to developing the most effective B2B marketing strategy, one question always arises: which is preferable, SEO or SEM?
According to Codrin Arsene, DAP's CEO, you don't have to worry about the SEO vs SEM  question because the two serve very different purposes.
At the very core, SEO helps make your company, product, or service visible on search. This is crucial for more than 93 percent of online activity originates from a search engine, which is almost always Google.
More importantly, organic links get 70 percent of all SERP clicks, leaving only 30 percent for paid search. The first organic search result alone gets 32.5 percent of the clicks. What's more - three-quarters of Google search users don't go beyond the first SERP page.
That's why SEO is more critical than ever for B2B marketers. If your B2B website doesn't rank high in Google SERP, potential buyers may wrongly think you have an inferior product or service.
Here are top SEO best practices that every B2B marketer should swear by:
Get backlinks from reputable, high-authority domains. Backlink-building is at the heart of SEO, but not all backlinks are equal - there good, bad, and ugly ones. In fact, getting backlinks from a garbage domain is one of the most common reasons why B2B companies fail at SEO.
Stick to personalized content. Your SEO and content marketing strategies should work in tandem to better address the buyer's pain points. It's no wonder 69 percent of B2B customers say they value content that resonates directly with their needs.
Create top-notch quality, optimized landing pages. Sure, 44 percent of search traffic points towards the homepage, but landing pages can help with visibility, SEO, and hyper-targeting.
Don't forget to add a compelling meta description and title. Meta descriptions tell the user what the destination page is all about. It should be short (under 160 characters), concise, and compelling enough to entice B2B customers to click through.
Adopt a topical technique when approaching keyword research. SEO is nothing without relevant keywords. Unfortunately, B2B buyers are tired of irrelevant content, with 34 percent of B2B customers saying they no longer engage with a vendor because of this. Doing a topic keyword research can do the trick.
Make your content shareable. Social signals can contribute to a higher search ranking. You should include social media integration tools to boost shares and build buzz for your content.
Make sure your content matches user intent. This is one of the most crucial ranking factors, according to Google. Before you craft your articles, blogs, white papers, case studies, and so on, make sure to dig up a little on search intent.
Optimize for voice search. The time of hands-off search is here to stay, with this Gartner report saying 30 percent of online searches will be screenless by year 2020. Moreover, close to 40 million households in the US now own a smart speaker, according to Techcrunch.
Take advantage of HTML Schema Markup. Schema markups don't just improve SEO but also increase overall user experience. They help B2B websites optimize for reviews, local business directories, AMP results, Answer Boxes, rich snippets, and much more.
(5) Social Media
The 'big 4' social media platforms (LinkedIn, YouTube, Twitter, and Facebook) have become a mainstay fixture of marketing for B2B companies -- and with good reason. Contrary to the common belief that social media is a preserve of B2C marketing, 54 percent of B2B marketers say they've successfully acquired leads from the platforms.
Even more impressive, 92 percent of B2B marketers say social media is an integral part of their marketing strategy, as per Hootsuite.
It's worth noting, however, that most B2B users would not be impressed with or be converted by social media unless you are in a very niche space.
True, you can leverage social media to drive newsletter signups, white paper downloads, or generally push B2B customers down the purchasing funnel. However, it may not necessarily help you convert them.
Nevertheless, B2B marketers can leverage social media to showcase their expertise by responding to questions, sharing content, and communicating their companies' core values and culture. Social video content is also gaining more and more traction in the B2B marketing space.
Here are some social media best practices B2B marketers might want to keep an eye on:
LinkedIn should be your go-to platform. LinkedIn is the king of B2B social media platforms, with close to 90 percent of B2B marketers confirming that they regularly use it to share content, according to Content Marketing Institute. More importantly, more than 44 percent of qualified B2B leads originate from LinkedIn.
If that isn't fantastic enough, LinkedIn users are 4 times more likely to go to your B2B website than Facebook users. The web visitor-to-lead conversion rate of LinkedIn sits at a whopping 2.74 percent, which is three times higher than that of Facebook and Twitter combined.
Set S.M.A.R.T goals. Your goals for B2B social media marketing should be Specific, Measurable, Attainable, Relevant, and Time-Bound.
Monitor your competitors. Social media makes it easy to keep an eye on your competition. Learn what they are doing wrong and what they are doing right. This way, B2B marketers can tailor their strategies to stand out from the crowd.
Share engaging yet original content. Potential B2B buyers, peers, and competition are keeping an eye on every move you make on social media. The last thing you want is to kill fires rather than connect with your audience.
Leverage the power of multimedia. Use LinkedIn documents, Twitter polls, and Instagram stories to get B2B buyers excited and engaged.
Encourage employee advocacy. The truth is, most customers (about 76 percent, including B2B buyers) trust the "word" of an employee more than anyone else in the company, including C-level executives.
Stick to your brand voice. We can't emphasize this enough. Remember B2B buyers are always looking for expertise, efficiency, and ROI. Your brand voice should communicate these elements. Consistency is also key.
Provide customer service and support. Offer advise, reply to questions, and address complaints right away.
(6) PPC Ads
Pay per click (PPC) ads are designed to help bring in more paid traffic. This, in turn, can be incredibly helpful in acquiring new B2B leads
According to Google, paid ads enjoy an average of 200 percent return on investment (ROI).
The B2B marketing landscape faces a unique set of challenges when it comes to paid traffic. Your B2B paid campaigns should integrate well-researched topical keywords, and the ad copy itself should be attention-grabbing.
With that in mind, here are top tips to keep in mind to craft compelling B2B PPC campaigns that will get the most ROI:
Execute keyword and competitor research. It's simple: if you want a high conversion rate and to attract high-quality traffic, you need to bid on the right keywords. That's why your research should be two-pronged:
Study what your competitors are doing
Uncover relevant keywords
For keyword research, use tools like Ubersuggest, Google's Keyword Research Planner, Moz, Google Trends, and much more. To figure out what your competitors are up to, it might be best to use Auction Insights.
Set up rock-solid B2B PPC ad campaigns. When you have relevant keywords hands, it's high time to create compelling ads that will generate leads and traffic.
Categorize 5-10 keywords into a single ad group to generate scalable campaigns fast. Alternatively, you can create a SKAG to target the most successful key phrases, as well as reduce CPC and increase CTR. Don't forget to take advantage of the Google Quality Score.
Create compelling ad copy. First of all, you need to craft a killer headline, something that will get the attention of a B2B user from afar. Your copy must be to the point, benefit-focused, and hyper-targeted with top keywords. Ultimately, you need to complete your ad copy with a CTA that focuses on search intent.
Create landing pages driven by conversion. Once your ad campaigns are fully set up, you need to create top-notch landing pages that will help drive conversion and lead generation. Use trust marks, provide clear header messaging, make a valuable offer, and include clear CTAs. You can take it up a notch with video.
Review, refine, repeat. The hard work isn't over after the B2B PPC ad campaigns are up and running. You need to measure success, optimize, and refine to boost your ROI. It all starts with testing your new ad copy, carrying out landing page tests, and integrating your Google AdWords with Google Analytics.
How to Create an Effective B2B Marketing Strategy - Strategic Advice
According to a Bain & Company report, close to 90 percent of B2B marketers say they are unprepared to market to digital-savvy B2B buyers, especially millennials.
Given this, here are tried-and-true, strategic tips on creating a bulletproof B2B marketing strategy:
1) Don't be afraid to experiment
"Experiment, experiment, experiment," should be your mantra when it comes to creating your B2B marketing strategy. Hesitating to take a risk can sometimes doom new ideas and strategies right out of the gate.
Yes, some failures are hard to swallow but don't let them kill off promising ideas. Next time you feel like experimentation is not for you, remember that it may help tell you what works for your B2B company and what doesn't.
Maybe you're wondering if webinars, social media campaigns, or new format content will cut it for your brand. You won't know if you don't experiment or test them!
Experimentation can give you a much-needed competitive edge. For instance, it can offer you insights and deeper understanding of your target audience than your competitors have. This gives you a strategic advantage when crafting your content and campaigns.
Experimentation can also help you find novel ways to push your B2B customers down the sales cycle or conversion path. By testing what works best for your target audience, you'll have no trouble creating a superior user experience.
However, you don't have to go overboard with experimentation. Even switching to a new platform or trying a new content format might provide your campaigns with more buzz, helping your brand increase visibility and engagement. But the key here is to learn something new.
2) Try new formats of content
It's said that an average human has an attention span of a mere 8 seconds online. That's all you've got to grab the attention of your potential buyers and make a lasting impression.
Sometimes written copy, emails, eBooks, blog posts, white papers, case studies, and other B2B-friendly content formats might not do these 8 seconds justice. That's why you need to think outside of the box.
Play around with other content formats, such as podcasts, webinars, videos, and even pop quizzes. They could be game-changers for your B2B marketing strategy, especially when it comes to attracting new leads to the top of your sales cycle.
Take Unbounce, for instance. The provider of landing page building platforms recently tried using webinars, resulting in a 35 percent jump in free trials starts.
Slack is another firm that has tried podcasts, inviting customers to participate in their marketing campaigns. Using interactive podcasts, Slack has boosted brand loyalty and made its product more attractive.
3) Co-market or cross-market with complementing brands
While co-marketing is not new in the B2B space, it has gained increased traction in recent years. By co-marketing initiatives in conjunction with a like-minded brand, you can help drive more attention, leads, traffic, and sales for both companies.
Ultimately, this strategy can amplify reach, engagement, and visibility for both brands. There's a wrong and right way to execute co-marketing initiatives:
Get featured in a newsletter that focuses on the same audience. If a curated newsletter has a following from your target audience, advertising or getting featured on it is a no-brainer.
Exchange guests with a like-minded company. Guest posting isn't a new tactic, but exchanging guest posts might turn things around for your brand. On the one hand, this provides you access to a large pool of audience. On the other hand, you are getting/giving a high-authority backlink.
Join like-minded Slack communities. You can link up with popular communities on Slack. They are a great place to showcase what makes your product or service stand out.
Co-run a podcast or webinar. By co-running a webinar or co-hosting a podcast with a strategic collaborator, you will take advantage of the strength of numbers, as well as generate more leads.
Consider the case of Wistia, the business video hosting service. The company co-ran several webinars with five different strategic partners -- Telestream, Uberflip, LeadPages, Celtx, and Sprout Social. After three months, this resulted in over 8000 new leads.
4) Embrace thought leadership marketing
Again, B2B customers are interested in being educated on products, services, and what contributes to their business bottom line. They need strategic advice, industry insights, and other pieces of information that will make their day-to-day operations easier and more cost-effective.
That's where thought leadership comes in very handy. Did you know that 96 percent of B2B customers prefer content that includes anecdotes, insights, opinions, and input from thought leaders?
More often than not, thought leadership lends more authority and credibility to your content. Thought leadership marketing helps you build more trust, cleverly increase the value of what you offer, and elevate your brand awareness. And it's one of the best ways to take your brand PR push to the next level.
How to Create an Effective B2B Marketing Strategy - the Plan
Failing to plan is one of the leading reasons why some B2B marketing strategies fail. You may have an awesome product or service, but your marketing efforts will end up flopping if you don't have a planned approach backed by an actionable B2B marketing plan.
The benefits of having a clear-cut B2B marketing plan in place are plenty:
Reach new customers quickly and cost-effectively - With a well-defined plan involving buyer persona analysis, generating new leads becomes a piece of cake.
Make sure everyone is on the same page - This is particularly true for B2B brands with separate sales and marketing teams. Creating a central plan means setting objectives and goals for everyone. With a plan, all the decision-makers are always in sync, helping streamline the whole process and enhance the customer experience.
Evaluate new growth opportunities - A plan gives you a more holistic picture of the company, product or services. Do new opportunities align with your current objectives, goals, and strategy?
Stay abreast of the latest trends - B2B marketplace is always evolving in the backdrop of disruptive technologies. With a solid plan, you can keep up with new changes, helping your brand stay ahead of the curve.
Define your objectives, goals and attack plan - Without a clear blueprint or map of attack, you will have trouble aligning your B2B marketing efforts with your business objectives. On the other hand, a good plan makes goal-setting easy, effective, and hassle-free.
Justify your marketing efforts - It's not enough to set clear and well-defined goals when creating your B2B marketing strategy. A good plan will come in handy when measuring the success of your B2B campaigns.
Here's how to create a holistic B2B marketing plan:
1- Understand your Business Objectives and Goals.
B2B marketing planning begins with goal-setting. Your goals should be SMART, meaning specific, measurable, achievable, realistic and time-bound. At this stage, you will outline and define how you will also measure those objectives and goals.
When setting goals, keep your target audience in mind, as well as evaluate your current market performance. Are your marketing and sales teams on the same page?
What can B2B marketing team do to increase ROI? Is your B2B website current? At the end of the day, your goals should align with your business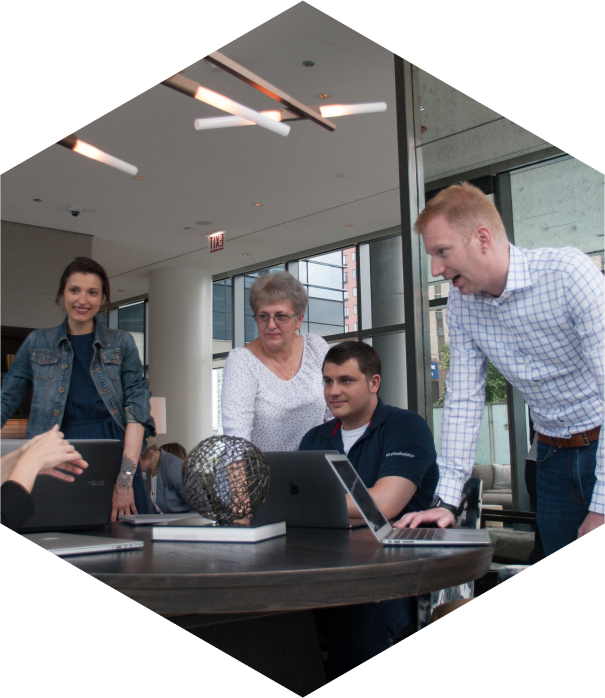 How Can We Help?

Fill out the short form below or call us at:



(888) 846-5382
2- Create an Effective B2B Marketing Strategy
You cannot create a plan without having an effective marketing strategy in the first place. Unfortunately, 51 percent of B2B companies don't have such a strategy. Lucky for you, we have already detailed above a few tips on how to create a solid B2B marketing strategy.
No matter who your target audience is or what marketing approach you take, doing thorough research is crucial. It should be the first step you take prior to creating an actionable B2B marketing strategy.
Once you have nailed the research, your next essential move is to understand your target market as well as your typical client. You can accomplish this by asking yourself (or your team) the right strategic questions.
Your questions should lean towards the problems, pain points, and needs of your target market. By doing this, you can determine if your products or services are relevant when it comes to solving your target audience's problems and addressing their concerns.
In short, you want to ask these questions to make sure that your B2B strategy aligns with the market trends. Are your services or products suitable for your target market?
Once you have your target market figured out, the next step is to whip up content that is not only relevant but also resonates with them. Well-crafted and data-driven content will advance every aspect of your B2B marketing strategy.
Equally important is that you know your target audience's unique preferences and needs. Without knowing these contexts, what your target market cares about and their purchasing path, you will find it hard to understand their buying behavior and minds.
Another key area to focus on when creating your B2B marketing strategy is to pinpoint your contact points. How will you break the ice and start conversations with your target B2B buyers?
How will you engage better with your potential customers? Don't forget that today's B2B buyers want to cultivate a healthy relationship with brands they do business with.
Ultimately, you have to review and re-examine your existing B2B marketing strategies. Do they need to be tweaked, optimized, or dropped altogether?
Creating a solid B2B marketing strategy is all about optimizing the whole process--and doing so often. Stay ahead of your target market's changes. Review, refine, and repeat -- that should be your mantra when it comes to your marketing strategy
3- Define your Strategic Plan tied to KPIs
At the core of every B2B marketing plan is a well-defined marketing and PR strategy. Here are a few handy ways to create this:
Put in place a well-defined product roadmap for your B2B website. Don't forget that a B2B website that gets results is user-friendly, loads in a snap, and makes "contact us" option visible and clear. More importantly, ensure that your company's location, services, and contact information are super easy to find.
Document your SEO strategy. If you want to get found online, you need to stay on top of your SEO strategy. But that isn't enough; you also need to document it to make sure that everyone on the sales and marketing team is on the same page.
Have in place an actionable social media strategy. This should detail the tactics and strategies you plan to use on your target platforms, whether that's Facebook, LinkedIn, Twitter or YouTube.
Create a feedback strategy. You cannot implement a B2B marketing strategy blindly. That's why you need to put into action measures and strategies to continuously obtain feedback from potential and existing B2B customers.
Create a strategy for requesting customer testimonials, ratings, and reviews. Reviews are important for both PR and marketing strategy. Ensure that you have in place review pages on several sites such as BBB, Yelp, Google, etc.
Standardize your brand messaging. Consistency is key when it comes to B2B marketing and branding. The same goes for your B2B brand messaging. This helps make your brand recognizable and increases employee engagement. With an omnichannel message, you can perk up your company's authority and ultimately boost customer satisfaction.
4- Get to know your company's products or services
Understanding your brand's products or services is an effective way to create a realistic B2B marketing plan, as well as make sure you get high ROI for your marketing campaigns.
You need to start by carrying out a thorough audit of your company's services and products so that you can create a plan that aligns these products with the buyer persona.
Who is the ideal client? What are they looking for in a product or service? How does your product or service help meet their pain points?
By knowing the ins and outs of your brand products, why they are required, and how they're seen by ideal buyers, you will be better equipped to market them more effectively.
5- Conduct a SWOT Analysis
SWOT analysis is an analytical technique that is designed to help you identify key problems and challenges affecting your B2B marketing, so you can outline how to overcome them. Technically, it involves the evaluation and examination of key elements of your strategic marketing planning process.
In reality, however, all you have to do is create a quadrant and populate each with your business's strengths, weaknesses, threats, and opportunities. You can brainstorm with your marketing team to come up with the elements, or get them from existing marketing/branding material.
6- Define your business subject matter experts
As we've mentioned earlier, investing in thought leadership marketing is crucial for B2B brands. This is where the subject matter experts (SME) within your company come into play.
SMEs are specialists who know the technical side of the product or service you are marketing. They can help lend more credibility to your content and facilitate B2B campaigns.
A marketing strategy that is driven by thought leadership can deliver immense benefits to any B2B company. In fact, according to HubSpot, a staggering 96 percent of B2B customers say they prefer content with more input from thought leaders from the industry.
Apart from helping boost your PR initiatives thought leadership-driven content marketing adds more power and value to your services or products. But the bigger question is: how do you leverage thought leadership in your B2B marketing?
Start with the basics. It doesn't have to be something fancy or groundbreaking. Depending on the expertise of your SMEs, you can launch an insightful and educative eBook, making sure it is actionable and relevant to your target market.
If an ebook won't cut it, you can create a fully-fledged course. It is all about showcasing your brand as an industry leader, especially in terms of innovation.
Besides providing you with an opportunity to educate your audience, a well-planned course will also tell potential B2B buyers that you are the best in what you do. Moreover, you will become the to-go for customers who want to stay ahead with expert-led training.
A webinar, conference, Twitter chat, or a fun event will go hand in hand with your valuable course. If done well, these events can help keep your brand top of their minds. You can also establish a consultant program.
7- Define your buyer personas
You cannot effectively plan a strategy or market a product if you don't know exactly who your target audience is. You need to go above and beyond to understand who your typical customer is. Obtain valuable buyer data, so you can create a lead generation strategy to attract new customers.
Most B2B customers focus on efficiency, ROI, and expertise. But what expertise are they looking for? What are they looking to make more efficient? Comprehensive target audience research can make a huge difference.
Don't just stop there; conduct top-down competitor and market research. This way, you'll gain more detailed insights into your ideal client (B2B customer).
Knowing exactly what you're marketing and to whom makes it easier to define the type of marketing messaging and tone to deliver optimal results.
Once you have defined relevant buyer personas, you can create a hyper-targeted B2B marketing plan for every persona.
8- Do a Gap Analysis
A marketing plan will show you where you are, and goal-setting will help you figure out where you want to be. But a gap analysis fills the void and helps align your business goals with your marketing efforts.
More importantly, a gap analysis can be instrumental in determining where your marketing campaigns are in comparison to your competition. You can use this information to plan how to beat your competitors.
A proper gap analysis can be conducted in four key steps:
Assess accurately your current situation or status. This is your springboard, where you ask the hard questions that will help model your B2B marketing. In short, this initial phase enables B2B marketers to understand what's happening right now by learning current status, processes, and business environment.
Learn where you want to be. In this step, B2B marketers are supposed to go after company desires, mission, goals, and vision for the future. Here, you can also think about the issues, concerns, and thoughts of your target market.
Figure out the size of the gap. You know your current status, as well as where you want to be. Now determine the gap between the two, using hard numbers to motivate planning.
Figure out how (or if) you can fill the gap. You may not be able to close some gaps because of a lack of resources, expertise, money, or time. If you can, pinpoint experts who will help the company close the gap.
Examples of Amazing B2B Marketing Strategies
The following 20 brands have done exemplary work crafting outstanding B2B marketing campaigns.
1. Video Marketing: HP, The Wolf. 
The Wolf is a long-form, trailer-style video ad from HP. It's about a rather boring tech topic: printer security. For such a dry subject, the producer did a bang-up job, making the video engaging, captivating and fun. This is a classic example of how to use brand storytelling for video ads.
2. Email Marketing: CB Insights, Newsletter
With over 600k subscribers, CB Insights is a daily digest newsletter on what's going on in the world of startups, venture capital, technology, and future industries.
This is a great example of fun email marketing, as it illustrates how a respectable research firm like CB Insights is willing to make a light moment of serious news. Still, the newsletter hits home when it comes to the message.
3. B2B Brand Storytelling: Google, Video Series
AdWords Stories: Zingerman's is an amazing example of brand storytelling by Google. The tech giant uses this short video to tell a touching story of how a local cafe used its ad service (Adwords) to grow to a 14-million nationwide mail-order firm.
4. Email Marketing: Mattermark: Raise the Bar, Newsletter
Here's another good example of email marketing for B2B companies. Mattermark takes the time to curate a newsletter that is not only informative but also intuitive and easy to scan. The best part is that it doesn't try to push a sales pitch down the reader's throat. The bottom line here is that you should educate the customer first.
5. Content Marketing: MYOB: Tax Time, Planner
MYOB.com is a firm that offers financial management services to businesses in New Zealand and Australia. Its audience includes SMEs that are trying to learn business ropes and established firms that want a holistic insight into all aspects of their business operation. MYOB has created a B2B content marketing strategy that's tailored for both.
6. Influencer Marketing: Bosch Power Tools, Video Reviews
When you think of influencer marketing, the first thing to jump to mind is an Instagram celebrity trying to market multivitamin pills. But Bosch Power Tools has changed that perception by using micro-influencers (volunteer testers) to reach its target audience without spending a pretty penny.
7. Thought Leadership Marketing: Deloitte, Industry Report
Most B2B companies shy away from making a bold stand for a good cause. In the Global Impact Report, Deloitte took a stand that has earned the company plenty of positive attention from potential B2B customers. This is a classic example of how fearless thought leadership marketing can get results, having delivered over 3 million LinkedIn followers for Deloitte.
8. Content Marketing: First Round, Curated Magazines
First Round is an early-stage VC firm. It has curated knowledge from industry gurus, entrepreneurs, and other thought leaders into magazines, making useful knowledge available to peers. This is a fantastic example of how a B2B brand can leverage several different categories of knowledge to do content marketing and demonstrate thought leadership.
9. Offsite Content Marketing: NextView Ventures; Better Everyday, Medium
VC company NextView has created an entire publication called Better Everyday on Medium. The firm says the publication offers "stories, analyses and resources to help seed-stage founders redesign every day."
This is a good example of how off-site content marketing can be leveraged to help increase quality, variety, and discoverability of your content and brand.
10. Social Media Marketing: Wistia, Instagram
Social media is a great place to get up close and cozy with your target audience (and, of course, post cute photos). This might not sound like the right cup of tea for most B2B marketers.
Wistia, a video hosting platform, will hear none of that. By sharing visual content that offers "an inside look," the company adds a human element to its Instagram posts. The takeaway here is to incorporate human touch into visual elements for next-level social media marketing.
11. Social Media Marketing: General Electric, Instagram
B2B marketing can be a huge hassle for companies like GE because what they sell is sometimes very technical. But the innovative tech company makes social media marketing look like child's play.
Its Instagram page is an example of how visual storytelling can be leveraged to add a human touch to highly technical B2B products and services, making them more relatable.
12. Content Marketing: Cisco, Graphic Novel
Cisco is a well-known producer of telecom and networking software, hardware, and devices. Instead of using a blog or infographic to promote its advanced cybersecurity service, Cisco decided to go another route: a comic-style graphic novel called "SuperSmart Security."
This is a good example of how a B2B brand thought out of the box and used a non-traditional content format to attract more attention.
13.  Influencer Marketing: Adobe, Influencer Campaign
Adobe, a creative software developer, created a fascinating interactive digital story that featured interesting content from B2B influencers. Part of its "Reshaping Customer Experience Management: The Future of #CXM," this campaign garnered plenty of visibility for the company's Customer Experience Management portfolio.
It's become a poster child of how to leverage micro influencers when it comes to curating content.
14. Digital Marketing: Microsoft; Story Labs, Blog
Microsoft is one of the largest computer technology companies in the world. The tech giant is known for using storytelling to humanize its brand.
Microsoft's Story Labs is a curation of employee stories, customer success stories, and everything in between. By highlighting real people telling real stories, Microsoft paints an image of a grounded B2B brand. This also helps with digital marketing and building trust.
15. Referral Marketing: Lyft, Referral Codes
Lyft is a rideshare company and a big rival to Uber. The firm almost collapsed at the beginning due to strikes by its drivers. However, its unprecedented growth is attributed to word-of-mouth marketing.
Lyft has a program where riders receive incentives like free rides for sharing referral codes with people they know. The lesson here is that you should invest heavily in word-of-mouth marketing.
16. Social Media Marketing: Airbnb, Facebook
Airbnb is one of the biggest advocates of social media marketing. Its Facebook page as well as Instagram and Twitter accounts are filled with photos, posts, and videos highlighting properties, destinations, and much more.
Airbnb's Facebook page is a great example of how brands can leverage user-generated content to market to customers.
17. Social Media Marketing: Capital One, Twitter
It isn't easy to humanize a banking and financial service companies like Capital One. Although its target audience includes both B2B and B2C customers, Capital One uses lots of images to keep its Twitter timeline light, fun, and engaging.
Capital One's Twitter timeline is a good example of how B2B brands can humanize their brands using image-rich content.
18. Microsite Marketing: Novartis (Beautiful Medicine), Landing Page
Novartis is a multinational pharmaceutical company which isn't the easiest brand to humanize. Instead of using medical jargon, Novartis created a beautiful microsite aptly called Beautiful Medicine.
Beautiful Medicine is an epitome of how to leverage microsite marketing to tell your brand story and explain your products and services in layman terms. The microsite has a subtle balance between video, images, and text, creating a truly immersive experience.
19. Content Marketing: Vidyard, Webinars
Vidyard is a tech company that develops software for hosting and analyzing video performance. As a video-oriented firm, it was only natural to market through video.
Instead of hosting a single webinar, Vidyard created a fully-fledged webinar library that is mobile responsive and user-friendly. Perhaps the most notable feature is the use of white spaces, clean layout, and artistic images to make the webinars truly stand out.
Summary
B2B marketing involves promoting your products, brand or services directly to other businesses and organizations. This isn't the same as B2C marketing in which marketers sell to individual consumers.
B2B buyers are organizations and other businesses, while B2C customers are people who buy products or services for personal use. The B2B target audience is usually a small group of key decision-makers, while B2C marketers focus on a large audience of individuals.
Like much else in the business world, B2B marketing has gone digital. It's estimated that B2B marketing e-commerce will grow at a CAGR of 10 percent to hit $1.8 trillion by 2023. Accenture says that 61 percent of all B2B transactions now begin online.
For your B2B marketing to be effective, you must figure out what your target market looks like, including studying their needs, pain points, and problems.
With that in mind, there are four key types of B2B buyers you need to be aware of: (1) institutions like NGOs, charities, colleges, and churches, (2) wholesalers who buy products or services in bulk and resell them, (3) government agencies, like the Department of Defense, and (4) companies selling to other companies.
Once you know your target audience, it is important to map out your B2B buyer's journey. This is broken down into three distinct stages: the Awareness stage where you research and identify the needs or problems of your target audience; the Consideration stage in which the buyer has done the research and investigated potential solutions; and the Decision stage.
What makes a winning B2B marketing strategy? No matter what industry you belong to, a killer B2B marketing strategy should integrate the following elements:
Your strategy should have well-defined vision and mission goals, which means you should have a clear mission statement to act as a guidepost for all your marketing efforts.
You should have a well-designed, responsive, and modern website that's mobile-friendly, SEO-ready, and optimized to offer the best UX.
It should focus on SEO strategy, including link-building, optimized landing pages, keyword-infused quality content, schema markup, and optimization for voice search.
It should include an actionable social media strategy that covers the big four platforms, namely Facebook, Twitter, LinkedIn, and YouTube.
It should incorporate a solid PPC strategy to help pull in paid traffic.
An effective B2B marketing strategy hinges on dynamic content marketing. As such, you should focus on top types of B2B content, including ebooks, emails, videos, checklists, case studies, reviews and testimonials, blog posts, buyer guides, infographics, and product demos, just to mention a few.
Wondering how to create an effective B2B marketing strategy? Here are some top strategic tips:
Aggressively use new tactics and strategies. Don't be afraid to experiment. Try new and unique content formats, including webinars, videos, podcasts, and even pop-up quizzes to grab more attention of B2B buyers.
Cross-market or co-market with like-minded B2B brands to take advantage of their strategic position in the market.
Take advantage of thought leadership marketing by launching a consultation program, creating a course or hosting seminars, webinars, and other fun events both online and offline.
More importantly, create an effective B2B marketing plan. You can achieve this through a step by step process:
First, learn your business goals and objectives
Second, create a solid B2B marketing strategy
Third, define your strategic plan tied to key performance indicators or metrics
Fourth, get to understand your brand's services or products so you can market more effectively.
Fifth, carry out a SWOT analysis to figure out your brand's strengths, weaknesses, opportunities, and threats.
Sixth, define your business subject matter experts in order to push your thought leadership marketing to the next level.
Seventh, determine and define your B2B buyer personas
Lastly, conduct a gap analysis
At the end of the day, learn from brands that have done a bang-up job when it comes to B2B marketing. With a plan and strategy in place, you can take your B2B marketing to a whole new and exciting level.