B2B marketing, or business-to-business marketing refers to the marketing of products, services and solutions to other organizations, companies and government entities. Unlike business-to-consumer marketing, which is primarily driven by the value a product brings to an end user, B2B marketing efforts are typically aligned with the return on investment a specific product or service brings to an organization.
This sounds simple in theory, but are B2B marketing professionals actually satisfied with how their efforts have panned out in 2018? The answer is – not quite. And the multi-layer solution to the problem can be found in this article.
The B2B Content Marketing Strategy Report finds that 91 percent of B2B businesses used content strategy in 2018, but less than 34 percent of marketers consider that their companies are proficient at how to leverage content marketing effectively. Here's how to fix that problem.
The 2018 B2B content marketing report published by the Content Marketing Institute is filled with valuable data and trends, none more important than this: 93 percent of all B2B companies are committed to creating & nurturing a robust b2b content marketing strategy in 2019.
If you're a business hoping to compete in today's cutthroat industry, you CANNOT be successful without developing a coherent marketing strategy that identifies prospects, creates content to engage their interest and converts them into long-term customers.
But the Content Marketing Institute's 2018 report also had another piece of data, which was alarming: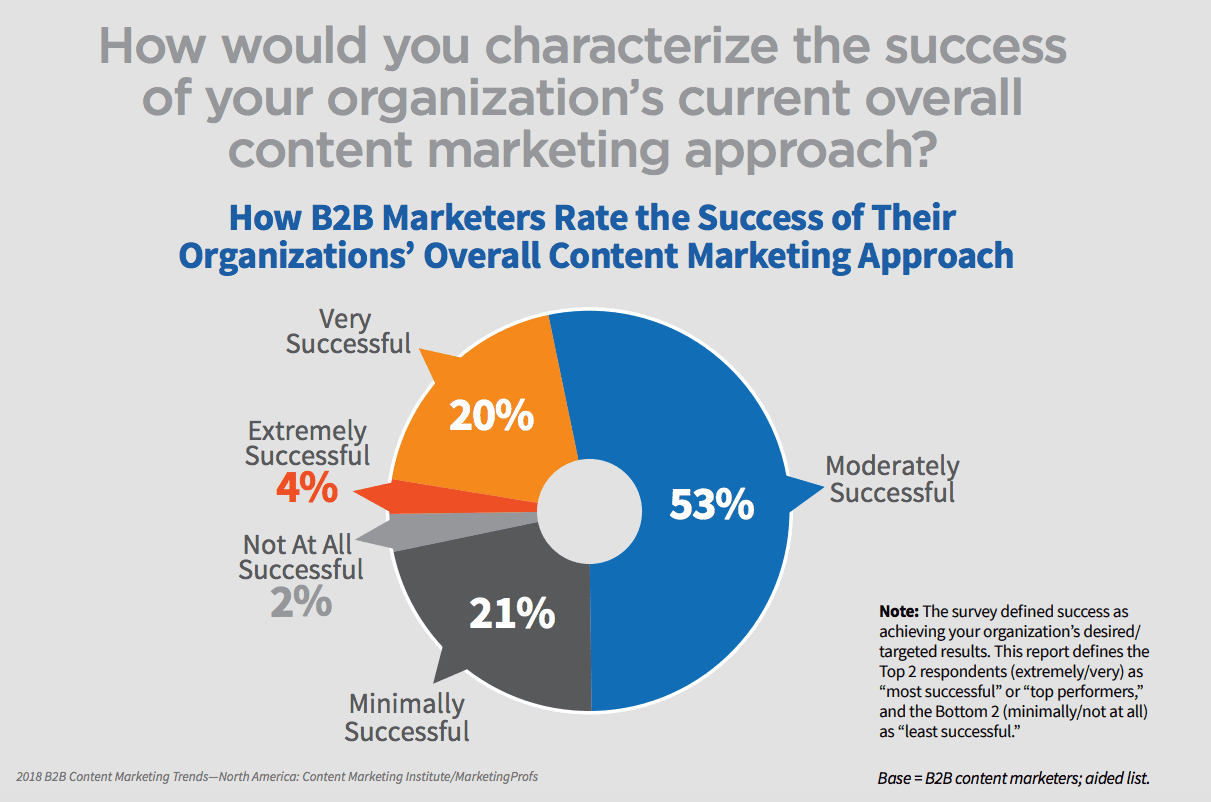 Only 20 percent of businesses admitted that their B2B content marketing strategy was 'very successful.' And a staggering 76 percent of companies said that their content marketing was either not working, or only working in spurts.
There's a problem here, folks: A lot of companies simply don't know what they're doing when it comes to crafting an effective content marketing strategy that continues to yield dividends.
If you're part of that 76 percent of businesses that are not finding the big wins through your content marketing strategy, or you're just about to jump onboard this fast-moving train, don't worry, because we may have the answers for your problem.
The marketers at Digital Authority Partners have created some actionable tips for you based on some of the key figures and trends from the 2018 Content Marketing Institute Report.
And before we jump right in, since we strongly believe in a 'bottomline on top' modus operandi, here's the highlights in the article, displayed graphically in an infographic designed with love in our Chicago-downtown office.

Align Content Marketing With Sales and Have Clear Business Goals
In the report, 73% of companies said that content marketing was not a one-off, but part of a systematic strategy that was integrated into their business processes. In addition,  55% said that they had aligned their content marketing with sales.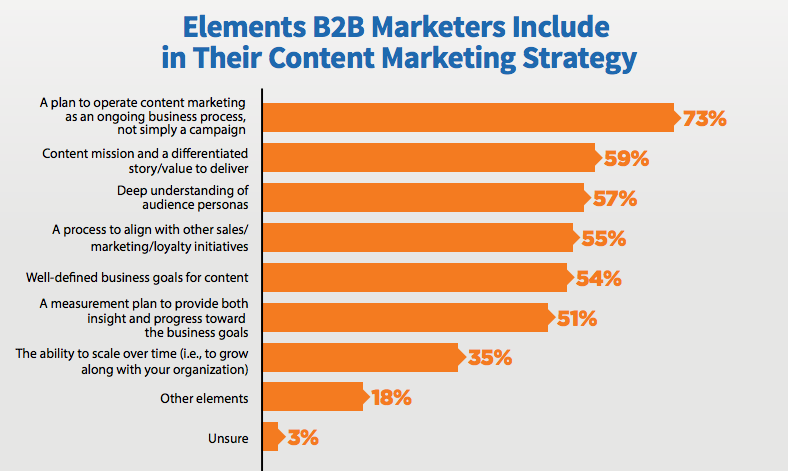 Regarding the importance of the sales-and-marketing alignment, Fergal Glynn on Sales Hacker wrote, "The key purpose of marketing in B2B is supporting sales. In B2B, marketing is all about supporting sales, making it easier to sell, and helping the sales team close more business."
Furthermore, Glynn argues that businesses must use the same Key Performance Indicators (KPIs) for both their sales force and their marketing department, so that they can better work together to reach their targeted numbers.
The bottom line is that too many companies treat their sales department as utterly independent of marketing. In fact,  these are simply two sides of the same coin, with the same goals. The more you integrate these teams, the more your content marketing will yield results.
Create Great Content
Here is what some B2B marketers had to say about the reasons for their decreased success in content marketing over the previous 12 months: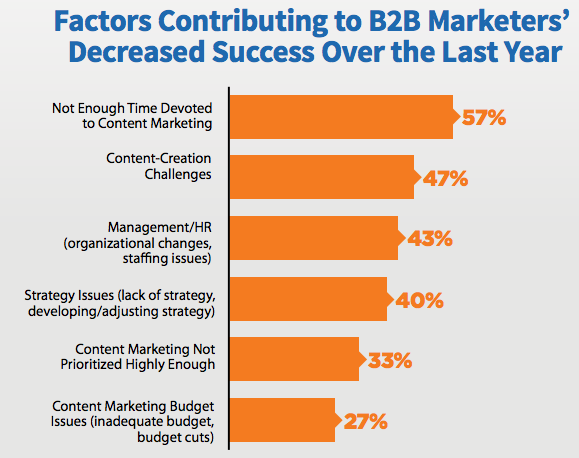 Time is a critical factor as evidenced by the 57 percent of businesses that cited it as their major reason for lack of success in content marketing. But right behind time is the ever-present challenge of creating the right content for the right audience.
In a recent piece on common mistakes businesses make in their marketing, Neil Patel wrote that, "your content needs to have value in order to accomplish anything."
So really, the First Commandment of creating great content is to ask yourself this question: Is my content solving a problem or fulfilling a desire in my targeted audience?
The goal of all good content is to establish credibility and authority, and build trust with your audience, which makes them much more likely to engage with your products and services.
But you must also understand what content is the most effective for your business. That is a lesson that Vincent Nero, VP of ecommerce and Marketing at Successories (a company that sells motivational employee gifts and awards) learned when analyzing his company's content strategy:
"For our industry, whitepapers and free downloads like worksheets get the most traction in the short term when they are launched to our users and then have long legs by continuing to generate new leads," Nero stated. "Social and Blog is too fleeting, but it keeps us active with our audience."
Nero points to the effectiveness of knowing what content generates the most interest, and making sure that content is constantly updated to maintain user engagement.
But don't underestimate the effect an outstanding blog can have on engaging prospects and converting them into long-term customers.
That's the key driver behind the content marketing strategy of Max Schleicher, SEO Campaign Manager at Review Trackers, one of the premier online review management solutions for businesses.
"Plain and simple, it's hard to improve on a great blog," Schleicher stated. "At scale, almost nothing can attract more visitors, links, and leads to your business than high-ranking content. A close second is a top-notch email campaign to nurture the high-funnel leads that come through your content."
Great content helps you build your entire marketing campaign, which is why it's vital that you build up from this solid foundation. But if you don't have time to create an effective B2B content marketing strategy, then you need to think about hiring an agency that can handle all of these services on your behalf.
Enhance Customer Experience With Your Content
The Content Marketing Institute report also found that 88 percent of the businesses thought content marketing was an important aspect of their overall marketing strategy. And 78 percent said their business was focused on providing an "exceptional experience for our audience."
That experience must include making consumers "feel like you've got their back," and that you will provide all the support they need after they buy your product or service.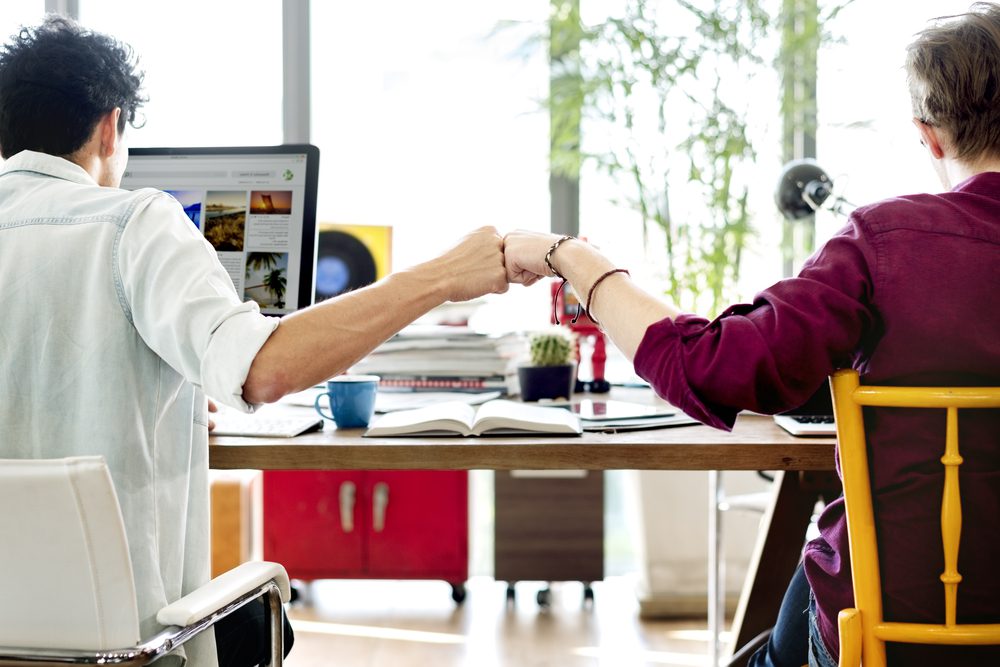 But it also includes engaging prospects on social media, creating blogs that offer valuable articles, podcasts and even live-stream videos for product launches, behind-the-scenes peeks and big company events.
That's the strategy taken by Tyler Riddell, Director of Marketing for eSub Construction Software.
"We have built a pretty effective content marketing campaign by not just distributing creative, relevant content to attract and retain our audience, but also bring about profitable customer action," Riddell stated. "We use a variety of channels in our campaign such as info graphics, blogs, educational videos, webinars, SEO and guides. We have found that it takes a variety of content sources to attract the right customer base and create brand awareness."
Notice how Riddell's methods didn't just end at content creation, but also included distribution on relevant channels where the consumer experience would be enhanced?
Document Your B2B Content Marketing Strategy
Is your content marketing strategy written down somewhere that you can easily access it to measure your progress?
If your answer is 'no,' you're not alone, based on the chart below: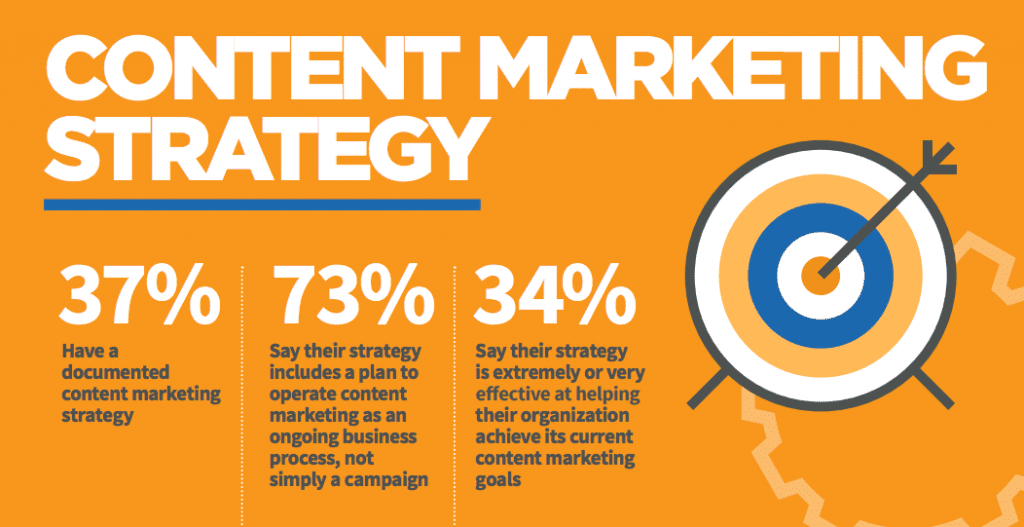 Only 37% of businesses have a documented B2B content marketing strategy, which is really alarming.
A content marketing strategy that exists solely in your head cannot motivate the rest of your company's team members.
A documented strategy is vital so that your team knows how everyone will communicate about the methods they are taking to implement the marketing plan.
When documenting your strategy, you need to answer questions such as why you are creating the marketing plan, your target audience (culled through methods such as market research and personas), your measurable goals (clickthrough rate, subscription numbers, website visits, conversion rates), and how your company defines success.
And here's something to keep in mind, just in case you're confused by the terms 'content marketing strategy,' and 'content marketing.'
A content marketing strategy refers to things such as your goals, your targeted audience, and the channels where you want to post content.
Content marketing is the actual nuts-and-bolts such as making an editorial calendar, creating the actual content (articles, podcasts, videos, etc), and promoting that content to your audience.
Target Your Content
Without quality content, you're just creating words and images that have no purpose or goal, other than to take up space.
That notion seems to be resonating with companies in the B2B content game, because the report found that 76% of them prioritize delivering quality over content, and 68% focused on creating content for their audience rather than their brand.
Earlier, we defined valuable content, so let's talk briefly about how it's vital that all your content is geared toward your targeted consumers, instead of showing off your brand.
The truth is, your audience won't care about your brand until they warm up to your content, which is why you must create content that caters to their specific wants, needs and desires. Through buyer personas and other market research, you know what your audience is looking for, the problems they want solved, and the needs they have and how your products and services can address them.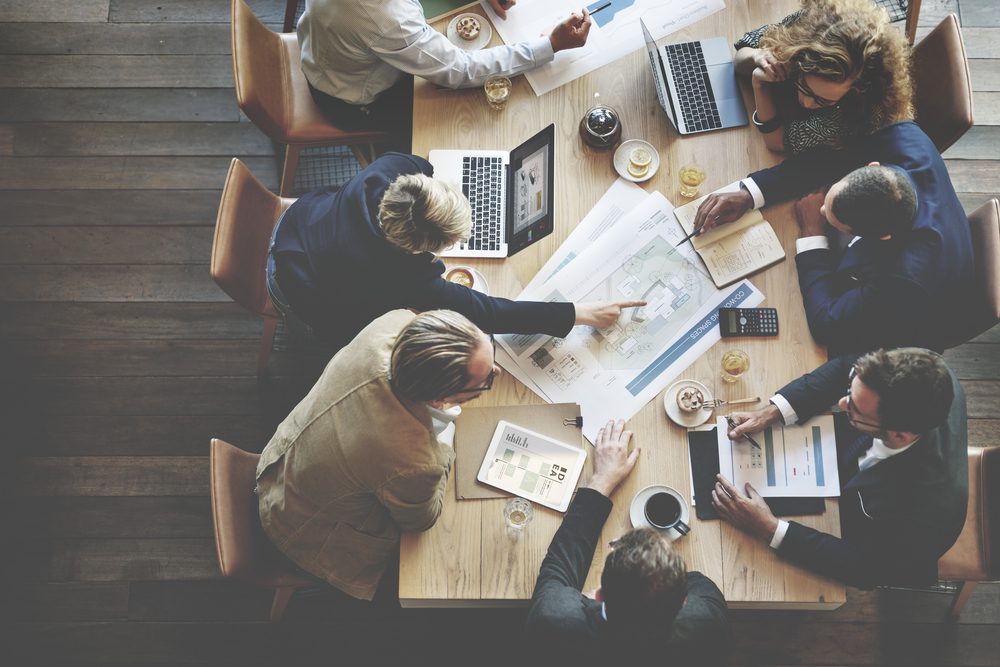 Use all that information to create content that resolves those issues, and builds trust with prospects that you can then use to engage them with your core products and services.
Utilize Content Marketing Tools
It's difficult to craft a content marketing strategy without using the tools that are out there, and 79% of businesses said they use analytics tools, 64% use a dedicated email platform, and 62% have an editorial calendar.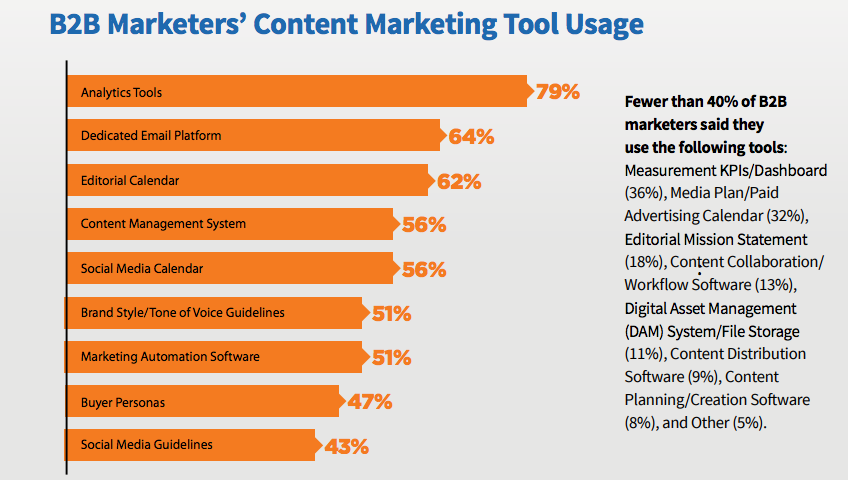 Some of the newest analytic tools that can help your marketing strategy include Sumo (list-building, user-tracking), Buffer (social media posting), and Ninja Outreach (lead generation with more than 25 million contacts).
Establish Measurable Goals
Content marketing without measurable goals is a waste of time, and that's backed up by the 2018 B2B Content marketing strategy report, which found that 80% of businesses focused on lead generation as a measurable goal in 2018, 78% measured marketing effectiveness through website traffic, and 75% measured progress through audience engagement.
And those figures are not going to change, based on the report's findings: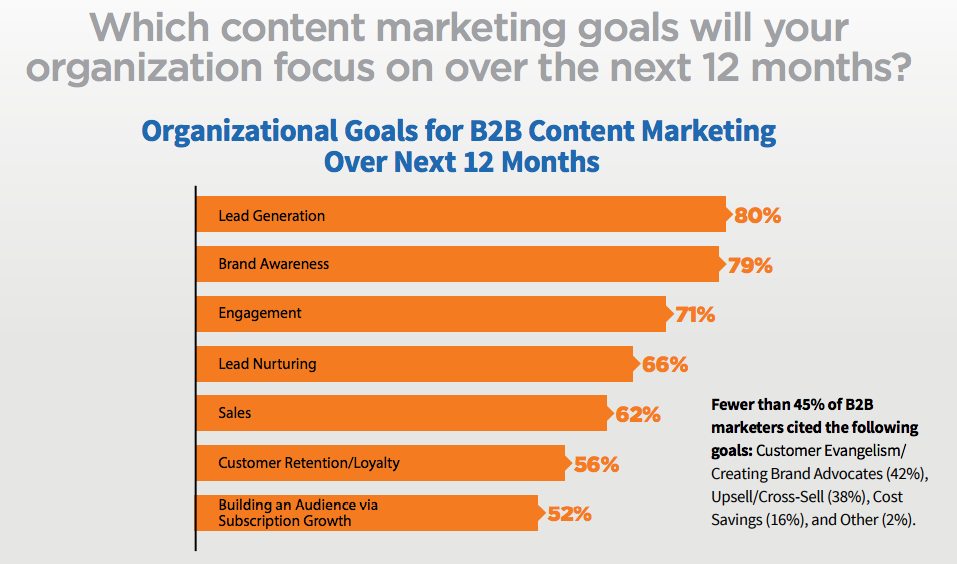 There are many ways to skin the lead generation cat, but four of the most proven methods are: webinars, conferences, guides and whitepapers, and LinkedIn groups, which are discussion forums that can open your business up to new contacts.
Other metrics that businesses reported they used was social media sharing (57%), time spent on website (54%), higher conversion rates (51%), SEO Ranking (51%), and sales (50%).
Surprisingly, 28% of marketers do not measure content marketing ROI at all, which means that these businesses have no way to know whether all their marketing efforts are working. On the face of it, this seems illogical, but a lot of businesses simply don't know the effective ways of measuring ROI, because there are so many variables involved.
At Digital Authority Partners, we strongly believe analytics go hand in hand with any successful B2B Content marketing strategy. Without KPIs, your content strategy is like a tree falling in the forest – it will make no sound because no one is there to hear it!
Metrics are the cornerstone of Russ Fordyce's content marketing strategy. Fordyce is Managing Director at Broadview Networks, a B2B unified communications provider. They have it all figured out down to a science when it comes to tracking the effectiveness of their content strategy!
"We measure content marketing in two predominant ways," Fordyce stated, "SEO KPIs and organic conversions. From an SEO perspective, we try to generate content that will attract backlinks. That either happens naturally or through our own outreach. We can measure the impact of a piece of content by locating that landing page in Google Analytics and watching where customers travel next. Do they bounce? Do they click through to the desired product page? Do they sign up for a demo? Do they stick around for a while? Those are all questions we ask when measuring success."
Fordyce's response highlights the importance of establishing measurable guidelines that provide your marketing executives with real-world information about the effectiveness of your marketing efforts, and areas where it needs improvement due to lack of significant results.
If you aren't sure how to measure your content marketing in a way that makes sense and shows a clear roadmap for your future campaigns, a digital marketing agency with that expertise may help resolve this problem, and more importantly, identify strengths and weaknesses in your B2B content marketing strategy.
Set A Separate Content Marketing Budget
You must create a content marketing budget that is separate from your overall marketing budget, so that you allocate the proper resources to your campaigns.
Per the 2018 report, the average business spends 26% of its total marketing budget on B2B content marketing, but more troubling is that 32% of businesses had no idea what the budget was for their content marketing.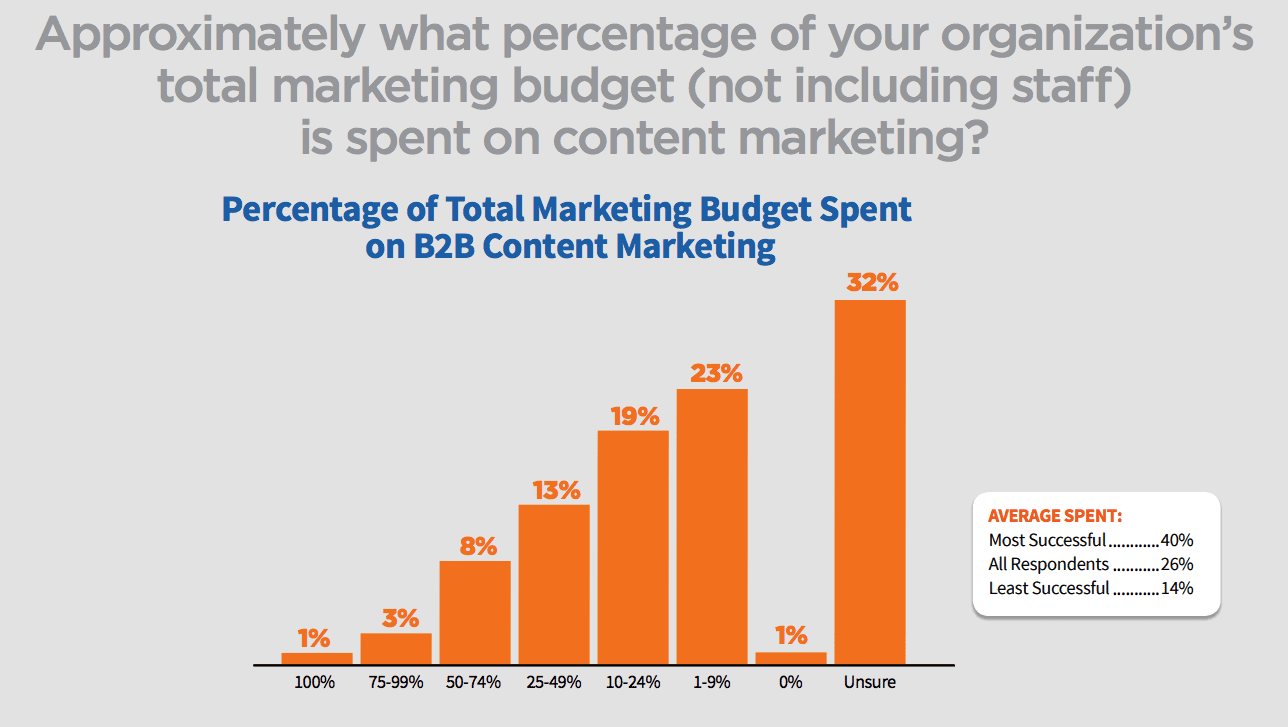 Whatever your reasons are for not having a budget put a stop to that negative thinking and figure out a budget based on some of the measurable goals we've already discussed.
Knowing how much you have to spend is an essential aspect of knowing what content to create, and on what platforms to promote that content.
Seize the Day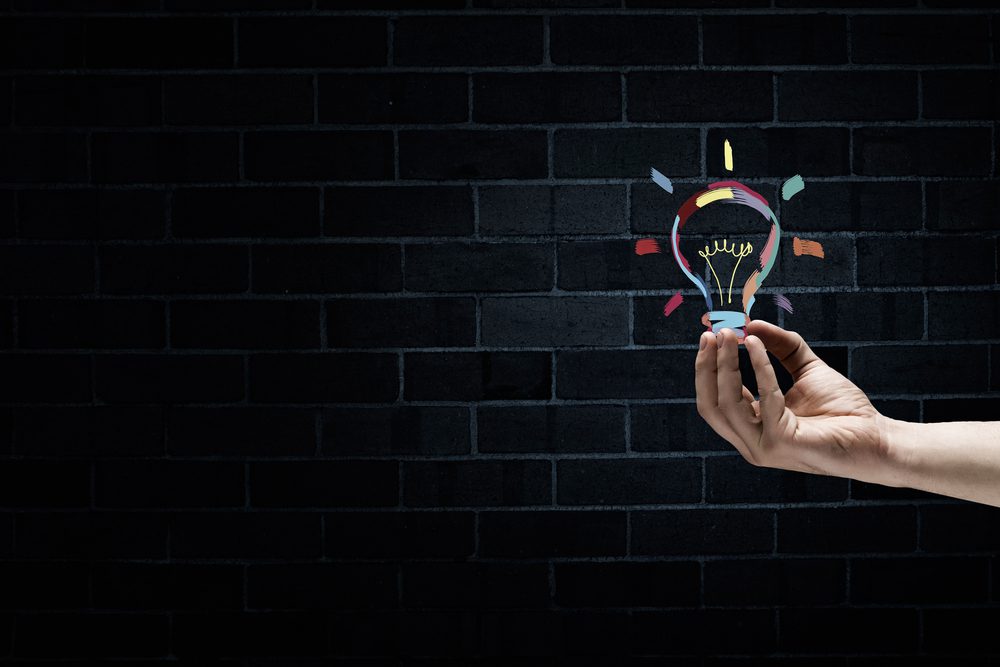 The 2018 B2B Content marketing strategy report published by the Content Marketing Institute is a valuable resource for any business that is serious about improving its content marketing strategy, or creating an effective strategy.
At Digital Authority Partners, we have a proven system of crafting a content marketing strategy that perfectly matches your specific goals. Whether its user experience, analytics, client development or even software development, we have the tools and the expertise to get your content marketing off its feet, or to turbo charge what you already have in place.
Interested in learning more about content marketing strategies in specific verticals? Check out our articles on Fintech Marketing, Financial Services Marketing and Healthcare marketing.